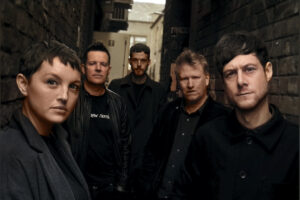 Continuing the musical lineage of Manchester, SEA FEVER began their account with the sombre indie rock of 'Crossed Wires' while 'Folding Lines' offered some orchestrated filmic drama.
But their frantic new single 'De Facto' is their much more electronic statement, a punchy sequenced construction that is likely to fill indie club dancefloors while also crossing over to lovers of synth.
It is a delightful electro-disco feast with a rhythm rush that screams strobelights and shoulder shuffles! But then this is not entirely surprising when closer scrutiny reveals that behind frontman Iwan Gronow are second generation members of SECTION 25 and NEW ORDER, Beth Cassidy, Tom Chapman and Phil Cunningham. Meanwhile Elliot Barlow, whose CV includes playing alongside Brix Smith Start of THE FALL, completes the quintet.
'De Facto' could be considered a more energetic second cousin of SHADOWPARTY's 'Reverse The Curse', a band that Tom Chapman and Phil Cunningham were part of with latter day members of DEVO. Iwan Gronow said: "It's SEA FEVER experimenting with song structures and sounds. We wrote the song with a thumping backbeat and pulsating analog synth. The song is about not being afraid to speak up, voicing your opinion and opening this void"
As SEA FEVER prepare for the release of their debut album, they have revealed influences such as SOULWAX, THE CHEMICAL BROTHERS, YEAH YEAH YEAHS, CHROMATICS, SUICIDE, AIR, TALKING HEADS, PJ HARVEY, THE HORRORS, THE CLASH, THE WHO and THE STOOGES as well as interestingly, Neil Young's polarising 1982 vocoder-laden album 'Trans'.
With the instrument line-up, gender ratio and band history, comparisons with NEW ORDER will be almost inevitable but if the music is really good, then that doesn't really matter.
---
'De Facto' is released by Kartel Records via the usual digital platforms
https://www.facebook.com/seafeverband
https://twitter.com/SeaFeverBand
https://www.instagram.com/SeaFeverBand/
---
Text by Chi Ming Lai
29th May 2021, updated 11th August 2021