Shiny danceable electronic pop is what KNIGHT$ is all about and as the vehicle of James Knights, formally of SCARLET SOHO, his ethos is to make synthwaves with his brand of sparkly Britalo!
It's been a busy time for the Winchester based singer/songwriter, with his first two releases 'What's Your Poison?' and 'Alligator' gaining airplay on internet radio. Meanwhile, he also provided lead vocals for the current incarnation of veteran German electropopsters BOYTRONIC on their comeback album 'Jewel'. Coming over like the love child of Richard Butler and Neil Tennant, the crowd pleasing nature of James Knights himself has made him a must-see live act, while the music of KNIGHT$ has that unashamedly glitterball disco drive.
Having just returned from a successful German tour opening for WOLFSHEIM's Peter Heppner, James Knights unpacked his suitcase and kindly chatted about his upcoming plans for KNIGHT$…
You've described the music of KNIGHT$ as Britalo, what led you to pursue your new poptastic direction?
When my previous project went on a break, it was important to take some time out and think about what to do.
I knew I would be the main writer/performer in KNIGHT$, so I wanted to create an alter ego to hide behind, someone very different from me in real life.
I toured mainland Europe a few years ago, and I was introduced to some older pop music we never had over here in the UK. This Italo sound inspired me for sure, along with so many US one-hit wonders and some Synthwave tracks, plus FALCO, GAZEBO, STEPHEN FALKEN etc. At the time, I needed something to drag me away from all the music I knew before, and this captured my imagination and inspired me to be creative again.
There's an air of 'American Gigolo' both aurally and visually within your music?
What can I say? It's not intentional, but I guess there's something about that kind of vibe I like to take with us on the stage. Every time you perform you have a chance to change the whole ambience of a venue. I see this as a challenge. I love it!
You appear to place as much importance on videos and a good live presentation as the music, what's your thinking behind this?
We're in such a visual time. I consume music with my ears and eyes and hope other people do the same! I know I can write a song, but that's just one part of the role.
Your first two releases 'What's Your Poison?' and 'Alligator' were quite a bit more sparkly than some of your previous work with SCARLET SOHO? What are the stories behind the title tunes?
'What's Your Poison?' and 'Alligator' were some of the first tracks I wrote as KNIGHT$. 'Alligator' is just a little anecdote about something we all experience from time to time, the one-sided conversation with someone who doesn't listen! 'What's Your Poison?' was a bit of a slight on today's dating culture.
I guess I thought people would have a better idea of finding the perfect date by offering people drinks and judging them on their choice! Gotta be better than Tinder!
Songs like 'Gigolo' and 'Two Steps From Heartache' indicate that what became the KNIGHT$ sound was omnipresent in SCARLET SOHO. How do you look back on that period and what the band achieved?
SCARLET SOHO was a way of life for anyone involved. For almost 15 years, we were making music together. We were very young when we started the project, and learned a lot about writing, recording, live shows and the business. You could look back and say mistakes were made along the way of course! I'm very proud to have done it.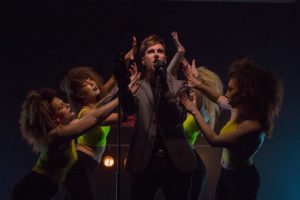 What have been the main differences for you creatively between working solo and within a band format?
I think working alone has made the process a bit slicker perhaps.
I'm always on the move when I demo tracks, and I like writing music on the train and stuff. With a band, you can deliberate over ideas for too long.
Are you a softsynth or hardware man? Has there been too much over romanticisation of vintage gear maybe?
I programme everything on my laptop with some approximated sounds. Then, when the arrangement is complete, I take the demo, all the vocals, and all the MIDI files to a studio so we can bounce the synth sounds through vintage synths and begin mixing. If you have access to the real gear you should use it. I mean, why not?
NEW ORDER's 'Subculture', which appears to be the inspiration for 'So Cold', is their most under rated song? Discuss!
Love it, great track of course and I love NEW ORDER! I hope I don't disappoint you here though… the biggest influence on 'So Cold' was 70s disco!
You're known for performing covers which have ranged from 'Uncivilized' by dark Canadian trailblazers PSYCHE to PET SHOP BOYS 'Heart', you've even sung U2's 'New Year's Day' with BOYTRONIC. How do you choose your cover versions and are there any others you would like to attempt?
If it sounds good I'll have a go! There are loads I'd like to try… it's just finding the time. 'Don't Cry Tonight' by SAVAGE would be a good one, 'Monday Morning' by FLEETWOOD MAC I like to sing, and the Spanish version of 'Toy Soldiers' by MARTIKA, topped off with 'I.O.U' by FREEEZ!
You have a close bond with Germany and a number of its veteran electronic acts, why do you think this has managed to develop over the years?
I performed in Germany for the first time in 2006, shortly after that SCARLET SOHO signed to a German label and we spent more time over there. So naturally we met more people and were introduced to music and bands we hadn't heard before which was really exciting. We always felt very at home.
For those who have not witnessed a KNIGHT$ live performance, what can they expect from you?
The stage show grows in strength the more time I rehearse with the band, I hope to have some new songs in the set and play for a little longer than usual! Maybe a costume change or two midway through, or a special guest.
What's next for KNIGHT$ on the release schedule? Does the album format figure in your plans or are EPs the way to go in the future?
I would like to make an album as most of the songs are ready now. I'm talking to some labels and we'll see what happens. If not, I will continue with EPs on vinyl!
---
ELECTRICITYCLUB.CO.UK gives its warmest thanks to James Knights
The 'Alligator' and 'What's Your Poison?' EPs are available in vinyl and digital formats from https://knights101.bandcamp.com/
https://www.facebook.com/Knights101/
https://twitter.com/JPSKNIGHTS
http://knightstore.bigcartel.com
---
Text and Interview by Chi Ming Lai
4th January 2018, updated 9th February 2018