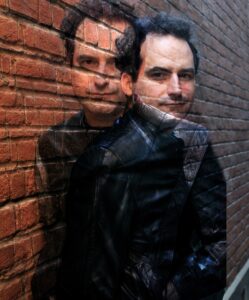 The third installation in the SNS SENSATION lockdown series, 'Mirror Radio' is a fuzzier, more aggressive synthpop number than its two predecessors, for whom the detuned bells toll.
Although not part of the trilogy, there was a hint of this upcoming change in mood on 'Discoboom', a throbbing dance metal hybrid from the 'Trans-Global Excess Volume 1' compilation recently issued by Specchio Uomo.
While 'Small World' captured panic and 'Your Door' was swathed in sadness, 'Mirror Radio' channels anger with a harder industrial edge at the powers that be and their response to the pandemic.
Argentine-born Sebastian Muravchik is the man behind SNS SENSATION; he is best known as the front man of HEARTBREAK who shared stages with THE PRESETS, LA ROUX and LITTLE BOOTS. Some of HEARTBREAK's horror electro-rock elements as heard on 'Destroy All Power' from their appropriately titled 'Deceit' EP have found their way into 'Mirror Radio'.
Reflecting the new single's fractured if surreal tone, the accompanying video, set in the world of the mind and reflecting it on a TV screen, takes inspiration from Samuel Beckett's 'Not I' and 'Quad', Lucio Fulci's 'The House By The Cemetery', and Ingmar Bergman's 'Winter Light'.
Sebastian Muravchik said: "The challenge with this song was to convey that industrial anger with 808 sounds as the starting point. Despite the electro funk element in rhythm terms on this song, I wanted the 808 to howl".
As with many intuitive artists, laying down restrictions aided the production process. "What I seem to be doing is limiting my sound sources as a starting point and keeping an eye on where flow finds a deterritorializing avenue of some sort" he added, "There's a time stamp, desaturated and blurred by the damage the years have done since the initial firm grip on the statement. This is where I see the ideological grounding of my sound production is rooted".
Having captured the claustrophobic solitude of lockdown with 'Small World', Muravchik's voice evokes a frustration that will no doubt gain further enhancement with a remix by the mysterious industrial electro personality of MANASYt whose career of nearly 20 years has produced music that described as "what exactly hostile aliens would listen to while attacking Earth"!
---
'Mirror Radio' is released as a download and cassette single, available direct from https://wearesns.bandcamp.com/
https://www.facebook.com/wearesns/
https://www.instagram.com/sns_discopop_noir/
https://www.youtube.com/channel/UC1pgg7obJpfQdaCvw_bwuXA
https://open.spotify.com/artist/77pgZLgAxmVYtNaJm96m7P
---
Text by Chi Ming Lai
12th February 2021