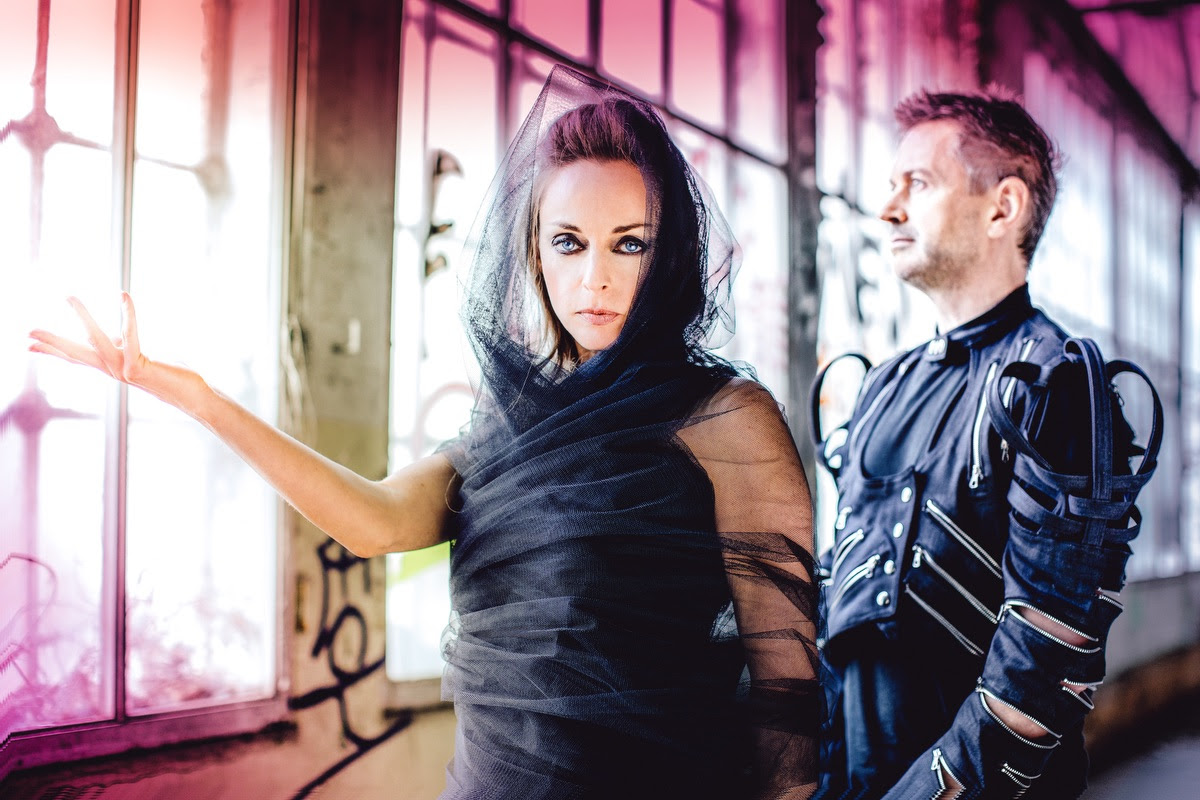 Although LEAGUE OF LIGHTS are already veterans of two albums, the heavy rock band sound of their 2011 self-titled debut is not an indicator of where they are today.
The nucleus of vocalist Farrah West and keyboard player Richard West reconvened as a duo for 2019's 'In The In Between' long player which showed more restraint on the rockier elements of their debut and made room for electronics, piano ballads and cinematic soundscapes.
For their new album 'Dreamers Don't Come Down', LEAGUE OF LIGHTS have revealed a love for JOHN FOXX and LADYTRON while developing a pop sound akin to an artier DRAGONETTE. Recorded during lockdown, its more keyboard oriented approach looks to the synth pioneers of the past by limiting the pallet of sounds available in production and allowing the vocals room to shine.
Premiering this more focussed and accomplished direction is 'Modern Living'
, a slice of enjoyable goth disco that comes over like THE SMASHING PUMPKINS recent single 'Cyr' meeting 'Hello', DRAGONETTE's 2010 collaboration with Martin Solveig. It comes accompanied by an anime video edited together from the romantic fantasies 'Your Name' (Kimi No Na Wa) and 'Weathering With You (Tenki No Ko)', both directed by Makoto Shinkai.
Cut from not an entirely dissimilar cloth to 'Modern Living', the spritely uptempo 'Persephone' exhibits crossover potential with an uplifting chorus; looking for "a light at the end of the tunnel", 'The Boys Of Summer' and 'Blinding Lights' can be traced within its blueprint.
With great keyboard lines, 'The Collector' is more sombre in its verse but offers hope in the face of adversity, reflecting the mission statement of the parent album's title, while the more guitar-assisted 'Ghosts' is a close relative.
Reflecting on the self-produced 'Dreamers Don't Come Down', Farrah said: "it is about the past, the present and the future; about taking the best from all that you have been through, the pressures of modern life and keeping your dreams alive in dark times."
---
'Dreamers Don't Come Down'
is released on 12th March 2021 in CD and digital formats by Eightspace Records with a vinyl LP out on 23rd April 2021 via Plane Groovy
https://www.facebook.com/leagueoflightsofficial
https://twitter.com/leagueoflights
https://www.instagram.com/leagueoflights/
https://burningshed.com/tag/League+Of+Lights
---
Text by Chi Ming Lai
10th February 2021