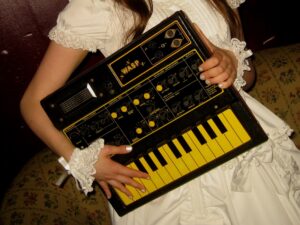 ELECTRICITYCLUB.CO.UK celebrates its fifth anniversary and it has been a glorious journey.
The site came into being on 15th March 2010 after the founding team discussed having an online platform to feature the best in new and classic electronic pop music. After weeks of deliberation, the decision to finally launch the site came at the HEAVEN 17 aftershow party for their triumphant gig at The Magna Science Park on 6th March 2010.
That evening, ELECTRICITYCLUB.CO.UK met and chatted with HEAVEN 17's Glenn Gregory and Martyn Ware, OMD's Paul Humphreys and Claudia Brücken, best known as the singer of PROPAGANDA… by the end of the year, all four had given insightful interviews to the site.
ELECTRICITYCLUB.CO.UK received a major boost in profile in May 2010 when its interview with Paul Humphreys was quoted by The Guardian as part of a news item announcing the release of OMD's comeback album 'History Of Modern'.
Key interviews with DUBSTAR and CLIENT's Sarah Blackwood, LANDSCAPE's Richard James Burgess, THE ART OF NOISE's Gary Langan and ULTRAVOX's Warren Cann also followed. Later in the year, ELECTRICITYCLUB.CO.UK featured promising new act VILE ELECTRODES for the very first time; they were soon to become a stalwart of the UK independent electronic scene.
But the first act to formally be reviewed was MARINA & THE DIAMONDS, reflecting the kooky female fronted keyboard based pop like LA ROUX, LITTLE BOOTS, LADYHAWKE and LADY GAGA that was prevalent at the time.
However, there was a changing of the guard on the horizon as new astute male fronted electronic based acts such as HURTS, VILLA NAH and MIRRORS appeared which the site took a keen interest in.
ELECTRICITYCLUB.CO.UK has always prided itself in asking the questions that have never usually been asked, but which fans want to know the answers to. And it was with this reputation for intelligent and well researched interviewing that the site was granted its biggest coup yet when it spoke to NEW ORDER's Stephen Morris. In the ensuing chat, Morris cryptically hinted that Manchester's finest would return… and that is exactly what happened in Autumn of that year when concerts in aid of the band's late friend Michael Shamberg were announced.
ELECTRICITYCLUB.CO.UK was on a roll in 2011 as OMD's Andy McCluskey, RECOIL mainman Alan Wilder, BLANCMANGE's Neil Arthur, Mira Aroyo of LADYTRON, HOWARD JONES, THOMAS DOLBY and DRAMATIS' Chris Payne all gave interviews. And in rather bizarre throwback to 1981, DURAN DURAN, THE HUMAN LEAGUE and JOHN FOXX released new albums on the same day in March. Meanwhile, up-and-coming acts such as AUSTRA, SOFT METALS, ELEVEN: ELEVEN and QUEEN OF HEARTS made a good first impression.
Events like 'Return To The Blitz Club', 'Short Circuit Presents Mute', 'Back To The Phuture – Tomorrow Is Today', 'The Electronic Phuture Revue' and the BEF Weekender reinforced the new found profile for music seeded from the Synth Britannia era and kept the team busy. ELECTRICITYCLUB.CO.UK even found time to curate its own live event featuring VILE ELECTRODES.
2012 paled in comparison after such a fruitful year and several acts who were featured probably would not have gained as much coverage in more competitive periods.
But the year did unearth talents such as CHVRCHES, GAZELLE TWIN, GRIMES, KARIN PARK, TRUST, METROLAND and IAMAMIWHOAMI who were eventually make a lasting impact. During this time though, MIRRORS sadly lost momentum and appeared to wind down after the departure of founder member Ally Young while VILLA NAH mutated into SIN COS TAN.
Ahead of ULTRAVOX's recorded return with 'Brilliant', Billy Currie spoke to ELECTRICITYCLUB.CO.UK and MARSHEAUX headlined a sold out second event with The Blitz Club's legendary DJ Rusty Egan as its special guest. EDM was also becoming big news internationally. But ELECTRICITYCLUB.CO.UK stood its ground and showed little interest in this largely repetitive sub-genre as parties within the industry desperately tried to centralise synthpop and dance music with misguided promotional campaigns such as 'Electrospective'.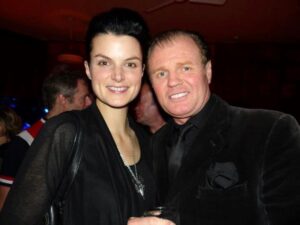 It was quite obvious the industry was struggling to come to terms with a changing marketplace, as well as failing to distinguish between dance music and electronic pop.
Contrary to general perception that music using synthesizers was 80s, ELECTRICITYCLUB.CO.UK maintained a stance that electronic pop music didn't start in that decade and certainly didn't end there either. In fact, there was even an editorial diktat that banned its writers from using that horrific and lazy term of reference.
80s is neither an instrumentation style or a genre of music… tellingly, several PR representatives told ELECTRICITYCLUB.CO.UK that one of the site's main appeals was that it avoided the whole nostalgia bent as represented by events such as 'Here & Now' and other media, both virtual and physical.
What ELECTRICITYCLUB.CO.UK did in 2013 would take up a whole article in itself… 2013 turned out to be one of the best years for electronic pop since 1981.  Interviews with ALISON MOYET, GARY NUMAN, KARL BARTOS, MARNIE, ADULT. and MISS KITTIN confirmed the site's impact. There was even a radio show with Rusty Egan which ran for 25 programmes on dance station Mi-Soul.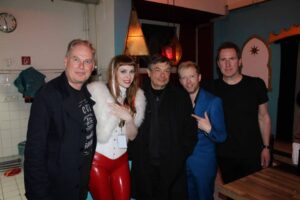 Meanwhile new releases from OMD, NINE INCH NAILS, BEF, PET SHOP BOYS, GOLDFRAPP, MESH, MARSHEAUX, SIN COS TAN, POLLY SCATTERGOOD and VISAGE reflected the vibrancy of the modern electronic scene.
But the biggest recognition of how influential the site had become was when VILE ELECTRODES were chosen to support OMD after being spotted by Andy McCluskey while he was perusing the site's webpages.
Over the years, ELECTRICITYCLUB.CO.UK has written about a number of talents whose promise was never fully realised despite producing great music… THE SOUND OF ARROWS, SUNDAY GIRL, KATJA VON KASSEL and THE VANITY CLAUSE all featured several times, but timing and in the cases of the first three, record company interference stifled potential. Whether signed or independent, nothing can be guaranteed in the today's music world.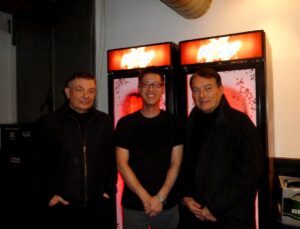 Although the year started tremendously with an invitation to ELECTRICITYCLUB.CO.UK to meet KARL BARTOS and WOLFGANG FLÜR in Cologne, 2014 suffered next to quality of 2013.
But  more key figures from the Synth Britannia era were  interviewed including MIDGE URE, ex-CABARET VOLTAIRE frontman Stephen Mallinder and the often forgotten man of the period JO CALLIS, who was a key member of THE HUMAN LEAGUE during their imperial phase.
For the 25th Anniversary of DEPECHE MODE's '101', Alan Wilder spoke exclusively to ELECTRICITYCLUB.CO.UK about how that live document became a major game changer for the band. And at his autobiography launch in London, Bernard Sumner revealed that NEW ORDER's next album would be more electronic than the band's last couple of offerings. Meanwhile, SUSANNE SUNDFØR's various collaborations with RÖYKSOPP and KLEERUP enhanced her profile in readiness for 'Ten Love Songs', her most accomplished work yet. Also riding high were Glasgow's ANALOG ANGEL with their third album 'Trinity' and a support tour with Swedish veterans COVENANT in 2015 was their reward.
The live circuit was vibrant and there was a third event which had a DEPECHE MODE flavour thanks to tribute band SPEAK & SPELL playing 'Speak & Spell' and '101' sets. There was also a DJ set by Sarah Blackwood plus a special memorabilia exhibition curated by Deb Danahay, co-founder of the first official DM Information Service. At the same event VILE ELECTRODES celebrated the first anniversary of their debut album 'The future through a lens' having snapped up two Schallwelle awards in Germany for 'Best International Album' and 'Best International Artist'.
As 2015 settles in, highly regarded acts within the electronic community continue to engage with The Electricity Club. German trio CAMOUFLAGE used an edit of ELECTRICITYCLUB.CO.UK's career retrospective on the band as liner notes for their CD 'The Singles'. Meanwhile studio legend John Fryer, who worked with FAD GADGET, DEPECHE MODE, COCTEAU TWINS and NINE INCH NAILS, also stopped by for a chat as did BLANCMANGE's Neil Arthur, securing a site record with his fourth interview for the site.
Newer artists over the last few years as varied as FEATHERS, KID MOXIE, HANNAH PEEL, I AM SNOW ANGEL, TWINS NATALIA, NIGHT CLUB, PAWWS, MACHINISTA, QUIETER THAN SPIDERS, PRIEST and TRAIN TO SPAIN have proved that electronic music is still very much alive. ELECTRICITYCLUB.CO.UK appears to have reflected the interests of people who love the Synth Britannia era and have a desire to hear new music rooted in that ilk. 🙂
While things cannot carry on for ever, there is a belief that there is much more excellent music still to be created and discovered.
ELECTRICITYCLUB.CO.UK gives its warmest thanks to all who have contributed over the last five years, be they writers, musicians, commentators, photographers, artists or models And a big thank you to everyone who has taken the time read an article on the site
---
Text by Chi Ming Lai
14th March 2015