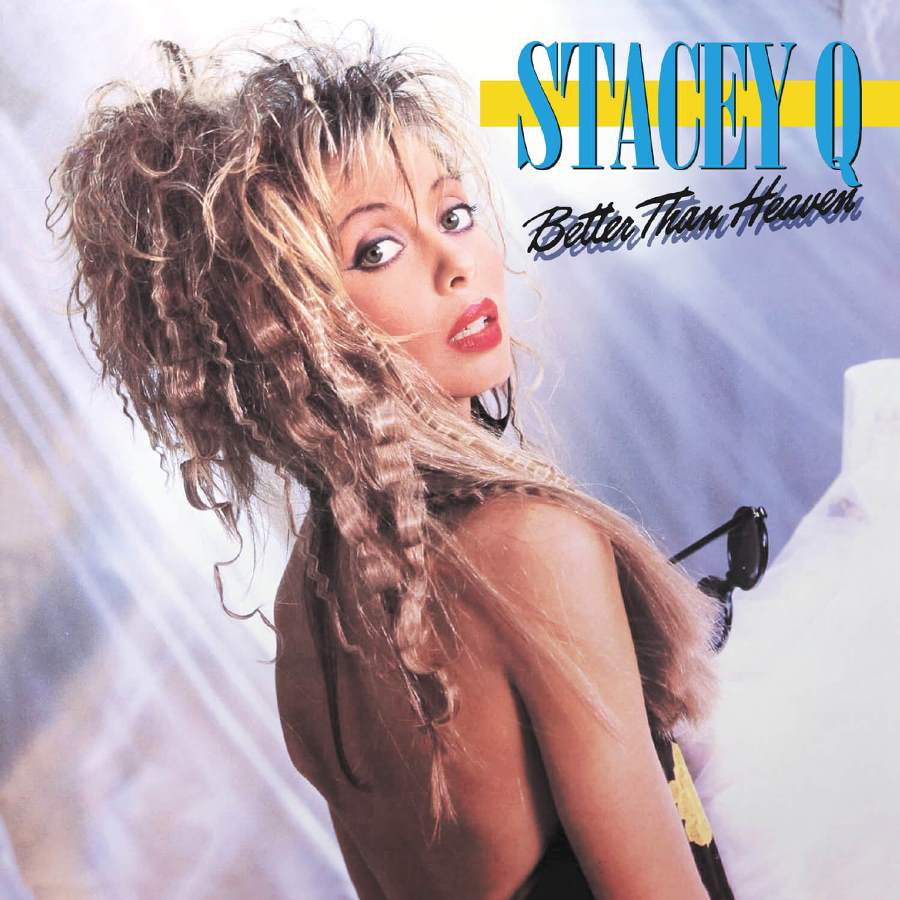 Born Stacey Lynn Swain, Stacey Q is the Californian songstress best known for the 1986 international hit single 'Two Of Hearts'.
However Stacey Q did not export to Britain in great numbers and 'Two Of Hearts' only reached No87 in the UK chart. But the single was a Top10 in West Germany, New Zealand, Australia, Switzerland and Canada. Meanwhile its parent album 'Better Than Heaven' was certified gold in the USA but thanks to it gaining cult status in the UK over the decades, it is now reissued by Cherry Red Records as a deluxe 2CD set featuring the period's 12" mixes and assorted single edits.
Stacey Lynn Swain studied ballet and performed as a showgirl, but she found herself a job on a Los Angeles radio station making introductions and announcements while impersonating members of THE GO-GO'S. In 1981, Swain was introduced to Jon St James of Casbah Recording Studio and Dan Van Patten who had produced BERLIN and their 'Pleasure Victim' mini-album. The pair had been developing a KRAFTWERK and M influenced project called Q named after the James Bond character. While working as assistant producer on the Q EP, Swain was asked to contribute vocals to the song 'Sushi'. In promotion, the threesome identified themselves as Jon Q, Dan Q and Stacey Q.
Q were only a moderate success but St James and Swain continued working on songs and the project morphed into SSQ with the inclusion of drummer Karl Moet and synth player Rich West. In 1983, the album 'Playback' was released and featured the catchy BERLIN meets MISSING PERSONS single 'Synthicide'.
Jon St James was convinced he had a star on his hands so using Stacey Q as her solo moniker, Stacey Lynn Swain released her first single 'Shy Girl' and a self-titled cassette EP in 1985. The latter featured 'Two Of Hearts', a song written by John Mitchell which was brought in by St James via his studio network. The EP attracted interest from several labels so St. James brokered a multi-album deal with Atlantic Records.
Recorded in three weeks, the 'Better Than Heaven' album also featured SSQ members Moet and West as backing musicians and songwriters, although main compositional duties remained with St. James. Opening with 'Two Of Hearts', it remains a classic Eurocentric dance tune, more rigid than Madonna and played quite straight compared to Cyndi Lauper, but nevertheless, its appeal has stood the test of time. As a feistier sister song, 'We Connect' raised the BPM stakes slightly but it was an enjoyable variation on the theme with more percussive interplay.
Despite an octave shift blow-out, 'Insecurity' allowed space for a spirited vocal like a HI-NRG Belinda Carlisle with minimal but juicy hooks. Meanwhile with the wonderfully pretty and metronomic 'Better Then Heaven' title track, it wasn't difficult to imagine it on the soundtrack of a John Hughes movie.
However with its harp samples, 'Don't Let Me Down' took things midtempo in the album's nearest thing to a ballad, although the overblown synth toms that were ubiquitous back in the day sound obtrusive today. With a fantastic range of keys and synths, 'Music Out Of Bounds' took a leaf out of the Jam & Lewis production manual and its delivery was sumptuous in its electro funky homage to Cherelle, the singer who did the original version of 'I Didn't Mean To Turn You On'.
Going clap and cowbell crazy, the Latin-tinged 'Love Or Desire' was a true HI-NRG romp driven by some boisterous triplets. Meanwhile with a wispy innocence and some cute voice sample hooks, 'Don't Break My Heart' grooved in a soulful manner that was a clearly an influence on dreamier modern day exponents such as Sally Shapiro.
With a strident synthbass squelch, 'He Doesn't Understand' placed string pads and a cacophony of vocal stabs into a hypnotic cocoon for a punchy dance pop excursion that remains clearly in the root of Norwegian songstress Annie's style although the track's closing fade remains a little strange.
Sounding like a Moroder production for BERLIN thanks to its crashing LinnDrum, 'Dancing Nowhere' closed the album with orchestral stabs, deck scratching and a guitar solo around a fierce backbone while confirming its spiritual connection with Terri Nunn and John Crawford's combo in its male vocal harmonises.
The second Stacey Q album 'Hard Machine' was released in 1988 while the final Atlantic era long player 'Nights Like This' came the year after. Although singles such as 'Don't Make A Fool Of Yourself' and 'Give You All My Love' maintained her profile in the clubs, album sales were down compared with 'Better Than Heaven'.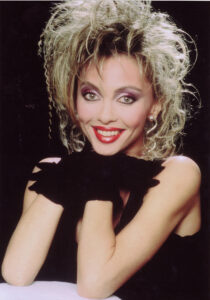 Swain returned as Stacey Q in 1997 with the 'Boomerang' album and followed it up 3 years later with 'Color Me Cinnamon'.
More recently, SSQ made a surprise return in 2020 with a new album entitled 'Jet Town Je T'aime' while Stacey Q still performs on the North American nostalgia circuit alongside the likes of MISSING PERSONS, ANIMOTION, A FLOCK OF SEAGULLS, WANG CHUNG, NAKED EYES, MEN WITHOUT HATS, TRANS-X and THE FLIRTS.
Achieving longevity, 'Two Of Hearts' itself was featured in the 2003 Macaulay Culkin and Seth Green electroclash movie 'Party Monster' alongside ABC and LADYTRON while it was covered by Annie in 2008 in a squelchy electro production by Richard X. Stacey Q may have begun as 'Shy Girl' but with its fair number of tunes as good as 'Two Of Hearts', 'Better Than Heaven' is a reminder how fun and carefree pop music once was and should still be. This remains a collection of wonderfully innocent escapism.
---
'Better Than Heaven' is released by Cherry Red Records as a 2CD set on 16th September 2022, pre-order from https://www.cherryred.co.uk/product/stacey-q-better-than-heaven-2cd-edition/
https://www.facebook.com/people/Stacey-Q/100040905591794
https://twitter.com/officialStaceyQ
https://www.instagram.com/staceyqband/
---
Text by Chi Ming Lai
15th September 2022