From DEAD ASTRONAUTS, the lo-fi synth project of Jared Nickerson and Hayley Stewart, a new star is born.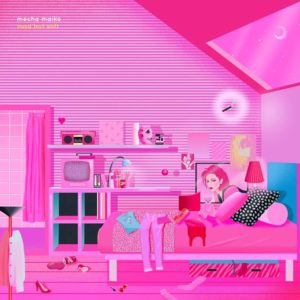 With the name transcending Toronto based Stewart's fascination with Japanese culture, cyber space and the love of vintage synthesis, MECHA MAIKO releases her debut album 'Mad But Soft'.
The Geisha-like robot brings a much needed freshness and romance into the world of electronica, and she's doing it with grace, sensuality and poise. Loaded with rhythmic tunes, 'Mad But Soft'
ventures into the spheres of delicate femininity, girlishness and synthlicious electro pink, packaged in shiny wrapping and served with a big, glitter coated ribbon.
It's not your naive, mindless, happy-go-lucky pop songs, however. With nonchalance, Stewart introduces the listener into her magical world of sound, as if the synth was born yesterday. From the title track, with its pulsating East meets West vibe, through the gems like 'False Memories', which could have been part of the 'Stranger Things' soundtrack, to the unselfishly grown-up 'Electric Heat' with its CHVRCHES similarities, Stewart proves she's not only a capable songwriter but a slick vocalist too.
'Cold Hard Ground' opens the long player with a GRIMES meets ZOLA JESUS sound far, far away in snow covered Japan, where they play with their manga inspired synth toys. The robot doesn't stop there, as 'Bike Night' lets those filters open and the magic happen for the most perfect mechanical pop. 'Tomodachi' could have been a lost MADONNA tune, Stewart's vocals resemble the pop princess', as much as the voice layering and melody interplay.
Once the 'Contract' is signed, 'Auto Fire' steps in with endless arpeggios over heavily punctuated industrial pulses, smoothed by intricate delicacies of Stewart's vocal.
Before we 'Fade To Black', with its strikingly familiar tonality to MAJOR LAZER's 'Get Free', DANA JEAN PHOENIX meets MECHA MAIKO on 'Cold'; probably the most danceable synthwave track on the production. The song was partially inspired by WAVESHAPER's 'Radio Signal' and JANET JACKSON herself probably wouldn't shy away if presented with this little gem.
Uncomplicated on the surface yet multi-layered, thought through and simply delicious, 'Mad But Soft' does exactly what it says on the tin.
Easy listening synthpop, as if lifted out straight from the classic era, is flowing through its veins like mechanically instigated lava; the magma of amalgamation of electric melodies, capable synth and vocals with audible influences from BJÖRK, MADONNA and ROBIN S. What a debut!
---
'Mad But Soft'
is released by New Retro Wave, available as a purple vinyl LP and download from https://newretrowave.bandcamp.com/album/mad-but-soft
https://www.facebook.com/mechamaiko/
https://twitter.com/mechamaiko
https://soundcloud.com/mecha-maiko
https://www.instagram.com/mechamaiko/
---
Text by Monika Izabela Trigwell
22nd March 2018