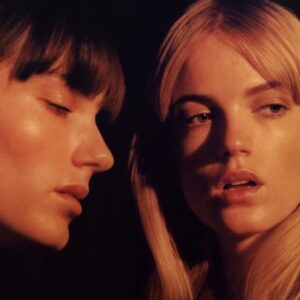 After first getting international acclaim in 2012 for their second single 'Julian', highly photogenic Scandipodean twins SAY LOU LOU have finally released their debut album 'Lucid Dreaming'.
Elektra and Miranda Kilbey were shortlisted in the BBC Sound of 2014, but the album has undergone all sorts of delays.
The question is after all that time and with contributions from noted pop scribes Richard X, Hannah Robinson and Liam Howe, have SAY LOU LOU been able to deliver on their brand of shimmering  escapism?
'Lucid Dreaming' is largely a brooding midtempo affair. That may not appeal to all, but with modern pop being either full-on EDM blow-outs or tedious wailing piano ballads these days, this approach could be seen as refreshing. SAY LOU LOU have been labelled a female HURTS having supported them during their 2013 European tour. But like HURTS, their music could do with a kick occasionally but with numbers such as the opener 'Everything We Touch', they are driven by a togetherness that can only come from two siblings.
The wonderful 'Glitter' ups the ante a little with a great synth melody and disco rhythms not unlike THE GOLDEN FILTER. But 'Games For Girls', the twin's collaboration with dance producer LINDSTRØM sticks out like a sore thumb, as fun as it is, with Elektra and Miranda hitting some very high notes. The rousing single not included on the album 'Better In The Dark' may have been a more suitable alternative.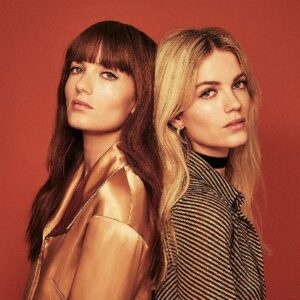 'Julian' though is possibly still the most outstanding song in their armoury at present. Untouched from the original 2012 version, SAY LOU LOU's darkness and light duality showcases itself here. "I'll get us through the checkpoint; I know we'll be alright!" It is full of tension and intrigue like a Nordic Noir mini-series, compressed into a three minute pop song.
'Angels (Above Me)' takes the tempo down while the string laden 'Peppermint' takes things down further. Co-written with Hannah Robinson and Liam Howe, 'Beloved' is a striking ballad full of warmth with its pretty Yé-Yé girl styled vocals.
The percussive 'Hard For A Man' with its rich vocal intonation adds further colours to the palette but one can't help wanting the template to alter slightly, even if it is only a slight increase in tempo as on 'Glitter'. Now much had been made in the long build up to this album about Richard X's involvement, but alas, his presence is only heard on 'Wilder Than The Wind', another ballad. Considering the impressive work he did on ERASURE's 'The Violet Flame', this number is disappointing.
Midtempo or not, 'Nothing But A Heartbeat' is up there with 'Julian' as an album highlight. Dreamy and dynamic, it's like those semi-sprightly cinematic numbers that HURTS used to do before they turned into SIMPLE MINDS.
The epic closer 'Skylights' is basically how MARSHEAUX would sound if Marianthi and Sophie attempted an AOR ballad with weeping keyboards and strings filling the void instead of guitars. The vocals from the Kilbey sisters are top notch, as they are throughout the collection.
Overall, 'Lucid Dreaming' does come over like a LANA DEL REY album, but without the swearing. SAY LOU LOU's moody Nordic Noir Pop will not be for everyone, but there are enough great songs to make this album worthy of investigation
---
'Lucid Dreaming' is released by A Deux / Columbia Records
http://www.facebook.com/SayLouLoumusic
---
Text by Chi Ming Lai
7th April 2014