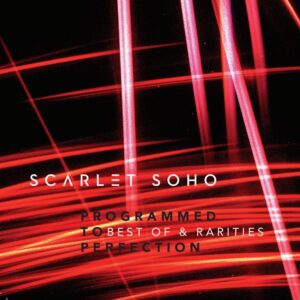 Although SCARLET SOHO went into hiatus after the release of their third album 'In Cold Blood' in 2015, interest in them has been rejuvenated thanks to the success of front man James Knights and his Britalo focussed exploits with his solo vehicle KNIGHT$.
Two tracks on 'In Cold Blood', 'Two Steps From Heartache' and 'Gigolo' were effectively blueprints for KNIGHT$ and are usually mainstays of his live set. But although SCARLET SOHO began with a more post-punk sound dominated by guitars, there was always a pop element throughout their career despite the darkness and that is evident on their new updated retrospective compilation 'Programmed To Perfection – Best Of & Rarities'
.
At the start of the 21st Century, electronic pop was making something of a resurgence with the likes of LADYTRON, GOLDFRAPP and THE KNIFE proving that "synthesizer" was not a dirty word. Alongside them were bands such as THE FAINT, THE KILLERS and THE BRAVERY who all had synths as a rogue element within their conventional instrumentation. There were also emergent acts such as IAMX, THE MODERN, PROTOCOL, DELAYS and BOY KILLS BOY, and it is perhaps in this group that SCARLET SOHO slotted in.
Comprising the nucleus of James Knights and Amy Brown aka Scarlet with Lee Kinrade on guitar and augmented by a drum machine, SCARLET SOHO's debut release was the 'Ruthless Animation' EP in 2001. This led to support slots for THE FAINT and DELAYS, attracting the attention of the latter's producer Justin Callaway to record their debut album 'Divisions Of Decency' issued in 2004 by Human Recordings. The excellent trio of 'Skin Trade', 'Disconnected' and 'Modern Radio' from 'Divisions Of Decency' were slabs of fuzzy machine rock in the vein of THE FAINT.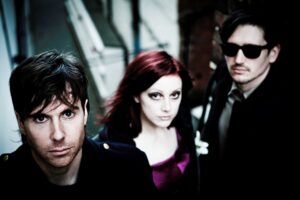 Meanwhile taking a slight diversion, 'Programmed To Perfection' came over like Alvin Stardust fronting SWEET produced by THE RAH BAND!
With Stuart Key replacing Nick Haynes who joined the SCARLET SOHO after the departure of Lee Kinrade, it would be 2009 before 'Divisions Of Decency' was followed up by 'Warpaint', released by Major Records, the German label who had issued albums by IAMX and LADYTRON.
Included on this collection, the galloping disco sequences and gritty determination of 'I Dare' signalled a significant progression towards the dancefloor and this was further affirmed by 'Analogue Dialogue (Kill The Beat)' which imagined Giorgio Moroder going indie and collaborating with THE KILLERS.
Reflecting some of their contemporaries, 'Speak Your Mind' was a rousing slice of synth indie in the vein of THE BRAVERY with a magnificent whirring keys solo, while 'Is Growing Up The Best That We Can Do?' was almost a Numan-esque take on PROTOCOL. But it is 'Lights Out London' which stands out from 'Warpaint' with a frantic electro-goth vibe up there with IAMX who SCARLET SOHO were to tour with extensively in Europe.
Released in 2015, 'In Cold Blood' was the third and so far final album by SCARLET SOHO. Despite the six year gap between long players, much of what became 'In Cold Blood' had been released in advance on the EPs 'When The Lights Go Out', 'Solo KO' and 'Two Steps From Heartache'.
The self-produced and self-released 'In Cold Blood' looked set to be SCARLET SOHO's breakthrough as it heralded a greater interest in electronic pop with fewer guitars in evidence. Much more immediate than any of their previous work, although the material appeared to be less angsty and fraught, it was still a gloomy album lyrically.
'When The Lights Go Out' demonstrated more of a  disco sound while 'What You Need' even flirted with synthwave as showcased on the 'Drive' soundtrack by KAVINSKY and COLLEGE. However, the sombre 'Solo KO' showed that SCARLET SOHO had not totally vacated their dark aesthetic, but leaving a lyrical signal of what was to come.
Indeed the bridge to KNIGHT$ came with 'Gigolo', a song on 'In Cold Blood' that was so wonderfully poppy, Knights and Scarlet had initially felt it was not suitable for SCARLET SOHO and the glorious house-laden 'Two Steps From Heartache' which appears on the double set as a vocoder-assisted James Yuill remix with a more tightly incessant rhythmic base.
Any good retrospective set features rarities or unreleased songs and 'Programmed To Perfection' satisfies both requirements. Among the best of the bunch is 'Into The Night' in collaboration with Loic Rathscheck; recorded for the 2011 German film 'Bauernfrühstück'; it features the "Classic meets Pop" singer Isgaard replicating the soprano from Ennio Morricone's 'Ecstasy Of Gold' to strangely compliment the track's intense electronic backdrop. The moody 'Children Of The Sun' with its European grandeur was written in the same sessions but didn't get used, so is a welcome inclusion for SCARLET SOHO and KNIGHT$ completists alike.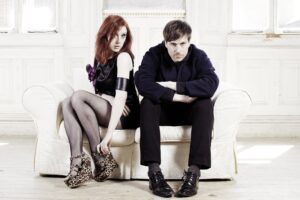 Of the other rarities, there are remixes by !DISTAIN, TOKYOTRON and CANDIDE amongst others but the tracks that will attract most interest are the B-sides and previously unreleased demos.
'Daylight' is an electronic indie rock hybrid with a snarl that is very much of its time while 'Pseudo Sushi' is very guitar-driven, but 'Useless Information' will be a shock to some as it is almost heavy metal!
Then there is 'Professionals' from the 'Two Steps From Heartache' EP which was something of a dubstep experiment while off the 'When The Lights Go Out' EP, 'Retail Therapy' was an electro new wave hybrid that was more typically SCARLET SOHO.
'Programmed To Perfection' acts as a fine introduction to SCARLET SOHO, gathering them at their most accessible. For anyone who appreciates the shades donning solo persona of James Knights as KNIGHT$, it documents an interesting and significant part of the artistic journey that led to 'Dollars & Cents', one of the best albums of 2019.
---
'Programmed To Perfection – Best Of & Rarities'
is released on 16th November 2020 by Scentair Records as a double CD or download, signed copies available for pre-order direct from https://scarletsoho1.bandcamp.com/album/programmed-to-perfection-best-of-rarities-2020
https://www.facebook.com/scarletsoho/
https://twitter.com/scarletsoho
https://twitter.com/JPSKNIGHTS
---
Text by Chi Ming Lai
14th November 2020