Switzerland's YELLO have never been an act to over-expose themselves in relation to the product that they've released.
Previous album 'Toy' was released in 2016 and prior to that 'Touch Yello' came out in 2009; so after a four year gap we now have the duo's latest work 'Point'.
According to their label Universal, 'Point'
takes the classic YELLO aesthetic of albums such as 'Stella', 'One Second' and 'Flag' and "twists it into something ultra-modern." the sound "part spy film, part Dali-painting, part strobe lit dance floor, part 4D car chase and part deep space torch song. It's YELLO, absolutely on point."
Within the first 10 seconds of album opener 'Waba Duba', there is no mistaking that this IS YELLO; the track is based around a tribal Dieter Meier chant and punctuated with staccato horn stabs which recall their biggest hit 'The Race'. Thankfully 'Waba Duba' doesn't take itself too seriously with gibberish-style lyrics "Do you want me to do/Don't take me for a fool/I'm only happy man/I jump out of the can". All in all, 'Waba Duba' is a feelgood track with enough synth parts to satisfy fans of their more electronic work.
'The Vanishing of Peter Stong' starts like an EBM track with a menacing synth bassline, but the live drums and vocal narrative from Meier takes the piece into a completely different direction. Throughout the album comparisons could easily be made with THE ART OF NOISE, both acts are known for their sampling with Boris Blank having a huge sample collection (400,000+). 'The Vanishing of Peter Strong' features more rhythmic vocal sampling and the kind of production sheen that Trevor Horn and Stephen Lipson cultivated with their associated ZTT acts.
'Way Down' features an offbeat skanking backbeat and a welcome female vocal layer above Meier's trademark talking growl. Beautifully produced again with an amazing clarity to the drum sound; cinematic horns and echoed synth arpeggios excel on a short three minute track that doesn't outstay its welcome.
'Out of Sight' starts like a distant cousin to KRAFTWERK and 'Boing Boom Tschak' before being joined by a "dum dum" vocal bass line which again echoes THE ART OF NOISE. The vocal sampling and stuttering of LES RYTHMES DIGITALES' 'Jacques Your Body' seems to be an influence too…
'Arthur Spark' is far more electronic in nature, with low-slung synth bass sequencer work and APOLLO 440-ish vocodered vocals. A KRAFTWERK-style drum pattern dips in out of the track and subtle guitar work features throughout. What is admirable here is that five tracks in and each track has its own atmosphere with original sounds and none of the tracks become overly repetitive or linger around for too long (actually none of the songs on 'Point' are in excess of four minutes in length).
'Core Shift' features a fantastic synth breakdown at its 38 second mark, again another stunningly mixed track; if one worked in a hi-fi shop 'Point' would make a great sonic fidelity demonstration album.
'Rush for Joe' is a cheeky John Barry-style spy theme-in-waiting with added Korg M1 organ bass sounds, whilst album closer 'Siren Singing' features the only guest vocalist on the album with an appearance from British based Chinese artist Fifi Rong. 'Siren Singing' is an ambient downtempo piece which draws 'Point' to a more introspective conclusion. The only track not to feature Meier's vocals and without him, results in a piece which is pretty un-YELLO like.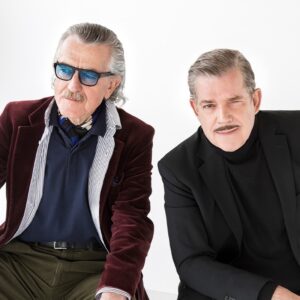 The deal breaker with YELLO has always been Dieter Meier's vocals, he's always been a storyteller rather than a singing vocalist, and there is no deviation from that template here. Arguably 'Point' would function better with more guest vocalists, but he is part of the duo's signature sound and as album closer 'Siren Singing' proves, his absence ends up being missed.
From a production point of view, 'Point' is stunning throughout and although there are no huge stand-out tracks here, the album is a concise re-affirmation of the YELLO sound and long term fans will adore it.
---
'Point'
is released via Universal Music, available as a collector's box, CD, deluxe CD, vinyl LP and digital download
https://www.facebook.com/yello.ch/
https://www.instagram.com/yello_official/
---
Text by Paul Boddy
14th September 2020