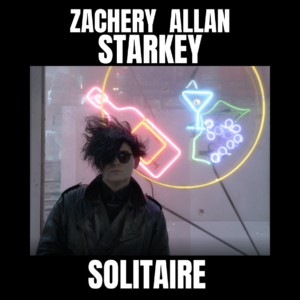 From his home in New York, Zachery Allan Starkey presented a gritty reality on his 2020 album 'Fear City' with observations on the Covid crisis and the rise of the extreme right around the world but in the USA in particular.
It was a product of the times and its title track in collaboration with Bernard Sumner of NEW ORDER captured an appropriate dystopian tension using hooky electronics and club-friendly beats. With an expanded physical edition of 'Fear City' on the way, Zachery Allan Starkey has released a new single 'Solitaire' to bring the narrative of the album into an equally uncertain 2022.
Despite the toppling of Donald Trump since its release and the availability of vaccines, 'Fear City' is still very relevant with Vladmir Putin now wanting to play at being Napoléon in Eastern Europe, partly thanks to the likes of veiled fascists such as the former 45th president of the USA, the Lord Haw-Haw of the 21st Century Nigel Farage, UK Prime Minister Boris Johnson and various political organisations having turned a blind eye to his dictatorial antics while tub thumping on his behalf in lieu of millions in rubles. All this as his cronies and oligarchs accquired interests in property, football clubs, F1 teams, newspapers, TV stations, tech companies and financial institutions!
But while 'Fear City' was observational from a wider perspective, 'Solitaire' is much more personal, dealing with the anxiety of isolation and solitude, accompanied by electro house rhythms and swirling symphonic synth. The nocturnal 'Solitaire' music video was directed by Steven Celestin and captures segments of Starkey trapped in his own dystopian hell around the Brooklyn community districts of Bushwick and Bedford–Stuyvesant.
Starkey said: "I've had a hard life, so I've become a very isolated, solitary person, and I wrote 'Solitaire' about embracing my feelings of isolation and solitude and being empowered by them, rather than saddened… I view it as a positive song, but I wrote 'Solitaire' as a way to deal with my own heavy feelings of isolation and depression, as well as my increasing difficulties with connecting to other people."
With these deeper feelings, Starkey has taken a new approach to vocals. Having recovered from Covid himself, he experienced a dissociated haze of insomnia and depression, the fallout of which is now reflected visually in surreal images of enforced urban entrapment.
Meanwhile, director Celestin added: "Solitude is nothing and everything: sometimes restorative, sometimes destructive. The visual expression of this piece aims to convey both at the same time. At once one is hopeful and driven, at times one is distant and listless. These relatable emotions coalesce in the dreamlike expression of wander, or dérive.'Solitaire' to me is an expression of dérive; to drift through the varied ambiance of urban society. The appearance of this is built on the backs of people much smarter than us, but is ultimately an acknowledgement. What is new is old."
---
'Solitaire' is released by Death Trip NYC via the usual digital platforms including https://zasmusic.bandcamp.com/track/solitaire
The expanded physical edition of 'Fear City' is due later in 2022
https://www.zacheryallanstarkey.com/
https://www.facebook.com/ZASmusic/
https://twitter.com/ZacheryAStarkey
https://www.instagram.com/zacheryallanstarkey/
---
Text by Chi Ming Lai
7th March 2020