This November sees the release of a box set of 'Upstairs at Eric's', 'You & Me Both', an 8 song remix set and some previously unreleased John Peel / David Jensen BBC session tracks.
YAZOO were a candle that burned stunningly bright, only creating two albums before Vince Clarke and Alison Moyet split and went their separate ways.
YAZOO's gestation started whilst Clarke was still in DEPECHE MODE; the debut single 'Only You' was written and offered to Andy Fletcher and Martin Gore but they declined it for the band. Clarke first became aware of Moyet after seeing her sing in THE VANDALS, a band featuring his mate Robert Marlow and a connection was made when he was the only person to answer her Melody Maker ad seeking a "rootsy blues band". A demo of 'Only You' was recorded with Moyet and despite initial reservations from Mute Records boss Daniel Miller, the duo were asked to record a new version for potential single release.
Released on 15th March 1982 with the future US club hit 'Situation' on the B-side; the track was a slow burner but eventually climbed to No2 in the UK charts, giving Clarke single success that easily eclipsed his former bandmates in DEPECHE MODE. The performance of the single gave Mute the confidence to allow the duo to record a full-length album which resulted in 'Upstairs at Eric's'.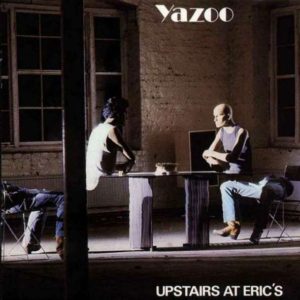 'Upstairs at Eric's', named after a place where Blackwing Studio engineer Eric Radcliffe lived and not as is usually thought the space above the studio, was a stellar jump for Clarke following DEPECHE MODE's 'Speak & Spell' album.
Although there were similarities in sound with Daniel Miller's recognisable ARP2600 drum sounds were still present and correct, gone were the lightweight/throwaway lyrics and in was a mixture of emotionally charged electronic pop like 'Don't Go' and 'Only You' with leftfield experimentation such as 'I Before E Except After C' and 'In Your Room'.
Having recorded 'Speak & Spell' at Blackwing, it was the logical choice for Clarke to reconvene there for 'Upstairs At Eric's' but there was an initial hitch; fellow Mute artist FAD GADGET was booked into the main room with Miller, meaning that YAZOO had to work unsociable early morning shifts to accommodate labelmate Frank Tovey.
In an interview with The Quietus, Clarke is quoted as saying that neither he or Moyet really knew what they were doing in the studio and that songs were completed quickly without any unnecessary overdubs or re-works. Listening back to the album now, it is still astonishing how sparse and how few musical elements are present on the tracks.
The fact that 'Upstairs at Eric's' just WORKS is down to the combination of beautifully direct songwriting, carefully programmed interlocking monosynth parts (at this point Clarke was still of the opinion that using chords was a "cop out"!) and Moyet's incredible voice. In a KRAFTWERK aesthetic, there are no superfluous production elements and the tracks are allowed to breathe and give space to Moyet's still stunning vocals and Clarke's synthetic mastery.
A lot of credit for this must also be given to Eric Radcliffe; in interviews Clarke praises the producer's openness with his studio techniques and commented "if I wanted to run a tape loop around the studio I could!".
From the single opener 'Don't Go' through to proto-house track 'Bring Your Love Down (Didn't I)', the album showed that soulful vocals and cold electronics could be fitting bedfellows and still remains the measure against which any vocal / synth album should be judged.
Created using relatively minimal equipment like the ARP2600, Sequential Circuits Pro-One, Roland Juno 60, Roland TR808, Roland MC4 / ARP sequencers and a very recognisable Linn LM-1 on 'Bring Your Love Down', the album was (at the time) an ambitious piece of work that 36 years later, remains a career peak for both Clarke and Moyet.
Tracks such as 'Midnight' and 'Don't Go ' B-side 'Winter Kills' still pack a huge emotional punch and the beautifully understated latter would come as a huge shock for those used to the synthetic cheesiness of some of Clarke's earlier work (see: 'What's Your Name?').
The spoken word-based 'I Before E Except After C' was yet another curveball, featuring Eric Radcliffe's mum and cut-up vocals by both Clarke and Moyet, it still remains a wonderfully eerie and hypnotising track, despite being very much at odds with the other pieces on the album. Tellingly, the track was maybe deemed a bit too experimental by Mute and was dropped for the first CD release of the album in favour of versions of the more commercial 'The Other Side of Love' and 'Situation'.
Highpoints of the album include the era-baiting 'Goodbye 70s' and mainly instrumental 'Too Pieces'; only the telephone-themed love song 'Bad Connection' comes across as slightly throwaway, but does at least counterpoint some of the darker-themed songs.
Upon release, the album proved itself to be a huge success on both sides of the Atlantic, hitting No2 in the UK and eventually going on to hit platinum status in the USA. Tracks from 'Upstairs At Eric's also latterly got syncs in the spy series 'The Americans'
with both 'Don't Go' and 'Only You' being featured in season 3 when Paige Jennings' dad buys her the album as a far cooler alternative to a DURAN DURAN one. As a stop-gap, Mute released the lightweight 'The Other Side of Love' as a single before the duo reconvened.
Retrospectively, Moyet was less than charitable as to why the song wasn't performed on the 'Reconnected' reunion tour: "We left out stuff that translated less well to live work. Personally I always thought 'The Other Side of Love' was a bit w*nk! It is my least favourite track. I didn't like singing it and Vince was not bothered by it, so we left it out!" – it's excluded from this retrospective as well.
With Clarke only envisaging the act as a one-album project, it took pressure from his publisher to persuade the duo deliver a follow-up which meant that 'You & Me Both' became the second and final YAZOO work.
In comparison with its predecessor, there were two major differences in the overall concept of 'You & Me Both'.
Firstly Clarke's newly purchased Fairlight CMI (one of two bought for their earlier tour) is all over the album, giving a far more organic sound with marimbas, vibes and brass textures often taking precedence over the trademark synthetic ones.
In an early interview with Deb Danahay for the YAZOO Information Service, Clarke confessed that the Fairlight was his "favourite synth", primarily because "I don't have to tune it!".
Secondly, with a couple of exceptions, most of the lyrical content on 'You & Me Both' is an icy cold soundtrack to a break-up; the one and only single 'Nobody's Diary' is a gut-wrenching tale; Moyet's vocal line "…for the times we've had I don't want to be, a page in your diary babe" could easily be directed at Clarke and his now notorious refusal to stick at his musical projects.
The working pattern on the album was more of a 9 to 5 affair, but involved Clarke creating his musical parts in isolation and then Moyet turning up at Blackwing to lay down her vocals without him around. 'You & Me Both' remains the only album to have a song fully vocalled by Clarke in 'Happy People' which MOYET refused to sing and also contains an early un-recorded Depeche live track 'Secrets' which became 'Unmarked'.
The band announced their split shortly after the release of 'Nobody's Diary' and this resulted in Clarke refusing to be involved with promotion of the album, leaving Moyet to talk to the press alone.
Although the new long player secured the duo a critically acclaimed and deserved No1 album, the lack of tour and promo meant that sales tailed off; 'You & Me Both' sold approximately half the units of 'Upstairs At Eric's'.
Even the 23 Envelope-designed album cover of two barely visible dalmatians fighting appeared to be a talisman for the sadly doomed musical relationship. Despite the acrimonious dissolution of YAZOO, the sense of their being unfinished business meant that Clarke and Moyet did reconnect for some live performances in 2008 which gave audiences a chance to experience the 'You & Me Both' tracks live for the first time.
Finally, a one-off get together at the Mute Short Circuit Festival in 2011 was the last time the duo would appear on the same stage. When asked as to whether this performance would be the band's 'last hurrah', Moyet told ELECTRICITYCLUB.CO.UK: "Never say never, but I would say I doubt it would happen again.That's more to do with the fact that Vince was married to DEPECHE MODE, he's married to ERASURE and I'm like that transitional relationship. So it's almost like when he comes back to perform with me, it's almost like when he comes back to perform with me, it's a bit like kinda having a shag for old times' sake and that doesn't really work when you're married!"
So what of the legacy of YAZOO? A musical partnership which appeared an unholy alliance on paper worked out so well that it indelibly changed the face of modern pop music.
Before even discussing credible artists which were influenced by Vince and Alison, 'Only You' cemented itself as a huge popular favourite with the acapella cover by THE FLYING PICKETS and a hybrid orchestral version (also featured in this package) was used as the soundtrack for the 2017 Boots Christmas advert.
It's almost impossible to imagine artists such as LA ROUX, LADY GAGA, ROBYN or GOLDFRAPP existing without the template that Clarke and Moyet forged and 'Four Pieces' provides a welcome opportunity to reassess their impact.
The BBC sessions will be the reason most will invest in this new collection, the versions of songs recorded for John Peel and David Jensen showcase a rawer sound with many alternative synth and drum sounds.
The Peel version of 'Don't Go' showcases a completely different lead sound which is a lot less sawtoothy, whilst 'Midnight' features an alternative synth arrangement to the one on 'Upstairs at Eric's'. The mix of 'Bring Your Love Down (Didn't I)' recorded for Jenson features a contrasting lead melody synth, while 'Too Pieces' brings Clarke's Fairlight to the fore and arguably 'In Your Room' excels over the one featured on the original album. Meanwhile, fans of Moyet's vocals will also enjoy the subtle phrasing differences to those which appeared on the final mixes of the two albums.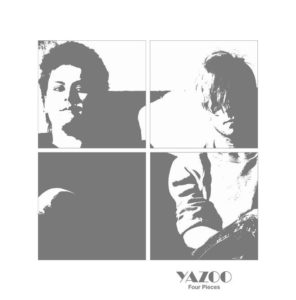 Omissions?
YAZOO completists would have appreciated the appearance of the duo's TV work including 'Get Set', 'The Other Side Of The Tracks', 'Trak Trix' and 'Data Run' as well as the debut tour interval instrumental 'Chinese Detectives' and 'Nobody's Diary' B-side 'State Farm', but this would be a minor quibble.
These are classic albums that will never get old, never really date and if you don't have them in your collection now you have no excuse not to invest in a copy. Absolutely essential.
---
'Four Pieces'
is released as a vinyl boxed set by Mute Records, a CD variant entitled 'Three Pieces'
is also available from on 2nd November 2018
---
Text by Paul Boddy
25th October 2018