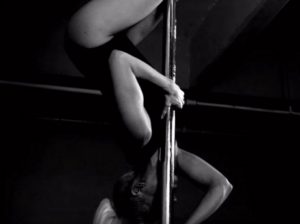 I AM SNOW ANGEL has unveiled a striking video to 'Losing Face', the closing song on her recently released 'Desert' EP.
The project of songwriter and producer Julie Kathryn, the haunting tension of 'Losing Face' accentuates a variety of electronic and organic colours, echoing the aesthetics of another hybrid songstress FIFI RONG.
A muted chop' n' chuck provides the percussive backbone while an eerie soundscape is steadily configured as Kathryn succumbs to lust. "You're different when you're on top of me… how I hate the state I'm in" she paradoxically reflects, as bubbling detuned synth swirls and acoustic guitar penetrate the foreboding atmosphere in the vein of 'Felt Mountain' era GOLDFRAPP.
The monochromatic video itself sees Julie Kathryn give a pole dance interpretation of 'Losing Face'
with choreography and coaching by Chloette Gotye. The result is both stark and sexy, while totally complimenting the empowered sentiments of the song and the parent EP's "subtle complexities of desire, passion and longing".
Busy with both I AM SNOW ANGEL and FEMALE FREQUENCY, 2016 is turning into a fine year of artistic fulfilment for Julie Kathryn.
---
'Losing Face'
is from the 'Desert'
EP, available as a download via the usual digital outlets
https://www.facebook.com/iamsnowangel
https://soundcloud.com/iamsnowangel
---
Text by Chi Ming Lai
7th July 2016