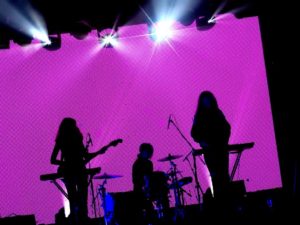 Wacky and wondrous, young Norwich duo LET'S EAT GRANDMA gave a refreshing sign at London's Heaven that the anti-X Factor generation really does exist!
Comprising of Rosa Walton (vocals, keyboards + guitar) and Jenny Hollingworth (vocals, keyboards, recorder + sax), the pair met as 4 year olds at school. Often acting as if they were twins, their "experimental sludge pop" was showcased via their appropriately titled debut album 'I, Gemini', a work crammed with vivid imagination.
Accomplished multi-instrumentalists but also very much acting their age, the pair possess a naively afflicted high pitched harmony in the vein of cult American freak folkies COCOROSIE which only adds to their quirky appeal. Their recently released second album 'I'm All Ears'
has been a more direct affair and seen them venture into synthpop, art school R'n'B and filmic instrumentals as well as developing their songs into even more adventurous extended arrangements.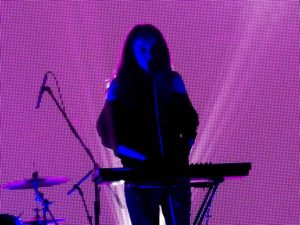 Opening the show with 'Hot Pink', this feisty CHARLI XCX enthused anthem challenging gender roles with its stuttering rhythms was complimented by big blocks of coloured light. But it was the baby CHVRCHES of 'It's Not Just Me' and its relatable sentiments on friendship that were an indication not just of the duo's musical development, but of their empowerment too.
A more aggressive second cousin to 'It's Not Just Me', 'Falling Into Me' continued a song selection that naturally focussed on 'I'm All Ears'.
Following on, 'I Will Be Waiting' came over not unlike FEVER RAY crossed with CHVRCHES, while the piano-laden 'Ava' offered a maturity not far off Polly Scattergood but also some innocent oddness.
'I'm All Ears' has been notable for featuring two very long tracks in 'Cool & Collected' and 'Donnie Darko', affirming Walton and Hollingworth's subversive spirit and ambition if nothing else. A statement about insecurity, the psych guitar driven 'Cool & Collected' however was the less successful of the two, meandering a little too much and far too self-indulgent for a live setting.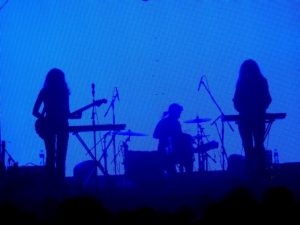 But closing the main set was the 11 minute progressive gothique of 'Donnie Darko'.
It was supreme with its loose shimmers and sparring guitar to start, before kicking in a steady four-to-the-beat, electronic blips and impassioned lines about "going bat sh*t crazy". 
Climaxed by magnificent bursts of whirring synth, the fluidity wouldn't have sounded out of place on something by LA DÜSSELDORF.
However, some youthful fervour saw Walton and Hollingworth leaving their positions to dance with the audience before sitting down together in front of the drum riser, pleased with how their slumber party with 1000+ guests had gone.
Encoring with 'Deep Six Textbook', the song that took LET'S EAT GRANDMA to a wider audience via BBC TV's 'Later With Jools Holland', the pair reprised their endearing playground Pat-A-Cake before settling into the song's stark funereal drama.
Despite expressing a newly found confidence of individuality, LET'S EAT GRANDMA are still very much a playfully bonded pair who will only get stronger as a musical force.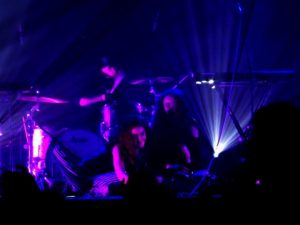 Full of fun and fabulously quirky, while at times some of tonight's performance got a bit ragged and could have been tightened, overall it was a highly accomplished show that very much impressed and reinforced their potential.
Anyone going to see CHVRCHES in the next few months is highly advised to arrive early; LET'S EAT GRANDMA are a positive symbol for the future and really should not be missed.
---
'I'm All Ears'
is released by Transgressive Records/PIAS in CD, double vinyl LP and digital formats
LET'S EAT GRANDMA open for CHVRCHES in 2018-2019, dates include:
Utrecht TivoliVredenburg (3 November), Brussels Ancienne Belgique (5 November), Cologne Live Music Hall (6 November), Berlin Tempodrom (7 November), Hamburg Docks (9 November), Stuttgart LKA-Longhorn (11 November), Munich Muffathalle (12 November), Milan Fabrique (14 November), Lausanne Les Docks (15 November), Luxembourg Den Atelier (16 November), London Alexandra Palace (7 February), Birmingham O2 Academy (8-9 February), Nottingham Rock City (11 February), Bournemouth O2 Academy (12 February), Manchester Victoria Warehouse (14-15 February), Glasgow SSE Hydro (16 February), Newcastle O2 Academy (18 February)
Belfast Ulster Hall (19 February), Dublin Olympia (21-22 February)
https://www.facebook.com/thelegofgrandma/
https://twitter.com/thelegofgrandma
https://www.instagram.com/thelegofgrandma/
---
Text and Photos by Chi Ming Lai
30th September 2018