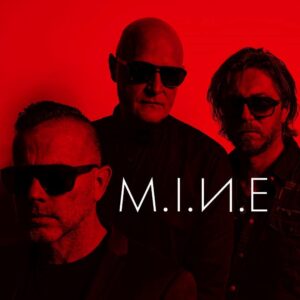 CAMOUFLAGE are a cult German synth band, whose career has grown bigger and bigger over the years, thanks to excellent releases and the fact that no song has been similar sounding or routinely written.
'Greyscale' marked album number eight, and it astonished once more with full, architectural sounds and the deep quality of the writing. Yet, the face of CAMOUFLAGE, Marcus Meyn has decided to step into his own side project M.I.N.E
The collaboration with Jochen Schmalbach and Volker Hinkel, both members of CAMOUFLAGE's live setup, promises a nod towards newer, darker electronica. As Schmalbach and Hinkel's input into CAMOUFLAGE has been mainly limited to live events, Meyn gave them a chance to develop something new.
Schmalbach is indeed an international producer, who contributed to 'If…' on 'Greyscale', and whose style Meyn appreciates greatly. Since CAMOUFLAGE aren't touring at the moment and no new material is being produced, M.I.N.E are hoping to fill the gap and entice new fans with an EP and plan to release a long player before this summer.
'Things We've Done' heralds the project and offers four different mixes to add to the variety. This easy listening track nods towards Dave Gahan's solo achievements on 'Paper Monsters', but clear DEPECHE MODE influences are also palpable, especially from around the 'Ultra' era. Not necessarily that dissimilar from recent CAMOUFLAGE singles, it is loaded with ample amount of magnificent electronica and capable production by Schmalbach.
'Dangerous' follows with a dose of edginess, conveying a message of enticing relationships, while 'Lean On' exercises synth a la AND ONE and a variety of noises, that some again are quite DM sounding. "You've been hiding from life" actually brings back Basildon's finest "you've been hiding from love" from 'Free Love' thanks to the way of its execution. A fair amount of guitar has been introduced into this one towards the end, awakening the moods somewhat.
The last track, 'White Trash', is fairly minimalist until the entrance of the chorus and is probably the best number on the EP. Mellow and not overly sophisticated, it rounds up the production nicely, without being too busy or in your face.
M.I.N.E will most probably bridge the gap between a break in action for CAMOUFLAGE, but compared to its daddy, it is fairly lacklustre.
Meyn's vocals are as always more than capable and the production from Schmalbach is indeed proficient, yet none of the songs seem to leave a profound mark.
The promised nod towards a darker electronica feel simply isn't there; they're decent songs, but they're not CAMOUFLAGE quality. Still, Meyn and Co deserve to harvest new fans, with the upcoming album hopefully fulfilling the expectations a little bit more.
---
'One'
is released by M.I.N.E Music via the usual digital outlets
https://www.facebook.com/minemusicband/
---
Text by Monika Izabela Trigwell
1st March 2017