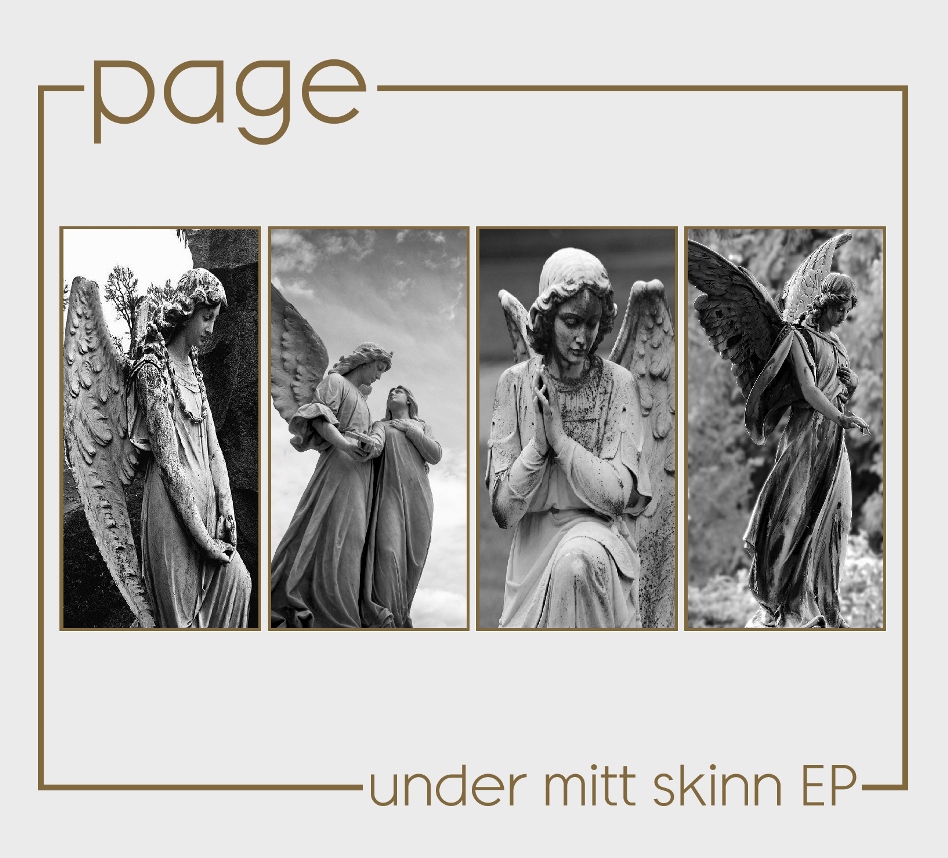 PAGE, the Swedish poptronica trailblazers are back with a new EP entitled 'Under Mitt Skinn'.
Releasing their first single in 1983, the duo of Eddie Bengtsson and Marina Schiptjenko is seen as the classic incarnation despite the line-up variations over the decades. In between her stints, Marina Schiptjenko joined Alexander Bard from ARMY OF LOVERS in VACUUM and then BWO, while front man Eddie Bengtsson had his ongoing solo mission SISTA MANNEN PÅ JORDEN but initially found fame with S.P.O.C.K.
Often been considered as Sweden's answer to Vince Clarke, in 2017 Eddie Bengtsson publically expressed his despair at the state of new electronic music and how it was not enough to have just a single good song on a full length album. So for his end of year listing, he celebrated his influences which he considered to have stood the test time such as TUBEWAY ARMY, ULTRAVOX, THE HUMAN LEAGUE and the lesser known Anglo-Irish combo CUDDLY TOYS.
PAGE's album from that year 'Det Är Ingen Vacker Värld Men Det Råkar Vara Så Det Ser Ut' featured a musically faithful cover of Gary Numan's 'Tracks' in Swedish as 'Spår'; it planted the seed for a more Numanesque sound but it was 2018's 'Start' EP and the 2019 album 'Fakta För Alla' that saw PAGE totally get in the Moog.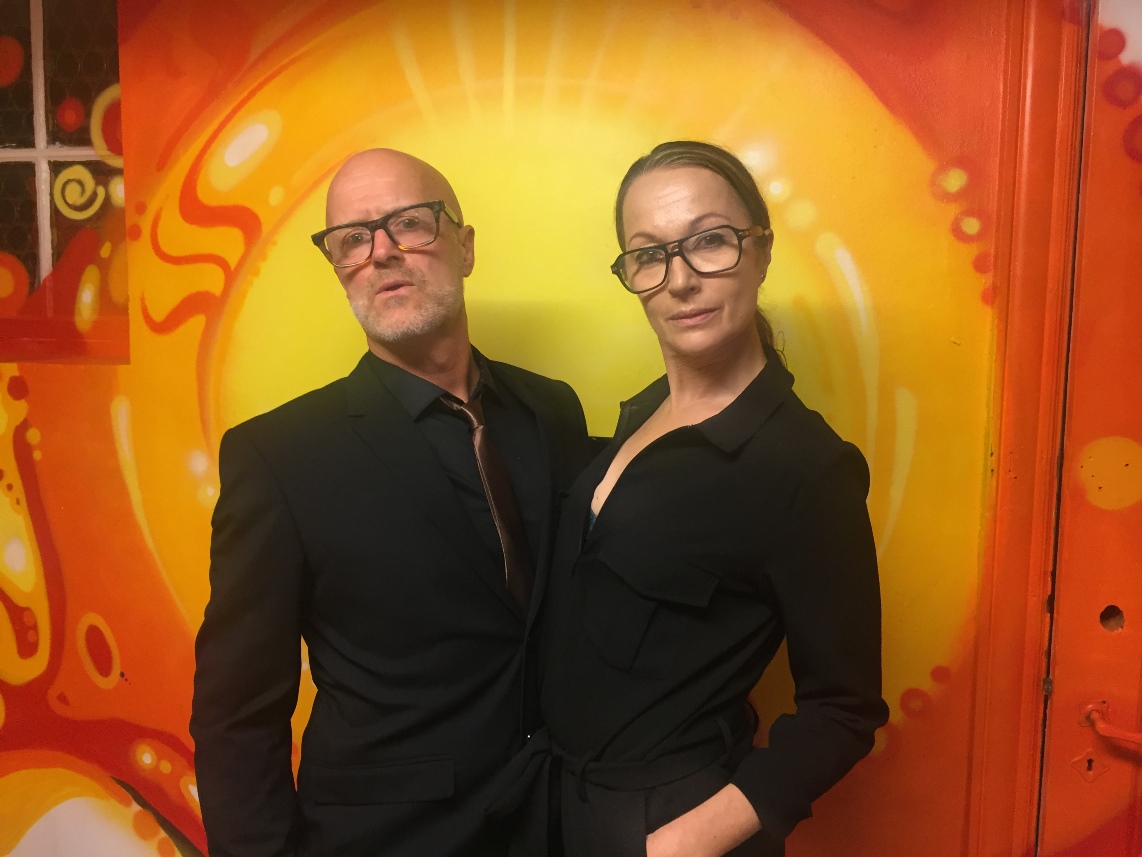 'Under Mitt Skinn' includes 'Tracks' but also five new songs, three remixes and a cover curio. The opening 'Saint Anastase' acts as a mighty instrumental prelude in the vein of Vox 'N' Foxx, with hints of 'All Stood Still', 'I Remember (Death In The Afternoon)' and 'Swimmer' driven by a frantic neo-motorik beat. Having adapted 'Alles Klar' as 'Allt Är Klart' with SISTA MANNEN PÅ JORDEN in 2007, Bengtsson does another fine tribute in acknowledgement of Synth Britannia.
'Under Mitt Skinn' and 'Hoppet' both continue the Numan fixation which PAGE have explored on 'Fakta För Alla' and 'Start' with propulsive monosynth riffs, immersive vox humana and precise uptempo structures. But 'Ta Det Som En Man' plays with the ivory motif of 'The Damned Don't Cry' and amalgamates it with 'Fade To Grey' for the ultimate VISAGE homage på Svenska.
Held together by a metronomic Compurhythm backbone, the clean simplicity of 'Panik' is its key, with some simple piano derived melodies and uncluttered strings, but alien distortion counterpoints to add tension. Less derivative and more like classic PAGE, this is the best of the new songs on this collection, although a sneaky ULTRAVOX warble odyssey at the end just cannot be resisted.
Eddie Bengtsson has often remarked that 'Fakta För Alla' is possibly the best work of his career and two of its tracks are reworked by others. 'Blöder Du' is percussively remixed by Svein Welde but remains moody and doesn't lose its mystery.
Meanwhile the Hacienda redux by Pierre of 'Ljuden I Ditt Rum' adds a baggy wah-wah feel which parties like it's 1991 and even threatens to turn into the final section of THE STONE ROSES 'I Am The Resurrection'!
The Side Order family redux of 'Som Ett Skal' from 'Hemma' however could have done without its irritating glitch stutters and this effect spoils an otherwise acceptable remix of what is now considered modern day PAGE's signature song.
As a novelty bonus, Swedish industrial band INDEPENDENT STATE featuring John Westlund and Den Där Killen offer a synth punk cover version of 'Lägger Av' from 'Det Är Ingen Vacker Värld Men Det Råkar Vara Så Det Ser Ut'; it could be mistaken for a Nordic Plastic Bertrand and that more or less sums up its playfully enjoyable nature.
'Under Mitt Skinn' will more than satisfy PAGE fans and enthusiasts of elektronisk pop who have enjoyed the run of enjoyable releases since 'Nu' in 2010. But while the dynamic vintage overtures of Billy Currie, Gary Numan and John Foxx are still very much omnipresent on this EP, there are signs through the five new tracks that this influence may be steadily evolving into another phase for Marina Schiptjenko and Eddie Bengtsson.
---
'Under Mitt Skinn' is released by Energy Rekords as a CD, available from https://hotstuff.se/butik/cd-page-under-mitt-skinn-ep-foldout-digipack-cd-limited-edition-300-copies/76383
https://www.facebook.com/PageElektroniskPop
https://www.instagram.com/page_svensk_pop/
https://open.spotify.com/album/6joc62sEjHePUv0ZRncgN1
---
Text by Chi Ming Lai
Photos by Jonas Karlsson
6th June 2020