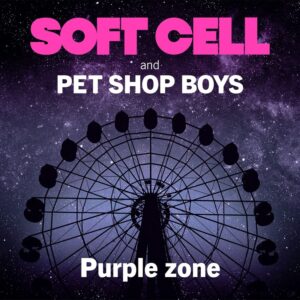 'Purple Zone' is the first-ever collaboration between iconic Northern English duos SOFT CELL and PET SHOP BOYS.
While Dave Ball had remixed PET SHOP BOYS 'DJ Culture' as part of dance duo THE GRID, this is the first time Marc Almond has worked with Neil Tennant and Chris Lowe.
The two pairings met backstage after the second Hammersmith Apollo show during SOFT CELL's recent tour celebrating the 40th Anniversary of their debut album 'Non-Stop Erotic Cabaret'.
As well as performing what has often been hailed as one of the best albums of 1981, Almond and Ball premiered songs from their forthcoming new album '*Happiness Not Included'. One of the songs in the encore was the rousing 'Purple Zone', an uplifting Europop number with very anthemic reminiscences of PET SHOP BOYS. But the very SOFT CELL twist comes from Almond's darkly doomed lyrical expressionism in keeping with the introspective themes of '*Happiness Not Included' such as mourning the passage of time, missed opportunities and life not quite going as planned.
Although the colour purple is actually rare in nature and thus seen as sacred, its primary constituents comprise the stability of blue and the energy of red, an apt midlife metaphor. Coincidently SOFT CELL covered 'Purple Haze' as part of a medley of Jimi Hendrix songs in 1983 for the bonus 12" single in initial copies of their second album 'The Art Of Falling Apart'.
The video directed by Yassa Khan sees Messrs Almond, Ball, Tennant and Lowe together in a pub, participating in some domino dancing while there is the rather incongruous spectacle of the PET SHOP BOYS frontman pulling pints and the SOFT CELL singer as an ice cream man!
Produced by Dave Ball and PET SHOP BOYS for single release in a union of The Blackpool Electro Mafia as well as featuring the voices of both Almond and Tennant, 'Purple Zone' goes full circle; SOFT CELL had an amazing run of Top 40 hit singles between 1981-1984 including a UK No1 in a cover of 'Tainted Love' and four consecutive Top5 entries.
But after SOFT CELL imploded, it was PET SHOP BOYS who took over the baton while smoothing over the image and sound, to become the most successful British synth duo of all time with an imperial phase that included four UK No1 singles between 1986-1988.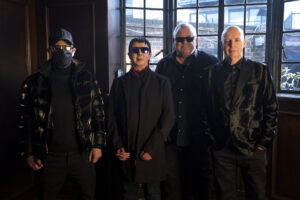 As Neil Tennant probably would have put in when he was deputy editor of 'Smash Hits' while SOFT CELL were having their own imperial phase, this is "an amazing pop moment" on '*Happiness Not Included' .
So who is putting money on a joint performance of 'Purple Zone' when PET SHOP BOYS take their 'Dreamworld' greatest hits show to London's O2 Arena on Sunday 22nd May 2022?
---
'Purple Zone' is available on the usual digital platforms via https://softcell.lnk.to/PurpleZoneFA
'Purple Zone' will be available as a 12″ + CD single, pre-order from https://softcell.tmstor.es/
The album '*Happiness Not Included' is released on 6th May 2022 via BMG in various formats including yellow coloured vinyl LP, picture disc LP, CD, cassette and download
https://www.facebook.com/softcellband/
https://twitter.com/softcellhq
https://www.instagram.com/softcellhq/
https://www.facebook.com/petshopboys/
https://twitter.com/petshopboys
https://www.instagram.com/petshopboys/
---
Text by Chi Ming Lai
22nd March 2022