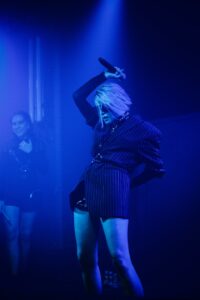 It has been said before, but the best electronic events are those put on by actual electronic music enthusiasts.
Nordic friendly blog Cold War Night Life brought Sweden's REIN over for a first UK show and she didn't disappoint with her hard hitting, adrenaline pumping EBM with a pop twist.
In a stylistically eclectic evening, electronic duo KOMPUTER made their live return after their last appearance at Mute Presents Short Circuit in 2011. The label veterans also promised music in their previous guises I START COUNTING and FORTRAN 5. But opening was the up-and-coming Leeds based songstress IMI.
Possibly the best new young synth talent in the UK right now, IMI is blessed with a glorious soprano in the vein of Alison Goldfrapp and Tara Busch. Her debut EP 'Lines' released this year showed potential and promise, impressing the likes of Mark Reeder, Chris Payne, Paul Statham and Sarah Blackwood along the way.
In her third live appearance in the capital, IMI opened her set of intelligent avant pop with 'The Fence'. With a reasonably sized crowd gathering early to witness her performance, she immediately impressed with her glorious soprano, inventive electronic arrangements and a beautiful booming crescendo.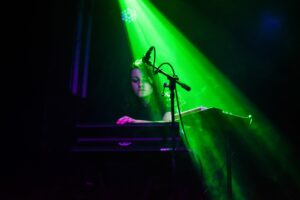 New song 'Monolith' suitably provided a widescreen pillar to the rest of the set, the end section of which began with the eerie but uplifting 'I Feel Alright' which recalled the work of I SPEAK MACHINE. Encapsulating the delightful oddness of GOLDFRAPP in their 'Felt Mountain' phase and trip-hop, with a piercing cry on the caesura, the magnificence of 'Margins' had those who had been unaware of IMI before looking at each other suitably impressed.
Illustrated with a great light show to suit the gothic surroundings of Electrowerkz, it was short set from IMI but it left people wanting more. And as their cheers combined with those of her family members present, there was a sizeable noise of approval for the first act of the night.
Wearing their red overalls from the 2007 'Synthetik' campaign, David Baker and Simon Leonard opened their comeback set with 'Looking Down On London' from 'The World Of Tomorrow' album which was sampled by OMD in its 'Metroland' variant.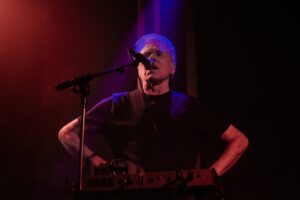 The pair delivered on their promise of playing I STARTING COUTING and FORTRAN material with 'Letters To A Friend', 'Heart On The Line', 'Time To Dream', 'Lose Him' and 'Million Headed Monster' all getting a welcome airing.
Baker was on top form with his deadpan vocals while positioned behind his Korg Poly 800x as Leonard counterpointed robotically with a MicroKorg vocoder.
The brilliant 'We Are Komputer' from the debut KOMPUTER EP got people dancing, while the pretty octave shifting pulse 'Still Smiling' recalled the more carefree times of 1985 when I START COUNTING got the Daniel Miller production treatment assisted by Flood.
Best of all though was a powerfully faithful rendition of 'Valentina', probably the best know KOMPUTER song and their touching tribute to "the first woman hero of the modern age" with its echoes of KRAFTWERK's 'Das Modell'.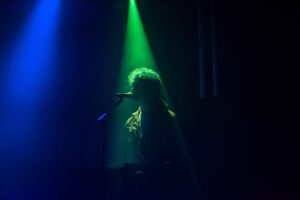 Concluding with rhythmic strike of 'The Man Machine' aping 'Bill Gates', KOMPUTER's return to the stage was complete and more than satisfied the many Mute enthusiasts who had missed the presence of Baker and Leonard over the past few years. While KOMPUTER have remixed BLANCMANGE and METROLAND of late, what their followers really want is new material. It will be interesting to see what happens next.
Feisty and ambitious, despite the acclaim of her debut self-titled EP from 2016, REIN focussed on new material for her first ever London performance. Accompanied by the striking statuesque presence of Josefin Ahlqvist Lyzwinski on percussion, the young Swede opened with 'Reincarnate' by way of a mission statement.
Swathed in shades of blue light and exuding sweaty energy, the self-explanatory 'Bodyhammer' and 'Accelerate' continued the attitude with their loudness blows well-placed in the industrial friendly venue. The thrust of 'Bruises' added a sinister S&M edge, but the best track of the evening proved to be a new number called 'Thieves'.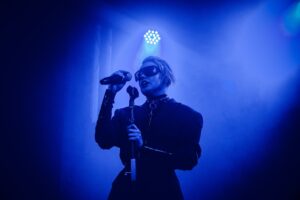 REIN discovered electronic music after seeing KRAFTWERK at the age of thirteen, so 'Thieves' carried over some of that teen angst, presenting a hardened homage to 'Tour De France' that was tough yet very catchy.
The punchy new single 'Off The Grid' provided a calling card to REIN's upcoming debut album while 'Concrete Jungle' was the only concession to her debut EP.
But she finished her set with two songs from 2017's social-politically themed statement of the 'Freedoom' EP. The highly danceable 'Misfit' channelled aggression to a good beat while the broader modern electro-punk sound of the chant-laden call to action 'C.A.P.I.T.A.L.I.S.M' made REIN's views clear, much to the approval of those moshing in front of her.
A true 'Rebel Girl' as suggested by the track from her debut 2016 EP, REIN showcased 45 minutes of progress such that there was no need for that song, 'Can't Handle Me' or 'I Don't Get Anything But Sh*t From You' in her set.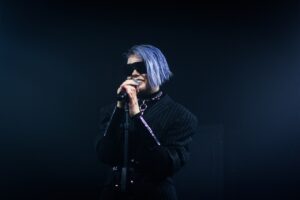 The evening presented three very distinct branches of electronic music, but with KOMPUTER's long standing links, IMI's obvious musical debt to GOLDFRAPP and the influence of NITZER EBB on REIN, if there was a relatable thread, then it was the artistic legacy of Mute Records.
With Mute Records sending along a representative and Sarah Blackwood from former Mute offshoot Toast Hawaii signings CLIENT also attending, the circuit was complete.
As a punter who had also been to previous shows said afterwards: "You don't put on sh*t do you…"
---
The organisers give their sincerest thanks to all the artists, Mute Records and the team at Electrowerkz
https://www.facebook.com/reinofficialmusic/
https://www.instagram.com/_reinofficial_/
https://komp46.wixsite.com/komputer
https://www.facebook.com/KomputerOfficial/
https://www.facebook.com/imimusicuk/
https://www.instagram.com/imimusicuk/
http://www.coldwarnightlife.com/
---
Text by Chi Ming Lai
Photos by Aga Słobodzian
10th December 2019