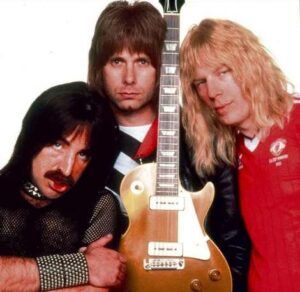 Some Not So Great Albums By Some Great Acts
While opinion is totally subjective and in the mind of the beholder, in the same way that a footballer can occasionally fluff a shot, then a musician can also score their equivalent of an own goal. The less than impressive albums on this list have generally been derided by both fans and critics.
In most cases, these recordings were made by established acts with sure-fire reputations at the height of their career; or they were part of a much vaunted comeback.
But as can be expected with the highs and lows of the music industry, a number were produced during difficult periods in an artist's creative dynamic following personnel changes or record company pressures.
So in hindsight, poor results were often predictable and inevitable. However, based on the standards of their strongest work, most of the talents mentioned here should have known better.
But even in the face of informed criticism, some musicians can be terribly stubborn and unrepentant. Reacting to negativity surrounding his infamous 'Metal Machine Music' double album of feedback and electronic screeching, Lou Reed famously snorted: "if they don't like it, they can go eat rat sh*t"! Oh well, would you like fries with your rat sh*t?
Inspired by the Q Magazine article 'Can I Have My Money Back?' from 1996, here are twenty of the better known creative blips, in alphabetical order. It should be noted that ELECTRICITYCLUB.CO.UK actually bought all but five of these albums, so make of that what you will!
---
KARL BARTOS Electric Music (1998)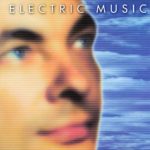 Proof that pioneering geniuses lose their way once in a while. Following his 'Esperanto' album in 1993 with Lothar Manteuffel of RHEINGOLD under the moniker ELEKTRIC MUSIC which many accepted as a KRAFTWERK record in all but name, KARL BARTOS went to work with Bernard Sumner and Johnny Marr on ELECTRONIC's 'Raise The Pressure'. He found the experience liberating and on his return, adopted the guitar for his next 'Electric Music' album (note subtle name change) without Manteuffel.
Speaking to Ben Cooke in 2005, he said that when he started playing music as a teenager, it was in his bedroom with his guitar pretending to be Chuck Berry and this album was him getting back to all that. 'Young Urban Professional' was actually a song originally written for KRAFTWERK, but is turned into THE SMITHS' 'Hand In Glove' with vocoder! 'Sunshine' is typical of the clumpy rock that marred NEW ORDER's 2001 comeback 'Get Ready' while the rest of the album is pretty much the same.
Only 'Call On Me' possesses any kind of spark as a song. Bartos himself described 'Electric Music' as an "exploration of the sound of the sixties – guitar pop out of the computer" and thanks Johnny Marr in the credits! Luckily, Bartos returned to synths and was back on form with 2003's 'Communication', delivering a collection that showed his former cycling partners over at Kling Klang a thing or two.
Best track: 'Call On Me'
'Electric Music' was originally released by SPV Records
---
DEPECHE MODE Sounds Of The Universe (2009)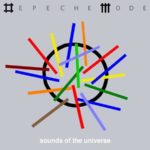 Following a return to form with 'Playing The Angel', much was expected of 'Sounds Of The Universe' when the band's biggest world tour to date was announced in 2008. Unfortunately, the lacklustre 'Exciter' from 2000 appeared to be the musical template and the tracks that leaked were not particularly promising. The resultant long player lacked spark, dynamics and creative tension. It was dreary mid-paced electro blues that dominated on this turkey.
The outstanding track from the sessions 'Oh Well' was a spicy uptempo Moroder-esque collaboration between Martin Gore and Dave Gahan but only appeared in the 4CD deluxe box set while the fact that the two best tracks on the main feature were a ballad voiced by Gore and a short instrumental said it all! But this became rather trivial when Gahan was diagnosed with a life threatening illness while on out on the road in Athens!
Best tracks: 'Jezebel', 'Spacewalker', 'Oh Well' (deluxe box set only)
'Sounds Of The Universe'
was originally released by Mute Records
---
DURAN DURAN Thank You (1995)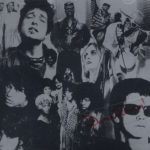 This covers album was recorded at the behest of EMI Records who were strangely impressed by DURAN DURAN's rather strained cover of THE VELVET UNDERGROUND's 'Femme Fatale' from 'Wedding Album' and eager for a quick cash-in on their 1993 renaissance. Among the songs attempted were ironic takes on 'White Lies (Don't Do It)' and another drug dependency tale 'Perfect Day', as well as songs by BOB DYLAN, PUBLIC ENEMY, ELVIS COSTELLO, SLY STONE and LED ZEPPELIN!
The covers of IGGY POP's 'Success' and THE DOORS' 'Crystal Ship' were actually quite enjoyable but among all the ham reinterpretations of established standards, the band actually covered themselves in a new version of 'The Chauffeur' entitled 'Drive By'! Often regarded as one of the worst albums ever recorded, this disaster was dubbed "No Thank You" by many fans!
Worse was to come for DURAN DURAN though as John Taylor left the band and EMI UK then refused to release their 1997 album 'Medazzaland'. It would take a reunion of the classic line-up in 2004 to get them back on track and it wasn't until 2011's 'All You Need Is Now' album that they fully recaptured their former artistic glories.
Best tracks: 'Success', 'Crystal Ship'
'Thank You'
was originally released by EMI Records
---
ERASURE Loveboat (2000)
In a poor period for Andy and Vince, this was a close run thing with their covers album 'Other People's Songs' but at least with the latter, there were quality songs on show even if some of the versions left a lot to be desired. The problem wasn't just the emphasis on guitar driven dynamics, it was also severely lacking in the usual ERASURE charm. Andy Bell admitted how shocked he was when he heard how "weird and indie" Rob Kirwan's final mix sounded.
Despite production by Flood,  it was all very muddy. And even the album's one potentially great song 'Moon & The Sky' was missing an uplifting chorus which was only later added to the Heaven Scent Radio Re-Work version that was released as a single. The redeeming consequence though was that despite these tough times creatively, ERASURE took to soft synths and made one of their best albums in 2005 with 'Nightbird'.
Best tracks: 'Freedom', 'Moon & The Sky'
'Loveboat'
was originally released by Mute Records
---
HEAVEN 17 Teddy Bear, Duke & Psycho (1988)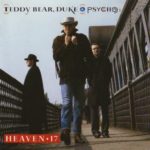 'Teddy Bear, Duke & Psycho' were the affectionate nicknames given by TERENCE TRENT D'ARBY respectively to HEAVEN 17's Martyn Ware, Glenn Gregory and Ian Craig Marsh. The conventional sounding 'Pleasure One' released in 1986 had been given a lukewarm reception, while Martyn Ware's success as a producer for artists such as TINA TURNER and Mr D'Arby himself may have started to spread his creative energies just a little too thinly.
Whatever, when 'The Ballad Of Go Go Brown' was released as lead single and Glenn Gregory appeared on the album cover wearing a Stetson and cowboy boots, the writing was on the wall. A lot of the album features the blue eyed soul of the times but with younger acts like WET WET WET, AZTEC CAMERA, HUE & CRY and even PERFECT DAY (featuring a certain Mark Jones of Wall Of Sound fame!) gaining the public's attention, HEAVEN 17 then went on hiatus for the next nine years before returning with the electronically driven triumph 'Bigger Than America'.
Best tracks: 'Big Square People', 'Train Of Love In Motion'
'Teddy Bear, Duke & Psycho'
was originally released by Virgin Records
---
THE HUMAN LEAGUE Crash (1986)
Work had started on 'Crash' in 1985 with producer Colin Thurston but the results were not deemed suitable for release by Virgin Records. To overcome the creative block, THE HUMAN LEAGUE were despatched to Minneapolis to record with top producers Jimmy Jam and Terry Lewis. Here, they became part of the manufactured R'n'B conveyor belt that had already seen success for JANET JACKSON and ALEXANDER O'NEAL. Ian Burden in particular was considered surplus to requirements by the producers.
Disconcertingly, the album's two strongest numbers 'Human' and 'Love Is All That Matters' had no songwriting input from any of THE HUMAN LEAGUE themselves… but then, they weren't involved in the album's two stinkers either! The David Eiland composed 'Swang' was horrible while 'I Need Your Loving' surely had to have been a Janet Jackson reject? Eventually, Oakey and co went home leaving Jam and Lewis to finish 'Crash'.
'Human' was an American No1 and helped keep THE HUMAN LEAGUE's profile up Stateside while the album's end results sounded nothing like them with Phil Oakey's voice left exposed as it was not really suited to the dynamics of soul. It would take almost ten years for them to regain momentum with 1995's 'Octopus'.
Best tracks: 'Human', 'Love Is All That Matters', 'Money'
'Crash'
was originally released by Virgin Records
http://www.thehumanleague.co.uk
---
JAPAN Rain Tree Crow (1991)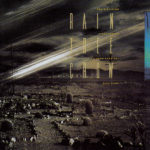 This was the much heralded reunion of David Sylvian, Mick Karn, Steve Jansen and Richard Barbieri aka JAPAN, a band who many considered had broken up before their time following the highly acclaimed 'Tin Drum' album in 1981. However, the split was due to personal rather than artistic differences when Karn's girlfriend Yuka Fujii left him for Sylvian. Time eventually healed wounds and the quartet gathered together in France under the Sylvian inspired Native American moniker RAIN TREE CROW.
The idea had been to compose and record as a group through improvisation as opposed Sylvian being sole songwriter and studio dictator which had previously been the case during the JAPAN days. However, Sylvian's stubborn imposing character led to a return to old ways. Supported by a huge budget from Virgin Records, unbelievably it was exceeded. So Virgin gave them an ultimatum where no more money would be forthcoming unless the project was presented under the name of JAPAN. The others agreed but Sylvian refused.
Walking off with the tapes to mix the album under his own finance and supervision, he refused to let any of his bandmates in on the sessions! The result was an unfocussed set consisting of progressive avant jazz and self-indulgent ethnic instrumental pieces tha sounded unfinsihed. Only the magnificent single 'Blackwater' bore any kind of relation to JAPAN's brilliant legacy. The quartet never worked together again and with Mick Karn's sad passing, never will.
Best track: 'Blackwater'
'Rain Tree Crow'
was originally released by Virgin Records
---
JEAN MICHEL JARRE Sessions 2000 (2002)
It is always going to end in tears when an artist embarks on a jazz odyssey! And so it was when JEAN MICHEL JARRE came up with what can only be assumed to be an attempt to break his then recording contract with Sony Music. 'Sessions 2000' contained six tracks named presumably after the days they were composed. Recorded by Jarre with collaborator Francis Rimbert, all had deliberate chill-out lounge jazz undertones and unfortunately, a distinct lack of melody.
'June 21' just plods along aimlessly for over six minutes while 'September 14' aims at the atmosphere of 'Twin Peaks' but does nothing in its excruciating nine! Haunting piano and detuned tones colour the RYUICHI SAKAMOTO influenced 'May 1' but any potential is unrealised.
Only 'March 23' has any kind of musical shape with a distinct rhythmic pulse textured with synthetic brass and slide guitar samples but is far too long. Jarre eventually got back up to speed with the improved but still laid back 'Geometry of Love' and the dance driven 'Teo and Tea'.
Best track: 'March 23'
'Sessions 2000'
was originally released by Sony Music
http://www.jeanmicheljarre.com
---
KRAFTWERK Tour De France Soundtracks (2004)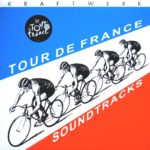 The first new material from KRAFTWERK since the disappointing single 'Expo 2000', this was Ralf Hütter and Florian Schneider's opportunity to reconsolidate their position as synthesizer godfathers in the 21st Century. However, it was also 14 years since the departures of electronic percussionists Wolfgang Flür and Karl Bartos, and it showed. One of the weakest links in 'Tour De France Soundtracks' was the rhythm programming which lacked punch and neither encouraged excitement or dancing.
Ironically, for an album about cycling, 'Tour De France Soundtracks' was strangely pedestrian. Everything was tightly sequenced and structured but noticeably absent was the humanity and humour which were two of KRAFTWERK's strongest suits, even on tracks like 'Sex Object' and 'Boing Boom Tschak' from 1986's lacklustre predecessor 'Electric Cafe'. The reworkings of the original 1983 'Tour De France' track are the best things on here while Karl Bartos' 'Communication' album, which happened to be released a few weeks later, was infinitely superior.
Best track: 'Tour De France', 'Tour De France Etape 1'
'Tour De France Soundtracks'
was originally released by EMI Records
---
NEW ORDER Waiting For The Sirens' Call (2004)
NEW ORDER's musical strength was fusing the spirit of punk into electronics and dance. However, with keyboardist Gillian Gilbert leaving the band on their recorded return, Messrs Sumner, Hooky and Morris filled the void with a bunch of stodgy rock numbers on 2001's 'Get Ready'. For the next album, the trend towards rock continued although there were marginally more synths this time. As possibly the worst song NEW ORDER have ever recorded, 'Who's Joe?' had none of the spirit of their best guitar numbers.
Even the lead single 'Krafty' was uninspiring NEW ORDER by numbers while its follow-up 'Jetstream' featuring SCISSOR SISTERS' Ana Matronic was terribly lame despite being produced by Stuart Price. Only the title track and 'Dracula's Castle' have any flashes of their classic brilliance. Legend has it that when Peter Saville was commissioned to design the sleeve, he was so unimpressed by the quality of the album that he decided to send an ironic message to warn any potential punters!
Best tracks: 'Waiting For The Sirens' Call', 'Dracula's Castle'
'Waiting For The Sirens' Call'
was originally released by London Records
---
GARY NUMAN Warriors (1983)
Things had looked promising with GARY NUMAN returning to the live stage after retiring in 1981. Bill Nelson was slotted in to produce 'Warriors', but the pair fell out very early on in the sessions. Nelson then had his more trebly cutting mixes wiped by Numan so asked for his name to be taken off the credits! With the alien embracement of jazz and funk influences, 'Warriors' ended up a well played if confused, characterless body of work. The use of some top flight session musicians was a major part of this mess.
Dick Morrissey played saxophone solos whether they really ought to have been there or not, while Joe Hubbard's slap bass was at times self-indulgent and wholly incongruous with the Numan sound. Although there were a couple of good tracks like the dreamy 'The Iceman Comes' and the synthetic THIN LIZZY of 'My Centurion', this was the start of a creative dip that GARY NUMAN wouldn't truly recover from until 1994. In between, he appeared far more interested in flying than his music career.
Best tracks: 'The Iceman Comes', 'My Centurion'
'Warriors'
was originally released by Beggars Banquet Records
---
OMD Liberator (1993)
Following the success of 'Sugar Tax' in 1991, remaining sole OMD founder Andy McCluskey was on a commercial roll and decided to continue this well trodden poptastic path. As a result, 'Liberator' featured lots of busy modern dance effects. "It was an album for kids" lamented McCluskey later to Jens Lindell on Swedish radio in 1996. But by the time of its release in 1993, Da Kidz were worshipping acts such as Take That and East 17 who were closer in age to the intended demographic of 'Liberator'.
An album of C-sides, 'Stand Above Me', 'Everyday', 'Love And Hate You' were all painfully poppy and not exactly the strongest songs in the OMD canon. Meanwhile, opinions are still divided about the synth MOR tune 'Dream Of Me', based on LOVE UNLIMITED ORCHESTRA's 'Love's Theme'. The confused schizophrenic nature of the album's concept was compounded by the pure genius of darker, more traditional OMD numbers like 'King Of Stone' and 'Christine'.
The muted reception to 'Liberator' led to the brave but conventional and ultimately doomed 'Universal' in 1996, before McCluskey retired the OMD brand. Bruised, he then set his sights on launching ATOMIC KITTEN! And that is a story in itself!
Best tracks: 'King Of Stone', 'Christine', 'Best Years Of Our Lives'
'Liberator'
was originally released by Virgin Records
---
PET SHOP BOYS Release (2002)
With pun totally intended, 'Release' was marred by the input of THE SMITHS' famed guitarist Johnny Marr  who had already used his influence to fill the last ELECTRONIC album 'Twisted Tenderness' with harmonica, getting Bernard Sumner rock out again in the process and even inspiring Karl Bartos to use guitar on every track of his 'Electric Music' album… note the irony with both band monikers! Neil Tennant and Chris Lowe meanwhile attempted a collection of understated songs which were not only free of club derived beats but also of hooks and melodies!
'Release' certainly had none of the quality of their other understated album 'Behaviour'. 'I Get Along' comes over like a camp version of Oasis while the worthiness of 'Here' wasn't revealed until PET SHOP BOYS' own dance remix for 'Disco Vol3'. 'The Night I Fell In Love' is a lyrically amusing narrative about EMINEM having a gay fling with a fan, but apart from the uptempo 'The Samurai In Autumn', this album is mostly plodding six-string led numbers devoid of any of the mastery that made them great. They were wearing someone else's clothes and they didn't fit. Ironically, 'Release'really was PET SHOP BOYS 'Being Boring'! And did you know that Johnny Marr in French (J'en Ai Marre) means "I am fed up"?
Best track: 'The Samurai In Autumn'
'Release'
was originally released by EMI Records
---
SIMPLE MINDS Street Fighting Years (1989)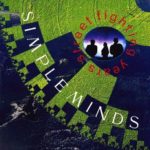 Lambasted for embracing stadium rock, one thing though about 1986's 'Once Upon A Time' was that it was an enjoyable uptempo synthetic rock record that successfully exploited its commercial possibilities with its sharp radio friendly outlook. However, when they took the album out on the road, Jim Kerr and co persisted with overlong, pompous arrangements and hectored the audience with tiresome repeated shouts of "show me your hands" and "higher"!
For the 'Street Fighting Years' album, the band retreated to the tranquillity of rural Scotland to inspire a more earnest, political direction… unfortunately, the overlong, pompous arrangements remained! Instrumentally, the bombast and synths were replaced by brushes, rootsy bottleneck guitar and Hammond organ flourishes that were ubiquitous of the period. But the songs meandered along formlessly at over six minutes at a time. Their only UK No1 single 'Belfast Child' outstayed its welcome by at least four and a half minutes! Even the production skills of Trevor Horn and Stephen J Lipson, who were recruited because Jim Kerr was a fan of PROPAGANDA's 'A Secret Wish', couldn't save this one!
Best track: 'Wall Of Love'
'Street Fighting Years'
was originally released by Virgin Records
---
SPARKS Terminal Jive (1980)
Following the success of the singles 'The No1 Song In Heaven', 'Beat The Clock' and 'Tryouts For The Human Race' from the Giorgio Moroder steered album 'No1 In Heaven', SPARKS were despatched by Virgin Records to record a swift follow-up. Although Moroder was still nominally at the helm, 'Terminal Jive' is more 'Hot Stuff' than 'I Feel Love' but nowhere near as good. Harold Faltermeyer of 'Axel F' fame took up a large part of the production duties as Moroder started to lose interest.
The songs were mostly lethargic synth assisted FM rock numbers. 'Rock 'N' Roll People In A Disco World' seemed to reflect the confused direction both lyrically and musically. Ironically, despite featuring more guitars and therefore a more American friendly sound, 'Terminal Jive' was the only SPARKS album that wasn't issued in the US on its original release.
The highlights were 'When I'm With You' which was a massive hit single in France and the satirically pervy 'Young Girls'. However, the lack of quality material, as summed up by the inclusion of the instrumental version of 'When I'm With You', was the real problem. Disillusioned, SPARKS left Europe and returned to the States where they attained some varied domestic success having been previously ignored by their compatriots. They wouldn't be seen much in Europe again until 1994 when the brilliant 'When Do I Get To Sing My Way' became as smash and gave them an unexpected career renaissance.
Best tracks: 'When I'm With You', 'Young Girls', 'The Greatest Show On Earth'
'Terminal Jive'
was originally released by Virgin Records
---
TANGERINE DREAM Cyclone (1978)
So this was a great idea, a TANGERINE DREAM album with vocals and flute! Featuring Steve Jolliffe on those said two colours, the first 13 minute track 'Bent Cold Sidewalk' came over like GENESIS and JETHRO TULL with its mystical lyrics and Hobbit vocal delivery. The comparatively short and uptempo 'Rising Runner Missed By Endless Sender' actually sounded like ULTRAVOX, but unfortunately in their Foxx-less and Ure-less 'Ingenuity' guise fronted by the best forgotten Sam Blue!
The progressive rock overtones took a breather on the more traditionally cosmic instrumental 'Madrigal Meridian' which saved the show, but most TD fans had probably headed down to the second hand stores by the end of side one. Although not well received, such was Messrs Froese and Franke standing at the time, 'Cyclone' was TANGERINE DREAM's sixth best-selling album in the UK.
Best Track: 'Madrigal Meridian'
'Cyclone'
was originally released by Virgin Records
---
TEARS FOR FEARS Everybody Loves A Happy Ending (2004)
'Everybody Loves A Happy Ending' saw TEARS FOR FEARS' original nucleus of Roland Orzabal and Curt Smith reunited for the first time since the tedious 'The Seeds Of Love' album from 1989. Friends since childhood, Orzabal's domination of those sessions proved too much for Smith and it would be many years before they would even speak again. However, the reunion was already experiencing problems when Arista Records, who had signed the duo, pulled the comeback album from the release schedules.
But it was easy to see why… the album consisted of dull derivative compositions with little flair. The title track was another attempt at THE BEATLES pastiches from the last time Orzabal and Smith recorded together. Americana was one of the main templates with 'Call Me Mellow' basically a retread of THE LAs' similarly influenced 'There She Goes'.
Eventually released on Gut Records after a year's delay, only the original closing track 'Last Days On Earth' had any redeeming features but even that sounded like The Isley Brothers. As further a sign of their lack of creative juice, the duo even took to using Gary Jules' arrangement of 'Mad World' from the 'Donnie Darko' soundtrack when performing the song live! Anyone who expected the sixth form synth angst of 'The Hurting' or even the MTV friendly rock of 'Songs From The Big Chair' was going to be disappointed.
Best track: 'Last Days On Earth'
'Everybody Loves A Happy Ending'
was originally released by Gut Records
---
ULTRAVOX U-Vox (1986)
Also known by fans as "The Dreaded Pink Thing", the signs had not been good when drummer Warren Cann was booted out of the band for preferring to use computer generated percussion while in the wake of his successful solo career, Midge Ure was dictating a more back-to-basics approach. Paradoxically though, soulful backing vocalists, funk bass, orchestras, brass sections and sax solos all entered into the equation, resulting in a totally unfocused sound.
'Sweet Surrender' was frankly a bit of a mess while 'Moon Madness' didn't know whether it should have been rock or jazz. Backed by The Chieftains and featuring no synthesizers at all, 'All Fall Down' polarised listeners with its Celtic folk roots and anti-war message. But the poor title 'U-Vox' summed it all up… a band with something missing! However, 'The Prize' was as good as anything TEARS FOR FEARS or SIMPLE MINDS did in their stadium phase, 'Time To Kill' retained some European cool despite the acoustic guitars and the epic 'All In One Day' was the best thing Scott Walker never recorded.
Best tracks: 'The Prize', 'Time To Kill', 'All In One Day'
'U-Vox'
was originally released by Chrysalis Records
---
VISAGE Beat Boy (1984)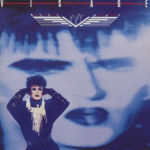 Midge Ure and Billy Currie had both left VISAGE in 1982, leaving Steve Strange and Rusty Egan with the VISAGE name and ownership of a very expensive Synclavier computer synthesizer. Despite the promising edgy electro-disco of interim single 'Pleasure Boys', the direction chosen for 'Beat Boy' was an ill-advised sojourn into rock with a group of session musicians filling in slots vacated by the former members of ULTRAVOX and MAGAZINE.
Without Ure's production guidance, Steve Strange's singing was all over the place. Neither 'Only The Good Die Young' nor the dreadful title track knew when to finish, while 'Can You Hear Me?' didn't know when to actually start. And the backing vocals by guitarist Andy Barnett on the gross heavy metal of 'Casualty' were truly appalling! The eight tracks that made up 'Beat Boy' were all far too long although 'Questions' possessed a funky energy while 'Love Glove' could have easily come off 'The Anvil'. However, this poor album led to the end of VISAGE. Rusty Egan went to work for U2 while Strange formed the unsuccessful STRANGE CRUISE and sadly later experienced some well documented personal difficulties.
Best tracks: 'Love Glove', 'Questions'
'Beat Boy'
was originally released by Polydor Records
---
NEIL YOUNG Trans (1982)
Many of the albums mentioned have had the disaster of synth based acts adopting more conventional colours. This was one which where it happened the other way round. 'Trans' was NEIL YOUNG's 1982 excursion into synthesizers, Linn Drum computers and vocoders. Despite the noble gesture of wishing to artistically express the difficulties of communicating with his son Ben who had cerebral palsy, 'Trans' didn't work, perhaps because it wasn't in Young's instinctive musical DNA to effectively use electronics.
'We R In Control' and 'Computer Cowboy' both sounded like Metal Mickey fronting THE EAGLES while 'Sample And Hold' was an excessively long robotic march. However, there was an almost ethereal 'Neon Lights'-like beauty in 'Transformer Man'.
Although there were still enough essential elements for 'Trans' to be nothing but a NEIL YOUNG album, it baffled his fans and was lambasted by the real music brigade. "I could never get anybody to believe that the f***ing idea was any good" said Young looking back. Indeed, he was later sued by his label Geffen Records for producing "deliberately uncommercial and unrepresentative work"!
Best Track: 'Transformer Man'
'Trans'
was originally released by Geffen Records
---
Text by Chi Ming Lai
18th April 2011, updated 21st January 2018