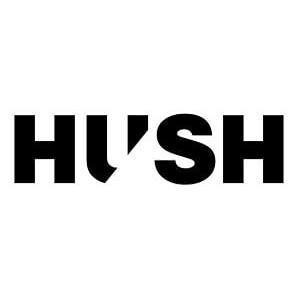 Alex Hush is the noted dance producer best known for his work in DAYBREAKERS with Ric Scott and before that, KOISHII & HUSH with Simon Langford.
Based in Toronto, undoubtedly now one of the liveliest and most creative hubs for modern electronic music, Alex Hush has an impressive portfolio that includes U2, MADONNA, ERASURE, PET SHOP BOYS, YAZOO, DURAN DURAN and INXS among others.
His latest work has been with DAYBREAKERS and an excellent remix of ERASURE's new single 'Hey Now (Think I Got A Feeling)'.
Alex Hush was also behind the famed seven volume 'Retro:Active – Rare & Remixed'
CD compilation series on Hi-Bias Records in Canada which dug deep in the vaults for rare tracks by VITAMIN Z, LEISURE PROCESS and SEONA DANCING as well as featuring notable extended versions from the likes of A-HA, DEAD OR ALIVE, CAMOUFLAGE, OMD and THE CURE.
Alex Hush spoke about his career to date with DAYBREAKERS, KOISHII & HUSH and a whole lot more…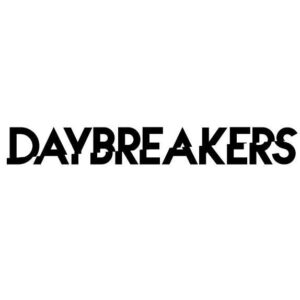 All the projects you have been involved with are largely associated with a dance friendly sound, what sort of clubs, DJs and environments influenced your approach to music?
Good question. I suppose I would say I was shaped by the music I grew up listening to in the 80s and to this day. In Toronto, there was a station called CFNY which played a ton of new wave and house tracks that were hugely influential. After that, people like Judge Jules, Pete Tong, Armin Van Buuren etc, all had a big influence with the tracks they played.
Who were the artists that you grew up loving?
ERASURE, NEW ORDER, DEPECHE MODE, PET SHOP BOYS, DEAD OR ALIVE, THE CULT, THE CURE, DURAN DURAN and many more. Even artists that only had one or two songs made an impact. I suppose for most people, if you liked one of the bands I mentioned, you more than likely listened to all of them.
So you love songs and you love remixes?
I do. I am no different than anyone when it comes to remixes. Sometimes a remix will turn a good track into a great track and other times I may not love the remix that was done. When it comes to remixes, fans can be very passionate and very opinionated and I am no different.
Who are your favourite remixers?
So many great ones but off the top of my head, the ones that I really like(d) are Shep Pettibone, Matt Darey, Tin Tin Out, Mark Saunders, Ferry Corsten. Any time their names appear you know you are getting something special.
Your first big name remix as DAYBREAKERS was 'Love Is Bigger Than Anything In Its Way' for U2, there were a lot of remixes commissioned for that, what was your approach to make it distinct?
For that mix, we wanted to try something with a bit of a deeper vibe to it while using the vocals in a unique way. We did two mixes and Bono really liked the 'main' mix and had an idea for an extra vocal. So he recorded it and sent it over and we incorporated it into the final mix which we were really pleased about. Nice to have his input and something unique.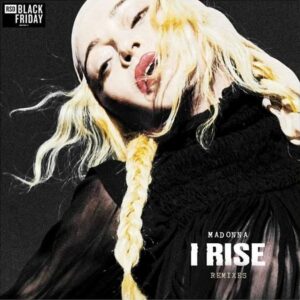 How did you feel when MADONNA came calling for 'I Rise'? Did you get to find out what she thought of your mix?
Just to work on U2 and MADONNA tracks was a thrill. We got the MADONNA mix right after the U2 one and it was a lot of fun to work on also. Because of the style of song, we took that in a different direction and was glad she and her team were happy with it. No, we never got any direct feedback from her, but we were honoured that our mix was one of the ones chosen to be included on the RSD vinyl release.
DAYBREAKERS have produced a remix for ERASURE's new single 'Hey Now (I Think I Got A Feeling)', do remixers get set a brief or is the point of being involved is that you are given artistic freedom?
I suppose that would depend on the project. We have never been given any sort of guidelines for a remix, but on occasion I have asked the label if they have any sort of direction for the mix. That can save a lot of time if you start out doing a mix in style a) and they really had style b) in mind. Other than that though, we have never had any sort of restrictions or template given to us.
The ERASURE mix was a lot of fun. We started out making a very progressive house sound and it was sounding good but neither Ric nor myself thought it was truly capturing the feel of the original. We completed that and set it aside, during which time Ric came up with a cool idea of a 'pop' mix, which ended up morphing into the final mix you hear now.
'Marigold' by the NEW ORDER offshoot SHADOWPARTY was another track remixed by DAYBREAKERS, would you like to be asked to work on an actual NEW ORDER song one day?
Yes! That is definitely on our bucket list! 'Marigold' was a great track to work on. Loved the original and having known Tom and Phil from NEW ORDER and BAD LIEUTENANT and getting to know Josh, doing a mix for them seemed like a no brainer. They are very passionate about what they do and great musicians.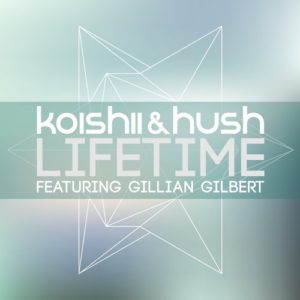 Speaking of NEW ORDER, you worked with Gillian Gilbert on 'Lifetime' in KOISHII & HUSH, how did that come together?
I have been friends with NEW ORDER management for ages, and when we sat down to come up with our dream collaborators list, Gillian was on it.
Her vocals on THE OTHER TWO project are so good, we had to get her singing something for us, so we pitched the idea and luckily, she agreed! The entire NEW ORDER camp are great.
KOISHII & HUSH were known for using some unusual vocalists as in artists who were not known for singing. Had that been a conscious concept or did it evolve naturally?
Hmmmm. I don't think we ever set out to make a 'non singers' list – it just kind of happened. We did have a running list of people we wanted to work with just because we thought the combinations would be unique and quite cool, but it was not really a concerted effort. I would say that of all the people we approached, we got about 90% of them on board. We still have many unreleased K&H tracks that will see the light of day at some point.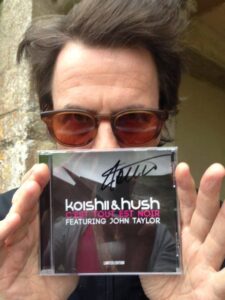 One example was DURAN DURAN's John Taylor and 'C'est Tout Est Noir', what inspired the collaboration?
Well both Simon and I were fans of DURAN DURAN and I knew John had done stuff on his own and always liked his style. His track 'I Do What I Do' from the '9½ Weeks' soundtrack really stood out in my mind and he considers 'C'est Tout Est Noir' a follow-up to that song, which is very cool.
'C'est Tout Est Noir' had a superb remix by Mark Reeder, when you write and produce a song, can you get "possessive" about things or does your experience allow you to remain objective?
Yes and no. Like I mentioned before, I can have the same reactions to remixes as anyone. What I do try and do though is remove myself from the equation and listen to it as someone not involved, which is not always easy to do. If you love a remix someone has done of your work, then great. If at first it is not really grabbing you, you need to think "ok, maybe this is not MY style but it might be for someone else".
To be honest, I can only think of one occasion ages ago where a remix was submitted and we were not enamoured with it, but as it was not 'our' sound, who were we to judge? In Mark's case, yes, it's a great mix and we were thrilled to have him involved. I know John really liked his mix too and used it as the backing track on a vlog he made flying from London to LA.
The KOISHII & HUSH track 'Rules & Lies' was sung by Sarah Blackwood, what was she like to work with?
Total diva. LOL just kidding! She was great. Super sweet and did a great job on the writing and vocals. We met with Sarah at a coffee shop in London and hit it off right away. We were thrilled to have her involved because I had been such a huge fan of DUBSTAR. She is an underrated talent and would love to work with her again.
Is the album dying art? In the dance environment where there is less focus on the long player format?
It certainly seems that way, which I think is unfortunate. With so much of music being based on quick hits on social media, and with songs getting shorter to take advantage of streaming services, I think the whole experience that an album used to bring is gone. It obviously started with the 'death' of the CD and it has only gotten worse. Music seems to be the only instance where this seems to happen. You don't watch bits of a movie or only read a few chapters of a book…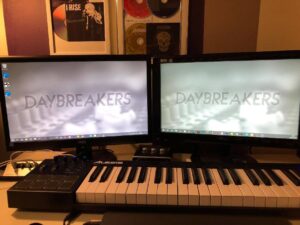 You've remixed DURAN DURAN, PET SHOP BOYS, YAZOO, INXS, WHEN IN ROME and B-MOVIE among others in your various guises, do you have any particular favourites from your career?
Oh sure. The remix of INXS' 'Need You Tonight' was a big one and I think it still holds up to this day. 'Storm In A Teacup' for ERASURE and others, but it's tough to pick out individual ones. They are all different and hopefully special to the listener in their own way.
Is there anyone else who you would really like to work with or remix?
I would really like to remix DEPECHE MODE or A-HA. I know we would love to work with a bunch of other people but I am not going to mention any names in case I jinx something ?
What's next for DAYBREAKERS or anything else you are working on?
We have our first single signed to a label and that will be coming out soon. We are really excited about this one. We think it sounds great and hopefully others think so too!
---
ELECTRICITYCLUB.CO.UK gives its grateful thanks to Alex Hush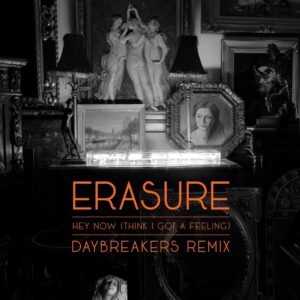 DAYBREAKERS' remix of ERASURE's 'Hey Now (Think I Got A Feeling)'
is released by Mute Artists and available now via the usual digital outlets
https://www.facebook.com/We.Are.Daybreakers
https://twitter.com/Daybreakers__
https://www.instagram.com/we.are.daybreakers/
https://www.facebook.com/Koishii.and.Hush
https://twitter.com/koishiiandhush
---
Text and Interview by Chi Ming Lai
6th July 2020