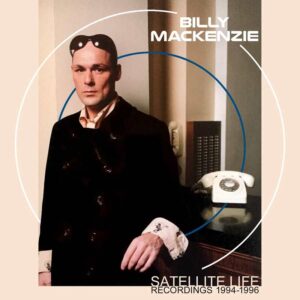 Blessed with a majestic operatic voice akin to Mario Lanza on amphetamines, the late Billy MacKenzie first found fame as one half of ASSOCIATES with Alan Rankine.
Following the success of their 1982 album 'Sulk' featuring the hit singles 'Party Fears Two' and 'Club Country', ASSOCIATES imploded just before a UK concert tour was about to begin with Alan Rankine departing. Billy MacKenzie continued with the ASSOCIATES name and worked with YELLO before taking the solo plunge with 'Outernational'; sadly it was to be his only solo long playing release during his lifetime.
25 years after his passing, 'Satellite Life Recordings 1994-1996' compiles the majority of his final recordings, highlighting his collaborations with musician Steve Aungle in particular. The pair has met in 1979 when Aungle declined MacKenzie's invitation to join ASSOCIATES in favour of playing in a local cabaret band!
After 1985's 'Perhaps' album which saw MacKenzie bring Martin Rushent and Martyn Ware into the production fold, Aungle collaborated on the song 'Set Me Up' which was pencilled in for the next album 'The Glamour Chase', only for ASSOCIATES' label WEA to shelve the record.
Working more as a writer's assistant rather than co-writer, a full composing partnership between the pair did not occur until 1994 when MacKenzie entered one of the most prolific phases of his career. As Aungle remembered: "Stylistically, we were all over the place. Piano ballads one minute, electronica the next, then we'd switch to 70s glam rock or 60s soul. A marketing nightmare for any record label to deal with…"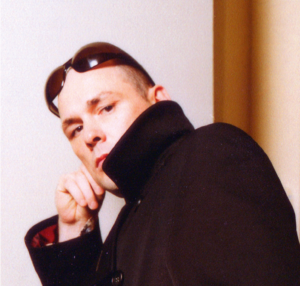 A number of the recordings appeared on the posthumous albums 'Beyond The Sun' (1997), 'Eurocentric' (2001), 'Transmission Impossible' (2004) and 'Auchtermatic' (2004). But Aungle felt his work with MacKenzie had not been presented or sequenced satisfactorily, hence his involvement in this newly curated 3CD compilation.
On 'Satellite Life Recordings 1994-1996', the music has been compiled into three themes 'Winter Academy', 'Consenting Holograms' and 'Liberty Lounge' with around a third of the material previously unreleased. With some of the tracks being demos, understandably the sound quality varies considerably.
Primarily comprising of stripped down material based either around piano or guitar, 'Winter Academy' provides a fitting backdrop for MacKenzie to excel as a charismatic interpreter. MacKenzie's covers of 'Wild In The Wind' (made famous by Johnny Mathis and David Bowie) and SPARKS 'Never Turn Your Back On Mother Earth' are outstanding. But the chilling drama of the self-composed 'The Soul That Sighs' encapsulates everything that is loved about Billy MacKenzie.
The haunting orchestrated reading of Randy Newman's 'Baltimore' produced by Dennis Wheatley will be familiar to those who enjoyed the wonderful deep tech house JiiHoo bootleg by Jori Hulkkonen from 2011 which sampled the vocals, while 'Sing That Song Again', the 'Winter Academy' song and 'Return To Love' prove that the MacKenzie / Aungle partnership were more than adept at composing timeless torch songs.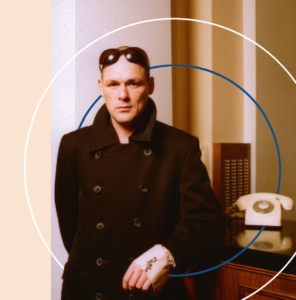 The electronic dance approach of the 'Consenting Holograms' set is very much of its time and has not aged particularly well with the frantic ASSOCIATES gone techno material such as '3 Gypsies In A Restaurant' and 'Diamanda' getting lost amongst all the energetic rhythmic rattle.
Originally from the posthumous 'Eurocentric' album, 'Hornophobic' experiments with drum 'n' bass and not surprisingly, sounds likes it could have come from David Bowie's 'Earthling' album while the previously unreleased 'Eurocentric' title track moderates the percussive pace for something more palatable.
'Liberty Lounge' presents a mostly band-oriented sound. Among the standouts are the Pascal Gabriel produced 'Give Me Time' which was written with Paul Haig and the Cold War trip hop of 'At The Edge Of The World' which saw COCTEAU TWINS Simon Raymonde at the production helm; both were part of 'Beyond The Sun'. The set ends fittingly with Aungle's piano and violin instrumental 'Von Hamburg' which poignantly represents MacKenzie's absence…
As an eclectic document of the final creative years of Billy MacKenzie, 'Satellite Life Recordings 1994-1996' does the job very well and his dedicated followers will be more than happy with the wealth of unreleased material presented in the highest quality possible.
---
'Satellite Life Recordings 1994-1996' is released by Cherry Red Records on 22nd April 2022 as a 3CD set, pre-order from https://www.cherryred.co.uk/product/billy-mackenzie-satellite-life-satellite-life-recordings-1995-1996-3cd/
---
Text by Chi Ming Lai
27th March 2022