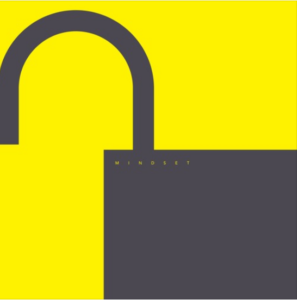 'Mindset' is the ninth full length BLANCMANGE long player of new material since their return in 2011 with 'Blanc Burn'.
It is also the third BLANCMANGE album to be released in 2020 after the 'Nil By Mouth 2'
instrumental collection and the 'Waiting Room (Volume 1)' outtakes compendium.
During their initial London Records period, Neil Arthur and Stephen Luscombe only released their albums between 1982 to 1985. With Neil Arthur continuing to fly the BLANCMANGE flag, who have thought there would have been triple that number in less than ten years?
As with recent albums, it is co-produced by Benge and Neil Arthur continues to give his morose take on the world although he maintains "It's not all bad, but I'm observing stuff and looking for other worlds at the same time we're living in this one, several things at once and questioning how people react with others, how they're feeling about themselves and how that impacts on other people."
Beginning with staccato piano and layers of guitar, the 'Mindset' title song offers a Velvets pounding that could also be seen as a NEU! influence with an art rock edge; "So much for giving, so much for taking…" our hero ponders while looking for the truth, but could he also be sardonically quipping "so much forgiving…"?
With the deeply sombre scene set, Neil Arthur's delivery is anything but a 'Warm Reception', although this is all countered by the enjoyable cutting sharpness of the synths which add to a most excellent electronic track. With spacey sweeps, 'This Is Bliss' continues the tread as a close relative to 'Warm Reception', but a variety of percolating patterns and a deeper trance bass resonance are apparent with a repeated ranting chorus.
The superbly titled 'Antisocial Media' references to "Orwellian Thought Police" and captures more of Arthur's dismay with fantastically primitive synths recalling the early Fast version of 'Being Boiled'
'Clean Your House' is also very synthy with a bubbling bassline and gated pulses, lyrically reflecting on events of recent times but could easily able to applied to more personal relationships with the necessity for the occasional life laundry.
The 'Mindset' is played with further on 'Insomniacs Tonight', as a "tunnel train of thought" with "long rails on trails" is accompanied by a big rigid beat.
The midtempo minimal synthpop of 'Sleep With Mannequin' echoes THE HUMAN LEAGUE in their poppier phase with clean digital drums and analogue passages, but a marvellous concoction reveals itself as KRAFTWERK meets FAITHLESS on the mutant electronic disco of 'Diagram' with Arthur repeating like a preacher on how "I want transparency" in his sharp Northern lilt.
'Not Really (Virtual Reality)' vents with a rockier musical aggression and pounding drums but closing proceedings, the downcast 'When' calls for the truth among the screaming and shouting. As the chorus goes "When is anything about what it's about?", there's the sound of a two note panic alarm recurring to symbolise a state of panic and anxiety.
Neil Arthur's grim but humourous take on the world continues, but with a lot of choruses and more structure on 'Mindset', there are potentially some singalong elements which could rouse audiences at future live shows alongside 'Living On The Ceiling' and 'Blind Vision'.
Strange but accessible pop music for our strange times, Neil Arthur's dark 'Mindset' is only reflecting what many are thinking and it will be on that level which will connect people with this album.
---
'Mindset'
is released by Blanc Check on 5th June 2020 in CD, vinyl LP and digital formats, available from http://blancmange.tmstor.es/
Other recent works by BLANCMANGE are available as downloads direct from https://blancmangemusic.bandcamp.com/
BLANCMANGE Rescheduled 2021 'Mindset' tour includes:
Tunbridge Wells Forum (11th September), Colchester Arts Centre (16th September),
Norwich Arts Centre (17th September), Birmingham Institute 2 (18th September),
Gloucester Guild Hall (23rd September), Exeter Phoenix (24th September), Nottingham Rescue Rooms (25th September), Blackburn King George's Hall (29th September), Newcastle Riverside (30th September), Edinburgh Liquid Room (1st October), Glasgow Oran Mor (2nd October), Southampton The Brook (13th October), Bristol Fleece (14th October), Northampton Roadmender (22nd October), Manchester Club Academy (27th October), Leeds The Wardrobe (28th October), Liverpool Grand Central Hall (29th October), Brighton Concorde 2 (17th November), Harpenden Public Halls (18th November), Cardiff Portland House (25th November), London Under The Bridge (26th November), Shrewsbury Buttermarket (27th November),
https://www.facebook.com/BlancmangeMusic
https://twitter.com/_blancmange_
https://www.instagram.com/neilarthur/
---
Text by Chi Ming Lai
10th May 2020, updated 21st May 2021