Adopting the dishevelled persona of a satanic Libertas, the new I SPEAK MACHINE long player 'War' captures the zeitgeist. Despite this, it is actually a more personal album dealing with the themes of addiction and mental illness.
I SPEAK MACHINE is the audio visual project of Tara Busch and Maf Lewis; their album 'Zombies 1985'
produced by John Foxx collaborator Benge was a soundtrack to a short horror sci-fi film about a Zombie Apocalypse. One of the best albums of 2017, it was notable for Busch's own restylings of singers as diverse as Doris Day, Alison Goldfrapp and Grace Jones.
Constructed remotely between Los Angeles and Sheffield over a three year period, 'War' has been co-produced by Dean Honer of I MONSTER, THE ECCENTRONIC RESEARCH COUNCIL and INTERNATIONAL TEACHERS OF POP fame. He has done a particularly good job with the jagged sound design. Meanwhile Busch has processed her voice as a central instrument, bending it through effects, vocoders and a Korg MS-20 as Will Gregory did with Alison Goldfrapp on the 'Felt Mountain' album.
Short and sweet with reminiscences of Gary Numan's 'Metal', the screeching title song opener sets the scene and declares the album's intentions with a rumbling backdrop. Embroiled in menace and some eerie flute, 'Left For Dead' cuts and bleeds and frightens while the progressive avant-funk of 'Beat Down By Heaven' is aided by sharper objects such as guitar, sub-bass and distorted claptraps.
Featuring backing vocals from Kendra Frost of KITE BASE and shaped by a dysfunctional analogue sequence, the wonderful Sci-Fi goth of 'Santa Monica' acts as an ironic love letter to Los Angeles, making use of Busch's impressive vocal range from high soprano to deep contralto.
With a salvo of industrial Schaffel to shape a cover of American alt rockers CONCRETE BLONDE's 'Bloodletting (The Vampire Song)', this is how GOLDFRAPP might sound if contributing to a Wes Craven movie. Sparser than the other tracks, 'Dirty Soul' weirdly echoes David Essex's 'Rock On' while crossing paths with Patti Page on Venus. Then with a sense of foreboding in line with Gary Numan's more recent work, 'Ruined Me' sees Busch point the finger at her dependency and how it has contaminated her aura.
Acting as a beautiful harp interlude, the soothing 'I See You' is counterpointed by a foreboding presence. But ramping up the pressure, as its title suggests, 'The Metal of My Hell' is a fierce aural assault of frantic heavy metal with synths and an aggressive rage as Busch decides to "burn the witch" and "burn the bitch" because "you had it coming for a long time!".
A co-write with Kendra Frost, the ghostly 'Push The Grease' presents a stuttering percussive tension and another processed otherworldly vocal. Feisty and frantic, 'Rats Rise' is the final battle as the dirty rodents leave the sinking ship but with shades of 'Clowns' by GOLDFRAPP, the angelic 'Until I Kill The Beast' offers peace and tranquillity although the discordant metallic embellishments confirm that work is still to be done as "the devil sits with me until I kill the beast".
There is cathartic joy in the discomforting exorcism that is the 'War' album; I SPEAK MACHINE's bizarre mix of timbres and styles provide a severe but rather appealing and cerebral listening experience. If you are going to see Gary Numan on his European tour in May and June, arrive early because guess who is opening?
---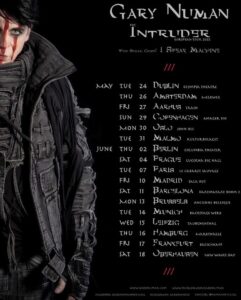 'War' is available as a double red vinyl LP and CD from https://ispeakmachine.bandcamp.com/
I SPEAK MACHINE will be opening for Gary Numan in May and June 2022 – for further information, please visit https://www.ispeakmachine.com
https://www.facebook.com/ispeakmachine
https://twitter.com/ISpeakMachine
https://www.instagram.com/ispeakmachine/
https://open.spotify.com/album/2Dk8489XblJsoNBqXEOVIX
---
Text by Chi Ming Lai
Photo by Maf Lewis
22nd April 2022