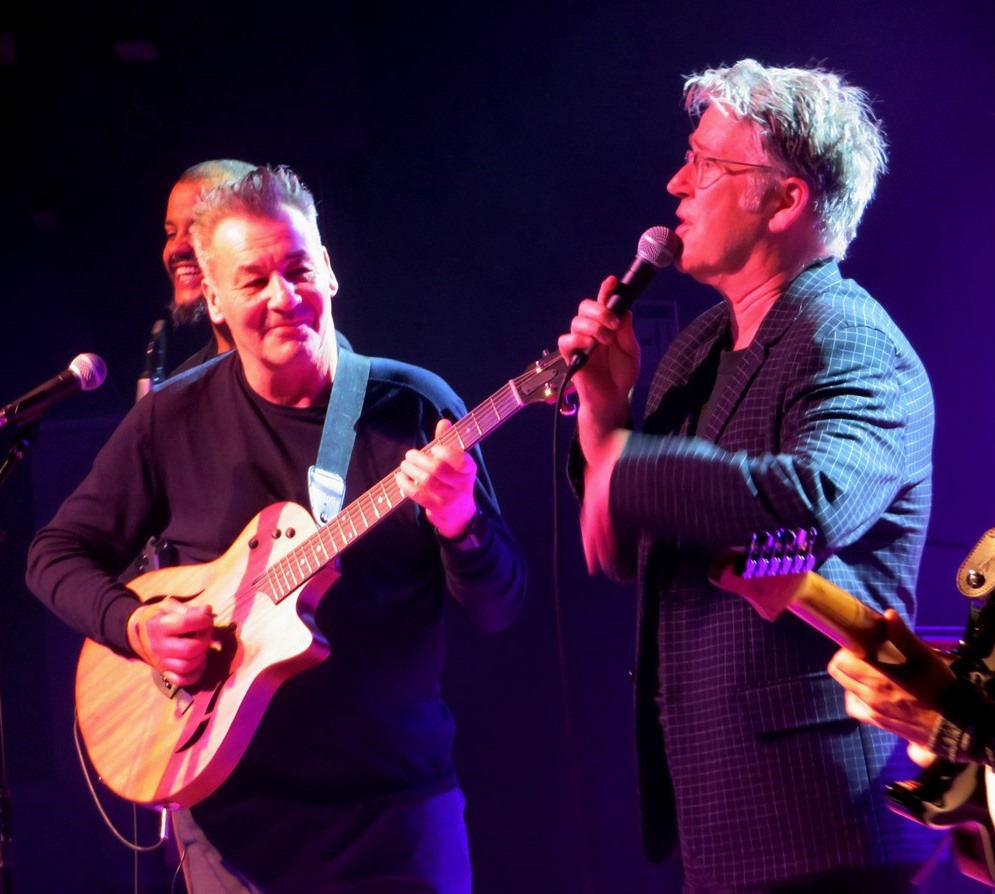 CHINA CRISIS, THIS IS YOUR LIFE!
It was to Laurie Johnson's iconic TV theme tune that Gary Daly and Eddie Lundon walked onto the stage to celebrate the 40th Anniversary of CHINA CRISIS as a recording act with the 'Classic Crisis – Greatest Hits' show.
The location was The Stables in Wavendon, a village just on the edge of Milton Keynes; the venue had been originally established by jazz legends Sir John Dankworth and Dame Cleo Laine in 1970, within the former stables block of their home, hence the name.
The entertainment began with a few anecdotes from Daly; an engaging raconteur who could probably get a spot on BBC comedy showcase 'Live At The Apollo', he apologised for the lack of visuals which has been seen at other shows, as the laptop containing them had been stolen from his car along with some stage clothes. But the story didn't end there as Daly had thoughtfully placed a tracker on the computer and told of how the band gave chase and ended up at a local supermarket. They spotted the thief dumping the stage clothes into a charity recycling bin before legging it with the laptop!
It was an evening filled with laughter and music as Daly continued about how he and Lundon had met at St Kevin's Catholic Boy School in Kirkby near Liverpool and began making music together, partly because they just about hated everyone else who attended! Similarly to OMD, the duo purchased their first synthesizer from a Kays mail order catalogue belonging to Lundon's mother; it was familiar to Daly as he recalled, for the ladies' underwear section, which ELECTRICITYCLUB.CO.UK would like to add, was always easy to find as it was after the ladies shoes section!
Settling on a monophonic Yamaha CS10, Lundon used it to play just three notes on their debut single 'African & White'.
It was at this point that the musical part of the show began with regular sidemen Jack Hymers on synth and saxophonist Eric Animan joined by a drummer, backing vocalist, bassist and another two guitarists (including Stuart Nisbet who played with CHINA CRISIS in 1986-87) to become Merseyside's answer to BLAZIN' SQUAD!
In true 'This Is Your Life' style, the setlist was primarily chronological as CHINA CRISIS ran through the highlights of their career and told the stories that behind them. Daly took joy in reminiscing about how they were signed by Virgin Records and became a "threat" to label mates and rival Merseyside duo OMD; "When Paul Humphreys and Andy McCluskey saw our photos, they must have thought 'the game's over'" Daly delightfully quipped.
But while OMD were affectionately the butt of the humour throughout the evening with the CC33 front man stating "we wrote about our girlfriends, but Andy McCluskey wrote about atomic bombs and genetics, typical pretentious sixth former…", CHINA CRISIS were capable of haunting anti-war commentary too, as their first hit 'Christian' taken off the 'Difficult Shapes & Passive Rhythms' album proved. Meanwhile 'Here Comes A Raincloud' was an emotive observation on the plight of the working classes in Merseyside as it was ripped apart under the leadership of Margaret Thatcher.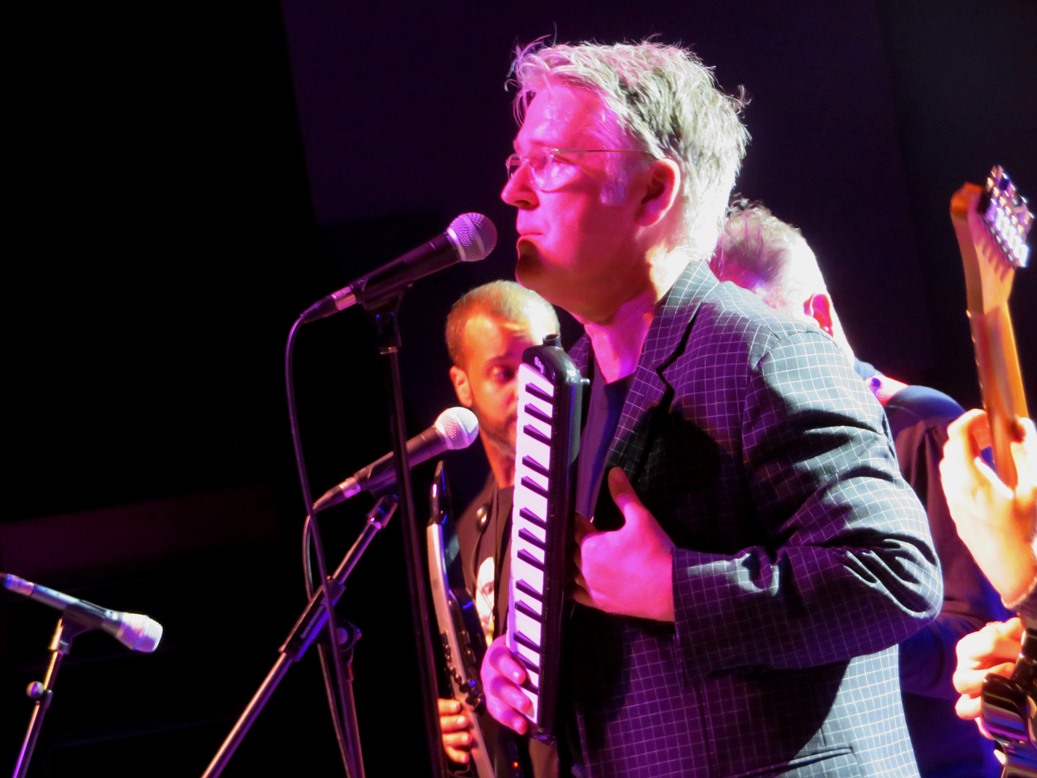 Given a slight Mexican flavour, CHINA CRISIS' biggest UK hit 'Wishful Thinking' was followed by its sister song 'It's Never Too Late', a rare number even in the wider Crisis Canon and deservedly given a platform on this 40th Anniversary tour.
Written by Daly in response to the Lundon-penned 'Wishful Thinking', it was originally recorded as part of the 'Working With Fire & Steel' album sessions produced by Mike Howlett.
However 'It's Never Too Late' was dropped from the tracklisting for having a similar Emulator I string aesthetic and arrangement despite being of equal quality; it ended up being a bonus song on the limited edition second 12" of 'Black Man Ray' so was hardly heard even by CHINA CRISIS fans until it showed up on the 2017 deluxe reissue of third album 'Flaunt The Imperfection'. "We should have released it after 'Wishful Thinking', we would have had another international hit and wouldn't be here!" bantered Daly, "Like how many times have OMD played The Stables??? Like NEVER!"
'Black Man Ray' closed the first half of the show, with Daly recalling the excitement of working with the late Walter Becker of STEELY DAN who was bowled over by the song's catchy simplicity. But he warned the audience that the second half would feature less hits but still lots of good songs; this was delivered with 'It's Everything' from 'What Price Paradise' and the 1986 album's lead single 'Arizona Sky', a song which today sounds like the massive hit it never actually was.
After 'Sweet Charity In Adoration' off 1989's 'Diary Of A Hollow Horse' which had been recorded in Hawaii with Walter Becker and passing over the 1994 long player 'Warped By Success', CHINA CRISIS quickly moved onto songs from their crowdfunded comeback record 'Autumn In The Neighbourhood' issued in 2015.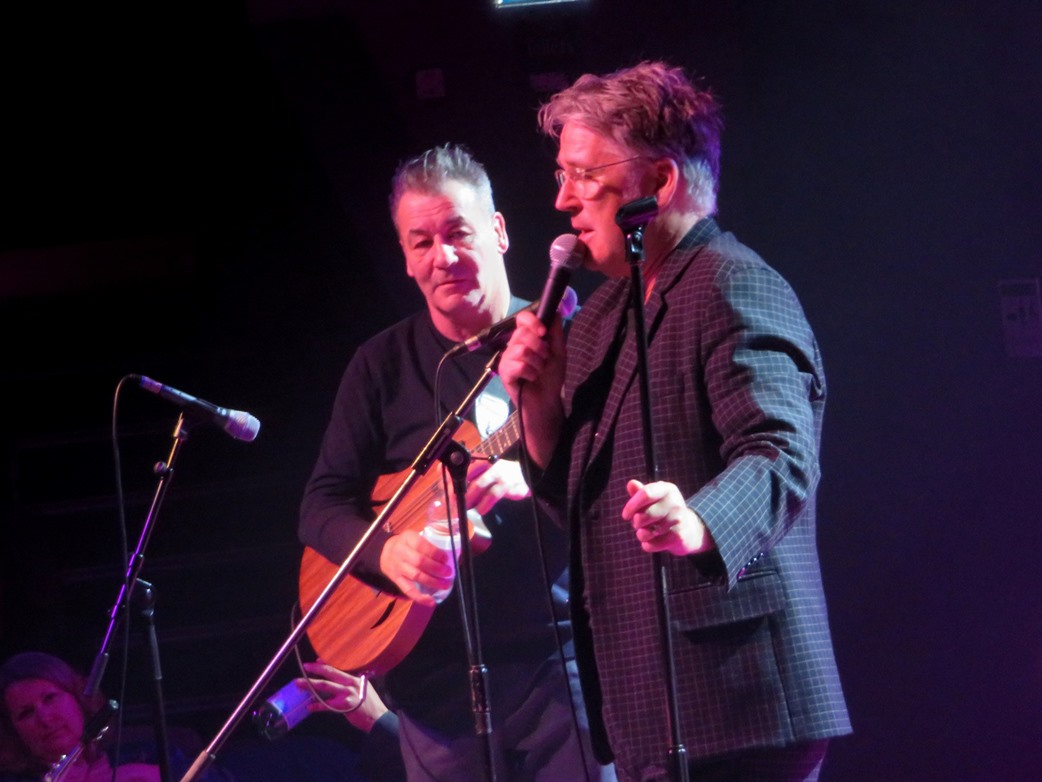 Following the smooth 'Fool', a tune developing on the soulful moods of 'You Did Cut Me' featuring Lundon on lead vocals, the show concluded with what Daly termed "a Saturday Night Disco".
After the mature audience stood and danced to the bouncy pop grooves of 'King In A Catholic Style' and 'Tragedy & Mystery', the final wind down came with 'My Sweet Delight' from 'Autumn In The Neighbourhood' as a poignant dedication to loved ones who have passed on…
While CHINA CRISIS didn't achieve quite as many hits as their Virgin label mates OMD, THE HUMAN LEAGUE and SIMPLE MINDS did, they still had enough of them to enable them to work with their musical heroes, see the world and are today still popular enough to tour regularly with North America as well as their first shows in Australia and New Zealand now on the 2022 itinerary.
With a 50th Anniversary tour unlikely as Daly joked to everyone present that "half of you won't be here!", this was an enjoyable and entertaining celebration of possible pop songs, savouring not just the music but the enlightening and comical stories that helped to inspire them as well.
---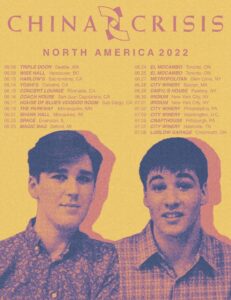 'What Price Paradise' is reissued as a 3CD deluxe set by Virgin Records
The 'Classic Crisis – Greatest Hits' live DVD is released on 22nd July 2022, pre-order from https://www.musicglue.com/chinacrisis/
CHINA CRISIS tour North America in June / July 2022 and Australia / New Zealand in December 2022 while they will be opening for Kim Wilde on her 'Greatest Hits' UK tour in September 2022
https://www.facebook.com/chinacrisisofficial/
https://twitter.com/ChinaCrisisUK
https://www.instagram.com/garydalymusic/
https://open.spotify.com/artist/0WUphJOGHE5i95IeR87hsO
---
Text and Photos by Chi Ming Lai
25th April 2022