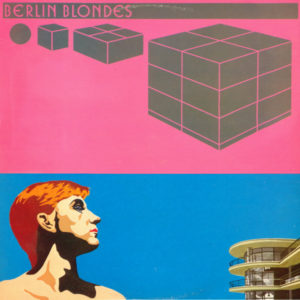 BERLIN BLONDES were a post-punk band who formed in Glasgow during 1979.
The original line-up comprised of Steven Bonomi (vocals), Robert Farrell (guitar + synth), Jim Spender (keyboards + synth) and David Rudden (bass).
But as the quartet signed to EMI in 1980, Rudden left to form ENDGAMES who signed to Virgin Records and went on to have a minor German hit 'Waiting For Another Chance' in 1983. Rudden's replacement on bass was Nick Clark from THE CUBAN HEELS.
THE CUBAN HEELS were an offshoot of punk band JOHNNY AND THE SELF ABUSERS whose members included Jim Kerr and Charlie Burchill of SIMPLE MINDS; they famously split up on the day their debut single 'Saints & Sinners' was released!
BERLIN BLONDES only ever made one self-titled album, recorded at GARY NUMAN's Rock City Studios in Shepperton and produced by Mike Thorne, best known for his work with WIRE, SOFT CELL and BRONSKI BEAT. This combination meant that not only was Numan's Polymoog present on the record, but also the first version of the Synclavier which SOFT CELL later used to such great effect on 'Non Stop Erotic Cabaret' under Thorne's direction.
As with many acts of the more artistically inclined post-punk period, ROXY MUSIC and Berlin-era DAVID BOWIE were both key influences on BERLIN BLONDES. They differed by using a drum machine, which gave them a stark rhythmic sound unusual at the time, as the acts they were often compared to like SPARKS, WIRE, MAGAZINE and SIMPLE MINDS used live drummers.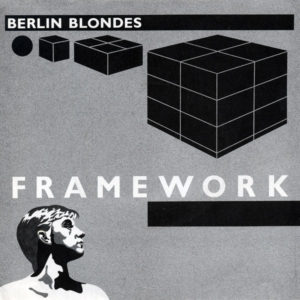 A meeting of synthesizers, art rock and obscure vocals, BERLIN BLONDES had the air of a Highland FAD GADGET, with a very European detached cool.
Beginning the album with what was their second single, 'Framework' was the sort of syncopated futurist disco featuring crashing electronic beats and bursts of string machine that SPANDAU BALLET and DURAN DURAN were to initially make their fortune with.
Densely produced, it failed to be a hit and could be considered one of the great lost songs of 1980.
But then in that same year, SIMPLE MINDS 'I Travel' and THE HUMAN LEAGUE's reissue of 'Empire State Human' also failed to trouble the chart return shops, so even the best were having it hard.
BERLIN BLONDES' debut 45 'Science' was more in touch with new wave, although on the album rework, the addition of live drum beats from Danny Frankel and more prominent synths added some qualities that were absent from the original single version.
The waltzy 'Astro' was entertainingly SPARKS-lite, reminiscent of 'Falling In Love With Myself Again' from 'Kimono My House', but coming over like a less accomplished version of SIMPLE MINDS' similarly influenced 'Kaleidoscope'.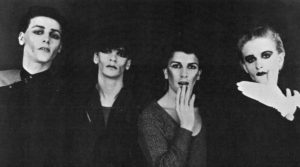 Smothered in a macabre cocoon of intensity, 'Romance' made the most of its horror film soundtrack synths, chilling string machine and a brilliant bassline.
Meanwhile 'Trail To Istanbul' with its John McGeoch-like guitar over a distorted mechanical backbeat provided a skeleton for Eno-esque guitar treatments to imitate bursts of sax.
The claustrophobia of 'Secret Days' recalled MAGAZINE coupled to elements of SIMPLE MINDS 'Premonition', while 'Mannequin' possessed some New Romantic swagger and swirling electronics, although things got a bit overbearing towards the end with cries of "dummy-dummy-dummy"!
The over-driven drum machine and icy synths attached to a harsh arpeggio on 'Neon Probe' came over like JOHN FOXX, while suitably eerie with doom laden bass guitar saw 'Zero Song' progressing into a steadfast easel of screeching synth.
BERLIN BLONDES had everything in place, a major label deal and a top producer directing the operation but with no hit singles, it wasn't to be in terms of sales success. Shortly after the album's release, Jim Spender reverted back to his real name McKinven and left the band to find fame and fortune with ALTERED IMAGES.
Meanwhile, BERLIN BLONDES left EMI and released a single 'Marseille' on the independent Scratch Records. But it sank without trace and the band were no more. Looking back, it's easy to see how BERLIN BLONDES became lost among acts like WIRE, MAGAZINE and SIMPLE MINDS; while derived from the same school as Russell Mael and Howard Devoto, Steven Bonomi was less convincing vocally in an era where Bowie-esque mannerisms were almost compulsory.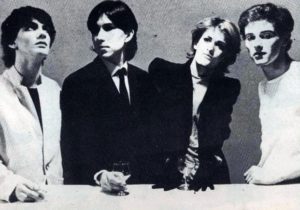 It took several years for SIMPLE MINDS to make critical and commercial headway, so it would have been interesting to see how BERLIN BLONDES might have evolved. The original nine track debut album has now been reissued as a CD by Cherry Red Records as 'The Complete Recordings 1980-1981'
. The package includes eight bonus tracks to including 'Marseille', its B-side 'The Poet' plus an assortment of single mixes, extended remixes and instrumental versions.
'Berlin Blondes' wasn't the greatest album of the period, but it had some cracking tracks. As a fascinating time capsule piece on how music north of Hadrian's Wall was developing outside of the Glasgow School jangle of bands like AZTEC CAMERA, ALTERED IMAGES and ORANGE JUICE, the debut album from BERLIN BLONDES is an intriguing listen, a history lesson in the emergent synthetic sonics of the period within post-punk.
---
'The Complete Recordings 1980-1981'
is released as a CD by Cherry Red Records, available from https://www.cherryred.co.uk/product/berlin-blondes-the-complete-recordings-1980-81/
---
Text by Chi Ming Lai
13th October 2018