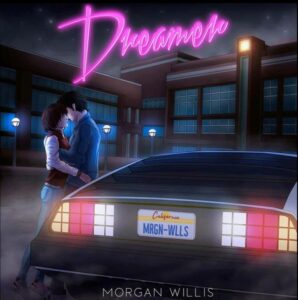 French musician MORGAN WILLIS is something of a synthwave veteran.
He's been extremely prolific since his 2012 debut long playing release 'Science Fiction' and the 2015 electro-funk flavoured 'Night Rider' to become a respected exponent of the sub-genre.
His latest offering 'Dreamer'
has been called a "synthpop fairy-tale" and certainly this primarily instrumental set has been bolstered by the sweet feminine magic of PARALLELS, NINA and KEL to continue a tradition that has been a key part of MORGAN WILLIS releases since 2016 with JJ Mist on 'Behind The Mask'.
One of the not undeserved criticisms of instrumental synthwave is that its hazy soundscapes emphasise texture and feel, rather than tunes and dynamics. So when ELECTRICITYCLUB.CO.UK's idea of a synth instrumental is 'Theme For Great Cities' by SIMPLE MINDS and 'Astradyne' by ULTRAVOX, then the comparison bar is always going to be set quite high.
'Dreamer' contains songs and these prove to be the highlights of the album. Best of all is 'Rabbit Hole Chasing You' featuring regular collaborator KEL who compliments the throbbing electronics with an airy lift, while a number of more sparkling upper octave sounds get to gently penetrate through the incumbent aural wash. 'Back to the Start' sees NINA making good use of her natural range of vocal capabilities. Her higher notes offset the musical middle ground inhabited by the bed of synths.
And this is why the deep male voiced 'Invisible' doesn't make as much of an impression as it mushes in with the backdrop. However, the syncopated funky stance and whirring synths of the single 'C.O.M.A' with a similar deep male vocal is much more satisfying.
Holly Dodson of PARALLELS makes another of her synthwave guest vocal appearances on 'Dark Before the Dream' and with guitar-derived arpeggios at the start, the Canadian songstress provides an almost Country & Western demeanour before the electronic drums kick in for some of the classic new wave tinged synthpop that her own band is known for.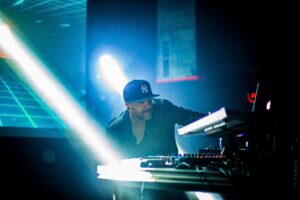 However, a couple of the instrumentals do the trick. The lengthy closer 'Forever' is a beautifully expanding epic with luscious melodic hooks and pulsing arpeggios, while 'Teenager' captures the energy and exuberance of youth with a hint of 'St Elmo's Fire'.
But with slow fades and steady builds, the album and a few of its tracks are maybe too long.
Now while the point of many synthwave concepts is soundtracks for imaginary films, this can be challenging for some listeners to imagine amongst the aural hue without visuals, while also waiting for a vocal.
'Dreamer' probably requires an immersion of full relaxation for it to be effective and to that end, the title track and 'Daydream' do what they say on the tin. So if you are into the idea of a reconfigured soundtrack for a Brat Pack film coated in magenta pink, then 'Dreamer' will be for you.
---
'Dreamer'
is released by Outland as a magenta pink double vinyl LP and download, available from https://morganwillisofficial.bandcamp.com/album/dreamer-2
https://www.facebook.com/morganwillis1982/
https://twitter.com/MorganWillis82
https://soundcloud.com/morgan-willis-1982
https://www.weloveoutland.com/
---
Text by Chi Ming Lai
4th January 2020