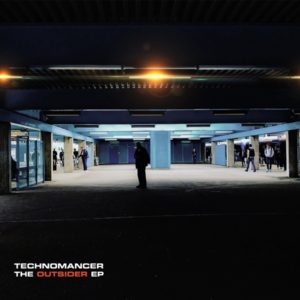 What do ZONE TRIPPER, LABORATORY 5 and TECHNOMANCER have in common? Simple, it's the EBM / Futurepop producer Alyxx J Digre and her supercharged world of synthpopia.
Based in Sarpsborg, Norway, the Lady Of Darkness has always been into synths and guitars, and hell bent on making it big in the music industry, she kept perfecting her producing skills until she hooked up with Per Aksel Lundgreen (ANGST POP, APOPTYGMA BERZERK, CRONOS TITAN, CHINESE DETECTIVES, SHATOO) to produce 'Ødipus Rex 2012'.
2013 saw the first album by TECHNOMANCER, and the continuous remixes with Lundgreen, but Digre also likes to work with the legendary Stephan Groth from APOPTYGMA BERZERK. And indeed, both electro kings are featured on the newest release from the cold Norway girl; 'The Outsider', where we are seeing a four song tribute to the acts that TECHNOMANCER and Co consider valid.
Previously released, 'The Outsider' is taken from 'A Tribute To PSYCHE' and 'I've Got A Sister In The Navy' comes from 'Heredity – A Tribute To RATIONAL YOUTH'. Additionally we are served newly recorded cover versions of ULTRAVOX's 'Sleepwalk' and a vintage DM classic 'Puppets'.
The opening 'Puppets' features the synth magician Groth of APOP who eagerly participated; "I would love to be a part of this" he said, "I know just what to add". Groth came up with additional synths and vocals as they agreed that "Depeche Mode have been done to death, but the idea was to do a cover of them from the time they were really good, and get that old feeling back!" – and they sure did.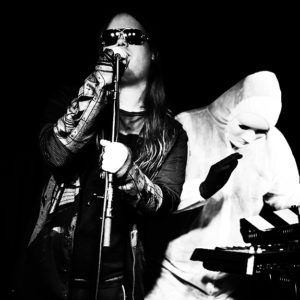 ANGST POP features on the RATIONAL YOUTH favourite 'Sister In The Navy' and with its catchy hooks, is a classic return back to the synthesizer's heyday. 'Sleepwalk' retains the classic ULTRAVOX vibe with an almost robotic voice and doesn't go far from the original, which became the first single from the 'Vienna' album. Softly updated to a faster version it simply works.
PSYCHE's cult hit 'The Outsider' takes a second viewing with a faster paced, busier rhythm, with added guitar and gritty synth, which detract from the super dark original, keeping in with the gloomy moods all the same.
Whether you like covers or not, TECHNOMANCER did their homework here, paying homage to in their minds, the greatest synth acts during their golden age, and if the whole thing manages it with APOP stamp all over it, then all the better!
---
'The Outsider EP'
is released by Subculture Records and available via the usual digital platforms or direct from https://technomancer.bandcamp.com/album/the-outsider-ep
https://www.facebook.com/technomancermusic/
---
Text by Monika Izabela Trigwell
Cover Artwork Photography by Petra Rönnholm
Live Photo by Steven Stieng
5th July 2018