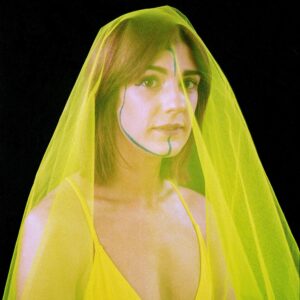 Following her acclaimed first EP 'Ffrwydrad Tawel' in 2017, ANI GLASS releases her long-awaited debut album 'Mirores'.
It is an observational electronic travelogue based around the idea of movement and progress in her hometown of Cardiff.
That might sound overly conceptual but this is a melodic pop record that also gathers ambience of the urban landscape, traffic, people and nature, all coming together to create the score of a city's symphony.
Fluent in Welsh and Cornish, ANI GLASS uses a play on words for the album's title which incorporates the name of one of her favourite artists Joan Miró – along with the Cornish word 'miras' which means "to look". Therefore, 'Mirores' essentially translates as "Observer".
An experienced hand who has previously worked with OMD's Andy McCluskey and the late Martin Rushent, ANI GLASS opted to self-produce 'Mirores'; she said to ELECTRICITYCLUB.CO.UK: "I'm really excited about curating the presentation of this album; conceptually and visually. I have a lot of ideas about how I might involve and engage with people who may not be instinctively interested in Welsh electronic music."
Beginning with 'The Ballet Of A Good City' and a folk choir, the subtle arpeggios paint an ambient air which recalls Vangelis, one of the album's main sonic influences that also includes Martin Rushent, Giorgio Moroder, Jean-Michel Jarre and Arthur Russell.
With the dulcet tones of Welsh newsreader Huw Edwards within the voice collage, an eerie uplifting quality permeates on 'Peirianwaith Perffaith'; translated as 'Perfect Machinery' and with the vibe of Autumnal discontent, the haunting detuned backdrop is perfect for her socially conscious Welsh expressionism and a celebration of devolution. With a wonderfully swirling leadline reminiscent of THE FALLOUT CLUB's 'Dream Soldiers' and a suitably penetrating bass pulse, it is a search for identity in a moving city that is starkly industrial.
With a lovely higher vocal register, the Euro-disco of 'Ynys Araul' is rich in traditional melody, offering a pop sensibility and a wonderful triplet bassline. More mature and earnest in tone, 'Y Cerrynt' is unusual in having an almost minimal bass presence which gives it a unique quality. But 'Cariad' is a solemn set-piece, with sparse contemplative backing like one of OMD's experiments in vertical take-off.
Following a short taped gospelly interlude 'IBT', the 'Mirores' title song itself is pure Cmyru synthpop brilliance with wonderful harmonies and a fabulously liberating vocal middle eight. It depicts the journey from dark desperation to motivation and inspiration, so despite the inherent melancholy, the newly married songstress gets to radiate an inspired mood of optimism..
Playing off a claustrophobic soundscape and a bouncy off-beat in the vein of GRIMES, some fabulous icy strings make their presence felt on 'Goleuo'r Sêr'. Singing in English over a staccato bassline and bell-like rings, 'Cathedral In The Desert' is an affectionate reminder musically of what EURYTHMICS once sounded like before they went all rock 'n' roll. Continuing in English but in a spoken word fashion, 'Agnes' swiftly returns to Welsh with its deeper resonances rich within the sparse synthscape as a touching tribute to artist Agnes Martin .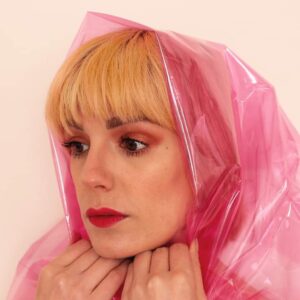 Closing with 'The Rising Of The Moon', a collage of male speech and ANI GLASS' own layered voices counterpoint as night time covers the city.
Taking a leaf out of her mentor Andy McCluskey and OMD albums such as 'Dazzle Ships' and 'English Electric', 'Mirores' has enticing synthpop songs sitting together with more conceptual found sound adventures.
It is one woman's artistic vision celebrating her heritage and home, empowered by the freedom and democracy opened up via electronic music.
---
'Mirores'
is released on 6th March 2020 by Recordiau Neb, available direct from http://www.recordiauneb.com/siop
Download version available from https://aniglass.bandcamp.com/album/mirores
http://www.recordiauneb.com/ani-glass
https://www.facebook.com/aniglasscymru/
https://www.instagram.com/ani_glass/
https://soundcloud.com/aniglass
---
Text by Chi Ming Lai
26th February 2020