SOFT CELL may have played their last show with a lavish adieu at London's O2 Arena last September, but Marc Almond and David Ball continue to maintain their legacy with the publication of a luxury limited edition photo book.
Published as a 1300 limited edition high quality 21 x 28 cm hardback, 'To Show You I've Been There…' is the ultimate piece of memorabilia featuring over 150 images.
Spanning the whole of SOFT CELL's's glorious career, the photos range from when Almond and Ball were unknowns sitting in various locations at Leeds Polytechnic and their first shoot with Gucci photographer Paolo Di Paolo to the iconic portraits by Peter Ashworth where the pair's hair gets increasingly longer in the run up to 'Soul Inside'.
For synth geeks, there is even two pages devoted to Dave Ball's gear, including a Minimoog, Yamaha CS-5, Roland SH101, Korg 800DV, SCI Prophet 5, Korg MS10, Roland CR78, Alesis HR16, Oberheim DMX, Roland TR707, Yamaha QS330 and the distinctive core of the classic SOFT CELL sound, the Roland Synthe-Bass.
Featuring commentary from Ball and Almond courtesy of new interviews with Mark Paytress, the story begins in 1979 around the Winter Of Discontent.
"Imagine how heavy it was back then. Leeds was full of National Front supporters and there was a lot of intolerance around." reflects Ball on the state of the nation back then, sadly sounding like it is now, "SOFT CELL must have seemed revolutionary – a duo, one guy with a synth and a reel-to-reel tape recorder, and out front a gay bloke covered in eyeliner. F*cking hell, no one had seen anything like that!"
As SOFT CELL found fame, Almond recalls how naïve they were when they did their first major music press interview with Paul Morley for NME. As was par for the course, the scribe used his pseudo intellectualism to nastily and hypocritically look down on Ball and Almond for their Northerness; "Some time later, I bumped into him and pretended I didn't hold a grudge but I kind of did!"
The SOFT CELL story is one against adversity, about how two working class boys shot to No1 and became a UK chart fixture, achieving five Top 5 UK hit singles in the space of 13 months during 1981-82 in a strike rate that neither THE HUMAN LEAGUE, DEPECHE MODE, OMD, JAPAN or ULTRAVOX ever managed and of their contemporaries, only GARY NUMAN even came close.

Each book is accompanied by an exclusive bonus 7 inch vinyl EP called 'Magick Mutants' containing four completely re-recorded tracks from the band's early song archive highlighting how SOFT CELL saw themselves as the pop version of SUICIDE.
Best of the bunch is 'Bleak Is My Favourite Cliché' which has only been heard previously in distorted demo form on 'The Bedsit Tapes' and has since reappeared on the 'Keychains & Snowstorms' boxed set. The haunting reverberant electronic bass and doomy synthetic choir sounds provide an appropriate balance of glitter and grit to bring the song up to date, while a declaration that "It's so European, bleak, it's very bleak today" is strangely poignant and down with the zeitgeist.
Driven by a solid synthbass triplet, 'Science Fiction Stories' is gloriously danceable and minimal, characterised by its spacey synth theme. Another demo from 'The Bedsit Tapes' sessions, like with 'Bleak Is My Favourite Cliché', its potential gets more fully realised and is deservedly as Almond himself sings "not to be forgotten".
Originally one of the highlights on the 'Some Bizarre Album' compilation, the revisit of 'The Girl With The Patent Leather Face' is interesting if only to compare the vocals of the wayward energetic student Almond of 1981 with the battle-hardened abstinent artiste of today. The synths are as menacing as ever if missing the hiss and noise of vintage recording but on this one, the recklessness of youth has gone.
In a recognition of their art school roots at Leeds Polytechnic, Marc Almond and Dave Ball play tribute to fellow student and inspiration Frank Tovey with an authentic cover version of FAD GADGET's 'Back To Nature'. While remaining as detached as the original with deep dual voices for a schizophrenic quality, albeit with one part in a more torchy manner, as the sombre mood piece comes to its conclusion, Almond adds it's all "For Frank".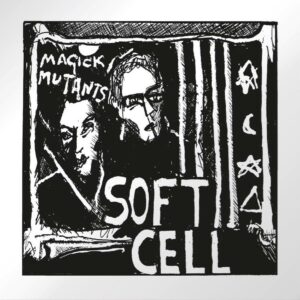 With artwork created by Dave Ball as on SOFT CELL's debut EP 'Mutant Moments', the tracks on this 7 inch vinyl (with corresponding traceable downloads via an exclusive individual code) will ONLY be available by purchasing this book.
Full of "Postcards, pretty pictures and little bits of plastic", this artefact is a must for SOFT CELL fans, but for popular culture observers too because without Marc Almond and Dave Ball paving the way, life might have been that bit more difficult for BRONSKI BEAT, ERASURE and of course, their most obvious successors PET SHOP BOYS.
---
ELECTRICITYCLUB.CO.UK gives its warmest thanks to Stuart Kirkham
'To Show You I've Been There…' including the exclusive 7 inch 'Magick Mutants' vinyl EP is available from 1st May 2019, pre-order from https://www.lexermusic.com/deluxe/soft-cell-to-show-you-ive-been-there-hardback-book
Book content previews at http://www.softcell.co.uk/book
https://www.facebook.com/softcellband/
https://twitter.com/softcellhq
https://www.instagram.com/softcellhq/
---
Text by Chi Ming Lai
26th April 2019