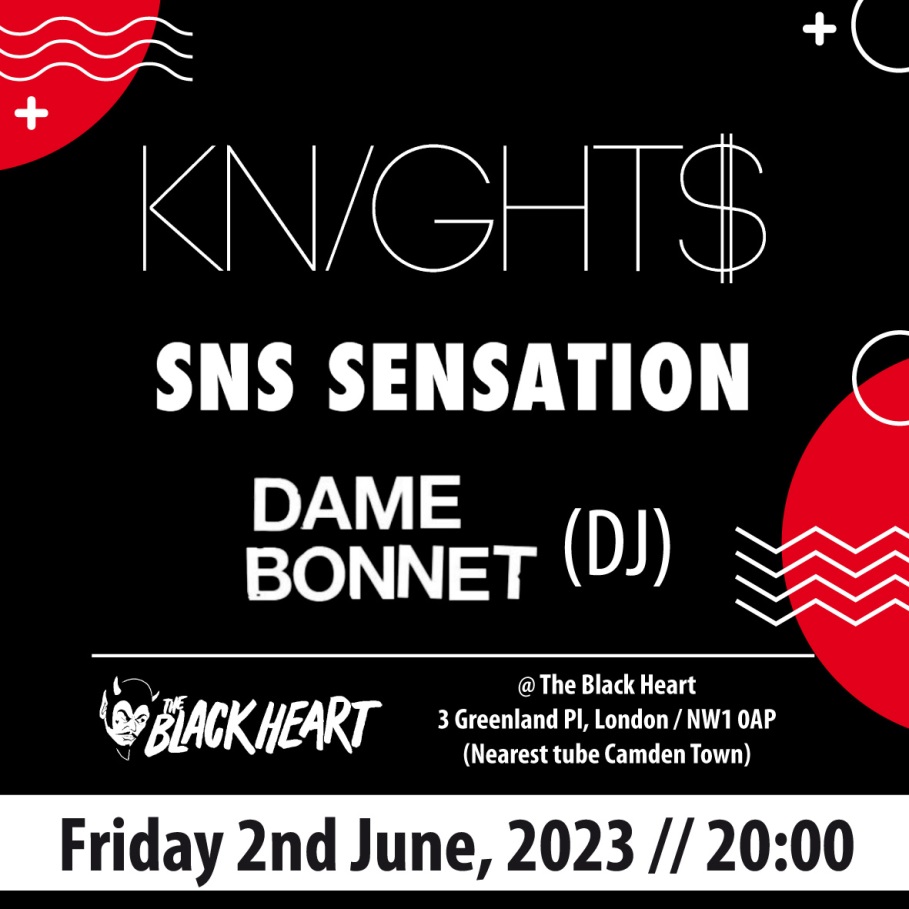 Despite Spring seemingly not arriving in the UK, plans for the Summer and lashings of ice cream are being made by some…
KNIGHT$ returns to London for a special birthday gig after a three show Mexican stand-off opening for Los Angeles darkwave duo DRAB MAJESTY; the glitterball Britalo vehicle of James Knights, his previous support sojourns have included A FLOCK OF SEAGULLS and HEAVEN 17. Featuring 'What's Your Poison?', 'Alligator' and 'Gelato', his debut full-length album 'Dollars & Cents' was one of those fine immediate electronic pop records, ideal for these turbulent and uncertain times.
With a 'Boom Bang Boom!', James Knights will be performing songs from his SCARLET SOHO and BOYTRONIC portfolio as well as new KNIGHT$ material.
There will also be a DJ set by Berlin-based Dame Bonnet while opening the evening will be a live set from SNS SENSATION; the solo moniker of Argentine-born Sebastian Muravchik, he is perhaps best known as the charismatic front man of HEARTBREAK who shared stages with THE PRESETS, LA ROUX, LITTLE BOOTS and on their return, ITALOCONNECTION and BLANCMANGE. A support slot with FIAT LUX in 2022 fired up Muravchik to perform live more as SNS SENSATION.
In a joint interview James Knights and Sebastian Muravchik chatted to ELECTRICITYCLUB.CO.UK about their first meeting, Italo Disco, the state of the modern music industry and much more.
The last time the two of you shared a stage together was in different guises in 2018 at The Moth Club for Hypnotic Tango in London when ITALOCONNECTION came over, what are your memories of that event?
James: I bumped into Sebastian at the train station before the soundcheck and we had a really nice chat on the way to the venue. That was the first time we'd met in person! I performed my song 'Alligator' with ITALOCONNECTION, then I was able to enjoy the rest of the night as a spectator, it was great.
Sebastian: An unforgettable night, it was fantastic. There was a unique energy in the room – the HEARTBREAK set was as if there had been no break at all! James and I met in person for the first time that day and had really good chats. Everyone was very impressed by James' surprise performance with Fred and Paolo. I enjoy what James does on stage very much indeed and look forward to seeing a whole set at The Black Heart.
How did you become aware of each other?
James: Sebastian's previous project HEARTBREAK was inspiring. To see people on stage pushing it to the max and challenging the audience is great. I always had the impression they didn't give a damn what was in vogue at the time, and they would perform alongside almost any other artist, in any genre. Totally fearless and unapologetic, the way it should be!
Sebastian: It was via messages on social media. I think James was aware of some of the work I had done before I took a break from music, and we got talking. I was impressed with how involved he was with the Italo Disco world and how much influence he had taken from it in his own productions. He's also a very nice fellow indeed, proof that you can be a great performer with no need for big egos.
So you both share this love of Italo Disco which is often unfairly maligned in the UK. Do you think there has been a renaissance as a result of documentaries like 'Italo Disco Legacy', 'Dons Of Disco' and ARTE TV's Italo special?
Sebastian: I think the Italo scene is small but quite established now, certainly a lot more than it was when Ali Renault and I started HEARTBREAK, there was next to nothing in the UK back then. At the same time, some of us were moving in somewhat different directions, like DJ Casionova embracing Kosmische and ambient and other things, Ali's emphasis on industrial electro, Road to Rimini generally doing less, me looking into somewhat darker territories etc.
Italo changed our lives and will always be loved by us, and still be an influence, but this artistic journey is unpredictable and you gotta go where you gotta go. And at any rate, we'll always have Flemming Dalum 🙂
Personally, the pandemic had a huge impact on my music, and enhanced the darkness brought by Brexit and the rise of the far right, as well as my own existentialist preoccupation with death and oblivion, and the philosophical concern with living authentically through measures of poetry and abstraction.
James: I think the phenomenon is mostly down to the music itself being so good and a little bit innocent. It seems like it's being appreciated and shared between people more and more, and for once the algorithm is working well, and serving people more hidden gems they haven't heard yet.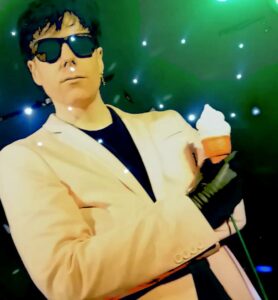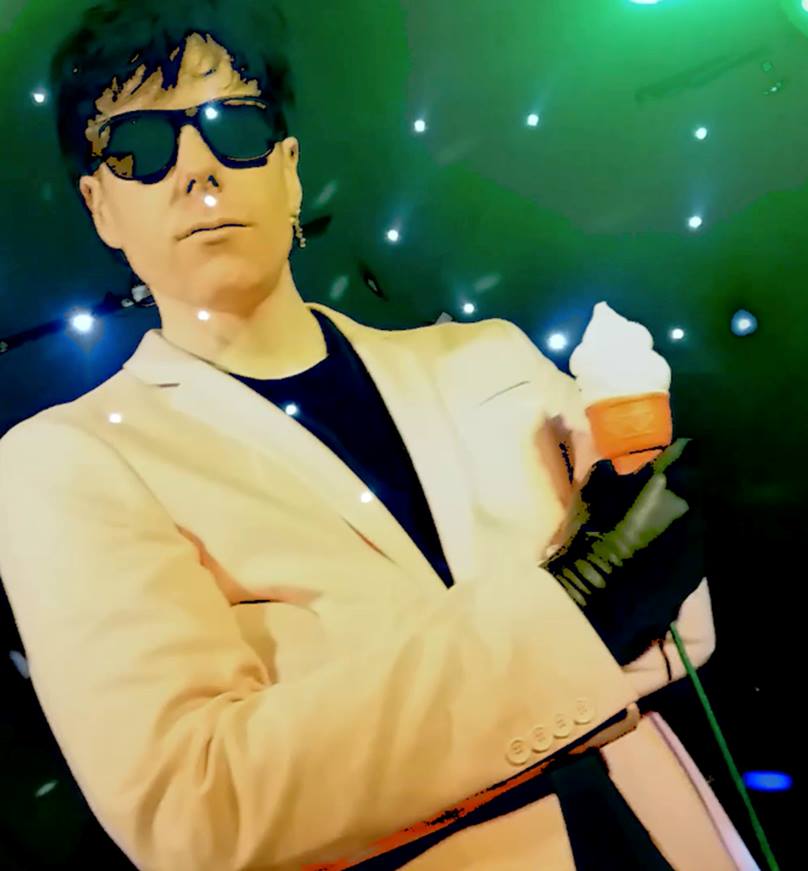 What Italo Disco tracks (not necessarily your favourites) would you recommend as entry points for those who are interested because they like your music but not wholly familiar with the genre?
James: Den Harrow's 'Mad Desire' in its 1984 12" version with vocals from Silver Pozzoli and not the album version (which was re-recorded by Tim Hooker), 'Marinero' by Lucia and also from 1985, 'Late Night Satellite' by BOYTRONIC…
Sebastian: Amnésie 'Turas', Blackway 'New Life', Helen 'Witch' and 'Le Camion' by DEUX (if I can get away with calling this Italo…)
What are your favourite tracks by the other?
James: I have a soft spot for SNS SENSATION's 'Discoboom' because Sebastian was kind enough to submit the track for our Specchio Uomo 'Trans-Global Excess' compilation album. It's massive and I love how raw it is! Then 'Robot's Got the Feeling' from HEARTBREAK, because it's amazingly dynamic with these amazing stop start rhythms.
Sebastian: 'Miami Knights', I love the bassline and vibe. 'Alligator', both the original and ITALOCONNECTION's remix. There's cool aggressive undertones to the singing and the energy of the productions. It's the tune James sang with Fred and Paolo at the Moth Club, so it also left an impression that way.
What can audiences expect from your upcoming sets at The Black Heart?
Sebastian: I think having the talent that is Dame Bonnet DJ-ing on the night is a massive plus; he did a stunning remix of my 'Your Door' and James' 'Julia', and his own stuff is excellent – as well as his bass work for CURSES. I look forward to playing some new tunes like 'Diamond Dream' and others, and I look forward to seeing James's set and meeting music lovers in the audience. The fans of these kinds of music tend to be very positive people, so it should be a really fun night.
James: I'm sure there will be something, but not sure what! I was playing around with an Elton John track the other day…
Any new material or album / EP releases on the horizon?
James: Yes! I'm just wrapping up a new EP as we speak. The vinyl should be ready later this year, and I'll be playing the lead track at the show on June 2nd!
Sebastian: I will continue to release singles for now, but I am beginning to consider an EP soon. A cassette release of some sort is definitely on the horizon.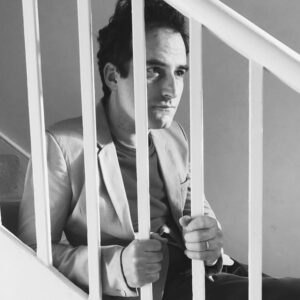 How are you finding adapting to the ever changing music environment and the emphasis on metrics? What are your upcoming plans?
Sebastian: I love the opportunities that independent DIY artists have to release and promote their work, it's so exciting! And there's so much stuff released all the time that it inspires you to produce and release only your very best.
I've also found more of a sense of camaraderie and community via social media than ever before. At the same time, there seems to be less attention span for music that transcends or does not fall strictly within genre boundaries. ZANIAS recently tweeted about how she felt this affects her career progression. This playlist culture is discouraging for artists that remain committed to the process with no compromise; I guess the key is to keep doing what you do and not giving too much of a f*ck.
James: I'm always trying to get my head down and write as many songs as I can, whilst playing as many shows as I can. Everything else is noise in the end. I can only measure success on how I'm feeling, so if the writing and performing is going well, I'm happy.
Sebastian: My plan is to continue to release music I can be proud of, and keep developing as an artist – never stop learning and trying new things out.
---
ELECTRICITYCLUB.CO.UK gives its warmest thanks to James Knights and Sebastian Muravchik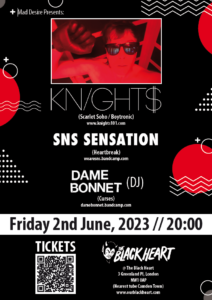 KNIGHT$ + SNS SENSATION with DJ Dame Bonnet play The Black Heart, 2-3 Greenland Place,  London NW1 0AP on Friday 2nd June 2023, nearest underground Camden Town – tickets in advance from https://www.seetickets.com/event/knight-special-guests/the-black-heart/2632539
https://www.facebook.com/Knights101/
https://twitter.com/JPSKNIGHTS
https://www.instagram.com/knights101/
https://knights101.bandcamp.com/
https://open.spotify.com/artist/07xFYhAkgObJY8VBkIy1O4
https://www.facebook.com/wearesns/
https://www.instagram.com/sns_discopop_noir/
https://wearesns.bandcamp.com/
https://open.spotify.com/artist/77pgZLgAxmVYtNaJm96m7P
---
Text and Interview by Chi Ming Lai
4th May 2023