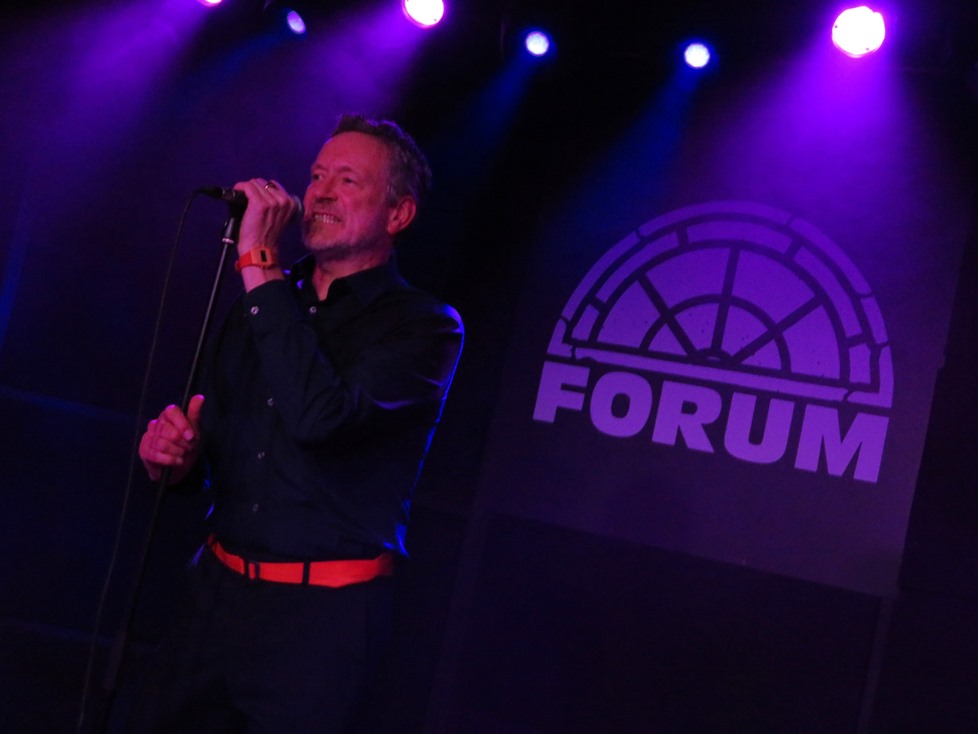 The leafy Kent town of Royal Tunbridge Wells was the location for first night of the BLANCMANGE tour rescheduled from 2020.
Originally intended to coincide with the 12th full length BLANCMANGE long player 'Mindset', Neil Arthur recorded another album 'Commercial Break' during lockdown while also preparing a soon-to-be-released collaboration with Finlay Shakespeare who will be the support act from Colchester Arts Centre onwards.
But tonight at The Forum, which was chosen to be a sort of warm-up to get BLANCMANGE back into the ritual of live performance after a gap of almost two years, the opening act was the energetic Anglo-Argentine electro duo HEARTBREAK. Comprising of charismatic vocalist Sebastian Muravchik and thoughtful instrumentalist Ali Renault, HEARTBREAK toured with the likes of LA ROUX and LITTLE BOOTS in support of their 2008 debut album 'Lies' before they went into hiatus for nearly a decade and re-emerging in 2018.
Muravchik has been making music as SNS SENSATION while Renault recently issued an instrumental solo mini-album 'Nawce Blizzard', but there is a new HEARTBREAK album on the way and it was with one of the new numbers '1888' that they began their uptempo set. From 'Lies' came the modern Italo romp of 'Akin to Dancing' and the falsetto charged 'Regret' before Muravchik announced how the fall out between himself and Renault (which put HEARTBREAK on the backburner) had been channelled into another new song called 'This Battle'.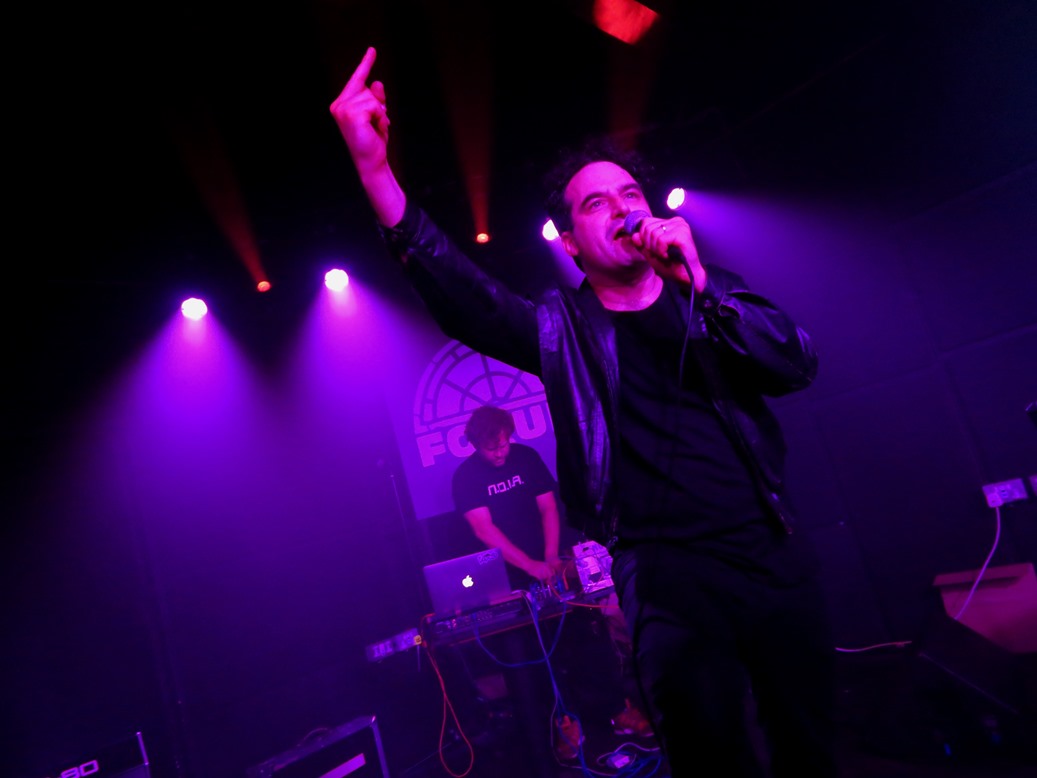 Having regrown his moustache especially for this occasion, Muravchik busted some Latin lothario moves and beckoned the now warmed up audience to dance to HEARTBREAK's appropriately titled signature song 'We're Back' and the frenzied 'My Tears Electro'. The most enthusiastic of the participants was undoubtedly Renault's primary school aged daughter who was totally thrilled with seeing her father perform for the very first time and assiting on vocoder.
To very bright stage lights, long standing BLANCMANGE live keyboardist Ogoo Maia and electronic percussionist Liam Hutton took their places as they awaited the arrival of Neil Arthur to launch into the 'Mange Tout' favourite 'Game Above My Head'.
With a set divided equally divided between classic material and 21st Century BLANCMANGE works, the marvellous robopop of 'In Your Room' from 2018's 'Wanderlust' and songs off the 'Mindset' album, such as the title song and 'Clean Your House', showed that Arthur was still pushing forward artistically. But surprises also came with the 1985 single 'What's Your Problem?' and 'I Prefer Solitude' from the FADER collaboration with producer Benge.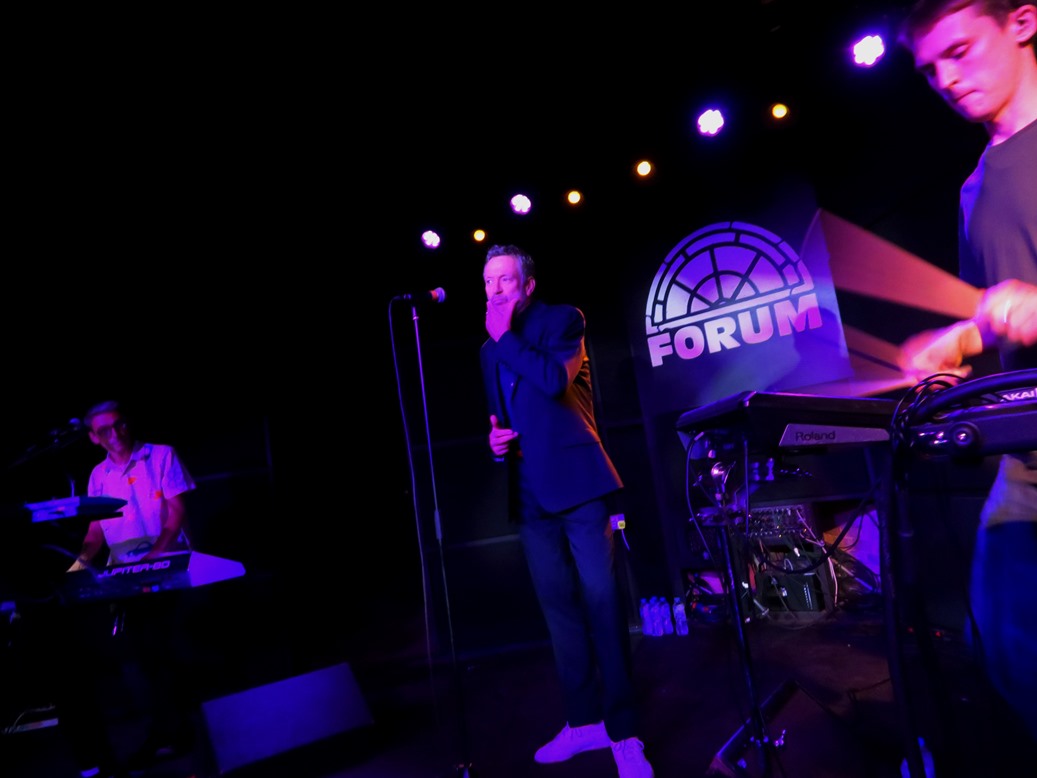 'I Can't Explain', 'Waves' and 'I've Seen The Word' highlighted that for those in attendance, the 1982 debut 'Happy Families' is still a record held with great affection by many while there was also space for the topical wordplay of 'This A State' from the upcoming 'Commercial Break' album.
However, during a lone ivory version of 'The Day Before You Came', Arthur got knocked off focus by those who were talking quite loudly during this key set-piece.
Asking Maia to stop, the Lancastrian made his thoughts known in his deep dry tone about the lingering chitter-chatter and said he would prefer it if people sang along instead. This prompted some to visit azlyrics.com on their phones and as Arthur continued with his rendition of his favourite ABBA song, he had to contain his laughter as most present joined in!
Heading for the home straight, 'Living On The Ceiling' prompted the now-customary massed chant of the song's main instrumental while 'Feel Me' and 'Blind Vision' closed proceedings with a welcome Saturday night disco. "It's been hard work in rehearsals and the first show proper after around 2 years is quite a challenge" Neil Arthur said to ELECTRICITYCLUB.CO.UK afterwards, "In a good way."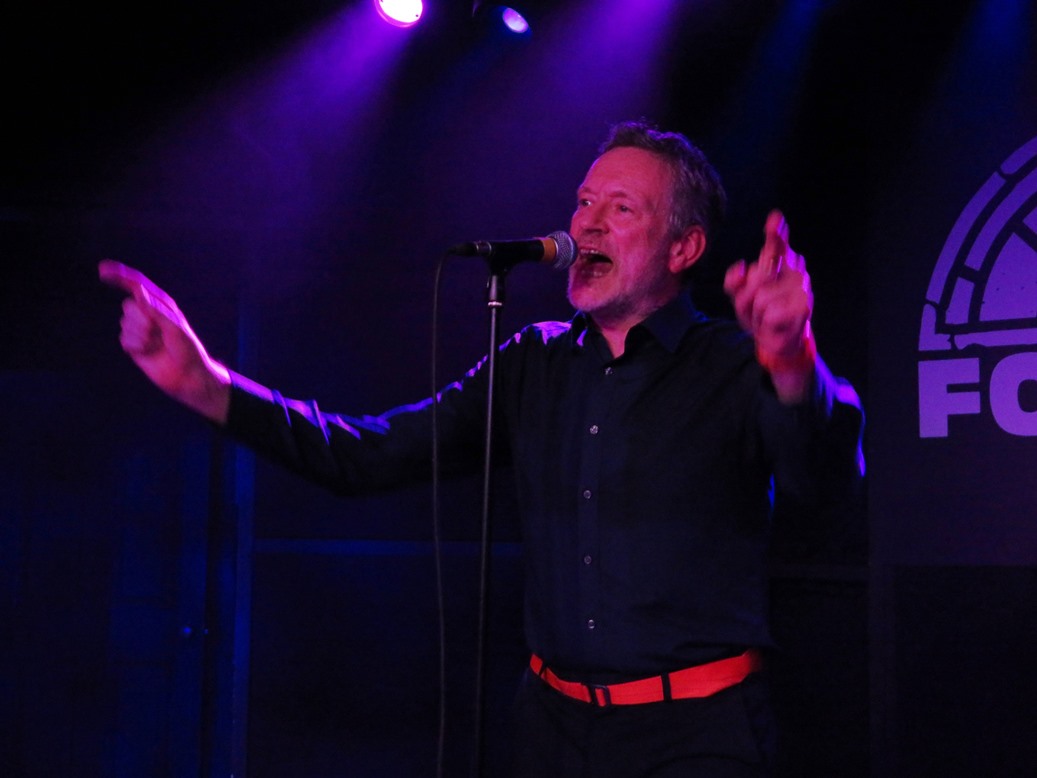 As the most prolific artist of the Synth Britannia generation and one who has toured every year since as BLANCMANGE's comeback in 2011 up to and including 2019, Neil Arthur's return to the live stage is an important symbol that gives hope after a difficult 21 months.
Certainly those present at The Forum seemed happy to be out with their friends for some live music and a drink or three, even if not all were necessarily paying attention to what they had paid their hard earned money to see.
---
With thanks to Joe Pidgeon at AGMP and Chris Pritchard at The Forum
'Commercial Break' is released by Blanc Check on 17th September 2021 in CD, vinyl LP and digital formats, available from http://blancmange.tmstor.es/
BLANCMANGE 2021 live dates include:
Colchester Arts Centre (16th September), Norwich Arts Centre (17th September), Birmingham Institute 2 (18th September), Gloucester Guild Hall (23rd September), Exeter Phoenix (24th September), Nottingham Rescue Rooms (25th September), Blackburn King George's Hall (29th September), Newcastle Riverside (30th September), Edinburgh Liquid Room (1st October), Glasgow Oran Mor (2nd October), Southampton The Brook (13th October), Bristol Fleece (14th October), Northampton Roadmender (22nd October), Manchester Club Academy (27th October), Leeds The Wardrobe (28th October), Liverpool Grand Central Hall (29th October), Brighton Concorde 2 (17th November), Harpenden Public Halls (18th November), Cardiff Portland House (25th November), London Under The Bridge (26th November), Shrewsbury Buttermarket (27th November)
BLANCMANGE will also be opening for ERASURE on 17th October 2021 and London O2 Arena
https://www.facebook.com/BlancmangeMusic
https://twitter.com/_blancmange_
https://www.instagram.com/blancmange_music/
https://www.facebook.com/Heartbreak-14224761975
---
Text and Photos by Chi Ming Lai
13th September 2021