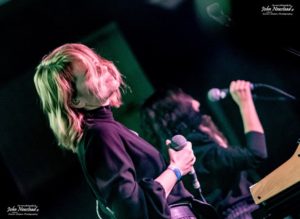 Athens-based synth maidens MARSHEAUX returned to the UK by gracing the beautiful Norfolk city of Norwich at Epic Studios.
The day was kicked off by a marvellous memorabilia exhibition of items from the Synth Britannia era. Deb Danahay's collection mainly depicted the early years of DEPECHE MODE circa 1981. Deb shared her very first DM fan club information sheets, photos, backstage passes and newspaper cuttings.
As well as that, there were YAZOO fan club photos, backstage passes and personal notes too while one of the UK's most devoted fans of DEPECHE MODE, Michael Rose treated eager observers to some excellent pieces of rare memorabilia.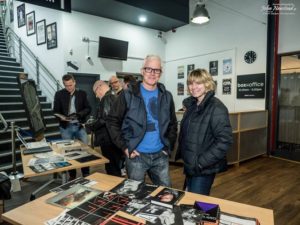 These included tour programmes from the 'Some Great Reward', 'Music For The Masses' and 'Violator' eras. There were the Bong fan club publications as well, plus letters and assorted promo photographs.
And there was the famous jacket Dave Gahan wore on the iconic 'The World We Live In and Live In Hamburg' video of nearly from the 1984 'Some Great Reward' Tour, and also the first ever live concert release by the Basildon band.
Stephen Roper provided his keepsakes relating to GARY NUMAN. He collated a book about the Numan's imperial era entitled 'Back Stage-A Book Of Reflections', which featured contributions from the man himself. More recently, Roper has ventured into gig promotion, hosting a successful live appearance by former KRAFTWERK member WOLFGANG FLÜR.
Paul Boddy, who also doubles as one quarter of the modern SPEAK & SPELL's set up, kicked the "music bit" off with a fabulous DJ Set, containing the likes of ERASURE, FAD GADGET, DEPECHE MODE, THOMAS DOLBY, JOHN FOXX, LADYTRON and BATTLE TAPES.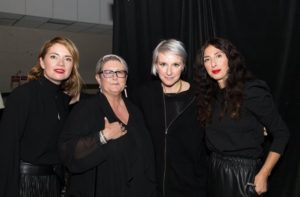 The happy crowd milling around the venue consisted of diehard fans of electronica, studded with the likes of Sarah Blackwood ex-CLIENT and DUBSTAR, Anais Neon and Martin Swan from VILE ELECTRODES and George Geranios of Undo Records. Also along for the fun were Keith Trigwell of SPEAK & SPELL, Simon Helm of Nordic friendly music blog Cold War Night Life plus radio DJs Rob Green and Chris Watts.
The compère for the evening was the lovely Caroline Rose, who was probably the only person in the venue who could pronounce "Les Disques du Crépuscule" and managed to get the audience properly geared up for the evening's festivities as well as provided interesting info on the night's acts.
Guest DJ James Nice graced the gathering with a variety of new and vintage tunes. He recently resurrected the prestigious Belgian label Les Disques du Crépuscule and its sister Factory Benelux offshoot, as platforms to issue a plethora of archive and experimental material, as well as releasing new music by MARNIE, MARSHEAUX, DEUX FILLES and LES PANTIES.
Nice, who is a music publisher and writer, with an accomplished 2010 book 'Shadowplayers: The Rise And Fall Of Factory Records', now looks after both labels, curating its heritage as well as taking care of new acts. The sleeve notes for these releases are written by the man himself, but as he told ELECTRICITYCLUB.CO.UK in his recent interview: "My notes tend to be honest rather than gushing or pseudo-academic, and that's probably why I rarely get commissioned to write liner notes for other releases!"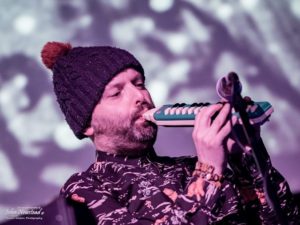 In front of an audience that had gathered from as far as Switzerland, Holland, Ireland, Liverpool and London, RODNEY CROMWELL took to the stage first.
Led by Adam Cresswell, his short but sweet set of tunes including 'Baby Robot' and 'Black Dog' from debut long player 'Age Of Anxiety'
, chronicled his own personal problems with depression. There was also the terrific bonus of his older ARTHUR & MARTHA track 'Autovia' featuring bandmate Alice Hubley on lead vocals.
He was pleased with the early crowd turnout as he had told ELECTRICITYCLUB.CO.UK earlier this year: "I think it's harder to get gigs now… maybe that's because electronic music's not as fashionable, because back in the mid-noughties, it was on the back of Electroclash and that hipster thing!". Well, it was a very successful set too and he managed it without blowing up one of his Korgs, like he had done at the warm-up gig in London the day before!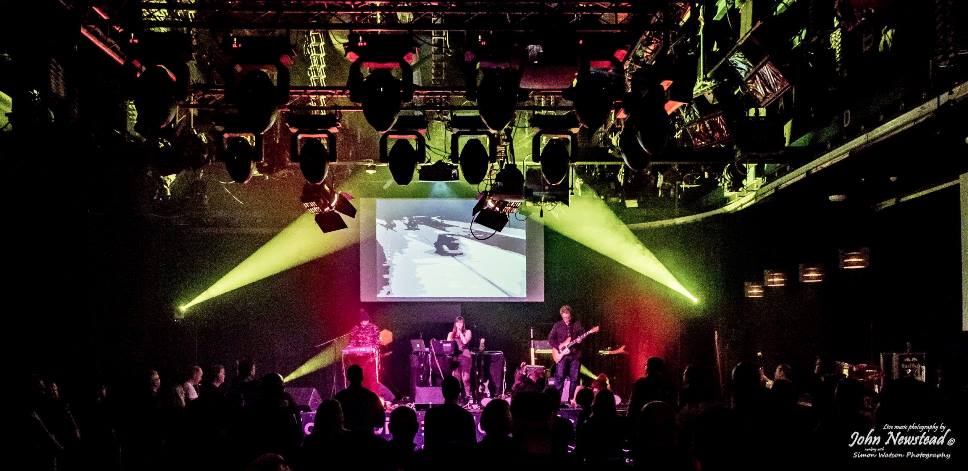 The golden boy of 2016, Nathan Cooper aka KID KASIO showcased his talents next during a lively 40 minute set. Cooper has had a successful couple of years, releasing his stunning retro-inspired album 'Sit and Wait'
with such gems as 'Full Moon Blue' and 'The Kodo Song', which were both performed to a rather appreciative audience.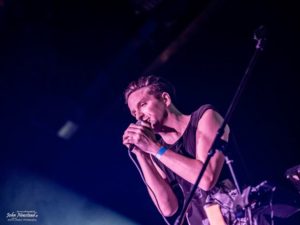 Previously of THE MODERN and MATINEE CLUB, Cooper has been involved in electronic music for years and worked with all the big names like Stephen Hague.
Most recently, he opened a fabulous recording studio Fiction Studios in London, together with his oh-so-famous actor brother Dominic. Cooper managed to pick up a parking fine during rehearsals, so he amusingly pleaded to the audience to buy at least six CDs to cover his losses!
His set went down tremendously well; with massively upbeat and entertaining tracks like 'The Story Of Kid Charlemagne' and the über fast 'The End', the crowd did not want to let KID KASIO off stage.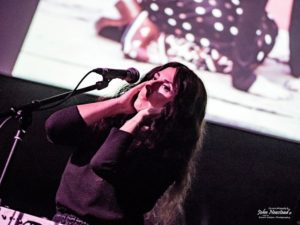 KID KASIO certainly prepared the audience for Greek Goddesses MARSHEAUX, whose hour-long set was simply stunning. The duo are soon to play at the first African electronic music festival in Senegal and kicked off with tunes from their latest acclaimed album 'Ath.Lon'
, accompanied by arty background projections.
But the big hits like 'Breakthrough' from 'Lumineux Noir'
were also included and inevitably got the audience pumping.
Apart from being pleasing to the eye, Marianthi Melitsi and Sophie Sarigiannidou also know how to get the crowd going and a few certainly got involved in a very articulated manner. The audience were dancing and singing to the brilliant 'Inhale' and the mood continued with DEPECHE MODE's 'The Sun & The Rainfall'. With exquisite harmonies brought by the girls, a few people in the audience actually said they preferred MARSHEAUX's cover album of 'A Broken Frame'
to the original.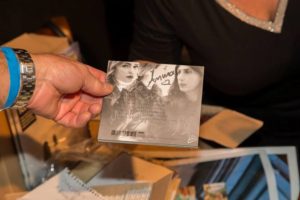 After the show, many rushed to purchase 'Ath.Lon' with its stunning sleeve, dutifully signed by the duo. The demand was such that certain items on the merchandise stand flew out so fast, that a few missed out on goodies such as the lush luminous sleeved 'Ghost' 7 inch vinyl.
The happy crowd was entertained and everybody was having a great time. Now, this is what happens when electronic music events are curated by electronic music enthusiasts.
---
DJ sets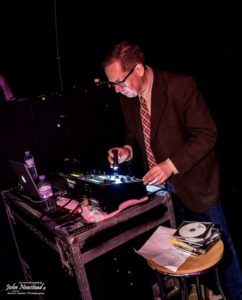 James Nice 
MIKADO 'Par Hasard'
HARD CORPS 'Porte de Bonheur'
TELEX 'Moskow Diskow'
CRYSTAL CASTLES 'Intimate'
VITALIC 'Flashmob'
GRACE JONES 'She's Lost Control'
KAS PRODUCT 'So Young But So Cold'
FACTORY FLOOR 'Fall Back'
SPARKS 'Tryouts For The Human Race'
Paul Boddy 
6/8 Set #1
MESH 'Born To Lie'
DEPECHE MODE 'Personal Jesus [Alex Metric remix]'
THE HUMAN LEAGUE 'Empire State Human [Chamber's Reproduced remix]'
OMD 'Sailing On The Seven Seas [Larrabee mix]'
GOLDFRAPP 'Beautiful'
ERASURE 'Love Is A Loser'
FAD GADGET 'Swallow It'
SOFT CELL 'Where Did Our Love Go?'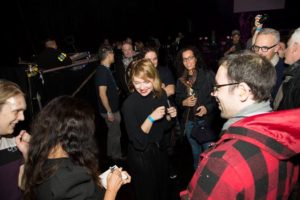 4/4 Set #2
HARD CORPS 'Je Suis Passé'
DIE KRUPPS 'Der Amboss'
KIM WILDE 'Cambodia [EMP re-edit]'
YAZOO 'Goodbye 70s'
TORUL 'Mad World [Rob Dust remix]'
GIORGIO MORODER 'The Chase [Jaia Express remix]'
DONNA SUMMER 'I Feel Love [Afrojack remix]'
---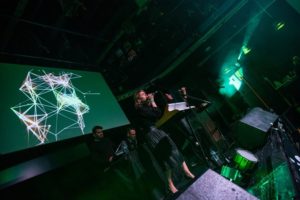 The organisers give their warmest thanks to all the bands, DJs, venue crew, team, helpers and attendees who made the evening such a great success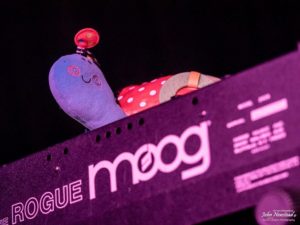 http://www.lesdisquesducrepuscule.com/
https://soundcloud.com/paul-boddy-emp-remixes
http://www.johnnewstead.co.uk/
http://simonwatson-photography.co.uk/
---
Text by Monika Izabela Trigwell
Photos by John Newstead and Simon Watson
12th November 2016