Originally released in November 2019, 'Vehlinggo Presents: 5 Years' collected together exclusive tracks from the world of synthwave and electronic pop.
Curated by Aaron Vehling, founder of Vehlinggo, the 17 tracks presented the musical ethos of the Brooklyn-based website, podcast and multimedia platform. Having been issued digitally, 'Vehlinggo Presents: 5 Years'
is now available on CD with a slight adjustment in running order to reflect Vehling's vision of an imaginary film soundtrack.
Any good compilation contains promising talents alongside established names and this is certainly the case here.
The reconfigured tracklisting begins in a cool stylish fashion with ANORAAK's 'Panarea', a funky nu-disco instrumental. Retrospective references surface with Canada's PARALLELS on 'The Magic Hour', an exquisite slice of synthesized new wave that wouldn't have sounded out of place in a classic Brat Pack movie.
Remaining in Canada which has become the creative centrepoint for much of the best modern synth music, Ryan Gosling favourites FM ATTACK offer more of their trademark atmospheric electronic disco on 'Paradise'.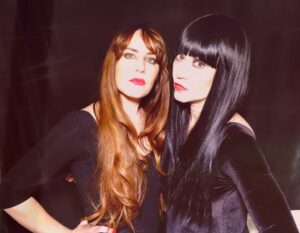 The mood changes though with the appealing girly Italopop of New Yorkers BUNNY X and their 'Revolving Doors'.
Now THE MIDNIGHT have become possibly the biggest synthwave crossover act with their sax assisted AOR but their appeal still baffles some observers; 'Sometimes She Smiles' does not change things and sounds not unlike busker balladeer PASSENGER but constructed using VSTs.
But with the pacey 'Rage Of Honor', proceedings are rocked up by LE MATOS although the backbone is still predominantly electronic. With a track entitled 'Hi-NRG', BETAMAXX begins proceedings with a cowbell frenzy but the speedy arpeggios soon join in for a Giorgio Moroder homage complete with digital chimes.
The shiny electro continues with the Sweden's Johan Agebjörn and 'Have You Ever Been In Love?'; using robotic vocal treatments like FM ATTACK, because this is a dub version of the track, the featured vocal of Tom Hooker, the voice behind many of the hits for famed Italo star Den Harrow, only comes in phrases which proves to be frustrating; the solution is to track down the original mix of the song from the 'Videoman' soundtrack.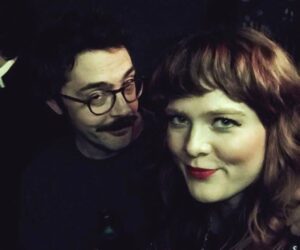 MAETHELVIN cuts a solid funk groove on 'Dance Through The Night' aided by a LinnDrum derived pattern but maintains a chilly air, while from the Italians Do It Better stable, the previously unreleased Johnny Jewel produced 'Gold' by IN MIRRORS builds on some staccato tension.
The throbbing 'Girl On Video' from FORGOTTEN ILLUSIONS is loaded with hooks and big synthetic drum fills but while it is passable 4/4 synthwave fare, it is overlong and may have benefitted from being constructed around a 6/8 Schaffel to give it more bite.
A self-confessed "21st Century '80s" artist, DIAMOND FIELD takes the delightful Dana Jean Phoenix into an interesting direction on 'Freedom Pass' by producing something that comes over like THE GO-GO'S gone synthpop. It recalls when Jane Wiedlin was working with PET SHOP BOYS producer Stephen Hague after the group first disbanded.
Beginning with some female prose en Français, DEADLY AVENGER's 'Your Phone Is Off The Hook, But You're Not' is reminiscent of the quirky French underground from which cult acts such as MATHEMATIQUES MODERNES and RUTH emerged. Meanwhile, the wonderful MECHA MAIKO contributes the arty 'Selfless' which stands out with its screechy backdrop before settling into an avant pop concoction that makes hypnotic use of her repeated "It's alright" phrasing!
'She Sees A Future' from Lakeshore Records signing VH X RR perhaps has the most nostalgic references like THE LOVER SPEAKS meeting ANIMOTION, but proceedings are taken down a notch by the filmic vocodered mood piece that is METAVARI's 'Be What You See'.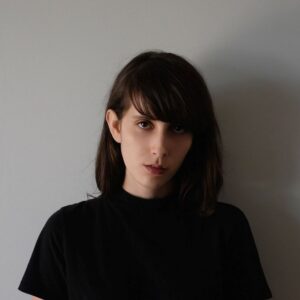 But the best is saved until last with HIGHWAY SUPERSTAR and the gorgeously dreamy 'Slow Motion'; featuring a fabulous vocal by Zoe Polanski, the end result comes across a bit like ELECTRIC YOUTH.
'Vehlinggo Presents: 5 Years' does its job well of showcasing new and established international talent from an American perspective.
Coming from variants of electronic music that have been labelled as synthpop, Italo Disco, synthwave, nu-disco and French disco, what actually matters is whether the music is any good.
Considering this compilation contains largely of previously unreleased material with the baggage that can come with that knowledge, the majority of it is excellent. Listeners will of course have their own favourites, but there really is something for everyone who loves electronic pop with quality and substance.
---
'Vehlinggo Presents: 5 Years'
is released as a limited edition CD in a packaged in a six-panel wallet with artists' notes on 1st March 2021 while the digital album is available now direct from https://vehlinggopresents.com/album/vehlinggo-presents-5-years
https://vehlinggo.com/presents-liner-notes/
https://www.instagram.com/vehlinggo/
---
Text by Chi Ming Lai
5th February 2021