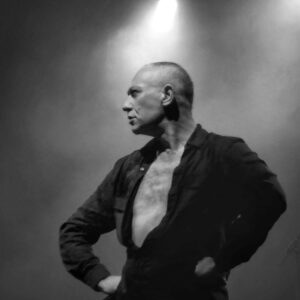 Gabi Delgado, lead singer with DEUTSCH AMERIKANISCHE FREUNDSCHAFT, has sadly passed away at the age of 61; the news was announced by his band mate Robert Görl on social media.
Born in Andalusia in Spain, Delgado's family moved to West Germany to escape the Fascist regime under General Franco. Delgado and Görl met in 1978 as regulars of the punk club Ratinger Hof in Düsseldorf; there they formed DAF with their basic ideas shaped by Delgado doing vocals accompanied by a Stylophone and the classically trained Görl playing drums.
DAF were a reaction to the success of KRAFTWERK; in Rudi Esch's book 'ELECTRI_CITY – The Düsseldorf School of Electronic Music', Delgado said "To me, KRAFTWERK were sounding too boring, too beautiful, too sedate and too sterile" adding "Sequencers and Moroder. That was more important for electronic music than the entire legacy of KRAFTWERK, NEU! and LA DÜSSELDORF".
Delgado temporarily left DAF so was absent on what became the 1979 instrumental debut album 'Produkt Der Deutsch-Amerikanischen Freundschaft'
which was recorded as a four piece also featuring Kurt Dahlke, Michael Kemner and Wolfgang Spelman. Delgado returned and DAF moved to London, signing to Mute Records.
They had attracted the attention of Daniel Miller because "they weren't relying on past rock". Produced by the legendary Conny Plank, 'Die Kleinen Und Die Bosen'
became the first full length album to be released by the iconic label in 1980. Allocated the catalogue number STUMM 1 at the suggestion of DAF as "stumm" was the German word for "mute", it was a mixed studio and live affair with Delgado demonstrating his aggressive vocal ability with grief stricken screams on raucous punky pieces that barely clocked in at two minutes!
But DAF had impressed and were signed by Virgin Records to record an acclaimed trilogy of albums, all produced by Conny Plank. Now down to just a duo of Delgado and Görl, the pair developed a pioneering sound that was later to become known as Electronic Body Music (or EBM) and Industrial.
Robert Görl had become fascinated by the minimalistic possibilities of using a 16 step Korg SQ-10 analogue sequencer to drive a Korg MS20 and ARP Odyssey to provide body power, while Delgado adopted a Teutonic character to his vocal style that was close to shouting with an inflammatory intensity. That Delgado would not vocalise in English only added to DAF's mystery and appeal.
On stage, Delgado possessed an almost demonic physical presence, while Görl was often stoic and motionless. Using backing tapes, the live focus was almost totally centred on the front man with his ferocious dancing that made Andy McCluskey from OMD look like a member of KRAFTWERK. Delgado's sweaty physicality had a homoerotic allure that added a sexual tension to DAF's chanty electronic punk.
The first Virgin album 'Alles Ist Gut'
 in 1981 featured their fierce breakthrough track 'Der Mussolini' which flirted with right wing imagery in its sardonic reflections on ideology. However, combined with DAF's preference for a militaristic aesthetic, it caused controversy and confused observers, attracting a following which Delgado hated; after all, his parents had escaped from the Franco regime in Spain. But DAF liked to shock and Delgado was always unapologetic about the provocation within his lyrics.
'Alles Ist Gut' sold well in Germany, effectively turning Delgado and Görl into popstars! The next two albums 'Gold Und Liebe'
and 'Für Immer'
maintained the industrial standard with the latter's highlight being a re-recording of a 1980 Mute 'Kebab Träume'. Transformed into something much heavier, the memorable if controversial line "Deutschland, Deutschland, alles ist vorbei!" threw more wood onto the provocation bonfire. But despite the fame, all was not well within DAF and the pair fell out under a haze of sex, drugs and sequencer…
Solo albums were recorded with Delgado releasing 'Mistress' on Virgin while Görl issued 'Night Full Of Tension' on Mute. But the pair had that certain chemistry and reformed in 1985 to produce their only album in English entitled '1st Step to Heaven'. Not only was their language approach different but they softened their sound and look, coming over like a Euroboy band on the 'Lady Marmalade' referencing pop tune 'Voulez Vous Coucher Avec Moi' while embracing funky New York disco on the cult favourite 'Brothers'.
However, '1st Step To Heaven' was considered a failure and DAF split again. Delgado found solace and joy in the house and techno scene, organising parties with Westbam, as well as establishing the dance labels Delkom Club Control, BMWW and Sunday Morning Berlin. As 2 GERMAN LATINOS in 1992, he recorded the hypnotic 'Viva La Droga Electronica' with Saba Kamossa for Mark Reeder's MFS label.
While Delgado recorded two albums as DAF/DOS with Wotan Wilke, he inevitably reunited with Görl again in 2003 for the album 'Fünfzehn Neue DAF Lieder' which saw a more techno influence entering the template.
The pair continued to reunite for DAF shows, but their legacy which had influenced bands such as DEPECHE MODE, LAIBACH, THE INVINCIBLE SPIRIT, NITZER EBB, FRONT 242, NINE INCH NAILS, APOPTYGMA BERZERK, BOYS NOIZE and RAMMSTEIN was celebrated in 2017 with a book and a boxed set, both called 'Das Ist DAF'
.
Released on Grönland Records, the lavish boxed set included 'Die Kleinen Und Die Bösen' and the Virgin trilogy, along with remixes by Giorgio Moroder and Westbam among others. But the icing on the cake was what many fans had been waiting for, a brand new DAF single 'Die Sprache Der Liebe'.
DAF last played London in Autumn 2018 at the Black Celebration event alongside MESH and SUICIDE COMMANDO, while they continued performing throughout Europe in 2019.
Despite most artists mellowing in old age, Gabi Delgado never showed any signs of taming his punky attitude. During a Techno panel as part of the ELECTRI_CITY_CONFERENCE in 2015 at the CCD Conference Centre where a smoking ban was in force, Delgado caused some amusement when he casually lit up a cigarette in the middle of the discussion, reinforcing the rebellious and confrontational aura of DAF.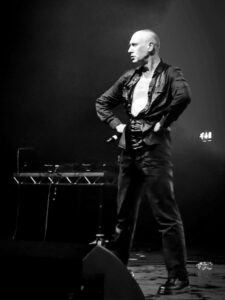 Stephan Groth of APOPTYGMA BERZERK said "DAF was one of the HUGE inspirations in the early APOP days, and we've had nothing but respect and admiration for their output through the years… Gabi, you will stay in our memory 'Für Immer'. RIP"
Mark Reeder added "So very sad and stunned to hear about Gabi Delgado's passing. Thank you for the wonderful music and the contribution you made at the start of MFS."
A fitting tribute came from 'Das Ist DAF' biographer Miriam Spies who simply said "Rest in peace amigo. And may there always be enough cigarettes, music and cats where you are now. And orange trees, of course."
---
Text by Chi Ming Lai
Photos by Simon Helm
24th March 2020