'Is That The 12 Inch Mix?' people used to ask…
"Sometimes you never knew what you were getting when you bought the 12 inch mix" says Rob Grillo, author of the same titled book tracing the history of the extended format, "Sometimes you got the 7 inch version and a bonus track, sometimes it was just the longer album mix, and sometimes you got the normal mix when the sleeve promised a 'brand new mix', occasionally there would be a gargantuan explosion of noise that heralded a completely new take on the song that would blow you mind away…"
ELECTRICITY CLUB.CO.UK itself has never been particularly big on remixes or 12 inch versions. They were on occasions, an unnecessary evil.
Just because a song can be extended and reworked to submission doesn't mean it has to be… FRANKIE GOES TO HOLLYWOOD's bassist Mark O'Toole snorted to International Musician & Recording World in 1986: "A punter walks into the shop, wants to buy a single – and there's half a dozen mixes of it! It's a pain in the ar*e!"
Comedian Lenny Henry summed things up best in a sketch where he entered a record shop to buy a single and was then offered a plethora of versions by the assistant… "I JUST WANT THE VERSION THEY GOT RIGHT!" he exclaimed.
In another stand-up routine, he commented that a 12 inch single could last longer than a marriage. But they could be tremendously passionate affairs as Rob Grillo remembers: "In essence, buying the 12 inch was more exciting than buying the 7 inch…"
With the restriction of tape, a razor blade and the mixing desk, the era often conspired to make more interesting, structured reworkings than the meaningless dance work-outs of today. When done well, the 12 inch extended version could totally surpass the original.
Each track on this list of classic variations was released as a 12 inch single with a corresponding original 7 inch release that was shorter (which thus excludes 'Blue Monday' by NEW ORDER); full length album versions that subsequently got issued as 12 inch singles are not included.
With a restriction one track per artist moniker going up to the period before remixes got a bit daft with the advent of rave culture, here are ELECTRICITYCLUB.CO.UK's 25 choices in chronological and then alphabetical order…
---
SPARKS Beat The Clock – Long Version (1979)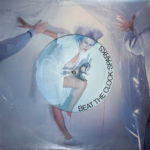 The shorter album take of 'Beat The Clock' was more basic and less epic. But in this longer, more powerful and percussive 12 inch version, the star of this ace collaboration with Giorgio Moroder was the ever dependable Keith Forsey with his rumbling drumming syncopating off the precisely sequenced electronic production. Russell Mael was at his best in fully fledged falsetto mode, while Ron stood even more motionless than usual, safe in the knowledge than he didn't even have to play anymore.
Available on the album 'Real Extended: The 12 inch Mixes (1979 – 1984)'
via Repertoire Records
---
DURAN DURAN Girls On Film – Night Version (1981)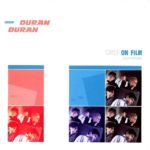 At the start of their career, rather than just simply extend a song by joining together sections of tape, DURAN DURAN actually took time to rearrange and re-record their 12 inch singles. This they did on 'Planet Earth' and 'My Own Way', but the best of the early 'Night Version' trilogy was 'Girls On Film'. From its opening Compurhythm beat and first instrumental chorus set to Nick Rhodes' swimmy Crumar Performer to Simon Le Bon's closing verse ad-lib, this marvellous arrangement formed the basis of their live version.
Available on the boxed set 'The Singles 81-85'
via EMI Records
---
THE HUMAN LEAGUE Don't You Want Me – Ext Dance Mix (1981)
Effectively an instrumental of the closing track on 'Dare', the quality of Martin Rushent's production was fully showcased on this 'Ext Dance Mix'. Each synth had its own voice and placed inside a precise lattice that formed a fabulous pop tapestry. It was also notable for featuring a guitar, albeit used obliquely by Jo Callis to trigger a Roland System 700. Even without its lead vocals, 'Don't You Want Me' was a fine example of well-crafted, melodic electronic music.
Available on the album 'Original Remixes & Rarities'
via Virgin Records
http://www.thehumanleague.co.uk/
---
SIMPLE MINDS The American – 12 inch Version (1981)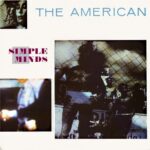 With the futuristic 'Changeling' and 'I Travel', SIMPLE MINDS had been heavily rotated by Rusty Egan in his DJ sets at The Blitz. 'The American' was the Glaswegians' first single for Virgin and sounded like Moroder merged with NEU! Metallic motorik drumming from Brian McGee sans hi-hats provided an interesting rhythm construction and challenged the band into finding inventive ways of making people dance. With Mick McNeil's pulsing synths coupled with Derek Forbes' bass engine, this was prime art disco.
Available on the boxed set 'X5'
via Virgin Records
---
SOFT CELL Bedsitter – Early Morning Dance Side (1981)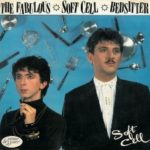 SOFT CELL were quite unique in their 12 inch extended formats by often incorporating extra vocal sections like on 'Torch', 'Facility Girls' and 'Insecure Me'. So instead of purely instrumental breakdown extensions, 'Bedsitter' added a marvellous rap from Marc Almond where he asked "do you look a mess, do have a hangover?" before taking a little blusher, pushing tea leaves down the drain and starting the night life over again. This literal kitchen sink drama to song concept won SOFT CELL many ardent followers.
Available on the deluxe album 'Non-Stop Erotic Cabaret'
via UMC
---
SPANDAU BALLET The Freeze – Special Mix (1981)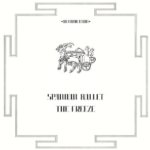 While the single version of 'The Freeze' was an enjoyable if polite slice of guitar driven disco, the 12 inch 'Special Mix' of SPANDAU BALLET's second single fully utilised their Yamaha CS10 with a pulsing octave barrage that could have been borrowed from their Blitz Club contemporaries VISAGE. A closing cacophony of electronically processed percussion came over like a funkier KRAFTWERK but with the overblown vocal histrionics of Tony 'Foghorn' Hadley, this could only have been the Islington quintet.
Available on the album 'The Twelve Inch Mixes'
via Chrysalis Records
---
B-MOVIE Nowhere Girl – Version (1982)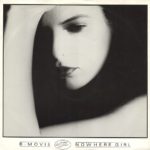 B-MOVIE were famously the band that Phonogram pursued to take on SPANDAU BALLET and DURAN DURAN. Managed by Some Bizzare's Stevo Pearce, he stipulated that an unknown synth duo called SOFT CELL be part of any deal. Possibly the best single featuring the original line-up, the 12 inch version of 'Nowhere Girl' featured an extended intro with just a solid beat for company along with tinkling ivories that came over like ULTRAVOX in full flight before the pulsing bass and harp-like synths kicked in.
Available on the boxed set '12" 80s Alternative'
 (V/A) via UMTV
---
CLASSIX NOUVEAUX Is It A Dream? – 12 inch Version (1982)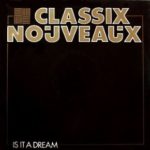 The best classic 12 inch versions often retained the musical structure of the song but cleverly used the technique of breakdown to achieve dynamic highs and lows where appropriate. The 12 inch version of 'Is It A Dream?' effectively tagged the instrumental version of the song onto the beginning which provided a build towards the main act as the recognisable elements of the tune steadily kicked it. A final coda of thumping Simmonds drums and brassy synth provided the piece de resistance.
Available on the album 'The Very Best Of'
via EMI Gold
http://www.salsolo.com/Classix_Fans.html
---
NEW ORDER Temptation – 12 Inch Version (1982)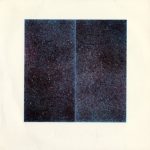 A different version altogether from the 7 inch, however the 12 inch version was actually recorded in one massive 14 minute jam session with the shorter version preceding it. The recording itself was marvellously flawed, with Stephen Morris' overdriven Simmons snare panned too far to the right while band members can also be heard calling instructions and tutting. The final closing refrains and the iconic "oooh-oo-ooh" vocal hook to the drum breakdown made 'Temptation' both grand and magical.
Available on the boxed set 'Retro'
via Warner Music
---
GARY NUMAN Music for Chameleons – Extended Version (1982)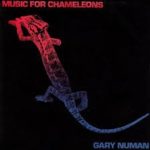 In 7 inch form, GARY NUMAN's 'Music For Chameleons' sounded incomplete. Lasting almost eight minutes, with the fluid fretless bass runs of Pino Palladino and the stuttering distorted clap of a Linn Drum providing the backbone to some classic vox humana Polymoogs, the 12 inch version's highlight was the windy synth run in the long middle section. The effect of this was ruined on the 'I Assassin' album version which clumsily edited this section out, thus proving occasionally that more can really mean more!
Available on the album 'Exposure: The Best of 1977-2002'
via Artful Records
---
VISAGE Night Train – Dance Mix (1982)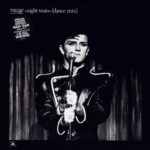 Inspired by the burgeoning New York club scene, Rusty Egan brought in John Luongo to remix 'Night Train' much to Midge Ure's dismay, leading him to end his tenure with VISAGE. But Luongo's rework was sharper, pushing forward the female backing vocals to soulful effect in particular and replacing the clumpier snare sounds of the original album version with cleaner AMS samples. However, on this longer dance mix, Luongo isolated Rusty Egan's drum break which unexpectedly saw him do his impression of Billy Cobham!
Available on the boxed set '12″/80s/2′
(V/A) via UMTV
---
BLANCMANGE Blind Vision – 12 Inch Version (1983)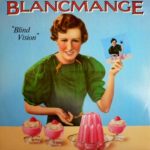 Possibly BLANCMANGE's most overt disco number, under the production supervision of New York club specialist John Luongo who had remixed 'Feel Me' to great rhythmical effect, 'Blind Vision' was punctuated by brass, extra percussion and slap bass as well as the trademark BLANCMANGE Linn Drum claps also thrown in. A steady build-up, vocal ad-libs from Neil Arthur and a prolonged coda extended the track to a hypnotic nine and a half minutes.
Available on the album 'Mange Tout'
via Edsel Records
---
DEAD OR ALIVE What I Want – Dance Mix (1983)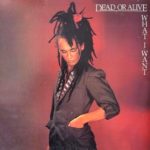 With an edgy production from Zeus B Held, 'What I Want' was effectively a rewrite of 'Blue Monday', or even 'Shake It Up' by DIVINE, depending on your outlook. Combining a variety of musical styles, this HI-NRG / Goth hybrid was the last track Wayne Hussey would play on as a member of DEAD OF ALIVE before departing for THE SISTERS OF MERCY. "Listen blue eyes, shut up!" scowled Pete Burns with an aggression that showed he was a top rather than a bottom in this salaciously pounding affair.
Available on the album 'Sophisticated Boom Boom'
via Cherry Pop
---
JOHN FOXX Endlessly – 12 Inch Version (1983)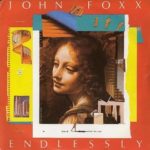 After the mechanised dystopia of 'Metamatic' and the comparative romantic thawing with 'The Garden', JOHN FOXX started experimenting in psychedelic pop. With nods to 'Sgt Pepper', the original Linn Drum driven version of 'Endlessy' from 1982 had the makings of a good song, but was laboured in its arrangement. Reworked with Simmons drums, metronomic sequencers and grand vocal majestics, the Zeus B Held produced 1983 version was even more glorious in an extended 12 inch format.
Available on the boxed set 'Metadelic'
via Edsel Records
---
HEAVEN 17 Crushed By The Wheels Of Industry – Extended Dance Version (1983)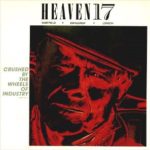 Taking a leaf out of their old sparring partners THE HUMAN LEAGUE, HEAVEN 17 took off most of the vocals and played up the various instrumental elements of 'Crushed By The Wheels Of Industry' with a restructured rhythmical backbone. With a punchy retuned bass drum attack and Roland Bassline programming pushed out to the front, sequences and guitar synth solos were phased in and out. The chanty chorus remained while John Wilson's funky freeform bass solo closed the show.
Available on the boxed set 'The Luxury Gap'
via Virgin Records
---
FRANKIE GOES TO HOLLYWOOD Two Tribes – Annihilation (1984)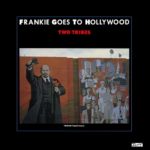 Sounding like SIMPLE MINDS, 'Two Tribes' was influenced by 'I Travel', itself inspired by right wing terrorism in Europe. While Holly Johnson's original lyric referenced the dystopian drama 'Mad Max', it sat well within the Cold War tensions of the period. With mighty Fairlight orchestra stabs and masterful PPG programming for the iconic synth bass, the first 12 inch version entitled 'Annihilation' featured the poignant authoritative voice of Patrick Allen, reprising his real life 'Protect & Survive' commentary…
Available on the album 'Frankie Said'
via Union Square Music Ltd
---
KRAFTWERK Tour De France – Remix (1984)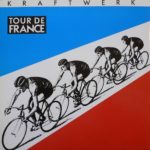 The original 'Tour De France' single in 1983 signalled the launch of a new KRAFTWERK album 'Technopop'. Despite being given an EMI catalogue number, it was never actually released. However, 'Tour De France' took on a life of its own. This masterful remix by New York DJ Francois Kevorkian backed a key scene in the film 'Breakdance' which lead to a re-release of this rework. Much more percussive and less song based than the first version, it reinforced KRAFTWERK's standing in the US Hip-Hop scene.
Available on the single 'Tour De France'
via EMI Records
---
GIORGIO MORODER & PHILIP OAKEY Together In Electric Dreams – Extended (1984)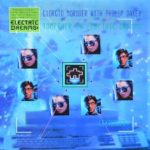 One of the best 12 inch versions ever, it not only retained the essence of the original song but added enough extra elements to make it quite different too. There was more rock guitar from Richie Zito which actually enhanced the track and the false end after the guitar solo leading to a superb percussive breakdown that made the most of Arthur Barrow's frantic Linn Drum programming. Of course, 'Together In Electric Dreams' wouldn't have been any good without Moroder's songcraft and Oakey's deadpan lyricism.
Available on the album 'Philip Oakey & Giorgio Moroder'
via Virgin Records
http://www.giorgiomoroder.com/
---
TALK TALK It's My Life – US Mix (1984)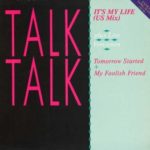 The UK 12 inch extended version was a rather formless, dub excursion that never got to the point. However, taking a leaf out of DURAN DURAN's specifically taylored remixes of songs from the 'Rio' album for America, EMI / Capitol commissioned Steve Thompson to construct a toughened up version of 'It's My Life' to make it more MTV friendly. The song became an unexpected favourite in US clubs. One impressionable teenager who was no doubt listening was Gwen Stefani who covered the song in 2003.
Available on the boxed set ''12″/80s'
(V/A) via UMTV
---
ULTRAVOX One Small Day – Special Remix Extra (1984)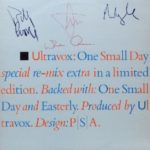 One of ULTRAVOX's more guitar driven numbers, there were eventually three different extended versions of 'One Small Day', the best of which was the 'Special Remix Extra' (also known as the 'Extended Mix') that was issued on the second of the 12 inch releases. With chopped up vocal phrases replacing a conventional vocal on this neo-dub mix, it allowed the instrumentation to come to the fore without Midge Ure's shrill chorus acting as a distraction.
Available as the 'Extended Mix' on the album 'Lament'
via EMI Gold
---
A-HA The Sun Always Shines On TV – Extended Version (1985)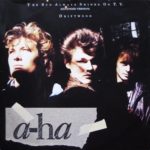 Despite being labelled a teenybop group, from the beginning A-HA were always so much more than just the catchy pop of 'Take On Me'. 'The Sun Always Shines On TV' revealed a lyrical darkness while the combination of synths and edgy guitar put them in the same league as ULTRAVOX and ASSOCIATES. This rarer first 'Extended Version' made the most of the powerful instrumentation and added more drama with a slow solemn piano intro. And just listen to that emotive string synth solo…
Available on the deluxe album 'Hunting High & Low'
via Rhino Entertainment
---
PROPAGANDA Duel – Bitter Sweet (1985)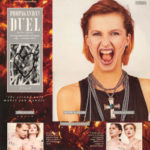 While  the Trevor Horn produced 'Dr. Mabuse' was very much a Fairlight-fest, PROPAGANDA's second single 'Duel' with production by Steve Lipson was based around the Synclavier, PPG and Roland Super Jupiter. To add some syncopation, Stewart Copeland from THE POLICE rhythmitised alongside the Linn Drum while the 'Bitter Sweet' extended mix broke down the instrumentation to reveal a highly intricate arrangement. The programmed piano solo is still one of the maddest bursts of music ever!
Available on the album 'Outside World'
via Repertoire Records
https://www.facebook.com/Propaganda-Band-135375113199791/
---
OMD Forever Live & Die – Extended Mix (1986)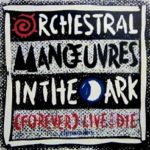 Not the better known but less fulfilled 'Extended Remix' by Tom Lord-Alge, John Potoker's reworking did away with its daft skips and enhanced the song's enjoyable instrumental elements largely hidden in the single mix. The wonderful end section with its wild rhythm guitar from Kamil Rastam and Malcolm Holmes' reverbed drums also revealed that despite the song's palatable Trans-Atlantic sound, the synthetic choirs that had been part of OMD's sound since they heard KRAFTWERK's 'Radio-Activity' still lingered.
Available on the boxed set 'Maxi Singles 80 Vol 2'
(V/A) via Wagram Music
---
PET SHOP BOYS Suburbia – The Full Horror (1986)
'Suburbia' was a good if slightly underwhelming album track from 'Please' that got transformed into a more fully realised sub-nine minute epic. Produced in this new longer version by Sarm West graduate Julian Mendelson, it was effectively a two-parter. Complete with barking dogs, widescreen synths and thundering rhythms, the intro and middle sections saw a pitch shifted Neil Tennant monologuing about the evils of 'Suburbia' in a devilish 'Meninblack' tone.
Available on the album 'Disco'
via EMI Records
---
DEPECHE MODE Never Let Me Down Again – Split Mix (1987)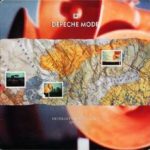 A merging of the album version with the Wasp driven bass heavy 'Aggro Mix' (hence the 'Split Mix' title), this sub-ten minute take on one of DEPECHE MODE's classic songs was perfection. Other DM 12 inch versions were tiresome like the 'Slavery Whip Mix' of 'Master & Servant', but 'Never Let Me Down Again' took into account that the best 12 inch mixes usually had the actual song and an instrumental middle section before a reprise of the main chorus hook.
Available on the album 'Remixes 81-04'
via Mute Records
---
Text by Chi Ming Lai with thanks to Rob Grillo and Rob Harris
5th October 2015, updated 30th April 2018