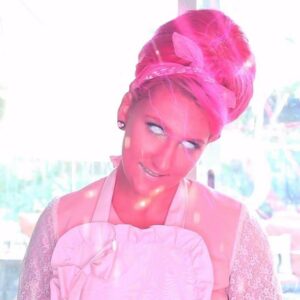 Hailing from Orange County, PLASMIC describes herself as "your abused Barbie doll from childhood".
Detonating infectious lo-fi synth bombs while full of femme rage fuelled by childhood anxiety, a hybrid of CRYSTAL CASTLES, DEVO, MINISTRY and DIVINE forms various parts of her artistic DNA.
Lauren Lusardi is the precocious talent behind PLASMIC. Offering a burst of delightfully odd escapism with a portable Yamaha Reface strapped round her neck, her recent appearance at at The Islington showcased her as a feisty live performer.
Displaying an energetic punk attitude like Siouxsie Sioux genetically mutated with Molly Ringwald if she was into Gothic Lolita fashion, she is already a veteran of three EPs releases.
The undoubted standout from her latest release 'Validation Nation' is 'Baby Machine', an immensely catchy feminist electropop anthem utilising a mixture of vintage Casio and Yamaha sounds that challenges the expectations of women to bear children.
And as the song's brilliant accompanying video produced by Mental Pictures and directed by Kenneth Lui shows, she will NOT say yes to this monster of a dress!
While she was in London, PLASMIC chatted about her music and independently minded ethos…
You describe yourself as "your abused Barbie doll from childhood", what was it like for you growing up in Orange County and how did it shape who you are?
I was born in Los Angeles where my parents met, we then moved to Mission Viejo shortly after my brother was born. Growing up in Orange County sounds like a dream, but the more south you get, the more conservative. We know what that means for anyone who is even remotely different. I learned very early on the problems with our country and violence towards women, queers and people of colour.
Where I live you see a trump sign or confederate flag every couple of houses. People protest in front of Planned Parenthood every Sunday. It's shaped the person I am today and I will always stand up for what's right.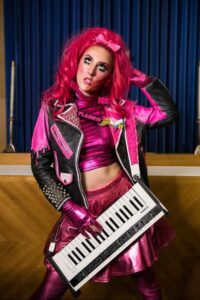 You studied electronic music at a local community college, what did that involve and how did you realise this would be a good tool for your artistic expression?
I had been toying with production since I was 16 so when I arrived I had realized I taught myself everything.
I took the three only classes that applied to my interests: Ableton 1&2 and audio engineering. I had an awesome professor in my audio engineering class.
I knew being the brain power behind my art was the only way to go. I was eager to learn new recording techniques to bring to my little home studio.
It must have been quite interesting when you brought your portable Yamaha into class? And now Yamaha themselves came calling?
Yeah, I'd been tagging them on Instagram and Facebook with the Reface. Then the NAMM shows came around at the Convention Centre in California where all the musicians are seen and Yamaha asked me to demonstrate their new keytar so that was really exciting!
Which particular electronic acts drew you in and became influences on PLASMIC?
I really love PEACHES, FEVER RAY, CRYSTAL CASTLES and Alice Glass in particular. When I was growing up, I remember I was listening to DEVO and I was like "OH MY GOD!"; it was what really made me want to make music, Mark Mothersbaugh is my favourite.
Your most recent latest release is 'Validation Nation', is it a concept EP of sorts?
I guess it's conceptual. PLASMIC is super confident and fiery, but off the stage validation is what I seek to move forward. I have trouble believing in my work. That's what sparked 'Validation Nation'. I didn't intend for all the themes to go hand in hand, but I guess that concept worked out! On the title song, one of the lines is "I'm gonna wear colour that once segregated me, to prove your words never meant a thing", that's kinda my life right there, everything is pink. I wasn't always this pink, but I've embraced this femininity like a happy chaos. *laughs*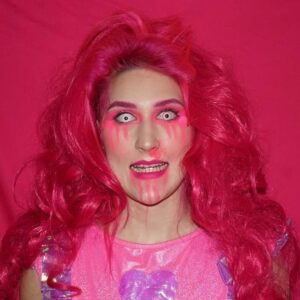 From it, 'Baby Machine' is catchy feminist electropop anthem… what inspired that?
The song is about the expectations upon female presenting folks to settle down, have babies and conform to the American dream of being a housewife. But where does that leave queer folks and those who cannot conceive?
'Baby Machine' is an anthem against pro-lifers and strict parents who have preconceived notions of what their child will do for them. It's an anthem for anyone who feels pressured to have kids.
Does 'Compliance' confront the longstanding issue of patriarchy?
Actually 'Compliance' is about opioid use.
You've described 'Revenge' from your self-titled EP as cathartic?
Writing 'Revenge' was the moment I turned my life around. I never stood up for myself, I always felt like my abuse was my fault and that wasn't the case. There wasn't a #MeToo movement when I wrote the song. People told me I should apologize for my rapist going to jail (for only a week. Lame.) Instead of continuing to feel sorry myself, I said f*ck it. I'm aloud to be angry. I want other people to hear this and know that their feelings are valid. You need to be your own hero, you bleed when you create art, that's how I coped.
You recently issued a delightful cover of 'Female Trouble' to celebrate the birthday of the late actor and HI-NRG diva DIVINE?
In LA, I perform a lot of shows but my favourites are the Lethal Amounts ones. There was this DIVINE Ball where a bunch of queens were competing to be the best DIVINE and I was invited to perform this cover. I did it differently like if it was on her 'Jungle Jezebel' album. It was really fun, Traci Lords was there.
On the other side of the coin, there was also a cover of 'Every Day Is Halloween' by MINISTRY, is there anything else you would like to have a go at reinterpreting?
I have a huge list that I want to redo, but that one was a big one for sure, I'm a huge MINISTRY fan and it was a homage to them, they helped shape my sound as I was growing up and learning about drum machines and stuff.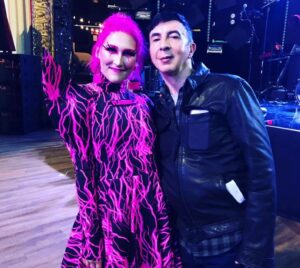 You opened for Marc Almond in LA at Sex Cells, what was that like?
SOFT CELL are the gods of synthpop, every song is so good. Meeting Marc Almond was a big milestone for me. I owe it all to Lethal Amounts for having me on the line-up!
There were a lot of artists on that bill and Marc was the most humble and the kindest person. He was so professional but also so down to earth, not a diva at all, so nice and awesome. I got to see his soundcheck.
It was the first time I played a set with dancers and they killed it. Vladonna and Crystal Pallace were my epic dancers. I still can't believe I got to dance on stage with Marc when he closed out with 'Sex Dwarf'. A bucket list moment for sure.
Is it true you are related to Linda Lusardi?
So here's the story! I was at the airport going through customs and they looked at my name and asked "Are you related to Linda Lusardi?" and I'm like "WHAT?", I didn't realise she was a household name in the UK but it's cool! All the Lusardis from Italy are related, so there's a good chance that most likely we are. I can't really do a DNA test! *laughs*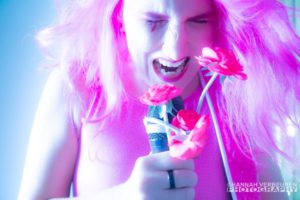 What are your personal hopes and fears as PLASMIC?
I think every musician is not in it for being a hobby, they really want to quit their day job and do what they love, right?
This is truly what I love, it's my dream, touring the world and inspiring young women and queers to just be awesome.
I have a bit of social anxiety and have trouble speaking up for myself when I'm not on stage, so my biggest fear is probably convincing A&R people, but I think I'm pretty stern with what I do.
What's next for PLASMIC?
There's a lot of music and video coming so stick around…
---
ELECTRICITYCLUB.CO.UK gives its grateful thanks to PLASMIC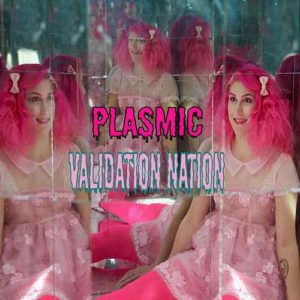 'Validation Nation'
, along with other PLASMIC EPs are available via Devour Records as downloads direct from https://plasmic.bandcamp.com/
https://www.facebook.com/plasmicpower/
https://www.instagram.com/plasm1c/
---
Text and Interview by Chi Ming Lai
16th April 2019