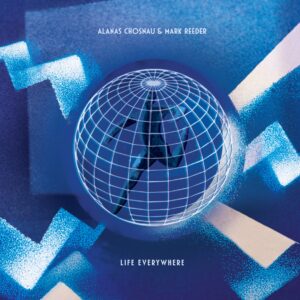 With the tragic invasion of Ukraine by Russia, Martin on Facebook has now moved on from being an anti-vaccine infectious disease expert, to becoming a military strategist and historian on Eastern European politics.
But the poetry of one who has escaped ethnic genocide, been separated from next of kin as a refugee, seen the fall of The Iron Curtain and now has the looming threat of The Bear next door, has far more substance.
For Alanas Chosnau and Mark Reeder on their second album together, this is 'Life Everywhere'.
Chosnau is of Lithuanian and Iraqi-Kurdish parentage; he grew up in Baghdad, but the downward spiral of the Iraq-Iran war soon saw his parents packing him off to Lithuania, which was then part of the Soviet Union in 1983, to live with his grandparents, while he was separated from his father and sister who were unable to leave Iraq.
Meanwhile, Reeder moved from Manchester to West Berlin at the height of The Cold War, immersing himself in the divided city's art scene. From organising concerts by punk band DIE TOTEN HOSEN on the other side of the wall while under surveillance by The Stasi to working with East German band DIE VISION, he was keen to unite East and West via a joint passion for music.
Tensions in Eastern Europe have been rife since Russia annexed Crimea from Ukraine in 2014 and just as Hitler did the same to Austria and Czechoslovakia in 1938 before laying claims on Poland in 1939 to justify the unification of East Prussia with the German mainland, history is sadly repeating itself. With lessons seemingly not learnt from the past, people cannot help get angry and political.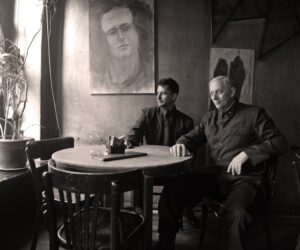 "When I started making this album, I was thinking about life under oppressive authoritarian regimes and how they affect us all, especially considering what is going on now, I think it's even more important." explained Mark Reeder vividly to ELECTRICITYCLUB.CO.UK, "It was inspired by my love for George Orwell's prophetic '1984' and how our present world was starting to emulate his book. The dread of being plunged into an authoritarian system was a topic I touched upon on our first album 'Children Of Nature' with the "warning" songs 'Drowning In You' and 'Heavy Rainfall'."
Musically 'Life Everywhere' possesses an Eastern European austere and the opening song 'Why?' is a moody emotive ballad where Chosnau asks "Why does my heart feel so sad? Why does my heart ache to bad?" while with echoes of John Barry, Reeder adds a balalaika for added regional authenticity alongside his usual synths, bass and guitar.
More percussive and funky with a speedy conga mantra and a dominant digital clap, 'All You Need Is Love' enters electronic disco territory but with roots in Reeder's SHARK VEGAS days and emulating the propulsive air of NEW ORDER, 'Ice' moves the claps into a more analogue snap with an appropriately colder layer of string machine. As love turns to anger, it encapsulates a narrative about a domineering individual unhappy that their ex is flirting with another more amiable personality… sound familiar?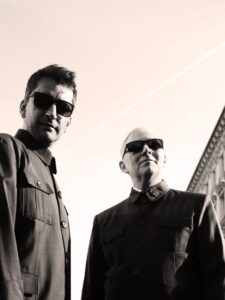 Augmented with spacey synths, the strident presence of the 'Life Everywhere' title track makes a plea for humankind not to self-destruct, either through war or environmental catastrophe. However, like a militaristic march, 'I Wonder' asks the important question "Have you ever tried and you could see your life from the other side?".
Touched by more balalaika, the tearful 'Love Can't Turn To Fear' was previously issued as 'Širdis' meaning "Heart" in Lithuanian and if there is one music artist who can articulate the feelings of current world events in song, it is Alanas Chosnau. It asks who will carry the burden of responsibility and who will be the couriers of peace? But while that is being debated, millions will be hurt… with first-hand experience, this is Chosnau's plea for love and peace between friends.
In collaboration with Chinese band STOLEN who opened for NEW ORDER on their European tour of 2019, 'The Void Empire' is shaped by a foreboding rhythmic swing as builds with an electronic goth presence that exudes DEPECHE MODE before rocking out in the dead of night as the body speaks out on the spectre of authoritarian regimes.
Concluding with 'Last Night', proceedings are taken down with solemn Rhodes chords accompanying subtle percolating sequences. Expanding into a swirling cacophony of emotions and despair, Chosnau poignantly reflects how "Last night, we were having a good time, we were having a good life, where did it go, now?". Hauntingly, he resigns himself to the fact that "We're waiting and waiting… to say… goodbye".
It's as if The Cold War never ended, although the current situation is far worse thanks to the likes of Fifth Columnist Nigel Farage, whiney posh boy Laurence Fox and one-time F1 reporter Beverley Turner all outing themselves as Putin sympathizers.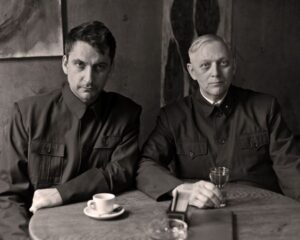 With the sound of Harry Palmer given a more electro soundtrack and hidden behind the facade of love songs, 'Life Everywhere' is a deeper statement on life during wartime. It is an undesirable situation that is brutal reality, thanks to dictatorial leaders propped up by blood money with greed taking precedence over what is morally right. This is an important record for an important time.
Things eventually did not end well for the aggressor in 1939 so in 2022, the world can only hope that good will prevail…
---
'Life Everywhere' is released by MFS on the usual digital platforms including https://markreeder.bandcamp.com/album/life-everywhere
https://www.facebook.com/alanaschosnau/
https://www.instagram.com/alanaschosnau/
https://www.facebook.com/markreeder.mfs/
https://twitter.com/markreedermfs
https://www.instagram.com/markreeder.mfs/
https://open.spotify.com/album/5PZmUY1MCWM09OjZpE6MoR
---
Text by Chi Ming Lai
Cover art by Stephanie Hamer
Photos by Martyn Goodacre
25th March 2022, updated 22nd April 2022