Electrical Foundations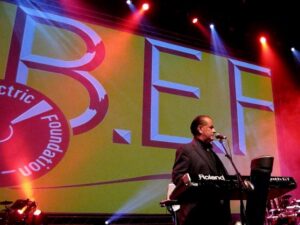 Back in late 1980 with creative and personal tensions running high in the original HUMAN LEAGUE, manager Bob Last engineered a split between its founder members.
Phil Oakey and Adrian Wright kept the name and later had commercial success with 'Dare'.
Meanwhile as part of the severance terms, Martyn Ware and Ian Craig Marsh were given a 1% royalty on 'Dare'.
This provided the opportunity to form a production company along the lines of THE CHIC ORGANISATION to best exploit their talents with a variety of projects. Virgin Records signed them as BRITISH ELECTRIC FOUNDATION with an option to deliver SIX albums a year!! In 1981, the albums scheduled were BEF 'Music For Stowaways', HEAVEN 17 'Penthouse & Pavement', HOT GOSSIP 'Geisha Boys & Temple Girls', 'The Golden Hour Of The Future' and BEF 'Music Of Quality & Distinction Vol1'.
Of those, only the first three came out that year. 'Music Of Quality & Distinction Vol1' wasn't released until 1982 as it proved to be a mammoth task to organise all the logistics for the various guest vocalists while 'The Golden Hour Of The Future' album (which consisted of early demos of THE HUMAN LEAGUE ) fell into a dispute with Phil Oakey and wasn't released until 2002. Eventually HEAVEN 17 took over as the main focus for BEF.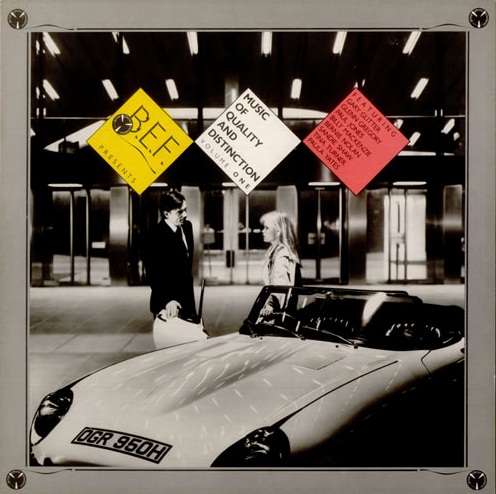 'Music Of Quality & Distinction Vol1', a hi-tech covers album featuring guest vocalists and directed by Martyn Ware was a critical, if not a commercial success. From it, 'Ball Of Confusion' is now acknowledged as Tina Turner's modern day recorded comeback and led to Ware producing her big hit 'Let's Stay Together' in 1983. Other vocalists included Sandie Shaw, Paul Jones and Bernie Nolan.
Meanwhile, on 'These Boots Are Made For Walking' sung by Paula Yates, backing vocals were provided by The Nancy Boys who were actually HEAVEN 17 plus Bob Geldof and Midge Ure… the latter's tones can be heard distinctly on the "Strike-Strike!" part!
The album was recorded in John Foxx's Garden Studios and Foxx played acoustic guitar on Billy Mackenzie's unique take of 'It's Over'. Thus 'Music Of Quality & Distinction Vol1' remains the only album project to feature ULTRAVOX's first two vocalists, albeit it rather obliquely!
1991 saw the release of 'Music Of Quality & Distinction Vol2' which had much more of a mainstream soul vibe; Tina Turner and Billy Mackenzie returned while other notable vocalists included Chaka Khan, Billy Preston, Green Gartside and Terence Trent D'Arby whose massive selling 1987 debut 'Introducing The Hardline…' was produced by Ware.
Other production work followed for Ware including ERASURE who played host to HEAVEN 17's comeback when they supported the duo in 1997.
The concept of the new BEF album 'Music Of Quality & Distinction Volume 3 – Dark' is dark interpretations of perceivably upbeat songs using chilling, stark electronics and eerie soundtrack arrangements. This third volume has been long awaited. First announced back in 2007, parts of it were premiered at a special weekend showcase at The Roundhouse in 2011. Recording has now been completed and the compendium features among others, Boy George, Sandie Shaw, Kim Wilde, Green Gartside, Andy Bell, Sarah Jane Morris, Polly Scattergood and of course, Glenn Gregory.
As well as the album's release, a pair of BEF live shows have been announced. The BEF Band will comprise Martyn Ware, Berenice Scott, Billie Godfrey, Kelly Barnes and Asa Bennett while the special guest vocalists announced include Andy Bell, Sandie Shaw, Kim Wilde, Glenn Gregory, Green Gartside, Shingai Shoniwa, Kate Jackson (London only), Sarah Jane Morris (London only) and David J Roch (Sheffield only). Martyn Ware kindly spoke about his new sixteen track opus and the upcoming live shows…
How was the BEF weekend for you looking back? And you're doing it again?
I didn't want it to be just a one-off but it's too expensive to tour so I managed to persuade the promoters and Mark Jones from Wall Of Sound to do two dates. It's less of a risk for them and it's less expense for us. This time, we've put a bit more structure and thought into it.
There's less artists involved so there will be more kind of depth to it, if you know what I mean? It's going to be a good two hours long this show!
What was your highlight of the Roundhouse BEF gig?
That's a tough one. It's was great having Boy George on the bill, I just love him. Sandie Shaw is a legend, Billie Godfrey was just fantastic, Glenn's always great… where do you stop?
Was there a moment where your heart missed a beat but you pulled through? Like with vocal cues etc?
Well, yeah, for Midge Ure particularly… he'd not really had a chance to rehearse. Some of them were quite hard… but we can deal with a certain amount of flexibility! I know all the songs anyway so I could jump in! I was relying on them rehearsing at home because we didn't have time or the money to have the full scale rehearsal with everybody there, it was just too ridiculously expensive to put everyone up overnight.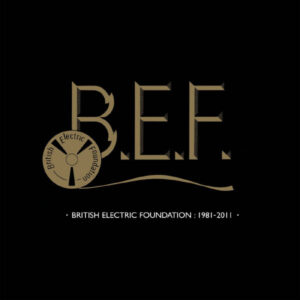 It was great to get the 3CD BEF '1981-2011' boxed set out to commemorate the occasion, but can I ask what happened with regards that strange three minute edit of 'Decline Of The West' as it would appear many fans were disappointed about that?
It was an error and it was too late to do anything about it… it was to do with the fact that I attended the selection of all the versions and the wrong version got annotated… my fault! I put my hands up!
As an event, you did really well to only have one singer not show up…
Yeah, considering they were all doing it for free, it was bloody amazing frankly! The only reason Elly Jackson from LA ROUX didn't turn up was she had a voice problem at the time; she did apologise profusely. But she's in the middle of doing her new album so won't be at these shows. Unfortunately, George can't do it for the same reason. But there are a couple of surprise guests that we have in mind….
The one that stood out for me at the BEF gig was 'Every Time I See You I Go Wild' sung by Kim Wilde…
Yeah, it's an amazing thing! They've just been doing a video for it and I am looking forward to this… Kim in a shiny back catsuit! It's not fair, they won't show me any photos! They're keeping it as a surprise! But I've heard reports from people who were there…
You mentioned at the show that it's just Roland System 100. It's like early HUMAN LEAGUE, what inspired the arrangement?
That was actually not my arrangement… it's a friend of mine Brian Duffy from The Modified Toy Orchestra. Around the time I started 'Dark', he'd sent me an email saying he'd bought a System 100. So I said "maybe you'd like to do an arrangement for a particular song?" We decided on 'Every Time I See You I Go Wild' before we knew Kim was going to be doing it. I thought he'd do something quite basic but he sent me the song back with about 80 tracks on monophonic System 100, pretty much all played by hand apart from the rhythm! I was just blown away of course, it's beautiful. I've obviously enhanced it here and there but it's his arrangement. Kim's vocal matches it perfectly.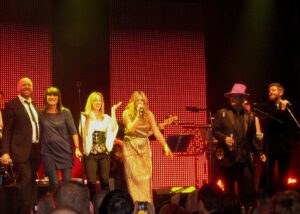 Did you dig out much vintage gear for the 'Dark' sessions? How do you find using the virtual software versions of the classic synths?
I didn't have the option to use virtual synths on 'Vol1' obviously, but a lot of it is about time and economics. This album has been a labour of love, nobody has paid me any money to do it, it's cost me money to do it. Everyone who has participated, apart from the backing vocalists who were paid, has contributed their time.
The first BEF album had a budget so consequently, I had time to experiment, mess around with all the synthesizers, hire stuff. With 'Dark', it was a matter of doing it as quickly as we could with as little cost and effort as possible. So you've got to be pragmatic. To get the thing done, we had to use a lot of virtual synths, not that I have a problem with that… the Arturia ones are very good. I used a lot of Jupiter 8 and Moog Modular virtual stuff, they're the two workhorses really for what I did. When you think about it, how much of 'Vol1' was electronic? There wasn't a huge amount, a lot of it was real instruments so in a way, it's more electronic now than it was in the first place.
Have you tweaked any of the arrangements or sounds of the songs as a result of the Roundhouse gig?
No, not really. I think they all worked pretty well. Having done a lot of live work now as opposed to back then, we have a lot more experience of what works anyway and that gets fed into the lens through which arrangements are created.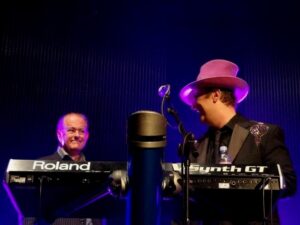 Have you any particular favourites?
I like 'I Wanna Be Your Dog' very much and that arrangement was with the help of another friend Marvin Ayres who's a composer in his own right; he's like a one-man orchestra so there's a lot of real strings on that.
I'm also very fond of 'Picture This' which again Marvin helped me with and I'm very proud of 'Smalltown Boy' as a piece of work, I think it's a thing of beauty.
In different ways, I'm very pleased with it all… I'm not just saying that. It's an album even if I had not been associated with, I'd go out and buy… and there aren't many albums I'd buy nowadays *laughs*
There appears to be quite a few covers of 'Smalltown Boy' doing the rounds with acts like LITTLE BOOTS, EMILIE SIMON and DIVINE KNIGHTS having a go. What's your view on what sometimes appears to be cyclical interest in particular songs?
It's weird isn't it? It's really interesting. In this particular instance, a lot of it is to do with the re-examination of good material from that period. Whereas when music first started to reference the 80s, a lot of the general public were regarding it as a kind of novelty, and not really discerning between the good and the bad stuff.
Now that people have dug a bit deeper, they're starting top appreciate the early 80s were probably the last golden age of interesting popular music I think, not just cos we were involved but generally, there was an amazing proliferation of talent and new ideas. So it's just that people are looking back at that period now and cherry picking… there's a lot more compilations that have credible stuff from that period now as well. People are going "YEAH! I've forgotten about that one and it was really good wasn't it!" plus you've got a brand new audience for all this stuff.
So it's worth cherry picking the best stuff that is probably simple enough to replicate in a different manner. I mean, it's difficult to cover something like 'Temptation' for instance because it's very much "how do you cover it?"… it's got massive production values, big orchestra etc so if you do a simple version of that, it's not going to be as good… probably. Whereas things like 'Smalltown Boy' were pretty stripped back in the first place really.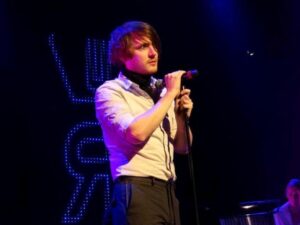 The two songs which are the highlights for me and have the most unusual singer / arrangement combinations are Sarah Jane Morris on 'I Don't Wanna Know' and David J Roch on 'Same Love'…
That's interesting, you're the first person to have said those two. I had to fight long and hard to even get 'Don't Wanna Know' as part of the main album. At first, Mark Jones wasn't as keen on it as I was and maybe wanted it as a bonus track.
And I'm going "no, hold on a second…this is a fantastic vocal"; she does it live with just a guitar so she was very familiar with the song and I love that song, it's beautiful. And then I thought "how can we put this into dark electronics?" It's almost like a darker version of YAZOO or even like PRINCE to a certain extent, there's kind of a slow, elegant funkiness about it which I like. She's got quite a deep mezzo soprano, she's an amazing person.
David J Roch, he's got a great voice that lad… to be honest, I sprung the arrangement on him. Again, it was his suggestion to do 'Same Love'
as he does it live with just a guitar. I thought it was interesting to do a song from a soul artist like Bill Withers, but in a different framework. I started off with doing this ambient filmic thing which is what the first half of the song and then I thought, wouldn't it be cool to do the second half as a Giorgio Moroder medium tempo disco number… and it worked! God bless him, he got right into it in the end which is how I got him to do all the backing vocals and everything. But he'd never done or considered doing a disco number in his life. He's a really talented guy.
Last time we spoke, I joked to you about getting Scott Walker to do this album…
He was too hard to get, I can't imagine him jumping at it!
But Glenn Gregory's performance hints at him on 'It Was a Very Good Year'?
Yeah, there is a bit of that… I gave Glenn the backing track and he did it alone in his own studio so I wasn't in the room with him. We usually are but it's just how it worked out.
He did it like a pilot vocal and I loved it so much that I told him "we don't need to re-do this".
Sometimes, the first things that you think of are the best… I thought "should I put so BVs around it? No! Should I change the arrangement? Not really!". I just added a FUGEES breakbeat pattern on the end which I think works. Yeah, I'm very pleased with it, it came out better than I expected… 'It Was a Very Good Year' itself is brilliant, but you could easily make a terrible version of it. It wouldn't be Glenn's fault, it would be my fault. I think we cracked it and I'm looking forward to hearing him do it live.
The late inclusion of 'Party Fears Two'… that came from the HEAVEN 17 'Naked As Advertised' 2008 reworkings compilation?
You're familiar with it and a lot of our fans are too but the broader public aren't, so I thought it deserved a wider outing. I thought it would fit with the mood of the album as well.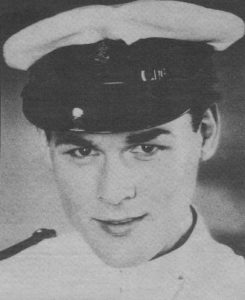 Well, the other thing is that it's a nice way of having Billy Mackenzie on the album as he was on the first two BEF albums, but of course he's no longer with us…
That's exactly another thing… it was almost like a tacit tribute to Billy and it was obviously done as a tribute to Billy anyway; it thematic fits on every level really.
And breaking news… Andy Bell wants to do 'Party Fears Two' live and I think his voice will match that beautifully for this show.
You can let people know that… I'll tell Glenn, don't worry! *laughs*
The funny thing about your version of 'Party Fears Two', when I first heard it… I didn't like it! It took me about four years to like it!
You're joking?
I don't know if it's because it's such an iconic song but I absolutely love it now…
Our version is like a totally different song isn't it? What it does do is reveal the beauty of the original melody and lyric, that's really the premise for the whole album.
How did you find Max Pokrovsky for 'The Day Before You Came'?
Max is bonkers! He is a famous pop/post-punk star in the Russian Federation. He's in the rock band NOGU SVELO! but his real passion is Western European electronic pop music! So he's an enormous fan of ERASURE and he approached me a couple of years ago to produce some material for him because his dream is to move to London and to become famous in the electropop field!
But the problem is of course, a) he's always going to sound unusual shall we say, because although his English is getting better, he sounds very Russian indeed and b) we're not at the peak of success and sales for electronic popular music at the moment, certainly not stuff sung by mad Russian dudes! *laughs*
Not withstanding that, he's a really good writer and arranger so I did couple of tracks with him, he's worked with a couple of other British producers and sooner or later, his album's going to come out. And I thought to give him a bit of a leg up to expose him to the general public, it would be nice to put him on this album. I asked him which track he liked to do and he said the ABBA track.
I think it's a nice piece of work. Again, he did most of the arrangement of 'The Day Before You Came'… this isn't true for all the tracks but it just happens to be the ones you've mentioned. I wanted to make this like a collective experiment and a way of distributing the work so I didn't spend a year working on something that I was not going to get the money back for.
There's something for everyone on this album isn't there?
What I like is the eclecticism of the album. I have always preferred albums that have a wide range of sonic styles because I believe people are bright enough to connect the dots. I don't believe in one single style throughout an album, I think it's a bit boring frankly.
It's not just a patchwork quilt of disparate ideas, there is a theme behind it all and the unifying thing is my assessment of what is good about the arrangements. For instance, I've not used every element of people's contributions so I'm kind of like the sub-editor, even when other people have done the basic stuff.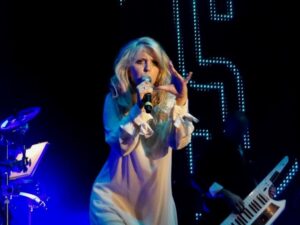 Another one I like is 'The Look Of Love' by Polly Scattergood…
Yeah, Polly was probably second person after Billie Godfrey to agree to do the album.
I contacted Daniel Miller at Mute Records to see if any of his artists would be interested in this artistic concept and he said "I think Polly would be perfect for this"… and indeed she was!
I'm a little bit upset that she's not going to be doing the live shows because her management have decided that she's got a new album coming out and they don't want any distractions… I think that's ridiculous personally but there you go, that's life! How's this going to harm her in any shape or form? I failed to understand! But that's what they think, and that's fine!
I'm just grateful she's done the album. And it's a lovely version of 'The Look Of Love'. It's funny, I sent the album to a friend of mine, Adrian Durham who's a big H17/BEF fan and works for Talksport. He played it to his girlfriend and got into an argument with her about this track as they didn't have a list of the artists. She was convinced it was BJORK and actually, I can hear that…
…I thought Polly sounded a bit like Alison Goldfrapp as well!
We got very close to getting Alison on the album but for some reason she decided not to do it. It's sad because I'm a big fan of GOLDFRAPP. But we've got a great line-up of people, I can't complain at all. I am totally in their debt because none of them had to do it. I've got a track record for doing things right so they know I wouldn't let anything go out there that was rubbish. And whatever you think of them because not everything is going to be to everyone's tastes, I've put a lot of effort into making them sound good. They are very musical and hopefully, creative and interesting. That's why I managed to get so many people to do it because there's no money involved.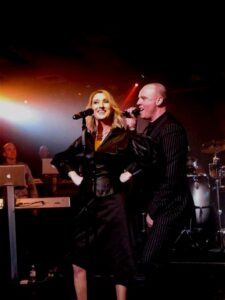 Were there any vocalists that you can tell me about that you might have wanted for 'Dark' but couldn't get for various reasons like Siouxsie Sioux, Claudia Brücken, Elly Jackson or Midge Ure?
I asked Siouxsie and she said no… we got somewhere down the line but it just never happened.
I asked Midge but I can't be spending my life chasing people and it was just one of those things where he didn't really come back to me and didn't sound terribly keen. But when he realised that the deadline had passed, he was like… I don't think he intended not to do it. He was doing other things. With Claudia, it just never occurred to me… sometimes, you can't see the wood from the trees.
And somebody else I thought of today who I worked with is the past is Marc Almond! That would have been great as I love his voice but I dunno, it's just weird isn't it?
Of course, Claudia's just done her own covers album, so has ELO's Jeff Lynne. The art of reinterpretation does seem to be something artists do now…
It keeps the pot stirring doesn't it? To be honest, we live in a world where people seem to be more interested in cover versions than doing original material. I hate to say it but it's true though!
Are there any songs that didn't make it onto 'Dark' that you're hanging onto as bonuses or just didn't work?
Yes, there are a few but not that I've recorded vocals for. There's 'The Night' originally by Frankie Valli…
Yes, SOFT CELL released that in 2002 so maybe you can get Marc Almond to do it? *laughs*

Yeah! That'll be me ripping them off! *laughs*
I like this version of 'Good Times' that I did, it's quite odd and I asked Martin Fry to sing on but he didn't like it so I went off it a bit! I started doing a version of 'Nipple To The Bottle' but that never got finished. I started versions of 'Night & Day' and 'Some Velvet Morning' too. There are lots of others including 'Just One Look' which was for Elly Jacskon and never happened.
What are your fondest memories about recording 'Dark'?
We had to go into Strongroom Studios to record Shingai Shoniwa, Boy George and Sandie Shaw so that was quite a session, with them all turning up one after another in one day.
We did all the backing vocals on the same day as well so that was very special. But the rest of it was just me, a computer and lots of phone calls!
What are your hopes and fears for the album?
My fears are no-one will hear it but my hopes are that some of the tracks will get used for synchronisations because I think tracks like 'The Look Of Love' and 'Picture This', I can see them on some teen angst movie. The album is full of characters so it might just fit the bill for certain types of films. So we're trying to get somebody to service this to the appropriate people in Hollywood, HBO and places like that. And I hope the album does spectacularly well but I'm not expecting that because simply, there's not the budget to promote it.
What's the business model for someone like yourself now?
It's difficult, there isn't a model that makes money. But I can't let that stop me from being creative so I have to take a view on it and pay for my exceptionally expensive lifestyle by doing other things.
How has the lavish 'House Of Illustrious' boxed set you've done with Vince Clarke been received?
It's done well, I don't think it's sold out yet but it's not far off so that's pretty good. I'm very proud of it. It's a collectable so all sorts of people are buying it. If you do them in a limited enough format, they become a collector's item that will appreciate in value over the years.
A lot of care has been taken into packaging it as an artistic artefact…
People appreciate this stuff… also, just going back to 'Dark', the packaging is just spectacular, absolutely beautiful. It's one of the best things Malcolm Garrett has done for us ever. It looks great!
As well as touring with HEAVEN 17, you've been doing these one-off appearances like at Only After Dark and the John Shuttleworth cancer charity gig. Do you use a flexible slimmed down line-up for these?
Sometimes we have to because we simply can't afford to have the big band and it's not appropriate for a lot of things. If you look at ERASURE for instance, it's four people on stage and the rest is backing track… that to be honest looks like the future of what we're going to have to do, now we're out of the reproducing the album sound, as it were. The festival shows tend to be more people on stage just to make it look right but in terms of smaller club shows, yeah it will be a slimmed down version. Whatever happens, it will be fine because we do things like 'Rewind' which we're doing this year with a slimmed down set-up because for a lot of those shows, they don't have time to do the changeover. And a lot of those things, they have a house band… we would still prefer not to have that because it makes it sound like Karaoke as far as we're concerned. So we end up using backing tracks.
Is there likely to be new HEAVEN 17 material?
We are intending to do that; we've had an idea that we want to approach. It's still in the birthing stage but I think we want to make it very electronic and stripped down, more so than even the BEF album… we always start off with this intention but it always ends up epic!! But I think we want to do something more in the vein of early HUMAN LEAGUE arrangements like 'You've Lost That Lovin Feelin' rather than 'Temptation'. And focussing on the way we've been performing, as the two of us are almost the act now… I've been getting braver and braver and coming a little bit more to the front, the banter thing and all that! So potentially, it could be more evenly balanced vocally than it has been in the past.
How do HEAVEN 17 manage to straddle the nostalgia circuit yet remain credible at the same time when other bands get labelled as retro acts?
We're quite open about it I think… I've had this discussion with agencies who want to employ us and when we were with William Morris who are a big agency and have massive electronic acts.
At first they were saying "you can't do this 80s thing, it'll kill your credibility" and I said "Look, if you do it with the right intention, there's nothing wrong so long as you're selective"… you can't accept everything that comes along.
Although we've done it in the past, we're not going to do 'Here & Now' now we've established ourselves from doing the 'Penthouse & Pavement' shows at the credible end of that thing… everything is informed by that attitude. I don't see a problem with 'Rewind' for instance but you'd have to pay us a lot of money to do things like 'Here & Now' because they seem to have gone onto the cheesier end of the market, although we wouldn't rule it out because we need to pay the bills, it's as simple as that.
But even within something like that, the tracks that we do, they're credible. We still do 'Fascist Groove Thang' even in short sets. Although we don't do it anymore, I remember doing a Butlins show because the money was really good and we started it with 'Fascist Groove Thang'… you just look at these families and they'd be going "WHAT?" *laughs*
There are some artists from that period who we've been on the same bill as us who will literally just do a couple of their hits and then they'll do other people's songs as part of their main set and it's only 20 minutes long. It's like "REALLY?"; these are artists who have put out several albums at least back in their heyday yet they don't have the bravery to do that stuff! That subtle difference is the distinction between what we do where we have four or five albums of credible material to pick from and shall we say, pop acts who have less longevity and depth from that period.
---
ELECTRICITYCLUB.CO.UK gives its sincerest thanks to Martyn Ware
Special thanks to Rosie Johnstone at Impressive PR
'Music Of Quality & Distinction Volume 3 – Dark' is released by Wall Of Sound on 27th May 2013 as a single CD, deluxe 2CD with bonus instrumental disc and download
To hear samples from the album and details on how to pre-order, please visit: www.britishelectricfoundation.com
www.facebook.com/BritishElectricFoundation/
---
Text and Interview by Chi Ming Lai
10th May 2013