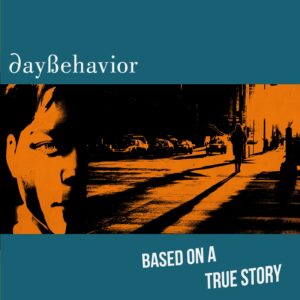 It would be fair to say that Swedish trio DAYBEHAVIOR take their time when it comes to making records.
Although their debut album ':Adored' came out in 1996, a follow-up 'Have You Ever Touched a Dream?'
didn't emerge until 2003.
Then in 2012, 'Follow That Car!'
re-established their presence in a in the more synthpop friendly environment, with anticipation created for their next long playing offering.
A single 'Change' trailed 'Based On A True Story' in 2015 but fast forward to four years later, and their self-produced fourth album is finally here.
With a range of tempo variation contained within, 'Based On A True Story' is the undoubtedly the best album of DAYBEHAVIOR's long if sporadic career. Always an act known for their for moody cinematics and lush dreamy vocals, Paulinda Crescentini, Carl Hammar and Tommy Arell have on this occasion included a number of more danceable numbers to counterpoint the more laid back aspects of their sound without losing any of their exquisite aesthetics.
Good examples of this can be heard in the fabulous Europop number 'Driving In My Car' and the opening 'Burning Slowly' with its classic emotive synthpop feel reminiscent of OMD combined with a swirling sweeping solo. The Italo flavoured 'Change' is all present and correct in extended 12 inch form amusingly threatening to break into 'Axel F', while the melodically bouncy but rigid 'Tears That Dry' could be mistaken for MARSHEAUX.
Frantic by DAYBEHAVIOR standards, 'It All Started With A Train' has a techno backbone offset by Paulinda Crescentini's alluring whispers but it all works marvellously and when the synth solos kick it, another zone is duly entered.
For those who do prefer the more filmic side of DAYBEHAVIOR, 'A Boy A Girl' comes over like a Nouvelle Vague film theme.
Then there's the Nordic melancholy of 'There's Nothing Else' which ventures into A-HA territory with subtle guitars giving the feel of a Cold War spy drama.
The midtempo melancholy of 'Serge's Kiss' makes the most of its chilling Jarre-like string machine, Simmons drums and unexpected vocoder but a major surprise is sprung with the solemn cello-laden ballad 'Solitude'.
As 'Based On A True Story' heads towards the home straight, 'A Perfect Day' offers some angelic respite before 'The Whispering Garden' does what its title suggests and 'Washed Away' provides a dramatic orchestrated conclusion.
So Tommy Arell's assertion that "The new album will have many of the classic DAYBEHAVIOR elements, but it will not sound like the previous albums" was more than wholly accurate.
A collection of quality Scandipop, 'Based On A True Story' has been worth the wait and is the ideal starting point to check out the wonderful widescreen music of DAYBEHAVIOR.
---
'Based On A True Story' is released by Graplur on 4th November 2019 as a download album from the usual digital outlets
https://www.facebook.com/DayBehavior
https://twitter.com/DaybehaviorBand
https://www.instagram.com/daybehavior_band/
---
Text by Chi Ming Lai
3rd November 2019, updated 4th November 2019