Close Encounters Of The Synth Kind
The year began with the housewives' favourite astronomer Brian Cox naming several synth friendly classics like OMD's 'Messages' and DURAN DURAN's 'Friends Of Mine' in his choices for 'Desert Island Discs' as well as declaring an appreciation of ULTRAVOX.
The confessions of the one-time keyboard player of DARE and D:REAM proved once again that electronic music is the preserve of the intelligent, discerning listener. And as with the strap line to 'Close Encounters Of The Third Kind' which featured the use of an ARP 2500 to communicate with the aliens incidentally!), it proved to many a synth enthusiast that "we are not alone"!
Speaking of ULTRAVOX, they made the comeback of the year with 'Brilliant', the first long player featuring the classic line-up of Warren Cann, Chris Cross, Billy Currie and Midge Ure since 1984's 'Lament'.
While the album could have probably done with being two tracks shorter, it was the best of the bunch in a line of returns from the last few years by Synth Britannia veterans OMD, BLANCMANGE and THE HUMAN LEAGUE; not bad considering most of the band are now in their early sixties! The Dreaded Pink Thing has now been truly buried!
Gary Numan continued to tour like there was no tomorrow and reunited with his old backing band DRAMATIS on several of his 'Machine Music' shows in tribute to the late Ced Sharpley who had drummed for both. From the same management stable, JOHN FOXX & THE MATHS unleashed their third album in 18 months entitled 'Evidence' while Claudia Brücken released only her second solo album in just over 20 years with a soothing collection of reinterpretations called 'The Lost Are Found'.
With only Synth-Werk plug-in hoaxes and Belgian clones METROLAND to keep Klingklangers entertained with new material, KRAFTWERK themselves undertook a 3D residency at New York's MoMA featuring their eight most recent works with a controversial two tickets per customer policy. As most of these albums clocked in at just over 30 minutes, there was still an hour's other favourites to savour for those lucky enough to get their names on the list.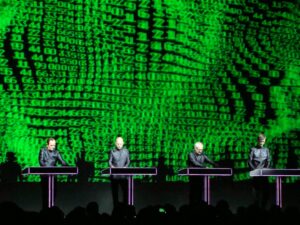 This electronic extravaganza will be reprised at London's Tate Modern in February 2013. As a former power plant, the location is wholly appropriate although the occasion will be tainted by the ticket fiasco that preceded it!
Ex-member Karl Bartos was probably observing with amusement as he will be returning in 2013 with a new album 'Off The Record' and world tour. Disgruntled fans who missed out on the Tate Modern shows are now likely to be venturing his way for their KRAFTWERK fix!
Danny Boyle's London 2012 Olympics Opening Ceremony attempted to showcase the best of British so with UNDERWORLD as musical directors, OMD, NEW ORDER, PET SHOP BOYS, BRIAN ENO and EURYTHMICS all figured during the evening.
And in keeping with the Games message to "inspire a generation", promising new act STRANGERS had their single 'Safe / Pain' used by the BBC in a montage of Team GB's cycling success during the Olympics. The trio also shone at BASII, a Basildon electronic music festival celebrating the legacy of their most famous sons DEPECHE MODE and went on to support BLANCMANGE and CLAUDIA BRÜCKEN.
DEPECHE MODE themselves announced a new album and tour for 2013 in a bizarre press conference that appeared to have no actual news! But this was not before Dave Gahan guested with SOULSAVERS and Martin Gore did a cameo for MOTOR; He also reunited with former bandmate Vince Clarke for the rather polarising techno project VCMG. And in a year that saw all members of the extended DM family busy, former bandmate Alan Wilder helped compile a tribute album to one-time synthpoppers TALK TALK and released the RECOIL concert film 'A Strange Hour In Budapest'.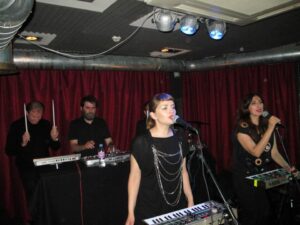 MARSHEAUX returned to London with a triumphant performance featuring The Blitz Club's legendary Rusty Egan on electronic percussion during an encore of 'Come On', a song from their forthcoming fourth long player 'Inhale'.
They also released a double headed single with the marvellous TWINS NATALIA; Sophie and Marianthi covered their cult favourite 'When We Were Young' to compliment their rendition of 'Radial Emotion'.
After the label and personnel upheavals of last Autumn, MIRRORS regrouped as a trio and made a welcome return with a starker sound. While this new material perhaps lacked the immediacy of their 'Lights & Offerings' debut, songs like 'Between Four Walls' and 'Dust' captured a depth of mood that grew with each listen. MIRRORS off-shoot LOVELIFE decamped to make their fortune in New York and unveiled a promising number in 'Brave Face' which crossed OMD with HARD-FI.
Sweden proved its prowess with COMPUTE who beefed up her sound for second EP 'The Distance' while IAMAMIWHOAMI took her mysterious audio visual experience into the physical album arena for the first time with 'Kin' where the enigmatic electronic soundtrack stood up on its own. Just down the road, there was the RAMMSTEIN reincarnated as DEPECHE MODE menace of TITANS.
Electro crooners JULIAN & MARINA showcased their lounge crooner synthpop with a cover of a Hollywood-era Elvis number 'A House That Has Everything' and DAYBEHAVIOR released their third album 'Follow That Car!' after a year's delay.
Among the best songs of 2012 was 'Trust' by Finland's SIN COS TAN, a new project from VILLA NAH's Juho Paalosmaa and ace producer Jori Hulkkonen.
The parent eponymous album was impressive too and showed once again that the Nordic region was the perfect environment for the genesis of inventive leftfield synthpop.
From across the Atlantic, Canadians CRYSTAL CASTLES and PURITY RING were the darlings of the hipster cognoscenti along with GRIMES who hit the black keys of her Juno-G and impressed with her latest album 'Visions'. She also made a timely appearance on 'Later With Jools Holland' which recalled the TV debut of LITTLE BOOTS back in 2008.
Sadly, Victoria Hesketh left behind her synth girl persona to head for the less challenging climes of clubland. Big rival LA ROUX was taking her time recording her second album while LADYHAWKE proved that she was always a rock chick in the first place with her second long player 'Anxiety'sounding like it had been recorded down a drainpipe!
But in Diamond Jubilee Year, QUEEN OF HEARTS flew the electro flag with a glitzy slice of electro schaffel appropriately entitled 'Neon'. A further single 'Warrior' proved it was not a fluke as the young royal turned into CLAUDIA BRÜCKEN meeting Emo KYLIE!
The UK found itself a few promising female-led electronic acts in the charmingly kooky …OF DIAMONDS, the Italo-led KOVAK and the dark but dreamy EVOKATEUR. But virtually out of nowhere came Glasgow's new synth sensations CHVRCHES.
Despite only unleashing two songs 'Lies' and 'The Mother We Share' for public consumption, both were corkers; their much vaunted live performances met expectations, displaying both inventive synth arrangements and a vital pop sensibility.
The boys weren't idle either with BRIGHT LIGHT BRIGHT LIGHT and KID KASIO unleashing their long awaited debut albums while on the newer side of the tracks, there was the angry OMD of AUTOMATIC WRITING, the FAITHLESS gone rock of SINESTAR and the ERASURE for the new millennium of MODOVAR.
After the excitement of the years between 2008 and 2011, this was a comparatively quiet year for the sound of the synth with regards special events. There was no Short Circuit or gatherings on the scale of Tomorrow Is Today, the Vintage Electronic Phuture Revue or the BEF Weekender.
Within the mainstream, the majors were keen to support electronic music just so long as it was dance oriented. Notably, EMI pushed the generic foil of SWEDISH HOUSE MAFIA and the ubiquitous David Guetta as the new acceptable faces of electronic music via their flawed 'Electrospective' promotional campaign; by default, this also involved Daniel Miller, Martyn Ware and Andy McCluskey due to the label's ownership of the Virgin and Mute back catalogues! But some glaring schoolboy errors on their website and the use of quotes from COLDPLAY's Chris Martin showed they didn't really understand electronic pop…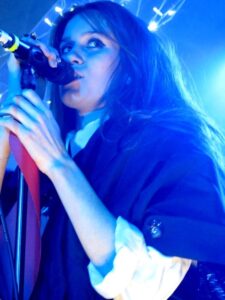 There had been signs at the end of 2011 that the major record companies thought a rave revival would save their corporate bacons. Swedish synthpop duo THE SOUND OF ARROWS said that during their brief tenure with Geffen Records, the A&R had wanted them to sound more Ibiza club friendly. Their one-time label mate SUNDAY GIRL, who originally had a promising GOLDFRAPP meets JOY DIVISION sound, was reduced to covering dance numbers made famous by STEPS… her debut album originally slated for 2010 is still nowhere to be seen!
Meanwhile, MARINA & THE DIAMONDS' very good in places second album 'Electra Heart' had several of its songs spoiled by overdriving club beats! Is this really the only way to make people dance? It all seems a little brain dead! "NAME THAT TUNE…" snarled Rusty Egan on Facebook, "…if you can hear one?"
So should ELECTRICITYCLUB.CO.UK settle down with a pipe and slippers? While we prefer to "dance to disco" cos we "don't like rock", there must be more to electro than shallow repetitive four-to-the-floor thuds and glowsticks?
ELECTRICITYCLUB.CO.UK likes a tune and doesn't pretend to love every variation of the electronic theme. And from conversations with several DJs, it would appear clubland doesn't want to be associated with the classic synthpop world anymore than the classic synthpop world wants to be lumped in with dance culture… so why attempt to centralise everything?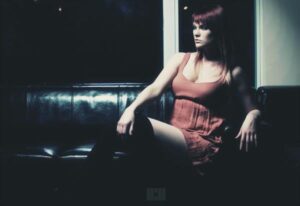 Modern beat driven flavours and other influences can be appreciated but a full blown experience is not always what is required! As the marvellous new Texan duo ELEVEN:ELEVEN have proved, danceable electronic music can be made that is subtle and syncopated. And all this without the need of an annoying dubstep remix, or a 10 minute techno rework with no melodic elements!
It's cool to be discerning…
---
ELECTRICTYCLUB.CO.UK Contributor Listings of 2012
PAUL BODDY
Best Album: DEADMAU5 >album title goes here<
Best Song: ORBITAL New France (Tom Middleton Cosmos remix)
Best Gig: RAMMSTEIN at London O2 Arena
Best Video: SPLEEN UNITED Days Of Thunder
Most Promising New Act: TITANS
---
STEVE GRAY
Best Album: ULTRAVOX Brilliant
Best Song: CHVRCHES Lies
Best Gig: HEAVEN 17 at London Shepherds Bush Empire
Best Video: SINESTAR I Am The Rain
Most Promising New Act: CHVRCHES
---
CHI MING LAI
Best Album: SIN COS TAN Sin Cos Tan
Best Song: SIN COS TAN Trust
Best Gig: HEAVEN 17 at London Shepherds Bush Empire
Best Video: IAMAMIWHOAMI Drops
Most Promising New Act: CHVRCHES
---
RICHARD PRICE
Best Album: SIN COS TAN Sin Cos Tan
Best Song: ULTRAVOX Rise
Best Gig: BAS II
Best Video: KID KASIO Telephone Line
Most Promising New Act: KARIN PARK
---
Text by Chi Ming Lai
16th December 2012