Lauded by Drowned in Sound as "probably the most underrated band of the last 25 years", NO-MAN have had a career that has stylistically covered pop, art rock and TALK TALK flavoured balladeering.
This breadth of musical output should hardly come as a surprise given the group is made up of Tim Bowness and Prog powerhouse Steven Wilson whose work has included not only his own solo output but also PORCUPINE TREE, BLACKFIELD, STORM CORROSION with OPETH's Mikael Akerfeldt and critically acclaimed 5.1 surround remixes for acts as diverse as KING CRIMSON, XTC, MARILLION and TEARS FOR FEARS
Now more than a decade since the 'Schoolyard Ghosts' album, NO-MAN have reconvened with a return to their electronic roots, 'Love You To Bits'
.
The cover of this release which features a disco mirrorball gives a clue to the content within, a fantastic mix of GOLDFRAPP, KRAFTWERK and ROBERT FRIPP which underpins a wonderful vocal performance from Tim Bowness who took time out to discuss the album.
'Love You To Bits' was one of the great 'lost' NO-MAN tracks, the demo being some 25 years old. Why is now the right time to finish and release it?
It was originally written at the same time as a track called 'Lighthouse' in 1994. Both songs were intended to be part of a follow-up to 'Flowermouth'. At that stage, the tracks were very much in their infancy and though we had grand ideas for them, only the opening song sections existed. In another universe, the successor to 'Flowermouth' could have been more stylistically logical and just consisted of extended versions of those two tracks.
Due to the band getting dropped by its labels in the UK and US, publishing company and manager, we pursued the more aggressive 'Wild Opera' material. It suited our, by then bleak, mood better!
Over the years, we continued to work on 'Love You To Bits' and there were a number of versions which varied in length from 4 minutes to 12 minutes (some including significant contributions from saxophonist Theo Travis). The truth is that it didn't seem right for anything we were working on. Post-'Wild Opera', the band's sound became more organic and we'd abandoned using samples and beats, so 'Love You To Bits' seemed out of place for a very long time.
In October of last year, we decided that we were finally going to make the 'Love You To Bits' album we'd always wanted to. We knew from the beginning that we wanted to do an album length exploration of the piece and we also knew that it was going to deal with the different perspectives in a break-up. It was great to find time to make the dream a reality and truly dedicate ourselves to the project.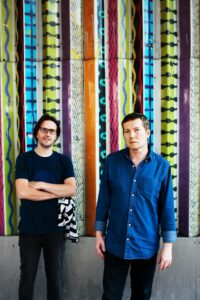 Does revisiting an older demo as the launch point of this project mean the album is a nostalgic look back or a taste of what's to come?
Perhaps it's both? A lot of the album was written over the last year and the vast majority of the recording was done this year. It was constantly being re-written and added to up to the point of completion in July of this year. As such, it feels fresh.
Listening to the earlier demos shows that it's changed a lot since its inception. One 10 minute version from 2008 was surprisingly Industrial, while a much earlier version was considerably lighter in tone than it is now.
The sessions in October of last year were intense and exciting and I'd say that during that time we finally created a framework that seemed complete. I spent a fair bit of this year, writing new lyrics, re-writing old ones and re-recording the vocals. All the overdubs from the guest players were also recorded this year. One of my favourite sections – the brass band coda to 'Love You To Bits' – came about when I could hear a brass tone in the synths and suggested a far more elegiac ending that would more effortlessly merge into 'Love You To Pieces'. Luckily, Steven really liked the idea so we pursued it. The whole process was surprisingly flexible.
'Love You to Bits' is a self-described return to your more synthpop roots, was there anything in particular that has lead you back down that path?
I think both of us, for different reasons, had been gravitating towards more dynamic and more electronic music in our solo projects of late.
In 2018, Steven released 'To The Bone' and I released an album by my pre-NO-MAN 1980s band PLENTY. Accidentally, we'd ended up in a similar creative place / space.
PLENTY was very much an electronic orientated Art Pop band that had aspects of THE BLUE NILE, IT'S IMMATERIAL and other bands of the era. Although we kept the electronic soundscapes intact, on the 2018 re-recordings I changed some of the words and vocal lines to suit my current style. It was a great fusion of the past and the present and I felt it was something of a wake-up call.
Returning to the older material challenged me in terms of my voice and my vocal expression. I hope I managed to sing with a level of control I didn't have in the 1980s, while shaking up my current approach with a more dramatic influence from my own past. The excitement of making the PLENTY album directly fed into my 2019 solo album 'Flowers At The Scene'. Steven co-produced the album with me and PLENTY's Brian Hulse and also mixed it and it was while we were making 'Flowers At The Scene' that we decided to properly pursue 'Love You To Bits'.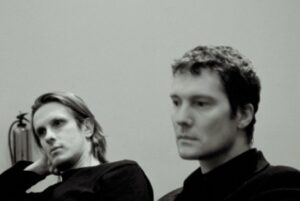 Are you wary of existing fans of both the band's more recent works and your respective solo output being unhappy with a possibly lighter tone from a 'pop' album?
To a degree, yes. I've genuinely got no idea how people are going to react to the album. And at this stage of my music making, that's a good thing!
It is NO-MAN's most direct album and does have a strong Pop element, but it's also one of our most experimental and ambitious releases. The album evolves in several ways that I don't think would be anticipated by its beginning.
Both the music and lyrics on the album are working a great deal with contrasts: light / darkness; energy / blissful release; brutality / beauty; simplicity / complexity etc. The latter contrast highlights the fact that as an album contains some of the band's most simple work, yet as a whole it's perhaps NO-MAN's most compositionally sophisticated album.
As a band you have entrusted mixing this release to Bruno Ellingham, the first time you've gone externally. Any particular reason for this decision?
After we finished the album, Steven did several mixes. He felt that 'Love You To Pieces' was very nearly complete, but that 'Love You To Bits' was notably short of where it should be (mainly because some of the rhythm elements and guitar processing betrayed too much of the song's mid-1990s roots). I agreed, though the dated processing bothered me less than it did Steven.
It was looking like the album could be abandoned due to Steven starting work on his forthcoming solo album, so I suggested we bring in another mixer to fully complete what was there. Steven agreed it was a good idea.
Bruno was at the top of my list of potential mixers. His experience of working with MASSIVE ATTACK, UNKLE, BEN WATT and GOLDFRAPP seemed ideal for what we wanted and although Bruno made his name with Dance and Indie music, he actually comes from a Classical background and is an accomplished violinist. As he also shared a love of the likes of TALK TALK, THE BLUE NILE, NICK DRAKE, PINK FLOYD, GRACE JONES and TANGERINE DREAM, he felt like a very good fit.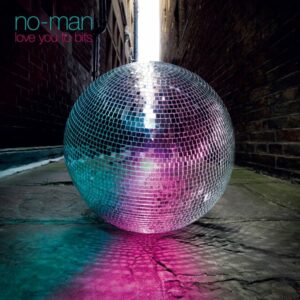 Bruno pulled together the programmed rhythms and real drums more effectively than Steven had done and gave some of the album a greater sense of groove, space and power.
It was subtle and he didn't overwhelm what we'd given him, but his involvement has meant that this is perhaps the best sounding NO-MAN album ever.
You are working with Carl Glover on the art for this release. How does your relationship with him work when pulling the cover concepts together?
It varies. Sometimes – on albums such as 'Flowermouth', 'Returning Jesus' and 'Dry Cleaning Ray' – as I do with the artwork on my solo albums, I have a very clear idea of what I want and Carl realises the idea better than I ever could. At other times, Carl comes up with ideas of his own based on his interpretation of the music. 'Love You To Bit's – like two of my favourite Carl covers, 'Together We're Stranger' and 'Plenty's It Could Be Home' – is Carl's visual interpretation of the music. As with 'Together We're Stranger', I think he's got it right. Glamour and glitter are pitched against grim reality and that's a fairly accurate summation of the contents.
The advances in recording technology have been significant in past decade, has this changed how you and Steven approached the writing and recording of the album?
I guess so. We've always kept up with technological advances in studio recording and since we started 'Love You To Bits', Steven's studio mastery has grown immeasurably and I've created a home studio set-up that enables me to produce results of an acceptable quality.
In terms of the way we work, 'Love You To Bits' has been one of the most hands-on and collaborative albums in the band's history. As with 'Wild Opera' and the band's very earliest experiments in the 1980s, we spent time in the studio together and traded ideas in real time. The likes of 'Schoolyard Ghosts' and 'Together We're Stranger' were produced quite remotely with me bringing in compositions and recordings to Steven, and Steven sending me backing tracks to write to. Of course, we NO-MAN-ised the results in both cases, but outside of us writing the song 'Wherever There Is Light' together in real time in 2008, 'Love You To Bits' marked a return to a more traditional NO-MAN way of putting music together.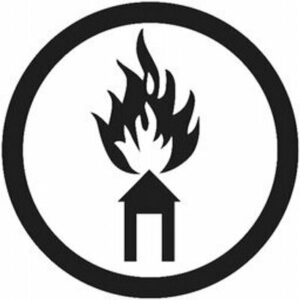 The success of your online label and store Burning Shed has been gratifying from my view point as a fan of a number of the acts you work with that wouldn't possibly have an outlet for their releases otherwise. What do you look for in an artist when deciding to work with them?
Burning Shed started off as a label that focused on releasing obscure music cost-effectively (utilising on-demand CDRs). Very quickly, the sales dictated us producing proper CDs and soon after that taking over the NO-MAN and then the PORCUPINE TREE stores.
Everything evolved unexpectedly and grew through word of mouth. Some of the artists we deal with I actively pursued as a fan (sometimes for several years), some of the artists I already knew and had worked with, and some artists approached us due to the people we were already dealing with.
The good thing about the success of Burning Shed is that it's meant that I've become even more bloody minded and idealistic concerning my own music. I only ever release what I believe in and what I believe deserves to be heard in the wider world.
As for what I look for, it varies and is difficult to define.
You've worked with a number of musicians that readers of ELECTRICITYCLUB.CO.UK will know such as Richard Barbieri and Brian Eno. Did these collaborations have a starting point of you being a fan of their respective outputs?
In almost all cases, yes. I've been extremely lucky in being able to work with a large number of musicians who were amongst my teenage heroes, ROBERT FRIPP, PHIL MANZANERA, KEVIN GODLEY, ANDY PARTRIDGE, PETER HAMMILL, IAN ANDERSON, JANSEN BARBIERI & KARN and others.
That said, the important thing is that I feel they're able to bring something to the songs they work on and that the songs they're working on can bring out interesting qualities in their playing. There's no point in people collaborating for the sake of collaborating (or just for the sake of adding a star name to a recording).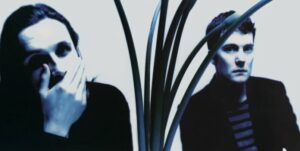 You were born in Cheshire between Liverpool and Manchester. Did this geography influence you musically?
I think it probably did! There's a particular melancholy in my music that may well be a result of my Northern English background.
Although my upbringing was relatively middle class and suburban, it was still tough. That was partly down to difficulties in my own dysfunctional family, and partly because of the harshness of the environment as a whole. It was a wonderful place to be in terms of having easy access to great cities such as Liverpool, Manchester and Chester, but when I was at school there was no encouragement regarding creative endeavours and absolutely no nurturing. Family and school colleagues alike considered the idea of wanting to make music to be a case of having 'ideas above your station'.
The positives were that both Liverpool and Manchester had very active music scenes and truly supportive music media. Radio DJs – particularly Mark Radcliffe and Roger Eagle – and newspapers (especially Mick Middles at the Manchester Evening News) were fantastically helpful to many aspiring artists, including me. For that, I remain grateful.
The Bush Hall gig in 2008 is in my personal top 10 shows. Are there any plans for live shows to support this release?
Thank you. After such a long absence from performance, it was an emotional occasion for all of us!
We have discussed the idea of playing live. If it happens, it'll be early in 2020 and it'll be quite different from how we last played. I imagine it to be a more radical combination of acoustic and electronic elements. It would also be interesting to see a return to us utilising backing tracks in the way we did when we first started.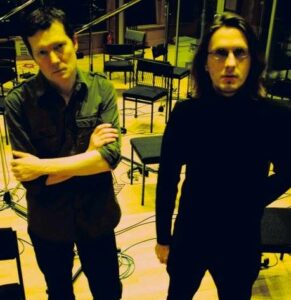 NO-MAN has been an interesting and varied musical journey, what have been the highlights for you?
As it's been so enjoyable to make, 'Love You To Bits' is a definite highlight. Outside of that, I still have a strong attachment to all our studio albums, but 'Flowermouth' and 'Together We're Stranger' particularly stand out for me.
Playing in Poland in 2012 was also a great experience and in some ways, as strange as it may sound, talking to fans after the gig was the first time I realised that I'd had something of a career.
---
ELECTRICITYCLUB.CO.UK gives its warmest thanks to Tim Bowness
Special thanks to Abi Skrypec at Caroline International
'Love You To Bits'
is released by Caroline International on 22nd November 2019 in CD, vinyl LP, cassette and digital formats
https://www.facebook.com/nomanofficial/
https://twitter.com/nomanofficial
https://www.instagram.com/nomanhq/
---
Text and Interview by Ian Ferguson
16th November 2019