Norwegian electronic covers combo CHINESE DETECTIVES released their only album 'Are Kisses Out Of Fashion?' in 1999.
The brainchild of Per Aksel Lundgreen who had cut his teeth in APOPTYGMA BERZERK, the concept was to be a "SILICON TEENS of the 90s" with frantic dance beats acting as the backbone to accompany the hooks of classic synthpop.
CHINESE DETECTIVES scored a number of Scandinavian hits with songs originally made famous by YAZOO, MEN WITHOUT HATS and DIVINE.
'Are Kisses Out Of Fashion?' additionally featured reinterpretations of SPARKS, BRONSKI BEAT, PET SHOP BOYS and several lesser known acts while the album itself was to become something of a cult favourite, partly thanks to featuring the only officially released version of a Vince Clarke instrumental from which CHINESE DETECTIVES got their moniker.
The classic trio line-up of Per Aksel Lundgreen, Preben Bjønnes and Desirée Grandahl kindly reminisced about the making of 'Are Kisses Out Of Fashion?'.
So what came first, your cover of 'Chinese Detectives' or the band concept? How did it come about?
Preben: Per Aksel suggested 'Chinese Detectives' as a track and name for the band.
Per Aksel: Being an avid YAZOO and Vince Clarke collector, I had obtained a live tape that I bought at a stand in Camden Market in London of the 1982 gig at The Dominion, and on that tape, the instrumental track 'Chinese Detectives' was included. I always loved the track, and also the name, and I really wanted to use it as a band name, so we did. Then the idea was launched to do a cover of 'Situation' as the "A-Side" of the single, and a cover of 'Chinese Detectives' as the "B-Side". I know that the track has also been referred to as 'China' on early live-recordings etc, but more on that later, ha ha!
Desirée: I´m the lucky one because I didn´t have to give any of that any thought! Got it all served on a silver platter.
The track is often mistaken as being the theme for the BBC TV drama 'The Chinese Detective' but is actually a Vince Clarke original. How did you go about interpreting and recording it? Did Mr Clarke give his approval?
Per Aksel: The sound quality on the live tape I had wasn't really top notch, so we had to do our best to make out all the sounds and figures being played.
There's also a part on there where it sounds like Vince is talking on top of the track, but we never ever figured out if that was just an accident, or if it was supposed to include some spoken words. I knew at the time that all Vince Clarke material was published via Sony Music Publishing, so I wrote them a letter, inquiring about the track, and asked for permission to do a cover version of it.
I actually received a reply via fax, yes it was that long ago, and in the fax it said something like: "Sony Music Publishing and Vince Clarke hereby grant you the rights to do a cover of the before mentioned track, 'Chinese Detectives'."
I was gobsmacked and very very happy of course. I saved that fax for many years, and when I one day went into some boxes to find it, the print had disappeared and the fax paper was all white, ha ha! I wish I'd taken a copy of it, but hindsight is 2020, right!
Preben: Hopefully we did the track justice 🙂
Desirèe: The credit for that goes to the lads. Hopefully Mr Clarke approved and loved it.
Why did you choose 'Situation' as a single to debut CHINESE DETECTIVES with?
Preben: We all loved the song and especially Vince Clarke's song writing.
Desirée: I mean, even if I didn´t do the vocals on the first single, who wouldn´t choose that iconic song with that iconic group?
Per Aksel: We're all huge YAZOO fans, and it was one of those tracks that we felt we could do something with. It was actually in the Norwegian Dance Charts and it was on a couple of "Eurodance" type compilations here in Norway, and the single sold close to 10.000 copies at the time, so we were very very happy of course. This made us want to do more, and the record company too cheered us on.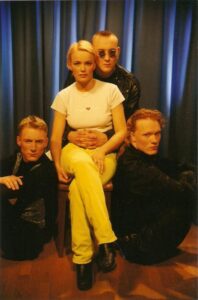 Strangely, in Norway we were considered "Eurodance", but in Sweden and the rest of Europe and the US, they called us a synthpop act, and I for one wanted it to sound "synthpop", but maybe we leaned towards the "Eurodance" since that was in the charts at the time. I don't know, but we were treated very differently in Norway and in Sweden.
In Norway, we played "dance party" festivals for 5000 people together with 2 BROTHERS ON THE 4TH FLOOR, SOLID BASE, TWENTY 4 SEVEN, 2 UNLIMITED and stuff like that, but in Sweden we played on Swedish Alternative Music Awards for 500 people together with S.P.O.C.K, IN THE NURSERY and COVENANT, so it was a strange situation, but we just went with the flow and played everywhere we were wanted really.
We also had two other guys involved at the early stage of Chinese DETECTIVES, Trond Haugerud and Lars Kristian Aasbrenn, but they both dropped off. Lars Kristian after the first single, and Trond after the second one. No particular reasons for this, they just left basically, but they did also put in a good deal of work and input before they left, so I feel it's important to put that out there.
After your second single, a cover of MEN WITHOUT HATS 'Where Do The Boys Go', your first singer Kristine Ulfeng departed, what effect did that have on whether to continue with CHINESE DETECTIVES?
Preben: No effect. We already knew we wanted to make a whole album with a different voice.
Per Aksel: When we started recording the third single, 'You Think You're A Man', it became evident very early that Kristine's voice wouldn't cut it for that track. We took the harsh decision of telling her to leave and then asked Desirée to join the band. Not our proudest moment, and it wasn't really fair to Kristine as she was fully devoted on the two first singles, but Preben and I were young and ambitious and had huge egos, so I'll have to blame it on that.
Desirée: It had the wonderful effect of giving me the role of the mysterious and handsome girl at the mic.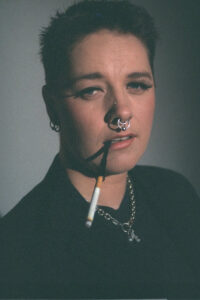 Desirée had a deeper resonance to her voice and her first single with CHINESE DETECTIVES was a cover of DIVINE's 'You Think You're A Man' in 1996; did you know that song was written by Geoffrey Deane who was the original lead singer of MODERN ROMANCE?!!? ?
Preben: News to me 🙂
Desirée: Ooops, you got me there! Shame on me for not knowing that…
Per Aksel: All I know is that when I wrote the credits in the booklet, it said "G Deane", but I had no idea it was the original lead singer of MODERN ROMANCE! :O
We all love a bit of HI-NRG, and especially DIVINE and Bobby O productions in general, and I really think we nailed that one! Very happy with that single to be honest! The two first ones were good too, but the sound on 'You Think You're A Man' is still holding up in my opinion.
The album 'Are Kisses Out Of Fashion?' finally came out in 1999, had it been a challenging project to finish?
Preben: It was a labour of love, I loved every bit of it. Working in a pro-studio with Erik Wøllo was a high point for me as I have mostly worked in my own studio. We had a very nice atmosphere in the studio where we loved every song we worked on. It became a very eclectic album I think. 🙂
Desirée: On the subject of who was gonna be our label and who was gonna release it – it was a challenge. The process of making the album wasn´t all that bad. We took some time picking and agreeing on the songs, then finding the right producer and of course getting it right in the studio. I will say that there was more laughter than fights.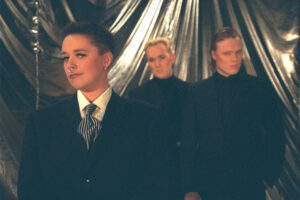 Per Aksel: The truth is that the album was already finished late 1996 or early 1997, I can't remember exactly now, and at the time, the label had a bit of a dry spell and didn't have the money to finance the printing of the album, and the third single didn't do as well as the first one, so maybe they lost a bit of faith in us, I'm not sure.
Anyway, in 1999 I kinda pushed them to release it, as 80s sounding synthpop was returning more and more.
The first pressing of 5000 copies sold pretty quickly, so I know the label never regretted it in the end. It was the label that also paid the £3500 for the studio and recording of the album, so I was surprised that they didn't want to try and recoup their money.
The process in Wintergarden Studio with Erik Wøllo as our co-producer really helped and lifted this record into what it became. We never could have achieved that result without Erik. His studio was in his basement, so we jokingly said we we're recording "Downstairs At Erik's", ha ha! He also had a lot of cool equipment in his studio that we could use to fatten up our sound and to make the songs more diverse than they were in their original demo-form.
Stephan Groth of APOPTYGMA BERZERK had also bought a Novation Bass Station at the time, and we borrowed that for some tracks too, and it's especially evident on 'Hit That Perfect Beat'. I also had a Roland JX3P that we used heavily and a Yamaha TX7 that was in Erik's studio that we used for the FM-bass lines and such.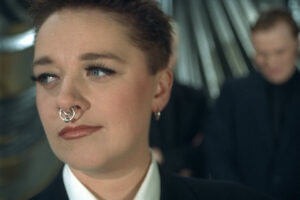 Most of the 'Are Kisses Out Of Fashion?' album sounds a bit like Alison Moyet fronting a frantic Eurodance covers project, there was a distinct HI-NRG bent with tunes like 'Hit That Perfect Beat', 'All You Ever Think About Is Sex', 'You Think You're A Man' and a very pacey version of 'Johnny & Mary'? Was the club market where you were aiming CHINESE DETECTIVES?
Desirée: Oh, I love me a bit of frantic Moyet!! Seriously, I think the club market was THE market at the time, but I also think we were a little bit a head of our time. If the album had hit the club market a bit into the 2000s, I personally think we would have had an even greater success with it. The trend of picking up great tunes from the 80s didn´t really kick in until 2004-2005. Maybe we can say that we started the trend? Let´s keep that illusion.
Preben: We all love HI-NRG and especially songs produced by Bobby O. Having said that, we wanted to do our own versions of our favourite songs.
Per Aksel: Alison Moyet is probably THE BEST female voice in the world of music in my opinion, and Desirée is blessed with a serious set of pipes and a voice that is very close to Alison's, so we felt we'd struck gold when she wanted to join us to be honest.
I'm not quite sure we went for the club market OR "Eurodance" to be honest, it was all "synthpop" to us, but looking back, I can see how the music in the charts and the new synths coming out etc flavoured our sound and the outcome of the finished result. Having had chart success in Norway with the two first singles, we were actually on Norwegian television at the Norwegian Top 20 being interviewed about the 'Where Do The Boys Go?' track and video, so that probably also told us that we had a shot at "this chart stuff", but we failed to chart after that, and became more of a thing for the synthpop fans instead. That's a good thing, because that's where we belong anyway, ha ha!
When the album slows down a bit in the middle, the album gets very interesting with your covers of 'Love Is Just A Word' by SILENT CIRCLE and 'Run For Love' by WINDER, two acts which would have been largely unknown outside of mainland Europe, what is the story behind these?
Preben: We loved the songs. WINDER's is an all-time favourite of mine from Denmark. I think they only did three singles and an album.
Desirée: Those two songs were kind of pushed by the lads. I thought at first that 'Love Is Just A Word' was too "German lighter ballad-ish", but it grew on me really. And after doing it live, it kind of gave you that arena-effect, with people singing along and of course waving their lighters.
When the song 'Run For Love' came up, I wasn´t sure what to do. I felt that it was so girly and non-edgy. The fun part is though, that so many reacted to this song and really liked our version. Let´s just say that this was my "swallow the camel" moment.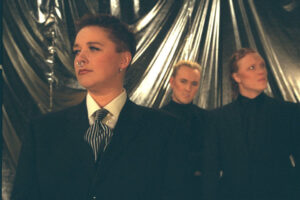 Per Aksel: The WINDER track was an old "guilty pleasure" of mine, and I thought that we could do a really good job with it.
I know Desirée really didn't like it much, but she played along, and the version we ended up with is ok I guess, but far from my favourite on the album. A lot of people seem to love this version though, which is great, but I don't know, it's still a bit Eurovision sounding and a bit cheesy!
'Love Is Just A Word' was picked as the idea of having a ballad on the album, but now that I think of it, we should have done 'Touch In The Night' instead. CHINESE DETECTIVES were never meant to do ballads, ha ha! I remember seeing SILENT CIRCLE performing 'Touch In The Night' on Peters Pop Show from Germany via Swedish Television back in the 80s, and that's how I got turned onto the band. Their first album, 'No 1', is still a good album I think, a hidden gem for many, but a good synthpop album.
The album title song features something of an orchestra stab frenzy and was originally by SUDETEN CRÈCHE, a very obscure British duo. How did you hear about this song?
Preben: Per Aksel introduced us to the song and we knew immediately that we could make our mark on it.
Desirée: Why wouldn´t a bunch of nerdy electronic music people have heard about that one?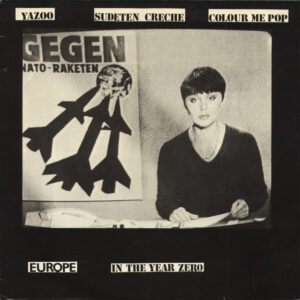 Per Aksel: Going back to me being an avid YAZOO and Vince Clarke collector, I'd heard from some other collectors that the compilation album 'Europe In The Year Zero' included a different version of 'Goodbye 70s' than the one on 'Upstairs At Eric's', so I ended up getting hold of a copy of that LP.
It had a different version of 'Goodbye 70s' indeed with some extra echoes and delays to the vocal, and it was a bit shorter with a strange fade, but still a different version. Anyway, on that same album was the band SUDETEN CRÈCHE with their track 'Are Kisses Out Of Fashion?'.
My girlfriend at the time loved this track and had it on several mixtapes, so I knew it well, and when it came time to pick track for the album, Preben, Desirée and I wrote down our suggestions of what tracks to do covers of, and we immediately agreed that we could do something with this minimal wave classic. We also decided to use the title of the track as the title of the album, as it was very 80s sounding and cool.
In 2006 or so, I got contacted by Mark Warner from SUDETEN CRECHE who asked us about this cover, because we tried to get hold of them back in 1996, but it was impossible to find any information. So we started emailing them back and forth, and they said they really liked the version we had done. Later I was invited to be live keyboarder for SUDETEN CRECHE on a European tour they did together with OPPENHEIMER ANALYSIS and a couple of other bands, but I couldn't accept that offer since I had other commitments at the time, but the offer itself meant a lot to me and I was really flattered by it.
Later on, after a lot of emails and a growing friendship, Mark Warner invited me to come stay with him at his house outside Bedford where he's got a studio in his back yard, to work on some music together.
This is how I ended up doing three EPs with ROSSETTI'S COMPASS together with Mark. He wrote all the material, and I was more in on the production side of things, but we had great fun in the studio, and I got to know his lovely wife and two daughters who now just call me Uncle Per.
I visited Mark as late as January this year, and a lovely and lasting friendship has come out of doing that cover version. Who would have thought ha? Life can serve you up some wonderful things sometimes, especially when you meet great people like Mark Warner. A true friend.
You covered INDUSTRY with 'State Of The Nation' so the range of genres you sourced on 'Are Kisses Out Of Fashion?' was very varied in hindsight?
Preben: We wanted music from all over the spectrum; obscure to the big hits.
Desirée: There is and there was so much good music to choose from, in many genres. The list of songs we would have loved to put on the album was long, but I think we´re all quite happy with the once we chose. I also think that it shows that we´re influenced by many genres.
Per Aksel: 'State Of The Nation' to me was a "synthpop" song, and I really really liked it, and I also think we did a great version of it. There was a vocal part there at the end of the track, after the music ended that we should've kept though. Desirée wanted to keep it, but Preben and I voted against it, ha ha. Looking back, Desirée was right, we should've kept it. Wonder if I've still got that other version on DAT-tape somewhere. Hmmm…
What are your own personal favourites on 'Are Kisses Out Of Fashion?' and why?
Desirée: Oh, that´s a hard one. I should of course say 'Situation' but I´m not gonna say that. I just love 'State Of The Nation'; loved the song originally and loved to sing it. 'Are Kisses Out Of Fashion?' and 'All You Ever Think About Is Sex' come in at second place. Just because 'Are Kisses…' became almost a completely new song when we did it and 'All You Ever Think About Is Sex' is a fun and theatrical song which I love.
Preben: 'Hit That Perfect Beat' by BRONSKI BEAT. I loved the vocals on it. And the mix still holds up. Very happy with the bassline 🙂
Per Aksel: I still think that our version of 'I Want A Lover' by PET SHOP BOYS is the best one, but nobody seems to agree with me! LOL! I also have a huge fondness for 'You Think You're A Man', 'Hit That Perfect Beat' and 'All You Ever Think About Is Sex', great versions that differ from the original and still add something extra. I also love the energy that we managed to put into those tracks. They're explosive in a way, and I'm very proud of what we managed to do together on those tracks! Would've been even better if we'd written the tracks ourselves of course, but hey, we borrowed someone else's songwriting talent and built on that, that will have to do.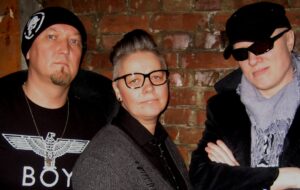 Was CHINESE DETECTIVES, like SILICON TEENS, destined to just do the one album?
Desirée: No, not really. We had plans and visions. Preben and I did our own project with POSH. We had so many ideas for our own music and CHINESE DETECTIVES was a cover project. But the intention was to make more music with CHINESE DETECTIVES as well.
Again the situation with getting a label, getting us distributed and of course the sign of the times in the music industry put a stop to more albums at the time. We do however, have some new covers done. We did some new tunes for a couple of gigs some years ago and that was great fun. So you never know, maybe we´ll be back.
Preben: I don't think we had any plans beyond an album. Might have played it by ear.
Per Aksel: Funny you should say that! My own catch phrase / slogan was that we aimed to be a "SILICON TEENS of the 90s"! We are huge fans of the 'Music For Parties' album, and doing 80s tracks in the 90s before that became fashionable kinda put us in the same category at least as SILICON TEENS.
I never had plans beyond that one album back then at least. While waiting for the CHINESE DETECTIVES album to be released, Preben and Desirée continued on the side with their own project, POSH, that released a great album called 'In Vanity We Trust' on CD in 1999 too. That is also a great but sadly forgotten album by many. Sounds like YAZOO with a more modern sound.
CHINESE DETECTIVES reformed for Electronic Summer 2016 in Gothenburg, how was that for you?
Preben: I unfortunately had to pull out of it due to illness. But I hear it went down well 🙂
Per Aksel: That was amazing! We had a great great time, and back then it was exactly 20 years since we last played in Gothenburg, so it was a celebration and a huge kick being on stage with CHINESE DETECTIVES again in front of 600 people at The Brewhouse.
People loved it and we got so many people coming up to us after the show saying "finally I got to see you live" and stuff like that, including Hannes Malecki, the singer from WELLE: ERDBALL, who was also playing at the same festival. He confessed to being a huge fan of CHINESE DETECTIVES when I met him there, which was a very nice compliment, coming from a guy whose work I admire very very much. I have a complete collection of all the WELLE: ERDBALL CDs, so…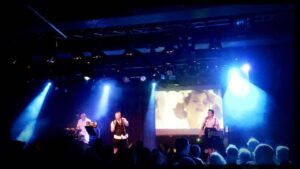 Desirée: Oh my Lord that was fun. I had no expectations for that gig. I thought we were forgotten and obsolete. We started the evening with our set and I thought that there would be close to no one in the audience. When the music started and I went on stage, I got a pleasant shock. The place was packed and people sang along and had a jolly good time. So did we! People were so positive and loving. That was just a blast!
Over twenty years on, how do you view the way an electronic pop cover should be done? With so much history, is going outside of the genre more preferable to achieve something different, rather than just cover say DEPECHE MODE, NEW ORDER, SOFT CELL and ERASURE, who interestingly CHINESE DETECTIVES didn't cover?
Preben: We tried to stay away from the obvious songs. But there are millions of great songs we could have done. We have tried to do some new ones few years back. 'The Metro' by BERLIN was one of them. We have played it at some concerts. We also demoed 'You Spin Me Round' by DEAD OR ALIVE and even made an instrumental of 'Heartbeat City' by THE CARS. And a few others. Hopefully we will make another album in the future 🙂
Desirée: The term electronic pop is no longer obscure and for the few and nerdy. So to make an electronic pop cover today, the bar is lifted. We did go outside the electronic genre when we did our album and I think that by doing that, the songs got a new life. This, I think, is still the case. A good song is a good song in any genre. Even if it would be great fun to cover, let´s say a EURYTHMICS tune, the approach I think would be different now than it was twenty years ago. And no wonder, we´ve learned a lot in twenty years!!!
Per Aksel: We definitively tried to AVOID the "usual suspects" when picking tracks for the album. I know Desirée wanted to do both a cover of a EURYTHMICS track, and a CULTURE CLUB track, and that didn't happen, probably because they were too big and famous or whatever. We had some strict but strange rules back then, ha ha!
The truth is that I'm usually not a big fan of cover versions myself, and it's only a few that I really like, and I try to avoid them when other bands do covers. Strange to think of when I was in a band that did a whole album of them, right?
We had 'Send Me An Angel' by REAL LIFE half-finished in demo form back then, but it never came to fruition, and that's about it I think from back then. Preben did demo some other tracks that I don't remember right now, but we ended up with those that are on the album, and I think the selection is pretty much good. When it comes to DEPECHE MODE, we've had enough covers there already, haven't we? I mean, we've had enough of the band itself even, so never mind covers ha ha!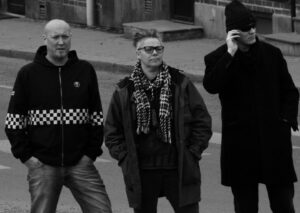 Some cover versions that I do like though, are: FAIRLIGHT CHILDREN – 'Bedsitter', LEMONHEADS – 'Mrs. Robinson', APOPTYGMA BERZERK – 'Major Tom', WOLFSHEIM – 'Ruby, Don't Bring Your Love To Town", MALARIA – 'Lay, Lady Lay', and BIGOD 20 – 'Like A Prayer'.
The "perfect" cover version in my opinion though, is the one that RÖYKSOPP feat. Susanne Sundfør did of 'Ice Machine'. Absolutely love that one!
What songs would you cover today if you were to do a new album?
Preben: BLANCMANGE – 'Blind Vision' or 'Don't Tell Me', THE CARS – 'Heartbeat City', ABC – 'Be Near Me', JAPAN – 'Life In Tokyo', CRETU – 'Samurai', THE HUMAN LEAGUE – 'Boys & Girls', OMD – 'Telegraph', BERLIN – 'Metro', SECRET SERVICE – 'Flash In The Night', DEAD OR ALIVE – 'Big Daddy Of The Rhythm', CLOCKWORK ORANGE – 'Sensation Boys', THOMPSON TWINS – 'In The Name Of Love' or HEAVEN 17 – 'Come Live With Me'. All of those would have worked I suppose!
Desirée: I've always wanted to do a cover of 'Sexuality' with Erasure, but never got around to it. Maybe the time is now?
Per Aksel: Hmmmm… THOMPSON TWINS – 'We Are Detective' would fit us perfectly I think, and I also agree with Preben on 'Big Daddy Of The Rhythm', such power and energy! Maybe we should accommodate Desirée too, and do 'Here Comes The Rain Again' or 'Paint A Rumour' by EURYTHMICS? I also would've picked another minimal wave track or two, like 'Night In June' with LINEAR MOVEMENT, or 'All Rights Reserved' by FRED. Great tracks, real gems that one could bring out to the masses!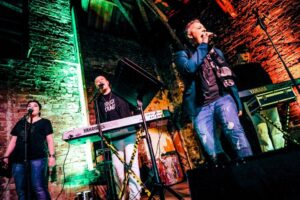 That's the best thing I think, when you can get people to discover a track they've never heard before through your cover version! All in all though, I'm a little fed up with covers at the moment as I told you, but I'm not going to be a killjoy.
Preben, Desirée and I live nearby each other, and if we find the time and inspiration, I don't see why we couldn't / shouldn't do some more stuff together. All that without giving any promises though, ha ha!
---
ELECTRICITYCLUB.CO.UK gives its sincerest thanks to CHINESE DETECTIVES
'Are Kisses Out Of Fashion?' is available via Sub Culture Records as a download album direct from
https://chinesedetectives.bandcamp.com/album/are-kisses-out-of-fashion
https://www.facebook.com/ChineseDetectives/
https://open.spotify.com/album/3rhx1YmkwXeeFF0ZTdR6eN
---
Text and Interview by Chi Ming Lai
Photos by Jon Sverre Høiden, Kjetil Berg and Khyber Westlund
9th April 2020