The Correct Use Of VCOs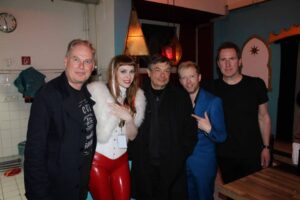 The year started appropriately enough with an electronic number '2013' by Belgian duo METROLAND.
For the first six or seven months of 2013, it proved to be one of the most productive periods in electronic pop music. Not since the Autumn of 1981 when had so many significant releases coincided. It was strangely quality and quantity, a rare occurance in modern times for music, especially of the synth propelled variety.
That time saw THE HUMAN LEAGUE 'Dare', GARY NUMAN 'Dance', ULTRAVOX 'Rage In Eden', DEPECHE MODE 'Speak & Spell', SOFT CELL 'Non-Stop Erotic Cabaret', HEAVEN 17 'Penthouse & Pavement', SIMPLE MINDS 'Sons & Fascination', NEW ORDER 'Movement', JAPAN 'Tin Drum' and OMD 'Architecture & Morality' all coming out within weeks of each other!
Interestingly from that list, only JAPAN and SOFT CELL are missing as currently performing entities although MARC ALMOND himself made a number of concert and theatrical appearances during the year.
OMD got back to their Kling Klang roots with their best album in 30 years entitled 'English Electric'. Although enthusiasts of the band's pioneering work were satisfied, fans of OMD's pop phase were confused as to why Andy McCluskey and Paul Humphreys had recorded an electronic album influenced by KRAFTWERK! This was an indicator of how the band have mutated and been perceived over the years.
But that was nothing compared with DEPECHE MODE whose single 'Soothe My Soul' was remixed by ZZ TOP's Billy F Gibbons… although recognisably reworked, listeners could barely notice the join, thus fully confirming DM's development into the world's premiere stadium electro blues combo. Their album 'Delta Machine' was a big improvement on 2009's 'Sounds Of The Universe', but it was no 'English Electric'.
Among the other evergreens with new long players in 2013 were PET SHOP BOYS, ALISON MOYET and BEF.
Messrs Tennant and Lowe finally worked with the ubiquitous Stuart Price to produce an album that was 'Electric' by name and electric by nature.
Meanwhile Moyet found her most musically compatible partner since Vince Clarke in Guy Sigsworth for the stunning return to form of 'the minutes'.
Over at BEF, Martyn Ware assembled his most impressive cast of guest vocalists yet including ERASURE's Andy Bell and CULTURE CLUB's Boy George for the third volume of the 'Music Of Quality & Distinction' covers series; subtitled 'Dark', it featured some of Ware's most starkly electronic work since he was in THE HUMAN LEAGUE.
Another welcome return came from electronic disco pioneer GIORGIO MORODER. The icon is now 73 years old yet with his stomping track 'Racer', he proved could mix it with all the young pretenders. Indeed, his autobiographical contribution to DAFT PUNK's tribute 'Giorgio By Moroder' reflected the respect and admiration he holds within the dance world.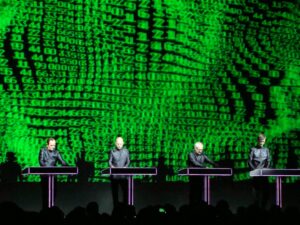 Although only a few years younger, KRAFTWERK's Ralf Hütter showed no real signs of moving his iconic brand forward despite the 3D spectacle of 'Der Katalog 1 2 3 4 5 6 7 8' live retrospectives in Düsseldorf, London, Tokyo and Sydney.
With the various hosting art spaces still seeing their ticketing systems collapse, was this really just an elaborate publicity stunt? After all, how many heritage acts get on the news for sending websites into meltdown?
It certainly didn't do KRAFTWERK any harm as a headlining slot at Latitude Festival and its resultant BBC TV coverage proved. However, new material was still not forthcoming but such is the demand that several unscrupulous eBay dealers in Russia were passing off CD-Rs of three tracks from METROLAND's 2012 album 'Mind The Gap' as KRAFTWERK demos!
Meanwhile, former colleague KARL BARTOS exorcised his Kling Klang ghost with 'Off The Record', a collection of his unreleased KRAFTWERK-era compositions which made a fine companion to OMD's 'English Electric'; his upcoming 2014 world tour is eagerly anticipated.
ULTRAVOX opened for SIMPLE MINDS but with Midge Ure spending most of the year doing the rounds with solo acoustic gigs, their synth lynchpin Billy Currie released his ninth solo offering 'Balletic Transcend'.
Meanwhile in a revival of a project that both had been involved in, a fragmented VISAGE unleashed their first album in nearly 30 years to a mixed reception.
With just Steve Strange remaining from the original line-up, 'Hearts & Knives' was essentially a solo project.
There were heated exchanges on social networks between Strange and his estranged Blitz Club partner Rusty Egan about misappropriated royalties and the validity of the reconfigured brand. Whatever, the raw video recording of the new VISAGE performing 'Fade To Grey' live at London's Hoxton Bar and Kitchen stood as possibly the most embarrassing moment of the year.
Artists who made their name during Electroclash such as ADULT. and MISS KITTIN made welcome returns in 2013 while also from that era, LADYTRON's Helen Marnie released her first solo offering 'Crystal World' crowd funded via Pledge Music.
It was a novel but effective way of securing a promotional budget that involved fans in the process by offering exclusive updates and an opportunity to purchase exclusive memorabilia. In MARNIE's case, items on sale ranged from hand written lyric sheets to her Mini-Cooper and a bikini!
Meanwhile, former SNEAKER PIMPS sparring partners IAMX and KELLI ALI also went down the Pledge Music route, pointing the way forward to a music industry future without interference from record label middle men. But the failure of several crowd funding campaigns proved the model was not for everyone.
The Britpop era was not particularly known for its use of electronics but two acts who did indulge, REPUBLICA and DUBSTAR, made formal comebacks on the live circuit in 2013.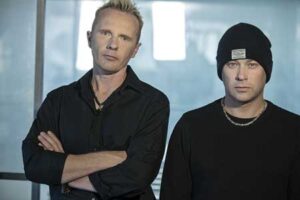 Seeded from around the same time, Bristol's MESH made possibly their best album yet in 'Automation Baby'. Celebrating 30 years in the business, techno icon WESTBAM assembled a diverse cast including IGGY POP, LIL' WAYNE, THE STRANGLERS' Hugh Cornwall, NEW ORDER's Bernard Sumner and THE PSYCHEDLIC FURS' Richard Butler for an intriguing set called 'Götterstrasse'. It was the surprise electronic release of the year.
There were also sophomore albums from LITTLE BOOTS, HURTS and AUSTRA which all drew muted responses from fans following their well received debuts; the promising spark had been present in all three acts appeared to have faded although each album had strong highlights. But there were impressive debuts in 2013 by GHOST CAPSULES, COLLINS and MODOVAR; and all this happened before the summer had started!
On the more guitar driven end of the spectrum, NIGHT ENGINE pursued an art rock aesthetic that would have made Berlin-era DAVID BOWIE proud. And of course, The Dame himself returned with 'The Next Day' headed by the touchingly reflective 'Where Are We Now?'.
Adopting a more post-punk attitude, GIRL ONE & THE GREASE GUNS showed how battered synths, clanky guitars and motorik drums could still come together in perfect harmony while maintaining an air of mystery.
Meanwhile, WHITE LIES continued their New wave odyssey into how THE TEARDROP EXPLODES would have sounded had Julian Cope not got upset by BLANCMANGE's 'Happy Families'; they even borrowed a snatch of 'Fade To Grey' for the title track of their third album 'Big TV'. This was despite the mainstream music media's attempt to downplay their use of synths although the band countered that by declaring TEARS FOR FEARS, TALK TALK and THE BLUE NILE as kindred spirits rather than INTERPOL or EDITORS.
The second half of the year brought the much anticipated debut from CHVRCHES entitled 'The Bones Of What You Believe'. The trio have moved the goalposts as far as modern synthpop is concerned but they were not without their flaws such as the inexplicable decision to use dreary indie-styled male lead vocals on a pair of tracks.
But despite this, with sold out club tours, gigs supporting DEPECHE MODE in Europe and the might of Virgin Records behind them, world domination surely beckons and with it, a new raised profile for the synthesizer overall.
Virgin Records themselves celebrated 40 years in the business with a series of London concerts and its legacy in electronic music was represented by CHVRCHES, HEAVEN 17, SCRITTI POLITTI and SIMPLE MINDS. Although the label is now owned by the Universal Corporation (having been under the control of EMI since 1992), its colourful history remains associated with the championing of new and unconventional music forms during its fledgling years.
And in a diversion from music, one-time Virgin signee THOMAS DOLBY produced and directed 'The Invisible Lighthouse', a documentary on a monument local to his childhood home. In a novel style of presentation, the film went on a tour accompanied by a live narration and soundtrack from TMDR with some of his songs dispersed in between.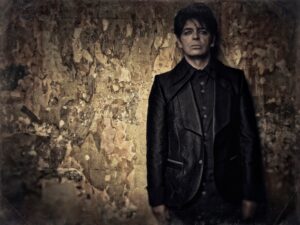 GARY NUMAN's long delayed 'Splinter (Songs From A Broken Mind)' finally became a reality. A move to LA relaxed him to the point where he was posting his holiday photos on Twitter!
Musically though, he was as intense as ever but luckily, 'Splinter' was not the one dimensional riff monster that had been threatened and contained some of his best work in over ten years. Interestingly NINE INCH NAILS, who have been a major influence on Numan and vice versa, also returned after a period of absence with 'Hesitation Marks'.
Over at Mute, there was another Sorcerer versus Apprentice battle when GOLDFRAPP and POLLY SCATTERGOOD both released new records in the same month. Now no longer on Mute but very much still part of the extended family, MOBY released the impressive 'Innocents' which didn't tinker too much with his well established formula and included a great collaboration with Wayne Coyne of FLAMING LIPS that sounded like GARY NUMAN in a Pentecostal church!
In 2013, North America appeared to be turning into a new haven for synth talent. There was LA pop duo NIGHT CLUB while also based in the region, SOFT METALS continued their Detroit Techno inspired progression with 'Lenses'. Slightly eastwards, Texan based FEATHERS made an impressive statement with their debut long player 'If All Now Here'; a European tour supporting DEPECHE MODE in January 2014 was fine recognition of their talent.
Fellow Texans ELEVEN:ELEVEN finally got their debut album 'Through The Veil' out too. New Yorkers HOLY GHOST! sprung the enjoyable electronic disco of 'Dynamics' while also from the area, AU REVOIR SIMONE returned with their fourth album 'Move In Spectrums' after an extended break.
But one slow burning combo were Canada's TR/ST; led by the enigmatic and moody Robert Alfons, at times he sounded like a young LEONARD COHEN updating the sleazy demeanour of SOFT CELL. They toured extensively and garnered some more well deserved attention for their grower of a debut 'Trst' which actually came out back in January 2012!
However, all the good work was undone by a ticket lottery fiasco for an end of year London gig in which unsuccessful applicants were not notified until three hours before the concert, this despite communications to the contrary telling people to arrive at the door with ID. In this ever more challenging music industry, artists have to be innovative with promotion. But restricting availability and tricking fans into what was effectively a marketing scam for a larger London concert in May 2014 only alienated audiences.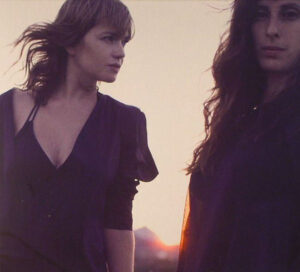 Like in previous years, Europe was again a centre of creativity. Athens based synth maidens MARSHEAUX were back with their maturer fourth album 'Inhale'.
Meanwhile, their production team FOTONOVELA gathered DUBSTAR's Sarah Blackwood, MIRRORS' James New, KID MOXIE and SECTION 25's Bethany Cassidy for 'A Ton Of Love' while riding on a crest of a wave from 'Helen Of Troy', their acclaimed collaboration with OMD.
The song 'Our Sorrow' featuring James New turned out to be particularly poignant as after a year of minimal activity, MIRRORS called it a day.

From their Berlin HQ, NOBLESSE OBLIGE delivered an 'Affair Of The Heart' with its stark funereal cover of 'Hotel California' while Slovenian trio TORUL impressed audiences opening for MESH. Still fiercely independent and uncompromising, THE KNIFE divided opinion with their performance art presentation of their experimental double opus 'Shaking The Habitual'. From Demark, TRENTEMØLLER delivered his third album 'Lost', an adventurous blend of real and electronic instruments that more than proved his suitability as a future prospective DEPECHE MODE producer.
With the critical acclaim still resonant for her 2012 album 'Highwire Poetry', KARIN PARK continued to tour the world but found time to co-write Norway's Eurovision entry 'I Feed You My Love'. Sung by MARGARET BERGER and leftfield by pure pop standards, it came a respectable fourth but predictably, the UK gave it nul points! Following their wonderful eponymous debut album in 2012, SIN COS TAN swiftly followed it up with the more organic but still synth friendly 'Afterlife'.
Never one to sit still, the duo's JORI HULKKONEN also released an EP 'European Splendour' with JOHN FOXX which sounded every bit as good as its title. Foxx didn't sit still either and collaborated with THE BELBURY CIRCLE while also curating a covers EP of his own songs featuring GAZELLE TWIN and I SPEAK MACHINE.
Back in the UK, ANALOG ANGEL, AUTOMATIC WRITING,  F.O.X, GAPTOOTH and MAPS flew the flag for the domestic scene.
But best of the local crew though were VILE ELECTRODES; they snagged a prestigious support tour with OMD in Germany where the local crowds connected with Anais Neon and Martin Swan's analogue electricity and opened for JOHN FOXX & THE MATHS in Brighton on their return. Their long awaited debut LP 'The future through a lens' did not disappoint and from it, the closer 'Deep Red' was easily the best OMD song that Humphreys and McCluskey never recorded.
As with last year, attempts were made within the industry to centralise electronic pop and dance music. But as the cancellation of the Playground Festival due to poor ticket sales proved, the two factions do not mix. Scheduled to appear on the Saturday, despite the technological influence of GARY NUMAN, JOHN FOXX and WOLFGANG FLÜR on the dance scene, the fans of those artists generally loathe the lifestyle and attitude of club culture.
Most just want to see the headline act and go home… the idea of paying an extra premium on the ticket price for a couple of DJs tagged on the see out the early hours of the morning simply doesn't appeal! And those who are there for the DJs and larging it certainly aren't interested in live bands. The sooner promoters and record labels realise that electronic pop and dance music are NOT the same thing, the better. That said, it was a difficult time for live events generally with a number of name acts playing to half full venues.
Elsewhere, the music press were on the backfoot with rumours that the once mighty Q Magazine and NME were in trouble. But lazy journalism and lack of adventure by both were as much to blame as any proliferation of the internet or smart technology. That aside, 2013 was a superb year where the music spoke for itself. Many of the veterans gave the best up-and-coming artists a real run for their money.
And while the amount of new electronic music was at an all time high and the finest exponents rewarded with assorted high-profile opportunities as a result, a number of lesser accomplished acts suffered from the comparison with the best.
MARNIE said: "I think it's great that electronic music is on a high right now but it's so saturated as well. Everyone's going it's great cos it's electronic and I'm like 'I'm not so sure'… but there's lots of good stuff".
In fact, the standard was so high in 2013 that some of the acts who ELECTRICITYCLUB.CO.UK featured in 2012 probably wouldn't have got a look in this year. From those who sounded like the middling bands featured on the Janice Long Show circa 1985 to 21st Century synthpop reincarnations of HUE & CRY, the volume of music available in many ways made it quite easy to distinguish the excellent from the pleasant but ordinary material that was, as the dreaded 'Say Nothing Auntie Of Landfill Indie' Jo Whiley would say, "alright"!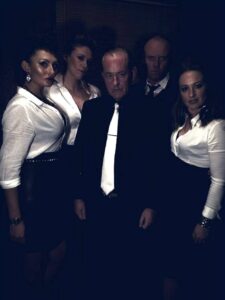 ELECTRICITYCLUB.CO.UK accepts the continuing mission to maintain a degree of quality control in 2014 as it has done since its inception.
As @TheRobMo put it on Twitter: "gatekeepers / tastemakers… it's what we go to you for". Meanwhile on the site's Facebook, regular reader Brian O'Malley correctly added: "Not all synth music is great, and not all guitar music is rubbish".
But the final word on 2013 must go to BEF and Glenn Gregory (or HEAVEN 17 if you prefer) via their electronic cover of an Ervin Drake song made famous by Ol' Blue Eyes:
"And it poured sweet and clear… it was a very good year"
---
ELECTRICITYCLUB.CO.UK Contributor Listings of 2013
PAUL BODDY
Best Album: MAPS Vicissitude
Best Song: MAPS Built To Last (Free School Remix)
Best Gig: ALISON MOYET at London Royal Festival Hall
Best Video: HOLY GHOST! Dumb Disco Ideas
Most Promising New Act: JUVENILES
---
KAREN BUXTON
Best Album: VILE ELECTRODES The future through a lens
Best Song: HURTS Someone to Die For
Best Gig: OMD + VILE ELECTRODES at Leipzig Haus Auensee
Best Video: OMD Night Cafe
Most Promising New Act: MARTYN BAILEY
---
DEB DANAHAY
Best Album: GARY NUMAN Splinter (Songs From A Broken Mind)
Best Song: COVENANT Last Dance
Best Gig: GAZELLE TWIN at London Roundhouse Studio Theatre
Best Video: TRUST Bulbform
Most Promising New Act: TRUST
---
STEVE GRAY
Best Album: CHVRCHES The Bones Of What You Believe
Best Song: MARGARET BERGER I Feed You My Love
Best Gig: BAS 2013
Best Video: IAMX I Come With Knives
Most Promising New Act: TORUL
---
CHI MING LAI
Best Album: OMD English Electric
Best Song: FOTONOVELA feat MIRRORS Our Sorrow
Best Gig: OMD + VILE ELECTRODES at Cologne E-Werk
Best Video: FEATHERS Land Of The Innocent
Most Promising New Act: FEATHERS
---
SOPHIE NILSSON
Best Album: ALISON MOYET the minutes
Best Song: SPACEBUOY Breathe
Best Gig: DEPECHE MODE at Copenhagen Parken
Best Video: DEPECHE MODE Soothe My Soul
Most Promising New Act: CHVRCHES
---
RICHARD PRICE
Best Album: PET SHOP BOYS Electric
Best Song: OMD Dresden
Best Gig: KARIN PARK at The Lexington
Best Video: MONARCHY featuring DITA VON TEESE Disintegration
Most Promising New Act: CHVRCHES
---
Text by Chi Ming Lai
12th December 2013