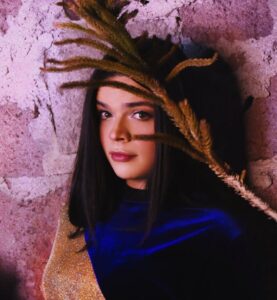 Valentina Moretti is an up-and-coming singer, songwriter and producer with a love of vintage synthesizers.
Using a wispy feminine vocal style, her synth laced dance tunes have utilised classics such as the Roland TR808, Roland TR707, Roland TB303, E-mu SP12, Roland Juno 106, Roland Juno60, Roland HS-60, Ensoniq SQ80, Oberheim OB8 and Korg MS20, as well as more recent technologies like the Korg Minilogue, Nord Lead 1 and the latest in the Roland TR series. A former pupil of Mauricio Rojas AKA DJ Klang from her time studying at the G Martell College of Music in Mexico City, her self-titled album collected most of her material since 2018.
Valentina Moretti's full length debut is impressive with an astute understanding of electronic dance pop that hits that difficult middle ground of appealing to roly-poly synth heads and glowstick waving clubbers. Meaning "heaven" in Spanish, 'Cielo' is superb and enthralling, with its bleeps, pulses and squelches all having a melodic presence while providing euphoria for the dancefloor.
Making the most of a punchy uptempo synthwave template, the coy 'Neon Lover' imagines a club-friendly MARSHEAUX while the more strident chill of 'Killed Love' adopts the afflicted delivery of their Greek neighbour Sarah P.
Despite its lyrical limitations, 'Roller Derby Girls' is charming nu disco although the wispy 'Galactic Feelings' is darker and spacier. The chunky backbone of 'Disco Sex' recalls Miss Kittin but with a Latin American vibe but 'Stranger Kiss' moves out of the discothèque into something artier and breathier with deep rumbling swirls thrown in for good measure. However with the engaging instrumental 'Acid Galaxies', it's back to nu disco with subtle accents on the drum machine to achieve dynamic effect.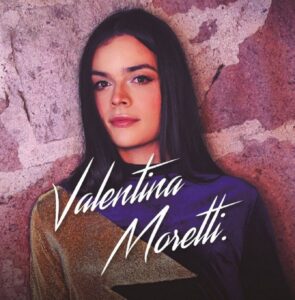 Valentina Moretti had the accolade of her music being sent to the moon courtesy of the SETI Institute working in association NASA and has been developing the use of Artificial Intelligence in music creation, as well as acting as an ambassador for Novation, Arturia, Native instruments and Ableton.
The music of Valentina Moretti is immediate, colourful and groovy, with uplifting moods to counterpoint the retro-futuristic melancholy. Her precocious talent is obvious and shines brightly amongst the newer generation of electronic pop artists.
---
'Valentina Moretti' is available as a pink vinyl LP and download from https://valentinamoretti.bandcamp.com/album/valentina-moretti-lp
https://www.facebook.com/valentinamorettimusic/
https://www.instagram.com/valentiinamoretti/
https://open.spotify.com/artist/1smi39GfJBKzbFCPwogmRS
---
Text by Chi Ming Lai with thanks to Mark Reeder
29th January 2022