Integrated Circuits
With 2013 having been one of the strongest years in electronic pop since its post-punk heyday, 2014 was always going to struggle to compete,
This was despite it being the 50th Anniversary of the Moog synthesizer's first prototype demonstration at the Audio Engineering Society convention in October 1964.
While 2014 was nowhere near in terms of the high profile releases of 2013 or even 2011, it certainly surpassed the comparatively quiet year of 2012.
But there were still a lot of live shows as momentum continued in support of the previous year's releases with NINE INCH NAILS, GARY NUMAN, DEPECHE MODE, CHVRCHES, FEATHERS, GOLDFRAPP, COVENANT and SOFT METALS among those doing the rounds.
Electronic pioneer KARL BARTOS began the year with his first concert tour since 2003 in Germany. His 'Off the Record' live presentation highlighted the best of his KRAFTWERK co-compositions alongside excellent new material.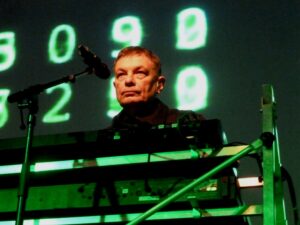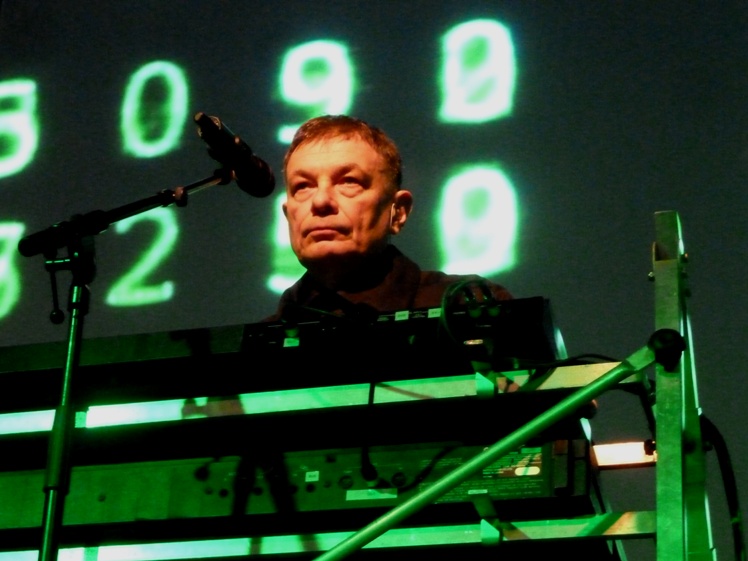 Coincidentally, on the same night Herr Bartos opened in Cologne, Ralf Hütter picked up a Lifetime Achievement Grammy on behalf of KRAFTWERK, thus finally validating electronic music in the traditionally synthphobic territory of the USA. And by the end of the year, there was even a belated nomination for The Rock 'N' Roll Hall Of Fame.
Staying in Germany, cult trio CAMOUFLAGE celebrated over 30 years in the business with a lavish package 'The Box 1983-2013' and a best of CD 'The Singles'.
CLAUDIA BRÜCKEN though surprised everyone by strapping on an acoustic guitar for her third solo album 'Where Else?', but its mix of electronics and six string proved to be well received by her fans.
And on the subject of Germanic influences, Belgian duo METROLAND returned with their Kling Klang flavoured technopop courtesy of the multi-formatted single 'Thalys', a tie-in with the European high speed train operator and a rather original cover of 'Close To Me' for 'A Strange Play – An Alfa Matrix Tribute To THE CURE'. Meanwhile, iEUROPEAN teamed up with Wolfgang Flür for some 'Activity Of Sound'. Flür himself delighted KRAFTWERK fans by announcing he would be playing London gigs in the New Year.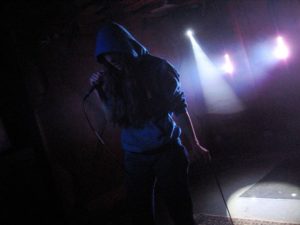 MemeTune Studio in London's trendy Shoreditch proved to be a hotbed of electronic activity throughout 2014.
Already the location for the largest array of vintage synthesizers in the UK, from the complex emerged fabulous music from the likes of HANNAH PEEL, GAZELLE TWIN and WRANGLER featuring ex-CABARET VOLTAIRE frontman Stephen Mallinder.
MemeTune even found time to curate its own live event 'MUS_IIC.01'.
Well known for his connections with that stable, JOHN FOXX came back from a break (by his recent prolific standards) with the audio / visual collaboration 'Evidence Of Time Travel' in partnership with STEVE D'AGOSTINO.
Other Synth Britannia stalwarts were in action too. OMD celebrated their 'Dazzle Ships' era with a pair of concerts at the Museum Of Liverpool and SIMPLE MINDS continued their grandiose demeanour with 'Big Music'. Meanwhile, MIDGE URE released a fine collection of songs entitled 'Fragile', his first of original solo material in 12 years; it also featured a great collaboration with MOBY entitled 'Dark Dark Night'. As well as that, he worked on a track with Dutch composer Stephen Emmer for an orchestral laden crooner album called 'International Blue' which additionally featured his pal Glenn Gregory.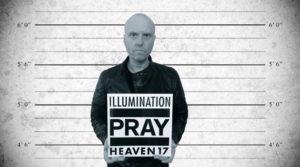 Mr Gregory wasn't idle either, recording 'Pray' b/w 'Illumination', HEAVEN 17's first new material since 2005's Before After'.
He even found time to impersonate DAVID BOWIE for some special live shows performing 'The Man Who Sold The World' with Tony Visconti and Woody Woodmansey as HOLY HOLY.
And to cap it all, HEAVEN 17 presented 'The Tour Of Synthetic Delights' with BLANCMANGE, proving that heritage events could be both nostalgic and credible if the line-up was right.
After last year's seasonal offering 'Snow Globe', ERASURE made a full return in 2014 with 'The Violet Flame', the marriage of Andy Bell and Vince Clarke showcasing their best work since 2005's 'Nightbird'. Interestingly, 'The Violet Flame' was launched via the crowdfunding platform Pledge Music, although this appeared to be more as a promotional tool and fan networking opportunity.
CHINA CRISIS went the Pledge Music route too, announcing their first album in 20 years entitled 'Autumn In the Neighbourhood' while also crowdfunded, YELLO's Boris Blank delivered 'Electrified', a solo box set of unreleased material.
Not to be outdone, his YELLO bandmate Dieter Meier responded with his grouchy solo offering 'Out Of Chaos' which appeared to be a tribute to Tom Waits. And unexpectedly on the back of 'Don't You Want Me?' becoming a terrace chant for Aberdeen FC's Scottish League Cup victory, ex-HUMAN LEAGUE member Jo Callis launched a new project called FINGER HALO.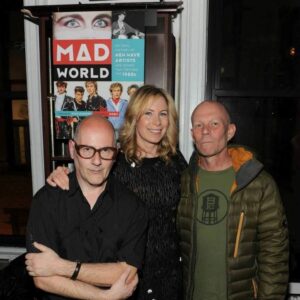 The enduring legacy of many of these veterans was celebrated in 'Mad World: An Oral History of the New Wave Artists and Songs That Defined the 1980s', possibly the best book of its kind about that musical era which the Americans like to refer to as New Wave. Featuring brand new interviews with key protagonists like GARY NUMAN, OMD, NEW ORDER, DURAN DURAN, YAZOO, ULTRAVOX, A-HA and HEAVEN 17, it was a high quality publication that made up for some previously clumsy attempts by others at documenting the period.
Also a good read was Bernard Sumner's memoirs 'Chapter and Verse' which covered his career to date with JOY DIVISION and NEW ORDER.
Coincidentally, Mark Reeder, the man often credited with introducing electronic dance music to Sumner, had a career spanning compendium called 'Collaborator' issued containing his earlier work as a member SHARK VEGAS, right up to his more recent remixes of DURAN DURAN's John Taylor and Sumner's various projects with BLANK & JONES and WESTBAM.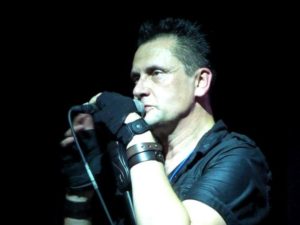 It was a particularly active year for the industrial scene; AESTHETIC PERFECTION toured Europe with their more accessible but still aggressive 'Til Death' opus while ASSEMBLAGE 23 frontman Tom Shear continued developing his SURVEILLANCE side project with 'Oceania Remixed'. Swedish trio LEGEND gained acclaim for their live performances in support of their debut album 'Fearless', Texan duo IRIS released a new album 'Radiant' and DIE KRUPPS blasted their way into the South East of England for their first UK dates since 2008.
In more contemporary circles, LA ROUX finally released a second album, appropriately named 'Trouble In Paradise'. Singer Elly Jackson had split with silent partner Ben Langmaid due to good old fashioned musical differences and as expected, the songs were less synthpoppy than the self-titled debut. Reaching for more disco orientated leanings such as CHIC, GRACE JONES and TOM TOM CLUB, this was if nothing, a more superior offering to either what LITTLE BOOTS or LADYHAWKE managed with their sophomore albums. North of the border, MARNIE did her bit for the Scottish Independence Campaign with the rousingly anthemic 'Wolves'.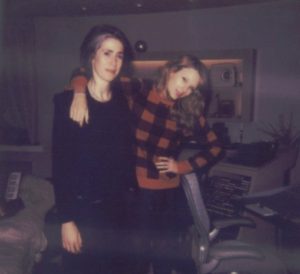 The delightfully eccentric IMOGEN HEAP showcased her innovative collaborative developments in music technology via her new album 'Sparks' and even squeezed in a collaboration with pop princess TAYLOR SWIFT for the latter's million selling album '1989'.
ELECTRICITYCLUB.CO.UK commented in 2012 about how CHVRCHES' 'The Mother We Share' sounded like "Taylor Swift gone electro", so in a give some, take some back move, the young songstress came up with 'Out Of The Woods', a ditty quite obviously influenced by the Glaswegian trio and a synth laden tune entitled 'New Romantics' on the bonus edition.
By coincidence with her slight passing resemblance to Miss Swift, QUEEN OF HEARTS launched her debut musical charter 'Cocoon' after several years in the making to confirm that pop was indeed not a dirty word.
In the leftfield electronica arena, Warp Records issued 'High Life', a collaboration by KARL HYDE and BRIAN ENO while there was also the long awaited new album from APHEX TWIN entitled 'Syro'. And former MASSIVE ATTACK producer DAVIDGE released an impressive debut collection of songs 'Slo Light' that featured SANDIE SHAW, CATE LE BON and EMI GREEN among its vocalists.
One act establishing themselves as major players in the modern electronic scene were Canada's TR/ST. Led by the polarising "Eeyore gone goth" moodiness of Robert Alfons, the ironically titled 'Joyland' was an excellent second album that captured the sleazy nature of a 21st Century SOFT CELL and attached it to the grumpiness of Leonard Cohen.
Meanwhile, Brooklyn minimal duo XENO & OAKLANDER gave the world 'Par Avion', possibly their most accessible and colourful work yet. Also from the area came the shadowy huskiness of AZAR SWAN and the alternative mystique of REXXY. Over in LA, NIGHT CLUB showed further promise with their best offering yet in their third EP 'Black Leather Heart' while in San Antonio, HYPERBUBBLE launched an 'Attack Of The Titans'.
Baltimore's FUTURE ISLANDS however divided opinion; their fans included Andy McCluskey, Vince Clarke, Martyn Ware, Rusty Egan and Jori Hulkkonen, but their unintentionally amusing live appearance on 'The David Letterman Show' performing 'Seasons' came over to some observers like a 'Saturday Night Live' skit on the 80s. However, with two sold out dates at London's Roundhouse in March 2015, Samuel T. Herring and Co are the ones having the last laugh.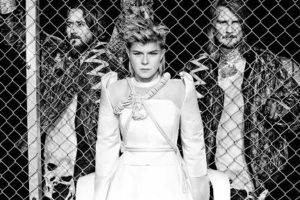 The Nordic region proved itself again to be the centre of electronic creativity. The dream partnership of ROBYN and RÖYKSOPP reconvened after the success of 2010's 'The Girl & The Robot' to 'Do It Again' while RÖYKSOPP themselves released what they announced to be their last album, appropriately titled 'The Inevitable End'.
Also featuring on that album was Nordic vocalist of the moment SUSANNE SUNDFØR who has her own new eagerly awaited long player 'Ten Love Songs' out in 2015.
KARIN PARK and MARGARET BERGER provided another united Scandinavian front when they performed together at Norway's Melodi Grand Prix while Finnish duo SIN COS TAN delivered their third long player in as many years with a concept album called 'Blown Away'.
From Sweden came the welcome return of KLEERUP with 'As If We Never Won', the first of two new EPs before an album to follow-up the brilliant self-titled debut from 2008. Meanwhile, EMMON delivered her fourth album 'Aon' as well as a baby. There was more glacial oddness from IAMAMIWHOAMI with her second album 'Blue' while the brooding Nordic Noir pop of stunning identical twins SAY LOU LOU started to gain a foothold in readiness for their first long player 'Lucid Dreaming'.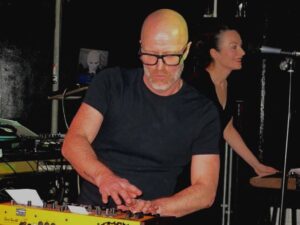 Nordic friendly music blog Cold War Night Life curated possibly the best electronic event of the year with 'An Evening With The Swedish Synth' at London's 93 Feet East. In a bill supported by the promising TRAIN TO SPAIN and synth rock duo MACHINISTA who delivered a great debut album in 'Xenoglossy', the event was headlined by synthpop veterans PAGE. Incidentally, Eddie Bengtsson of PAGE's solo project SISTA MANNEN PÅ JORDEN produced some interesting covers of OMD and DEVO, both reworked i Svenska.
And all this while ELECTRICITYCLUB.CO.UK bore witness to a puzzled British musician who actually asked with a straight face "What's so special about Sweden then?"!! 'An Evening With The Swedish Synth' was a fine example of what could be achieved when an electronic event was actually curated by electronic music enthusiasts, as this was not always the case in several instances during 2014.
Following a four year hiatus, CLIENT rebooted and released 'Authority' with new singer Client N doing a fine impersonation of MARNIE on the single 'Refuge'. After a long gestation period, Anglo-German collective TWINS NATALIA released their debut long player 'The Destiny Room' and pleasantly wallowed in the neu romance of classic synthpop, dressing it with the vocal styles of GRACE JONES and ABBA.
TWINS NATALIA's 'The Destiny Room' was released on Anna Logue Records who in 2015 will issue 'Signs Of life', the debut album from enigmatic South East Asian combo QUIETER THAN SPIDERS. Possibly the best new synthpop act to emerge in 2014, as befitting their name, they made their music, edited some videos and just discretely got on with it, thus proving the theory that those who shout loudest are not always necessarily the best…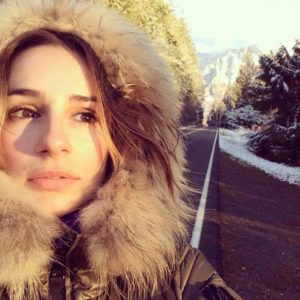 MARSHEAUX celebrated ten years in the business with a compilation called 'Odyssey' on the prestigious Les Disques Du Crépuscule label. They also announced an unusual project for 2015, an album covering DEPECHE MODE's 'A Broken Frame' in its entirety. Also on Undo, KID MOXIE released her second album '1888' featuring a collaboration with acclaimed film score composer Angelo Badalamenti to compliment her new cinematic pop approach. Meanwhile, one-time Undo label mates LIEBE started getting traction on MTV Europe and MIKRO maintained their position as Greece's premier power pop band with their seventh album 'New' despite the departure of singer Ria Mazini following its unveiling.
From Dublin came the filmic ambience of POLYDROID while cut from a similar cloth, there was the haunting soundscapes of Trans-Belgian pairing MARI & THE GHOST. There were also several other promising female led talents ranging from the sugary pop of PAWWS and the quietly subversive electro of I AM SNOW ANGEL to the soulful moodiness of HUGH and the mysteriously smoky allure of FIFI RONG.
VILE ELECTRODES confirmed their position as the best independent electronic act in the UK currently when they snared not just one, but two Schallwelle Awards in Germany.
To celebrate the first anniversary of their brilliant debut album 'The future through a lens', the sparkling duo of Anais Neon and Martin Swan played alongside DEPECHE MODE tribute act SPEAK & SPELL for a wonderful evening that also featured SARAH BLACKWOOD.
Miss Blackwood gave spirited live vocal performances of several songs from her own career as part of a singing DJ set including 'Justice', her recent collaboration for the FOTONOVELA album 'A Ton Of Love'. There was additionally the bonus of her duetting with SPEAK & SPELL on 'A Question Of Time' during their '101' performance celebrating the film's 25th anniversary.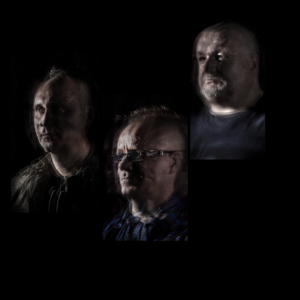 Possibly the best independently released album of 2014 came from Glasgow's ANALOG ANGEL who freed themselves of their industrial shackles to produce a collection of sophisticated synthpop entitled 'Trinity'.
Having been around since 2009 and with two albums already to their name, the Scottish trio put their money where their mouths were. Their decision to avoid crowdfunding and invest in their own music was an applaudable decision, especially when other bands, who were still yet to prove themselves, were out with the begging bowls.
Indeed, 2014 was a strange year in which ego appeared to overtake ability and none more so than on the live circuit, where that old adage about needing to learn to walk before running ran true. Wanabee promoters with no notable experience bit off more than they could chew by playing Fantasy Festival, as was proven by the Alt-Fest debacle.
Despite a much publicised crowdfunding exercise, the simple use of a pocket calculator would have shown that an event of such magnitude could not be underwritten by such a comparatively small amount of cash and anticipated ticket sales. When rumours abounded that Alt-Fest was to be cancelled due to a lack of funds, the organisers' silence and lack of resolve caused much resentment. Risk is all part of the game, but live ventures require solid finance, spirited commitment and an attempt at least to get in the black.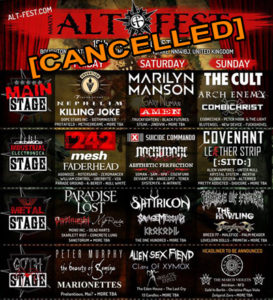 However, a few promoters appeared to want to make life difficult for themselves from the off. In its investigations, ELECTRICITYCLUB.CO.UK found that with one poorly attended event back in 2013, there was no way the event could have balanced its books, even if it had sold out its ticket capacity!
Meanwhile, there was another gig in 2014 publicised so covertly with restricted social media and bizarre pricing structures, it was as if the promoters didn't want anyone to attend! Of course, there was also that tactic of announcing an event almost a year in advance without confirming any of the acts for several months, as if the event was more important than any of the music!
As Whitby Goth Weekend's Jo Hampshire pointed out: "Alt-Fest had put its tickets on sale while still booking acts including headliners, which is potentially disastrous"! Despite the general feeling that independently curated live initiatives should be anti-corporate, everything is about business at the end of the day.
However, a number of promoters at this end of the market failed to realise this. Any artists performing must be paid their expenses and fees as per any agreement, regardless of the final ticket sales unless terms such as door percentages or ticket sale buy-ons have been arranged.
But as one-time TECHNIQUE singer Xan Tyler pointed out: "Musicians get ripped off at every turn, online stores take a huge cut, Spotify don't remunerate artists properly, venues expect you to play for bugger all (and in some case they expect you to pay to play). If you want to make money from the music industry, don't be a musician!"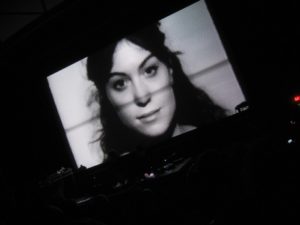 ELECTRICITYCLUB.CO.UK is coming into its fifth anniversary and continues to maintain a readership of discerning music fans, despite protestations in some quarters to the contrary.
The site's manifesto has always been about celebrating the best in new and classic electronic pop music.
It has never made claims about supporting unsigned acts or any music that happens use a synthesizer.
As Client A put it franklyin the Autumn: "in the electronica age, anyone can be a musician but that also makes it a free for all with every tom, dick or curly clogging up the internet with their crap music…"
Meanwhile, NIGHT CLUB added: "People forget about things so quickly these days because the internet is so inundated with crap…"
So ELECTRICITYCLUB.CO.UK considers what music it features very, very carefully. it may not manage to be first, like many so-called buzz blogs try to be, but it has always had longevity in mind, even if that is difficult to predict.
---
ELECTRICITYCLUB.CO.UK Contributor Listings of 2014
PAUL BODDY
Best Album: TODD TERJE It's Album Time
Best Song: RÖYKSOPP & ROBYN Do It Again
Best Gig: NINE INCH NAILS at Nottingham Arena
Best Video: MAPS You Will Find A Way
Most Promising New Act: TODD TERJE
---
DEB DANAHAY
Best Album: RÖYKSOPP The Inevitable End
Best Song: RÖYKSOPP featuring JAMIE IRREPRESSIBLE Something In My Heart
Best Gig: COVENANT + LEGEND at Gothenburg Electronic Summer Festival
Best Video: PRINCESS CENTURY Das Schlimmste
Most Promising New Act: LEGEND
---
IAN FERGUSON
Best Album: MIDGE URE Fragile
Best Song: MIDGE URE Dark, Dark Night
Best Gig: THE RADIOPHONIC WORKSHOP at Glasgow Quayside
Best Video: IMOGEN HEAP The Listening Chair
Most Promising New Act: WRANGLER
---
MONIKA IZABELA GOSS
Best Album: ERASURE The Violet Flame
Best Song: ANALOG ANGEL Drive
Best Gig: DEPECHE MODE at Strasbourg Zénith
Best Video: DIE KRUPPS Robo Sapien
Most Promising New Act: PAWWS
---
STEVE GRAY
Best Album: RÖYKSOPP The Inevitable End
Best Song: RÖYKSOPP featuring JAMIE IRREPRESSIBLE I Had This Thing
Best Gig: GARY NUMAN at Hammersmith Apollo
Best Video: KID MOXIE Lacuna
Most Promising New Act: TWINS NATALIA
---
CHI MING LAI
Best Album: MIDGE URE Fragile
Best Song: ANALOG ANGEL The Last Time
Best Gig: KARL BARTOS at Cologne Live Music Hall
Best Video: LIEBE I Believe In You
Most Promising New Act: QUIETER THAN SPIDERS
---
SOPHIE NILSSON
Best Album: ERASURE The Violet Flame
Best Song: SISTA MANNEN PÅ JORDEN Stadens Alla Ljus
Best Gig: ANDY BELL in 'Torsten The Bareback Saint' at London St James Theatre
Best Video: ANDY BELL I Don't Like
Most Promising New Act: PULSE
---
RICHARD PRICE
Best Album: ERASURE The Violet Flame
Best Song: POLLY SCATTERGOOD Subsequently Lost
Best Gig: PET SHOP BOYS at Brighton Dome
Best Video: JOHN FOXX B-Movie
Most Promising New Act: PAWWS
---
Text by Chi Ming Lai
9th December 2014