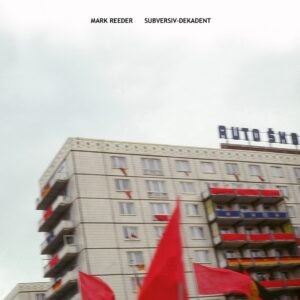 'Subversiv-Dekadent' was the East German Secret Police classification given to Berlin-based producer and remixer Mark Reeder in his STASI file.
On Mayday 1982, Mark Reeder paid a visit to the DDR part of the then-walled city and while he was taking photos of the grand parade, he was arrested by the STASI and taken in for interrogation.
He had been under surveillance as they suspected he was working for M16 and about to assassinate their esteemed leader Erich Honecker… either that or he going to corrupt the youth of East Germany with pop music!
Indeed, it was the latter; but for those who received Reeder's smuggled-in cassettes of JOY DIVISION, NEW ORDER and the like, it was more like an education as fictionally documented when Mark Reeder lookalike Martin Rauch, HVA agent codename Kolibri, in 'Deutschland 83' lit up with joy on hearing DURAN DURAN for the first time on that prize symbol of capitalism, the Sony Walkman!
During those tense Cold War times of East versus West and The Iron Curtain, all the eternally optimistic Reeder wanted to do was to unite people through music. So when The Berlin Wall fell at the end of 1989 and the imminent threat of nuclear holocaust was lifted with the promise of a better, more open-minded world, he did his bit by establishing Masterminded For Success (MFS), a dance label that achieved great success across the European club scene.
Fast forward to the 21st century, and the world is struggling with narcissists despite a pandemic crisis, driven into conflict by power, corruption and lies by that age-old management and control technique of "divide and rule" which most citizens understand but ultimately fail to actually recognise.
A recognised internationalist, Mark Reeder is doing his bit again by issuing a double album named after his STASI classification of productions and remixes made by himself and his engineer Micha Adam.
Celebrating his cross-border artistic ethos, where the songs have been restyled, he has added guitar, bass and synths while he has also lent his spoken voice to his own solo productions.
'Subversiv-Dekadent' is bookended by Fifi Rong who Reeder first met at the Berlin Kraftwerk in 2016 when she was singing in concert with Swiss trailblazers YELLO. The first track 'Figure of 8' is a magical new collaboration between the two with a cinematic backdrop of sparse piano and glistening sequences over which the exquisite Chinese songstress adds her distinctive air of mystery to a more metronomic rhythm construction than perhaps heard on her own work.
Closing the collection, Reeder offers 'The Present is a Gift Mix' of Fifi Rong's 2016 single 'Future Never Comes', an eerie and very Berlin-inspired concoction where Chinese musical theatre meets electro Weimer Cabaret via Synth Britannia for a haunting slice of initial after brilliance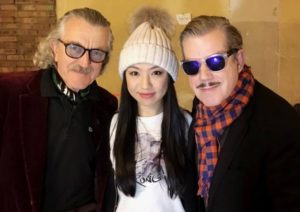 YELLO themselves appear via the superb 'Wet&Hard Remix' of 'Vicious Games'; tightened up and given a modern treatment without losing the essence of the 1985 original with the sexy vocals of Rush Winters given the spotlight.
The original 'Vicious Games' was an intricately woven patchwork of samples and Reeder even amusingly drops in an 'I Feel Love' sequence during the middle eight.
'United' by QUEEN OF HEARTS was one of the outstanding highlights from Reeder's previous 2017 collection 'Mauerstadt' and making a welcome appearance on 'Subversiv-Dekadent' is the track that precipitated his union with frontfrau Liz Morphew; dressed with cooing vampishness, the 'Electrically Excited Remix' of 'Neon' is nearly 8 minutes of gently energetic Schaffel.
Both having also appeared on 'Mauerstadt', MFU return with a 'Brexile Remix' of 'Law' that is a blend of distorted guitars, synth pulses and post-punk Mancunian vocals while THE KVB have 'White Walls' remodelled as a 'Stoner Remix', which is actually a fairly good description despite the frantic arpeggio and claustrophobic string machine.
China's STOLEN are considered by Reeder to be the most exciting band he's seen since NEW ORDER and his 'Sinner Remix' of 'The Loop Sin' is another of his classic productions; full of heavy propulsive grit and live textural enhancements, this denser but more compact version applies an extra bounce on the bass and highlights why the Chengdu six-piece were chosen to open for NEW ORDER on their European tour on 2019.
Of course, Reeder is known for his close friendship with NEW ORDER and his remixes of 'Singularity', 'Academic' and 'The Game' were notable for improving on their initial guises from the 'Music Complete' album. His driving 'Cheeky Devil Remix' of their most recent single 'Be A Rebel' presents a more rigid staccato treatment before tripleting in the chorus while adding guitars that were actually absent from the original mix.
One notable new inclusion to the Mark Reeder portfolio is BIRMINGHAM ELECTRIC led by Dutch-based American Andrew Evans whose previous singles 'Light of the World' and 'Moving Target' featured long-time OMD drummer Malcolm Holmes; The 'Crying Remix' of 'How Do We End Up Here?' is a rather good vibey tune with vocoder treatments like a disco lento AIR.
'Subversiv-Dekadent' is not just about remixes and Reeder gets to fly solo as well. The percussive '21st Century Girl' sees him quoting from cult TV show 'The Prisoner' as his soundtrack penetrates with its almost industrial demeanour, augmented by a guitar lick reprise from his own Save Yourself Mix of 'Manifesto' by BLANK & JONES and a cheeky burst of T-REX's '20th Century Boy',
Described by Reeder himself as "a Wet&Hard trilogy", the three part 'You Can Touch Me' starts in a moody mantric fashion with groans and synth sweeps, before pacing up with a growly bass. It all seems a bit superfluous at first but it sets the scene and gets progressively hypnotic, segueing into a propulsive rumbling section that adds more menace to an already sinister track. As Reeder impassively asks "do you want to touch me?", it eventually slows down after a frenzy of frenetic rhythmic clatter. This is fine provocative dance music if a little too long, but when it hits the spot during the majority of its 13 minutes, it is mighty!
'Children Of Nature' was Reeder's fine 2019 long player with Alanas Chosnau, best known as one of Lithuania's biggest singing stars with his penchant for DEPECHE MODE. In an 'Unpredictable Remix', 'Love Of My Life' mutates into something more minimal but harder compared with the original mix. Meanwhile, in collaboration with Mr Sam and Rani Kamal, 'I Surrender' is soulful pop given a shadier new wave treatment with the incongruity adding more tension.
'Dead Souls' from Hong Kong domiciled Mexicans DEER Mx is not the JOY DIVISION song but a fit of snarling aggression and strident gothic drama to electronic screeches not heard since 'Crazy Horses' by THE OSMONDS. Ending with sampled blasts of mariachi trumpets in the background, it is delightfully odd. However, the heavy deadpan resonance of LIARS and 'Staring at Zero' will not be for everybody although their eccentric frontman Angus Andrew has declared Reeder's 'Two Thousand Yards Stare Remix' as his favourite of his own work.
Already rock focussed, 'Coked Up Biker Anthem' from New York-based Zachery Allan Starkey sees Reeder realise some of his mad axeman fantasies with his guitar enhanced 'Leather & Beers' rework by taking the dystopian metal original into even more speedy Alice Cooper territory. But with an icy build, CEMETERY SEX FAIRIES' 'Tanz Allein' sees a move away from Reeder's usual four-on-the-floor template and maintains an enjoyably creepy quality with the scary German Grimm tales vocal.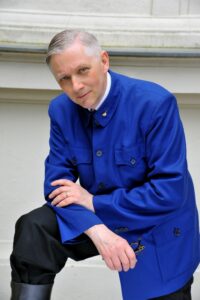 While many purchasers will be NEW ORDER and YELLO completists after the exclusive remixes on 'Subversiv-Dekadent', this Mark Reeder collector has so much more to offer. As well for presenting his sometimes lesser-lauded abilities as a composer, it also provides a platform for emergent acts from all around the world to be discovered.
Despite being regarded as 'Subversiv-Dekadent', through music Mark Reeder has unified more people than any politician has. In this modern online environment, the influence of music is more international than ever. It makes people connect, love, dance, escape and protest. This diverse collection does that, and isn't that what music is all about.
---
'Subversiv-Dekadent' is released by MFS as a download double album, available from https://markreedermfs1.bandcamp.com/album/subversiv-dekadent
https://www.facebook.com/mfsberlin
https://www.facebook.com/markreedermusic/
https://twitter.com/markreedermfs
https://www.instagram.com/markreeder.mfs/
https://open.spotify.com/album/0XRaQMRD4ILpdRetyRvBo6
---
Text by Chi Ming Lai
12th March 2021