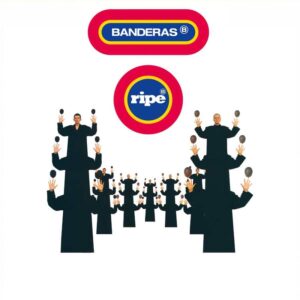 Released in 1991, 'Ripe' was the only album by BANDERAS.
The pairing of Caroline Buckley and Sally Herbert met in 1987 when they were in the live band of THE COMMUNARDS, the duo comprising of Jimmy Somerville, formally of BRONSKI BEAT and Richard Coles, now a BBC TV vicar and more recently, a 'Strictly Come Dancing' contestant.
THE COMMUNARDS had HI-NRG hits with covers of the disco classics 'Don't Leave Me This Way' and 'Never Can Say Goodbye', so were in demand on the concert circuit.
Buckley filled the big shoes of Sarah-Jane Morris who had moved on to pursue a solo career while Herbert was in the string section which also included Audrey Riley, Jocelyn Pook and Anne Stephenson. After THE COMMUNARDS disbanded and Jimmy Somerville loaned the pair a Yamaha DX7 and a sampler, Buckley and Herbert became BANDERAS, the Spanish word for "flag". Adopting a striking shaven headed image, they began writing songs and gigging, eventually coming to the attention of producer Stephen Hague's manager.
THE COMMUNARDS's second and final album 'Red' featured contributions from Buckley and Herbert, so having worked with Stephen Hague in his capacity as its producer, the American was an obvious and natural choice to helm BANDERAS' debut long player. And to keep things in THE COMMUNARDS' family, they also signed to their label London Records.
Things looked promising for BANDERAS and this was outlined by the cast of players on the album; special guests included Bernard Sumner, Johnny Marr and old pal Jimmy Somerville while there were noted sessioners on board such as Luís Jardim, Guy Pratt and Stevie Lange as well former band mates Audrey Riley and Jocelyn Pook.
The album's ace was the magnificent 'This Is Your Life', one of the last songs written and recorded for 'Ripe'. Using a sample from Grace Jones' 'Crack Attack', it had a distinct Pet Shop Girls behavioural vibe to it. Meanwhile there was also the added bonus of Johnny Marr and Bernard Sumner on rhythm guitars plus a terrific middle eight section featuring Sumner's vocals before an emotive synth solo. "There is no rehearsal, no second chance" sang Buckley and Sumner together but rather prophetically, despite 'This Is Your Life' reaching No16 in the UK singles charts, there were no more hits for BANDERAS.
With a banging drum mantra and a catchy riff, the more uptempo second single 'She Sells' was a shopping list song that just missed out on a Top40 chart entry. But despite lyrics attacking the advertising industry's use of sexist stereotypes, the message proved to be less appealing than the melancholic but uplifting YOLO stance of 'This Is Your Life'.
The third BANDERAS single 'May This Be Your Last Sorrow' fared even worse, but despite being inspired by a scene from a film in Arabic where the mourners were reciting to a bereaved family, the funereal trip-hop with its dub-laden backdrop foresaw the likes of ONE DOVE, THE ALOOF and PORTISHEAD.
Alongside the singles, 'Ripe' had other highlights. It was not difficult to imagine either Neil Tennant or Jimmy Somerville singing on 'The Comfort Of Faith', a song questioning unconditional religious devotion that came with a typically classic Stephen Hague production while with an orchestral arrangement that undoubtedly seeded Herbert's future career as a film score composer, 'Why Aren't You In Love With Me?' was BANDERAS' take on Philly soul with Buckley's emotive resignation in harmony with a comparatively understated falsetto from Jimmy Sommerville.
Most striking was 'It's Written All Over My Face', a bare self-produced song which despite its countrified acoustic guitar recalled the pulsing electronic arrangement of Marianne Faithfull's version of 'The Ballad Of Lucy Jordan'. Also quite stripped down was 'Too Good' featuring a stark percussive groove augmented by fretless bass runs while the album's closer 'Never Too Late' saw the duo offer their take on Patsy Cline.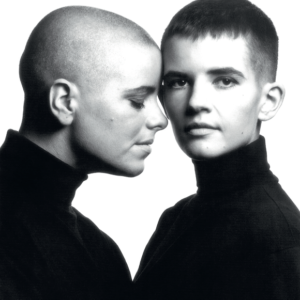 Interestingly in the booklet notes, neither Buckley nor Herbert express any great enthusiasm for 'First Hand' or 'Don't Let That Man' but while these do not hit the heights of the album's highlights, they are not bad but sound very much of their time.
A second album was in the works to be produced by Alan Moulder but London Records lost interest and BANDERAS quietly disbanded. In the past 5 years, both Caroline Buckley and Sally Herbert have worked independently with Jimmy Somerville on various projects, so it is apt that the wee Scotsman conducts the short interview with them for the reissue of 'Ripe'.
Anthologised by Cherry Red on their 90/9 imprint, 'Ripe' has been remastered as a double CD edition with the album plus B-sides coupled with a collection of remixes, many of which actually seem to feature the structures of the various songs, documenting a period just before the club DJ remix madness went into overdrive.
'This Is Your Life' may be considered something of a one hit wonder but to have written such a timeless song that resonates with the public, even if it is for a limited moment in time, is a gift to any composer. Regardless of that, based on the evidence of 'Ripe', BANDERAS delivered an album that was worthy of the supporting cast that helped embellish it.
If you missed 'Ripe' first time round, now is a good time to catch up 30 years on…
---
'Ripe' is released by 90/9 on 14th January 2022 as a 2CD edition, available from https://www.cherryred.co.uk/product/banderas-ripe-2cd-expanded-edition/
---
Text by Chi Ming Lai
10th January 2022