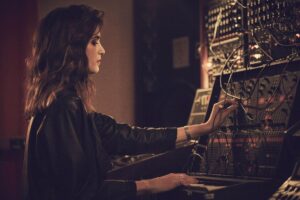 1978: Un nouveau son arrive…
Dedicated to the female pioneers of electronic music Clara Rockmore, Wendy Carlos, Daphne Oram, Delia Derbyshire, Éliane Radigue, Laurie Spiegel, Suzanne Ciani, Johanna Beyer, Bebe Baron, Pauline Oliveros, Else Marie Pade and Beatriz Mercedes Ferreyra, 'The Shock Of The Future' or 'Le Choc Du Futur' is a wonderful independent French film celebrating the synthesizer.
Set in Paris 1978, 'Le Choc Du Futur' depicts a day in the life of a young fictional female synth musician Ana Klimova, following her fortunes as she struggles with creative blocks, networking, recognition and self-doubt, while also documenting the random happenings which spark her creativity.
A Bohemian elfin-like figure in the vein of Francoise Hardy or Jane Birkin, Ana Klimova is charmingly played by Alma Jodorowsky whose own family dynasty in cinema spans three generations. Her character uses electronics to make what she considers to be the music of the future, as she attempts to make herself heard in an ambivalent and lecherous male-dominated industry with its systemic patriarchy.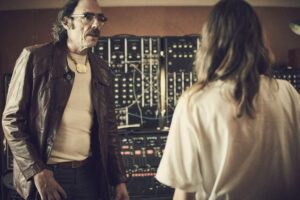 'Le Choc Du Futur' is the first film and screenplay by Marc Collin of NOUVELLE VAGUE, a musical project that has released five albums of new wave and synth covers rearranged in a continental longue bossa nova style; songs like 'Just Can't Get Enough', 'Don't Go', 'Fade To Grey', 'A Forest', 'Say Hello Wave Goodbye' and 'Blue Monday' have been amongst those getting the treatment. During that time, Collin has been notable for discovering female singing talent.
One of them has been Clara Luciani who sang on NOUVELLE VAGUE's reinterpretation of ALTERED IMAGES' 'I Could Be Happy' and she plays the role of the singer who is the voice of the film's central tune 'Future Shock', composed by Collin himself.
In order to keep costs to a minimum, Collin directed 'Le Choc Du Futur' primarily as a chamber drama. Most of the scenes take place in a city apartment which is also the home studio of a famous musician Michel Manitovski who Ana appears to be housesitting for, with the benefit that she can use his collection of expensive synthesizers.
As two of France's major electronic exponents of the period, the music of Jean-Michel Jarre and Cerrone feature prominently at the start of the film as historical context, with Ana innocently dancing along in just her T-shirt to 'Supernature' before chilling to 'Oxygene 1' as inspiration while getting down to work.
Working as a home masseuse to make ends meet, Ana however is focussed on making electronic music like a female Jean-Michel Jarre, much to the dismay of her manager Jean-Mi who has advanced her 1000 Francs to produce music for an advertising commission that he has got her.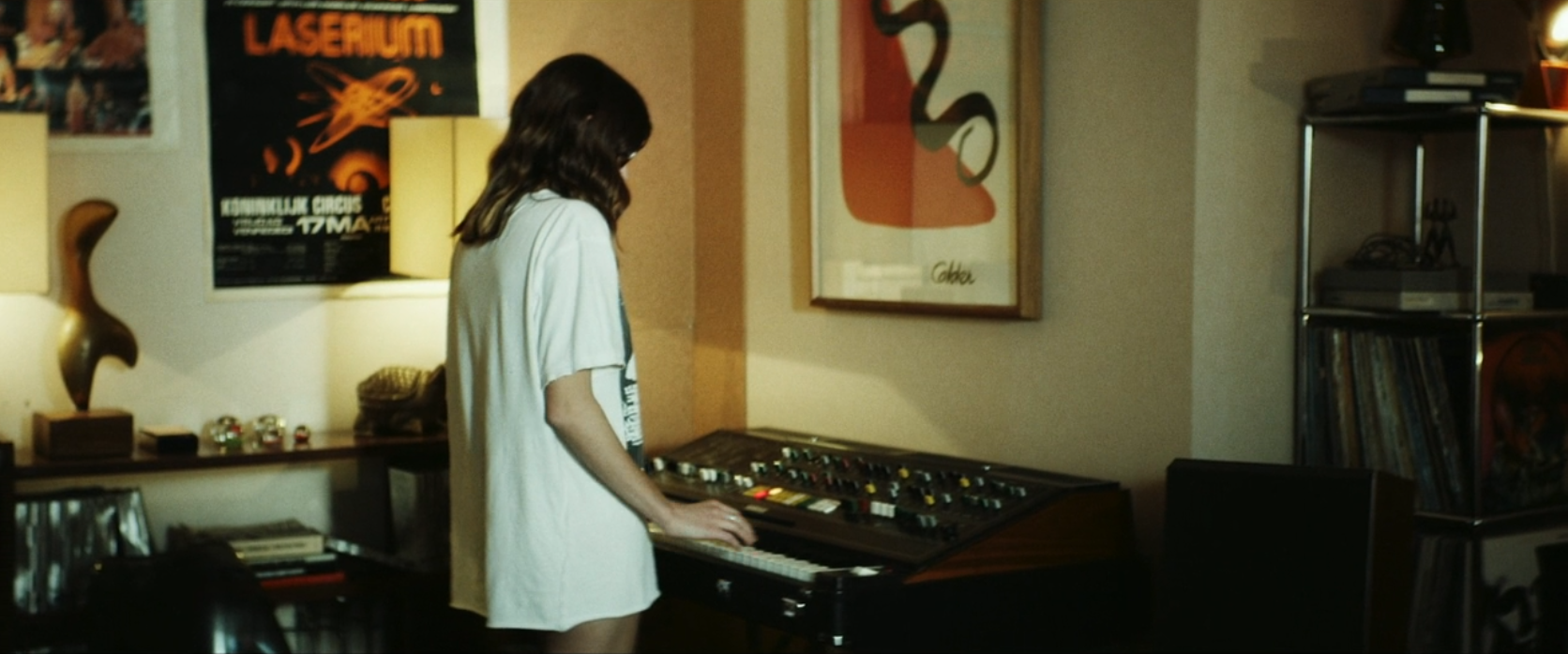 As far as the acting is concerned in terms of playing synths and operating modulars or sequencers, Alma Jodorowsky is way more convincing than say Andy Fletcher of DEPECHE MODE. With her expressions and eye movements, she is compelling to watch as the viewer witnesses the start-stop-start nature of electronic composition. In these scenes, it is synth porn galore, with a Yamaha CS-80, ARP 2600, ARP 1601 sequencer and Moog modular units from the IIIP and Model 10 series figuring in the gear set-up.
But it's when Ana finds one of the modules develops a glitch and calls an engineering boffin named Herve to help, that her Eureka moment happens. He has with him a Roland CR-78 Compurhythm and when it is demonstrated to her how it can sync with her ARP Sequencer, she can foresee her own future in electronic pop! Ana pleads with Herve to let her borrow the machine and he relents, despite his request for a kiss not being satisfied.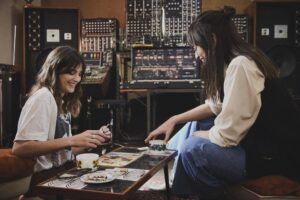 Jean-Mi is less convinced though and when Ana enthusiastically declares her vision of "dancing with atoms", "moving with electronic circuits" and "a dance for oscillators", her manager sceptically snorts "I know what a stupid beatbox is for. You think it's going to replace a live drummer? The sound? The energy? You believe there won't be studios anymore? Musicians? There's just gonna be this poor guy alone doing music in his home?" – well, yes!
As Jean-Mi demands the return of his advance, Ana enters an existential crisis but her fortunes change with the arrival of a session singer played by Clara Luciani who turns up for the advertisement session that our heroine has forgotten about.
Together they collaborate on some chic disco synthpop that comes over rather like CHROMATICS meeting a deeper MARSHEAUX under the influence of Galouises smoke. While stoned, they talk about using the name CHAPI CHAPO, after a cartoon they are watching! The pair decide to premiere their track 'Future Shock' at a party that Ana is throwing, to which Dominic Giroux, a producer from the prestigious real-life label Barclay Records has been invited.
The party goes down a storm with its hip eclectic playlist, as does 'Future Shock' which has all of Ana's friends and associates dancing and applauding. But as Giroux prepares to depart, Ana nervously asks the producer for feedback, although he seemingly becomes more interested in another lady present.
Despite being told "there's something there", Giroux shatters Ana by dismissing her potential, stating "I'm afraid there is no market for such music in France". In despair, her friend Paul takes Ana for a walk to assure her that her work is valid and to maintain her artistic integrity while "what matters in life is not how many times you fall, it's how many times you get back up".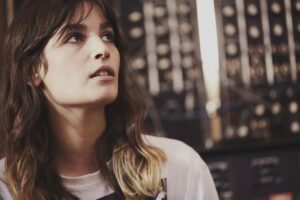 To this end, Paul uses his music industry contacts to arrange a visit to a recording session by Corine who complete with her trademark blonde curly mane, plays a character named and based on herself in a bit of timewarp dramatic licence. Here the real life pop starlet tells Ana that the producer from Barclay doesn't know what he is talking about and gives her encouragement to persist. Loving Ana's concept of electronic disco, the two swap contacts in anticipation that they might become future sisters in arms.
Nominated for 'Best Feature Film' at the Torino Film Festival 2019, 'Le Choc Du Futur' captures the beauty of the synthesizer, providing a seductive and uplifting 100 minutes that offers a snapshot of a developing popular culture, while also focussing on female empowerment and passion for music. Although the film's storyline might be a bit too basic and niche for some, it is made with love and will be immensely appealing to synth enthusiasts for its observations on the creative process and the battles against the rockist real music fraternity.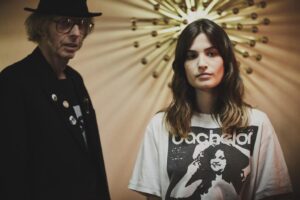 Meanwhile the soundtrack presses all the right buttons. Most will be able relate to the scene when Ana's seasoned New York mentor visits her for one of their regular new music listening sessions and plays THROBBING GRISTLE 'United', THE HUMAN LEAGUE 'Dance Like A Star' and the cosmic collage of AKSAK MABOUL 'Saure Gurke' to her for the first time. However, there will be amusement as Ana gives a muted response to 'Frankie Teardrop' by SUICIDE which she feels is "too rock".
While 'Le Choc Du Futur' does not speculate as to how Ana Klimova's musical career may have panned out, it her story is inspirational and although it is fictional, her electronic revolution inside her head did become real.
---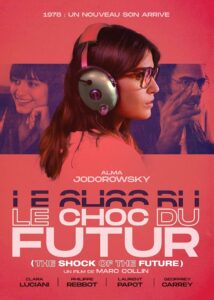 'The Shock Of The Future (Le Choc Du Futur)' is available in Europe via 606 Distribution as a PAL DVD in French Language with English Subtitles only from https://606distribution.co.uk/shock-of-the-future/
The North American NTSC DVD edition is released by Cleopatra Records, available via https://www.amazon.com/ or direct from https://cleorecs.com/store/shop/le-choc-du-futur-the-shock-of-the-future-dvd/
The soundtrack to ''Le Choc Du Futur'
is released by Kwaidan Records via the usual digital platforms
https://www.facebook.com/TheShockOfTheFuture
https://open.spotify.com/album/5yavHHosSDSpKkqCe7SfMj
---
Text by Chi Ming Lai
21st November 2020