There are no illegal connections…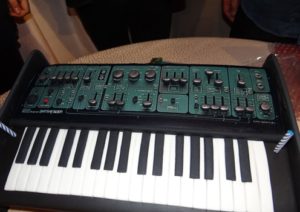 The user manual for the Roland System 100 semi-modular synthesizer profoundly stated "there are no illegal connections…"
And in modern electronic music, that is still the case with the accomplished artists of today very much connected to the synth pioneers of yesteryear like KRAFTWERK, OMD, ULTRAVOX, JAPAN, DEPECHE MODE and THE HUMAN LEAGUE.
Belgian duo METROLAND would not exist without the tradition established at Klingklang, while EAST INDIA YOUTH's interest in BRIAN ENO and Motorik beats curated a sound that has enabled parallels to be drawn with the artful template of the similarly influenced Paul Humphreys and Andy McCluskey.
And although SUSANNE SUNDFØR was already an established singer / songwriter in her homeland of Norway, attention was not fully drawn on her new synth based direction until she performed a sympathetic cover of 'Ice Machine' with RÖYKSOPP in late 2012.
Even the exquisite lo-fi Welsh language electronica of GWENNO can be traced to Sheffield, thanks to the songstress' previous pop excursions which involved working on an album with the late Martin Rushent.
As JEAN-MICHEL JARRE said: "Electronic music has a family, a legacy and a future…" so to deny the glorious heritage of electronic music when assessing new acts would be futile.
Indeed, acknowledging history is very much part of ELECTRICITYCLUB.CO.UK's style and it appears to have been appreciated, especially in regard to the feature '30 Favourite Albums 2010 – 2014', one of a quintet of special articles to celebrate the site's fifth birthday in March…
"Huge thanks to ELECTRICITYCLUB.CO.UK" said avid reader Hugh David, "A victory for well-written, artfully conveyed content curation once again… you knew exactly what to say to sell me on one artist or another. That rare ability of a reviewer to pinpoint the precise comparisons that enable me to decide to seek something out based on my own tastes is something lacking in so many other outlets; love that you've got that in spades"
Another reader David Sims added: "ELECTRICITYCLUB.CO.UK is a great way of discovering artists you might not otherwise be aware of. A bit like when a friend used to come round your house clutching an LP or C90 saying 'I really love this, have a listen', introducing you to new music that makes your neck hairs stand up in ovation"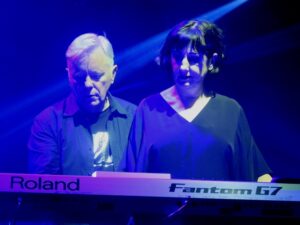 2014 was a comparatively lean 12 months, but this year found many veterans returning to the fold. NEW ORDER released 'Music Complete', a much discussed comeback that was not only the Mancunians' first album for Mute, but also without estranged bassist Peter Hook.
MARC ALMOND released 'The Velvet Trail', his first pop album for many years while ANDY BELL embarked on further solo adventures in support of 'Torsten The Bareback Saint'.
SPARKS joined forces with FRANZ FERDINAND as FFS while telling everyone to 'P*ss Off' and proved that collaborations do work. Electronic music legend JEAN-MICHEL JARRE also went the collaborative root. His first album for several years 'Electronica 1 – The Time Machine' featured the likes of LITTLE BOOTS, JOHN CARPENTER, TANGERINE DREAM, AIR, ARMIN VAN BUUREN, GESAFFELSTEIN, MOBY, MASSIVE ATTACK and VINCE CLARKE.
Another legend GIORGIO MORODER made his statement of intent with '74 Is The New 24' and released 'Déjà Vu', a disco pop record featuring the likes of SIA, BRITNEY SPEARS, FOXES and KYLIE MINOGUE.
Meanwhile, his artier counterpart ZEUS B HELD gave us some 'Logic of Coincidence' and WOLFGANG FLÜR made his solo debut with 'Eloquence', his first length album project since 1997.
Liverpool duo CHINA CRISIS delivered 'Autumn In The Neighbourhood', their first original material since 1994's 'Warped By Success' while HOWARD JONES showed he could still innovate at 60 years of age when he launched 'Engage', "a highly interactive live experience designed to immerse audiences in an audio / visual feast". A-HA came back after disbanding in 2010 with 'Cast In Steel' and DURAN DURAN recruited an all-star cast that included Nile Rodgers, John Frusciante, Kiesza and Lindsay Lohan for the rather disappointing EDM blow-out 'Paper Gods'.
BLANCMANGE's 'Semi Detached' was Neil Arthur's first without long-time partner Stephen Luscombe and he even found time to release a wonderful instrumental collection entitled 'Nil By Mouth'. Indeed, there were quite a few instrumental opuses in 2015, with GHOST HARMONIC's wonderful 'Codex' featuring JOHN FOXX and the electronic pioneer's own glorious 'London Overgrown'. TUXEDOMOON joined forces with CULT WITH NO NAME for 'Blue Velvet Revisited' while not wishing to be left out, DEPECHE MODE's Martin Gore released the tutorial for his new Eurorack modular system as the simply titled 'MG'.
2015 saw the 25th anniversary of DEPECHE MODE's 'Violator' and to ignore its significance, as some DM fan related platforms did, would have been incredibly short sighted. However, there was none of that from premier DM tribute band SPEAK & SPELL who played their biggest UK gig yet with a splendid boutique showcase of that landmark album at London's Islington Academy.
CAMOUFLAGE, a band who started off very much under the influence of the Basildon boys, issued the mature statement of 'Greyscale' while continuing the DEPECHE MODE album theme, Athens based synth maidens MARSHEAUX gave a worthy of re-assessment of 'A Broken Frame' and procured a number of interesting arrangements for some under rated songs. DIE KRUPPS got more metal than machine on their fifth opus 'V – Metal Machine Music'.
Fellow Germans BEBORN BETON made up for a ten year absence with 'A Worthy Compensation' while SOLAR FAKE and SYNTHDECADE also got in on the action too.
CHVRCHES continued their quest for world domination with something that LITTLE BOOTS, LA ROUX, LADYHAWKE and HURTS never managed… a decent second album. But PURITY RING, the Canadian act whose template CHVRCHES borrowed, must have looked over with a touch of envy at the Glaswegian's success so responded with 'Another Eternity'.
HANNAH PEEL released an interim mini-album 'Rebox 2' which blended centuries of music technology while VILE ELECTRODES came up with the gorgeous 'Captive In Symmetry', possibly one of the songs of 2015. EURASIANEYES heeded all the guidance available to them to produce their most accomplished song yet in 'Call Your God' and ANALOG ANGEL went on a well-received tour supporting Swedish veterans COVENANT with a message to listeners of 'Don't Forget To Love'.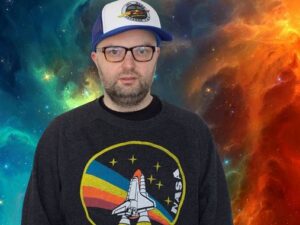 Elsewhere in the British Isles, CIRCUIT3, RODNEY CROMWELL and SUDDEN CREATION made their first excursions into the long player format just as KID KASIO and KOVAK each delivered album number two while Berlin based Brit EMIKA helpfully titled her third opus 'Drei'.
"So, what's so special about Sweden then?" someone once rather cluelessly asked TEC. Well, it is the modern hub of inventive, electronic pop. KARIN PARK offered her profanity laden fifth album 'Apocalypse Pop'.
Meanwhile SAY LOU LOU finally gave the world their 'Lucid Dreaming'. SISTA MANNEN PÅ JORDEN offered to 'Translate' while TRAIN TO SPAIN told the world 'What It's All About'. And this was without feisty youngsters like ME THE TIGER and comparatively experienced hands such as PRESENCE OF MIND, DESTIN FRAGILE, CLUB 8, 047 and HILTIPOP all entering the equation too.
Still in Sweden, DAYBEHAVIOR went all female PET SHOP BOYS with the Italo flavoured 'Cambiare' and MACHINISTA followed up their debut 'Xenoglossy' with 'Garmonbozia'. while there was also the unexpected return of alternative synthpopsters ASHBURY HEIGHTS.
But best of all were the mighty KITE; their 'VI' EP was a masterclass in epic, majestic electronic pop. In the rest of Europe, there was an influx of darker female fronted acts such as Hungary's BLACK NAIL CABARET, Italy's ELECTROGENIC, Greece's SARAH P. and Germany's NINA; the latter's 'My Mistake' even ended up on a Mercedes TV advert. The male contingent did their bit too with Slovenia's TORUL unleashing their second offering 'The Measure' while the prolific Finnish duo SIN COS TAN took things a little bit easier in their fourth year with just an EP 'Smile, Tomorrow Will Be Worse', having already released three albums since 2012.
Oslo based studio legend John Fryer returned with two new projects, SILVER GHOST SHIMMER and MURICIDAE featuring vocalists Pinky Turzo and Louise Fraser respectively. Both reminded listeners of his work with COCTEAU TWINS and THIS MORTAL COIL, but with an Americanised twist. The Icelandic domiciled Denver singer / songwriter JOHN GRANT added some funkier vibes to his continuing electronic direction while IAMX moved from Berlin to Los Angeles, and did no harm to his art with the brooding 'Metanoia' album.
On the brighter side of North America, PRIEST's self-titled debut long player became reality following their dreamy 'Samurai' EP, while HYPERBUBBLE made available their wacky award winning soundtrack to the short film 'Dee Dee Rocks The Galaxy' and joyous 2014 London show. And GRIMES caught the music biz on the hop when she released a new album 'Art Angels', having scrapped an album's worth of material in 2014.
But despite North America itself being one of the territories flying the flag for the synth with acts like NIGHT CLUB, BATTLE TAPES, AESTHETIC PERFECTION and RARE FACTURE all figuring, the worst single of 2015 actually came from the USA!
Literally decades of synth heritage were eminently obliterated in five soul destroying minutes… was this really what the Electronic Revolution was fought for? This is cultural history and it needs to be protected.
Although the year had flashes of brilliance, it was generally less impressive overall for fledgling electronic artists, with a number forgetting that all important factor of a good tune! Eddie Bengtsson of SISTA MANNEN PÅ JORDEN remarked last year that synthpop was becoming a dying art.
And in 2015, synthpop's credibility was further tarnished with lazy use of the term by the mainstream press for acts like YEARS & YEARS; one could argue that TAYLOR SWIFT and her '1989' opus is possibly more synthpop than YEARS & YEARS have ever been! In a market where EDM appears to be king and clubbers are happy to witness DJs miming their two hour sets, there is clearly something wrong.
Things were not helped by certain media outlets insisting that dance music was the only way; it was as if electronic music had somehow managed to jump from KRAFTWERK to Detroit techno with nothing happening in between.
And then, there were those who had never particularly enjoyed music from that key Synth Britannia period, who were trying to dictate how modern electronic music was being presented and pretending it had popped out of thin air!
Some bands were not doing themselves any favours either, showing little empathetic connection to the history of electronic music in their deluded optimism that they were crafting something completely new!
As JEAN-MICHEL JARRE amusingly quipped to Sound-On-Sound magazine: "Lots of people in America think that electronic music started with AVICII and it's not exactly the truth…"
The lack of accuracy in a number of publications over the last 18 months was also shocking, particularly within magazines and online media that continued to employ writers with a history of not knowing their tape recorders from their drum machines. This simply proved the old adage that just because someone is employed as a professional writer, it doesn't actually mean they are a good writer!
The domestic live scene had its challenges too with slow ticket sales and a number of events cancelled.
But even when some true legends in electronic music were booked, ticket sales could not be guaranteed and efficient promotion was needed to maximise potential.
Some observers were bemoaning a lack of support for the scene, but if line-ups are not particularly appealing, then audiences cannot be expected to invest time and money to attend.
A number of organisational infrastructures also lacked credibility; if a promoter doesn't have at least some idea if they're going to sell fifty tickets or five thousand, then they really shouldn't be in the business!
The question that has to be asked then is, has anybody actually learnt from the Alt-Fest debacle of 2014? It really would appear not!
While 'A Secret Wish' and SOS#2 were a couple of the year's better UK events, Europe showed once again how things should be done. Electronic Summer in Gothenburg and the Electri_City_Conference in Düsseldorf were two of the most notable electronic music events of 2015.
The inherent knowledge and sense of understanding in both differed immensely to some British promoters. This perhaps could explain why electronic pop has generally flourished more in territories across the North Sea.
Electronic pop needs to continue to develop, but quality control must be maintained to ensure the genre is not publically misrepresented. SOFT CELL once sang about 'Monoculture' while KID MOXIE declared how everyone was just content with 'Medium Pleasure'.
If all that's heard is the best of a bad bunch, then younger listeners (and therefore potential future synth oriented musicians) will not be inspired. That is why it is important that CHVRCHES and EAST INDIA YOUTH consolidate their positions as modern electronic pop's representatives in the mainstream.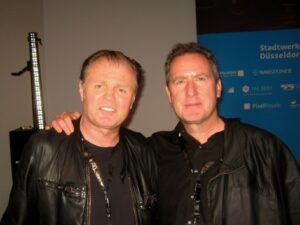 It is not good practice to support mediocre music just because it happens to be electronic.
The finest examples need to be set so as to show what can be achieved; now if that means possibly referencing back to the golden age of synthpop, then so be it.
Only then will the synth baton be able to taken up by a new generation who can then truly reinvigorate it.
---
ELECTRICITYCLUB.CO.UK Contributor Listings 2015
PAUL BODDY
Best Album: EAST INDIA YOUTH Culture Of Volume
Best Song: NEW ORDER Restless
Best Gig: EAST INDIA YOUTH + HANNAH PEEL at London Village Underground
Best Video: BATTLE TAPES Valkyrie
Most Promising New Act: BATTLE TAPES
---
DEB DANAHAY
Best Album: IAMX Metanoia
Best Song: KITE Up For Life
Best Gig: NODE at The Royal College of Music
Best Video: IAMX Oh Cruel Darkness Embrace Me
Most Promising New Act: KITE
---
IAN FERGUSON
Best Album: EAST INDIA YOUTH Culture Of Volume
Best Song: KITE Count The Days
Best Gig: ASSEMBLAGE 23 at SOS#2 Festival
Best Video: VILE ELECTRODES Captive In Symmetry
Most Promising New Act: RODNEY CROMWELL
---
MONIKA IZABELA GOSS
Best Album: SILVER GHOST SHIMMER Soft Landing
Best Song: IAMX Happiness
Best Gig: IAMX at London Koko
Best Video: TORUL The Balance
Most Promising New Act: SYNTHDECADE
---
SIMON HELM
Best Album: LAU NAU Hem Någonstans
Best Song: ME THE TIGER As We Really Are
Best Gig: SISTA MANNEN PÅ JORDEN at A Secret Wish
Best Video: JUNO Same To Me
Most Promising New Act: REIN
---
CHI MING LAI
Best Album: SUSANNE SUNDFØR Ten Love Songs
Best Song: KITE Up For Life
Best Gig: FFS at The Troxy
Best Video: VILE ELECTRODES Captive In Symmetry
Most Promising New Act: RODNEY CROMWELL
---
RICHARD PRICE
Best Album: EAST INDIA YOUTH Culture Of Volume
Best Song: NEW ORDER Plastic
Best Gig: EAST INDIA YOUTH + HANNAH PEEL at London Village Underground
Best Video: VILE ELECTRODES Captive In Symmetry
Most Promising New Act: KITE
---
Text by Chi Ming Lai
16th December 2015