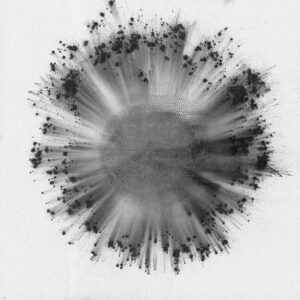 One of the definitions of 'Obverse' is "the opposite or counterpart of a fact or truth" and it is this intriguing title that heralds the arrival of the fifth studio album by Danish composer / producer Anders Trentemøller.
'Cold Comfort' which opens 'Obverse' is an epic languid downtempo piece which perpetuates TRENTEMØLLER's obsession with the sound of UK post-punk; although this time there are major echoes of COCTEAU TWINS with SLOWDIVE vocalist Rachel Goswell's ethereal vocals drifting Liz Fraser-like over a backing track which is heavily inspired by the Scottish trio.
Also present, as with much of TRENTEMØLLER's work, is the grey spectre of 'Faith'-era THE CURE with the intro owing a debt to 'All Cats Are Grey'; a dynamic chorus shift with abrasive fuzz guitar stops the piece becoming a parody though. The last and frankly superfluous two minutes of the track go into waltz time and the piece dissolves into more of a soundscape than a song…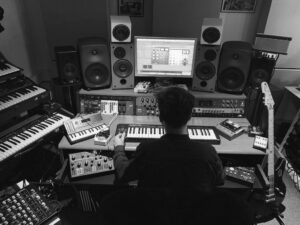 'Church of Trees' is an all-electronic instrumental which although pleasant enough, feels more like an interlude piece rather than something which should occupy the second track of an album and as such ends up being a momentum killer.
'In The Garden' features more vocals, this time from Lina Tullgren and placed over another sound-a-like backing track of THE CURE.
'Foggy Figures' is another instrumental, starting off ambient in nature with floaty chorused guitar and splashy ride cymbals before transforming into a breakbeat that is almost drum 'n' bass inspired for the piece's final two minutes. The track is beautifully produced, but like the album opener, struggles to sustain interest over its seven plus minute length.
'Blue September' is less predictable in nature and not so in awe of the post-punk aesthetic. Frustratingly instead of bringing back Lisbet Fritze's beautiful vocals, the track's final two minutes go off on another synth excursion which again is functional enough, but wastes the song's full potential.
There is another Lisbet Fritze collaboration here 'One Last Kiss to Remember' which raises the tempo a fraction and provides some welcome variety; along with 'Blue September', it's one of the stronger pieces here if only because it's shorter, more memorable and less self-indulgent.
'Try a Little' is the closest to a pop single on 'Obverse', it's to the point, has a catchy chorus and is counterpointed by a Hooky-style melodic bass guitar line. To be honest, it's the only track here that is melodically strong enough to stay with you after the album has finished. Outro 'Giants' ends 'Obverse' (unsurprisingly) in a gloomy fashion; a combination of the Mellotron experimentation of OMD's 'Architecture & Morality' and Ennio Morricone's score to John Carpenter's 'The Thing'.
The main problem with 'Obverse'
is the lack of killer songwriting, without wanting to second-guess the gestation process of the album, it sounds like the backing tracks were created in advance and then the vocalists drafted in to vibe over the top. This can work well, but adversely it can mean that the song's core can be woefully lacking, once stripped of all the production sheen and effects.
As ELECTRICITYCLUB.CO.UK previously observed with TRENTEMØLLER's previous work 'Fixion'
, the producer still remains in awe of his influences, to the point where once the post-punk guitars are removed, there is nothing here that provides any kind of original or signature sound.
It is immaculately produced and mixed, but at its very core is an emptiness and lack of originality or emotion which means that the listener isn't compelled to return to 'Obverse' after a cursory listen.
---
'Obverse'
is released by In My Room in the usual formats
http://www.anderstrentemoller.com/
https://www.facebook.com/trentemoller/
https://twitter.com/trentemoeller
https://www.instagram.com/trentemoeller/
---
Text by Paul Boddy
13th October 2019